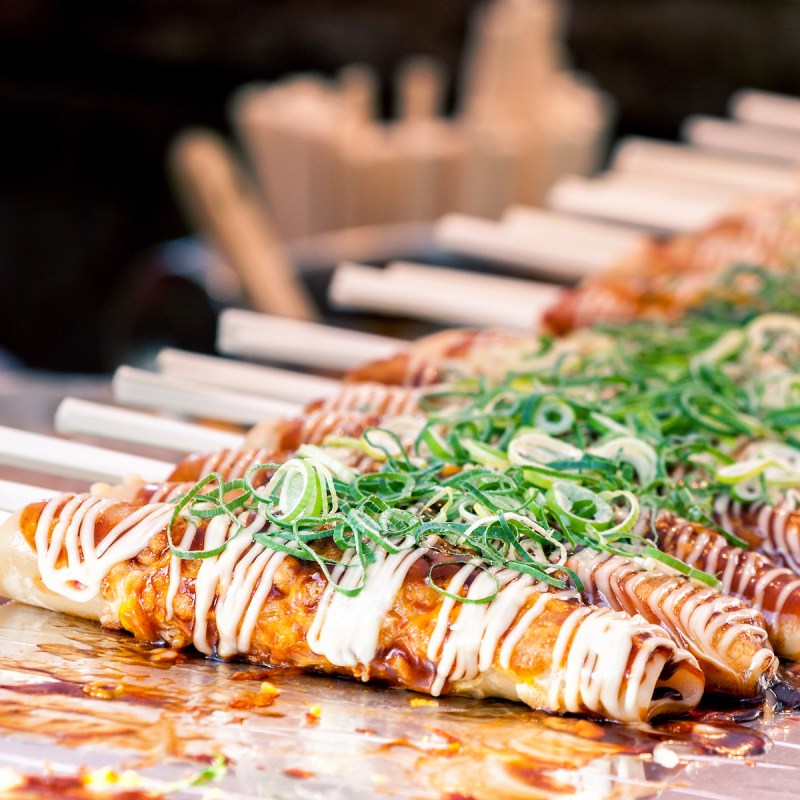 TravelAwaits' 2023 Best Of Travel Awards, presented by
AllTrails
and with the support of
Luggage Free
, the premier luggage shipping service, showcases our readers' favorite destinations and businesses. Nominations and voting took place earlier this year, and we hope the final selections inspire your future adventures; congrats to all of the winners!
Food is a universal language. One of the best ways to explore new cultures and traditions is by trying the local cuisine, from street food to fine dining. To identify the best food cities in the world, we turned to our well-traveled readers. TravelAwaits readers voted the following 12 cities as the culinary capitals of the world in our annual Best Of Travel Awards.
1. Rome, Italy (Winner)
With dishes like pasta and pizza, how could Italy not top this list? The capital is full of little cafés and bars, but the Eternal City is synonymous with food. No Italian meal starts without some antipasti and a little aperitivo. When in Rome, do as the Romans do and treat yourself to cacio e pepe, a pasta dish that literally translates to "cheese and pepper." For a taste of la dolce vita, treat yourself to a scoop of gelato or some tiramisu!
2. Paris, France
The French are famous for their cheese, bread, and wine, so it's no surprise that our readers voted the French capital as the second-best food city in the world. In addition to iconic cafés and charming Parisian restaurants (some in old railway stations), the City of Lights is home to amazing open-air food markets. Although the markets are only open a couple of days a week, nearly every neighborhood has at least one major food shop street where almost every conceivable type of food is sold. Grab a baguette and some stinky cheese to take on a picnic in the park, nibble on a flaky and buttery croissant, sip on un café at a café, and indulge in delectable delights from the boulangerie.
3. Barcelona, Spain
Barcelona is known for its tapas — small plates that are perfect for sharing and trying a variety of different dishes. This coastal city is swimming with seafood and boasts some of the best paellas you can find in Spain. A feast for the senses, La Boqueria is a vast and colorful covered market. The unmistakable wrought-iron Art Deco building is full of local and exotic fruit, cheeses, charcuteries, fresh fish, a great selection of spices, and a few little restaurants where you can sample freshly cooked seafood.
4. Vienna, Austria
Known for its exquisite cuisine, coffee, hot chocolate, and pastries, Vienna is home to such delicacies as goulash, apple strudel, and kaiserschmarrn (scrambled pancake). Don't sleep on the schnitzel — the classic Austrian dish that consists of a breaded and fried cutlet.
5. Verona, Italy
Just 75 miles west of Venice, Verona is known as the set of Romeo and Juliet, but it is also a popular foodie destination. We're here for the carbs! In addition to fresh housemade pasta, Verona offers polenta, a classic dish in Northern Italy that is made with corn flour. Gnocchi is the star of Verona's Carnival season and ciabatta is the Italian answer to the French baguette. Ever present on Verona menus, risotto all'Amarone is made with locally grown rice and red wine (Amarone della Valpolicella) instead of white, topped with a generous grating of Veronese cheese. Try it at Bottega Vini, one of the city's oldest restaurants.
6. Kyoto, Japan
In Japan, noodles such as ramen, udon, and soba are meant for slurping, which lets the chef know you're enjoying the food. Known for its traditional Japanese cuisine, Kyoto offers everything from noodles to sushi and tempura, but you may not have heard of some of the other local specialties. Okonomiyaki is a type of savory pancake, while yuba, or dried tofu skin, is a staple of Japanese and Chinese cuisines. Native to Kyoto, obanzai is made of fresh local ingredients that often incorporate food that would usually be discarded. Try it at the 400-year-old Nishiki Market downtown, or sample the street food and snacks available at one of its 100 booths.
7. Oaxaca, Mexico
Filled with a panoply of flavors and fresh ingredients, Mexican food joins our top 12 in what is no surprise to anyone possessing tastebuds. Considered by many to be the gastronomic capital of Mexico, Oaxaca is a great place to visit for your first trip abroad. Both the state and its eponymous city offer a bonanza of history, nature, lively festivals, warm local people, amazing architecture, vibrant markets, and food, food, food. Oaxaca is especially known for its many varieties of mole, a rich and flavorful sauce that is often served with chicken. Other local specialties include tlayudas, memelas, and chapulines, aka Mexican fried grasshoppers.
8. Bangkok, Thailand
Instead of asking how you are, Thai people will often say "Have you eaten yet?" That's how central food is to the culture of Thailand. And with oodles of noodles, satay, and sweet treats, who could blame them? Salty, sweet, spicy, and sour notes overlap in this deeply flavorful cuisine. Traditional Thai ingredients include ginger, fish sauce, coconut, lemongrass, and incredibly spicy Thai chilis. The nation's capital makes for the perfect place to partake in Thai street foods. Feast on fantastic flavors available at the many food stalls of Khao San Road.
Keep in mind that in Thailand, as in many other Southeast Asian countries, there is a possibility of getting food poisoning. But don't let that stop you from sampling delicious dishes such as pad thai, tom yum goong (hot and sour soup), khao soi (northern Thai coconut curry), mango sticky rice (a popular Thai dessert), the stinky fruit durian, som tum, and Thailand's infamous green papaya salad.
9. Marrakesh, Morocco
From cumin to saffron, Morocco is known for its spices. A veritable spice rack in itself, ras el hanout is a rich, colorful aromatic that seasons savory Moroccan dishes such as meats, veggies, couscous, pasta, rice, and stews called tagines. Jemaa el-Fnaa, one of the most-visited tourist attractions in Marrakesh, is a great place to sample Moroccan street food. Hundreds of stalls offer delicious grilled meats, kebabs, potato cakes, and freshly fried fish in between snake charmers and henna tattoo artists. While in Morocco, be sure to try the pastilla, a North African meat or seafood pie that is made with warqa dough (similar to filo).
10. Marseille, France
A coastal town on the Mediterranean in the South of France, Marseille is a seafood lover's dream. The country's oldest and second-most populous city is also the birthplace of bouillabaisse. In addition to this famous fish stew, classic Marseille dishes include madeleines, the iconic almond-flavored shell-shaped sponge cakes; and panisse, which is sort of like a French fry, but is made with chickpeas. Try that and socca (a chickpea pancake) at one of the city's markets, where you can shop the region's high-quality produce. Marseille is located in the Provence wine region, which produces some of the world's most famous rosé wines. Its long history of immigration makes for a melting pot of gastronomical influences, from North African to Middle Eastern.
11. Athens, Greece
Greek food also has Middle Eastern influences. In fact, hummus is the Arab word for "chickpea." Athens is a top food destination for travelers, with a rich culinary history, fresh ingredients, and a vibrant dining scene that combines tradition with innovation. Traditional dishes include moussaka (eggplant), souvlaki (skewered lamb or chicken), and dolmades (meat, rice, dill, and mint stuffed into a vine leaf). Even the dips, or mezze, such as tzatziki, are amazing. And don't even get us started on the baklava!
Greece's fertile soil, temperate climate, and proximity to the sea result in a wide variety of fresh, high-quality ingredients. Greek cuisine is known for its use of fresh herbs, vegetables, olive oil, and fish, all of which can be found in abundance in Athens. Think fresh Greek olives, just-baked pita bread, and locally produced feta crumbles. Sample street foods such as gyros, souvlaki, and spanakopita at food stalls and kiosks throughout the city.
12. Amsterdam, Netherlands
Amsterdam is a top food city due to its diverse culinary scene that showcases local and international cuisine. The city is known for its traditional Dutch dishes like bitterballen (fried meatballs) and stroopwafels, as well as its multicultural offerings, including Indonesian rijsttafel and Surinamese roti.
Amsterdam also has a thriving street food scene, with food trucks and markets offering everything from cheese to herring to falafel. Check out the food stalls at Lindengracht Market and Albert Cuyp Market, where hundreds of stalls sell everything from fresh produce, cheese, fish, and poultry to clothing, personal items, and household goods. Stalls sell prepared global foods as well as Dutch treats like poffertjes (mini pancakes), pickled herring, and crispy potato fries. Treat yourself to a huge, freshly made, gooey, and deliciously warm caramel-filled stroopwafel. Dam Square offers food stalls, restaurants, cafés, bars, and shopping. Additionally, there is a strong focus on sustainability and farm-to-table dining, with many Amsterdam restaurants sourcing their ingredients from local farms and producers.
These are just a few of the many great food cities in the world you can visit to satisfy your culinary cravings. Thanks to our readers who voted in our 2023 Best Of Travel Awards!
Related Reading: