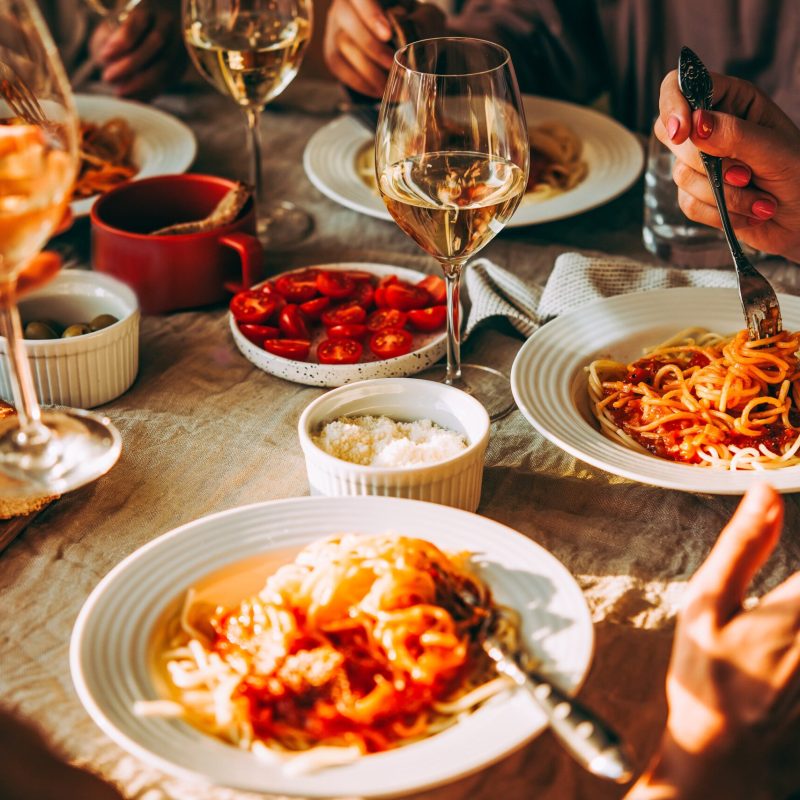 Italy is and always has been known as a foodie paradise. As the birthplace of pizza, pasta, and gelato, that's not surprising. What is surprising is just how many different types of pasta and pasta dishes exist. There's no end to the culinary gems of this boot-shaped land.
Read on to learn about Italy's best pastas — and find out where to get them. Buon appetito!
1. Orecchiette Con Cime Di Rapa — Puglia
Orecchiette, which translates to "little ears," a reference to this pasta's shape, is a small, round pasta with a slight depression in the middle. It's very well known in its birthplace, Puglia, an up-and-coming Italian destination located near the heel of the country's boot. Orecchiette is usually combined with a sauce of anchovies, garlic, broccoli rabe, and olive oil. However, meat sauce also pairs well with these "little ears."
2. Bigoli In Salsa — Venice
According to local lore, this famous Venetian dish dates back to a visit by explorer Marco Polo centuries ago. The pasta is very similar to spaghetti, just a bit thicker and made with whole wheat flour. Traditionally, the accompanying sauce is made up of garlic, anchovies, and olive oil. Venice is located on more than 100 islands in the Adriatic Sea, so it's no surprise that fish plays a major role in the savory sauce.
3. Cacio E Pepe — Rome
The next time you're in the Italian capital, you must try this well-known entrée, a socially acceptable version of mac and cheese for those over age 12. Cacio e pepe is a flavorful pasta sauce made entirely of cheese, pepper, and the water that's left over after making pasta. Romans call pecorino Romano, the mild sheep's milk cheese, cacio, while pepe means "pepper" in Italian. Generally, this simple sauce is served over thinner noodles like spaghetti, bucatini, linguine, or tagliolini.
4. Tagliatelle Alla Bolognese — Bologna
As the name suggests, this Italian meat sauce originated near Bologna. It's sometimes called ragù alla Bolognese. This meaty sauce should dress flat, wide pasta like tagliatelle, pappardelle, or fettuccine. Though it is popular on spaghetti elsewhere around the world, don't expect to order it that way in Italy.
5. Spaghetti Alla Carbonara — Rome
And back to the capital city we go! Rome is the best spot in all of Italy to try carbonara. This distinguished dish is made using pecorino Romano, egg yolks, pasta water, and guanciale, a cured meat from the cheeks or jowl of a pig. Even though the ingredient list is short, this technique-driven dish is hard to recreate at home, so be sure to enjoy it more than once on your Italian getaway!
6. Spaghetti Al Nero Di Seppia — Sicily
This pasta dish comes from Catania, a city on the east coast of Italy's southernmost island, Sicily. Catania is a seaside enclave, which explains the squid ink sauce paired with thin spaghetti. While some diners may find the dark black color off-putting, this dish is rustic, savory, and simply wonderful. For the ultimate Sicilian cuisine, enjoy some arancini, or fried risotto balls, as an appetizer before your pasta.
7. Trofie Al Pesto — Liguria
This dish is popular in the northwestern coastal region of Liguria. The area is most famous for Cinque Terre, but it's also noteworthy for its pesto Genovese. This traditional pesto features olive oil, basil, Parmigiano-Reggiano, pine nuts, garlic, and sea salt and is now popular the world over. Pesto pairs well with trofie pasta, which was also invented in the area; these handmade spiral noodles grip the pesto for a satisfying and saucy bite every time. Pesto Genovese also goes well with ridged pastas like conchiglie as well as long, thin trenette noodles.
8. Gnocchi Alla Sorrentina — Sorrento
Gnocchi's pillowy potato dumplings can be found all over Italy. Many spots, including Lombardy, Verona, Lazio, and Venice, claim to have invented this yummy pasta. However, our favorite is the version found in the gateway city to the Amalfi Coast, Sorrento, which has some of the most amazing restaurants. In this iteration, gnocchi is served with a bright tomato sauce, fresh basil, and creamy mozzarella cheese. It's like a Caprese salad in pasta form, and it contains the colors of the Italian flag. It's a winning dish no matter how you look at it.
9. Fregola Ai Frutti Di Mare — Sardinia
Sardinia is a large island in the Mediterranean Sea, just west of the Italian mainland. It's home to fregola, which is almost like couscous. The small balls of dough are baked and then paired with clams in a tomato sauce. Frutti di mare roughly translates to "seafood," so other fish goes well with this pasta, too.
10. Pasta Alla Norma — Sicily
The aubergines, or eggplants, of Sicily are said to be some of the sweetest on Earth, so it makes sense that they are the star of this dish. Pasta alla Norma also involves ricotta cheese, basil, and tomato sauce. The pasta was named for the opera La Norma by the Catanian composer Vincenzo Bellini.
11. Sugo All'Amatriciana — Amatrice
In Italian, sugo means "sauce," and this one is named for the town of its origin. This traditional Italian peasant dish comes from a small town near Rome, Amatrice. It has long been served with spaghetti, penne rigate, or bucatini. Like many other sauces that hail from Rome and the surrounding regions, sugo all'Amatriciana is made from tomatoes, guanciale, and pecorino Romano.
12. Lasagne Alla Bolognese — Bologna
As the name suggests, this dish hails from the capital city of the Emilia-Romagna region, Bologna. It uses the region's famous ragù, or meat sauce, but ups the ante by adding rich Béchamel sauce as well. Béchamel is a simple white sauce made with flour, butter, and milk that adds a creamy texture to this lasagne.
13. Ragù Napoletano — Naples
This meaty sauce originated in the southwest of Italy in the large metropolis of Naples. Usually, pig ribs, guanciale, bacon, and prosciutto are the chosen cuts for this sauce. Regional varieties of pasta such as strozzapreti (small, twisted gnocchi) or paccheri (mini rigatoni) are used rather than northern pasta types.
14. Spaghetti Aglio E Olio — Lazio
The name of this dish means "spaghetti, garlic, and olive oil." The key ingredient, however, is not listed in the name. Dried chili peppers, or peperoncino, add depth and heat to the otherwise mild dish. Spaghetti aglio e olio comes from the Lazio region of Italy, located near the center of the peninsula. It's another peasant-style pasta recipe using common, simple ingredients that shine. Other thin noodles like bucatini may be substituted, though spaghetti is the traditional vessel.
15. Ziti Alla Genovese — Naples
Despite its name, this dish is native to southern Italy rather than Liguria, the northern region where Genoa is located. Tubes of ziti are the base for the thick, creamy, oniony sauce. If possible, try it with pink Campania onions. The sauce also contains chunks of meat and should be topped with a hard, salty cheese like Parmigiano-Reggiano.
There's no limit to the unbelievable cuisine you can sample in Italy. With our comprehensive pasta guide, you'll be all set for a wonderful culinary experience on your next Italian adventure. Salute!