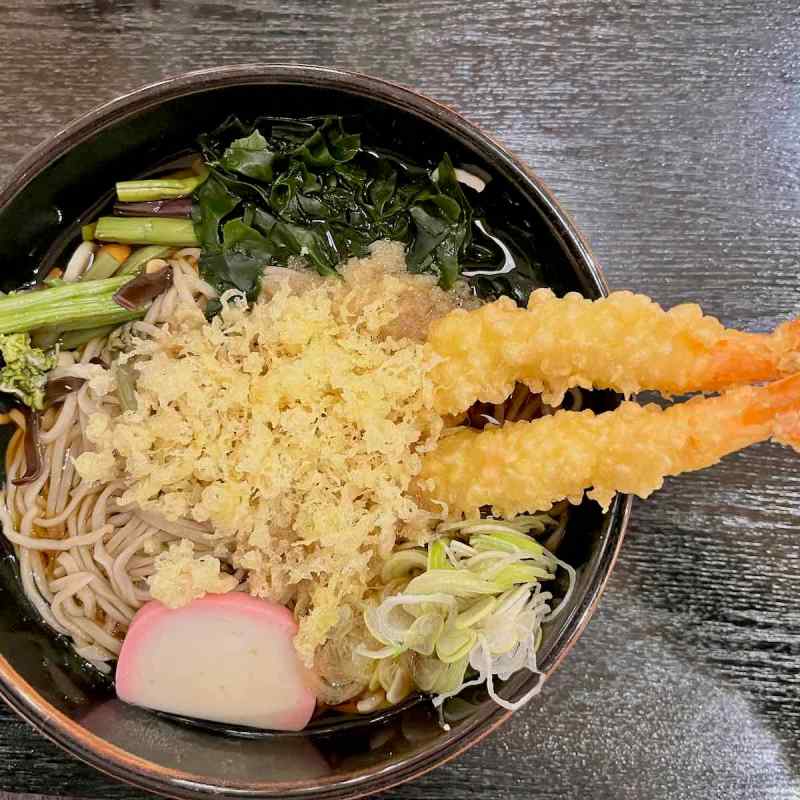 A trip to Japan is full of wonderful experiences — cherry blossoms, hot springs, temples and shrines, castles, gardens, karaoke, and… exquisite culinary adventures. Japan is second only to France for the most Michelin-starred restaurants in the world. When thinking about Japanese food, most people picture sushi, sashimi, and tempura. As we discovered, there is so much more.
Before arriving, we consulted with our friends and colleagues in Japan to plan for a food tour of the country — Tokyo, Nagano, Kyoto, and Hiroshima. Our focus was on reasonably priced places where locals eat. We did, however, skip Osaka (an important food destination). Japan will be a place that we visit often, especially to sample more of its culinary offerings. Here's a list of our favorite foods from Japan, in no particular order.
1. Sushi And Sashimi
Sushi is one of Japan's worldwide exports. Often lumped together, sushi and sashimi are different dishes. Sushi is served over seasoned rice, while sashimi is served on a platter without rice. For a unique twist, try sushi at a stand-up restaurant in Tokyo station. Or, if you prefer sitting, try it at a conveyor belt sushi bar. Both styles are good for inexpensive, quick meals.
Where To Find Sushi And Sashimi
Tokyo Station at Uogashi Nihon Ichi
Kyoto Station at Sushi No Musashi
2. Ramen
Noodles in Japan are a treat and slurping is the way to let the chef know that you are enjoying the food. Ramen, udon, and soba are the main types of noodles in Japan. Ramen is a thin wheat noodle typically served in a savory miso or soy sauce broth with slices of pork or tempura, egg, and seaweed. Our favorite ramen meals were black sesame ramen from Yudanaka Ramen Shop and wonderful duck ramen noodles in Kyoto.
Where To Find Ramen
Yudanaka Ramen Shop (a short drive from Snow Monkey Park) or Duck Noodles in Gion, Kyoto
3. Soba
Made with buckwheat, soba noodles are served hot or cold with vegetables, seafood, or pork. Chilled soba comes with a dipping sauce. Nagano is considered the best place to eat soba but we also enjoyed it in Tokyo and Kyoto.
Where To Find Soba
Second floor of the Ueno Train Station in Tokyo
4. Udon
Udon noodles are thick wheat noodles mostly served in a hot dashi (Japanese soup stock) broth with shrimp tempura, slices of fish cakes, and scallions. The noodles are hearty and chewy with a delicious broth.
Where To Find Udon
5. Tempura
Noodles are often served with tempura. Tempura is made with seafood or vegetables lightly battered with flour and deep-fried to a light crisp. You can also order tempura as a separate entrée. An alternative is a seafood or vegetable patty that has been deep-fried and is often served with noodle dishes.
6. Okonomiyaki
Okonomiyaki is a savory and popular street food made with flour, cabbage, and eggs topped with pork, chicken, seafood, or — in Hiroshima — oysters. The fried pancake is finished with mayonnaise and a sprinkling of dried bonito flakes.
We tried cooking okonomiyaki at Sakura-Tei in Tokyo. We made a mess but it was delicious. On Miyajima Island, Hiroshima, we ate the traditional okonomiyaki with oysters. No matter where you eat this dish, it is tasty and fun.
Where To Find Okonomiyaki
In Tokyo at Sakura-Tei (cook yourself)
On Miyajima Island at Momobros or any of the many places in the shopping area
7. Yakitori
An izakaya is a small, local bar for hanging out with friends. Most serve drinks and snacks. Freshly grilled over charcoal, yakitori is marinated chicken on a stick or skewer. Yakiton is skewered pork. Both are very tasty and go very well with beer. We were able to sample different types of yakitori and ton negima (pork belly) while hanging out with the locals along Ameyoko Street in Ueno, Tokyo.
Where To Find Yakitori
In Ueno, Tokyo, on Ameyoko Street
8. Bento Box
Bento lunches are a staple among office workers throughout Japan. The lunches are beautifully packaged and can include rice or noodles, chicken, pork, eel or salmon, Japanese plum or pickles, radishes, seaweed, and even a few slices of fruit. It is a complete meal for lunch and is sold in grocery stores, convenience stores, and department stores. Ekibens — train station bento boxes — are sold on the platforms of train stations. We purchased ours on a train platform in Shin Kobi and at the Takashimaya department store in Tokyo.
Where To Find Bento Boxes
Takashimaya department stores in Tokyo
9. Yuba
Our Japanese friends recommended that we try yuba when we were in Kyoto. They never steered us wrong. Yuba is a tasty, stringy, and chewy tofu skin made from the top layer of boiled soy milk. It was almost like cheese with a chewy consistency.
Where To Find Yuba
At Nishiki Market and Sakura Terrace Gallery in Kyoto
10. Oysters
Hiroshima is known for oysters. If you go to Hiroshima, do not miss eating them. They are very fresh and some were as large as our palms. You can have them steamed, grilled, roasted, deep-fried, and raw. Try them one way, or like us, try them every way.
Where To Find Oysters
In Hiroshima at Ekohiiki restaurant
11. Wagyu Beef
If you are a beef lover, you have to try wagyu beef in Japan. Soft and buttery, it melts in your mouth. The tender cuts of Japanese beef are cooked teppanyaki-style or grilled. Japan is known for Kobe beef but that's not the only region that has amazing wagyu. We had incredible wagyu from Kyushu as well.
Where To Find Wagyu Beef
In ShinKobe at Neiro
In Kyoto at Sakura Terrace The Gallery
12. Tonjiru Soup
Tonjiru is Japanese soul food cooked with pork and root vegetables like daikon, burdock, and carrot. It is commonly eaten during winter. We had the good fortune of enjoying homemade tonjiru in Tokyo. You can find it at many local restaurants throughout Japan.
13. Chestnut Creations
When you think of chestnuts, Japan is probably not the first place that comes to mind. Japan, however, has amazing chestnuts and chestnut pastries. If you are in Nagano prefecture, Obuse is the place to go to sample wonderful, airy, and mousse-like chestnut cream custard pastries and tea cakes. They are exquisite. They need to be immediately eaten so leave room in your stomach after sampling the nearby soba.
Where To Find Chestnut Pastries
In Obuse, Mont Blanc is one of the oldest stores. There are others nearby as well.
14. Momiji Manju
Momiji manju is a Japanese maple-leaf-shaped cake filled with adzuki red bean paste, matcha, chocolate, or custard. It is either baked or deep-fried. We had our first taste of momiji manju with friends on Miyajima Island. They insisted that we try the most traditional kind with red bean paste. We brought home many boxes of it.
15. Oyaki
We loved oyaki — pan-fried dumplings made with chewy wheat dough. The savory ones were stuffed with chicken, mushrooms, and onions while the sweet ones had matcha, red bean cream, and cheese. They were perfect for breakfast and a staple of the Nagano prefecture.
16. Obanzai
The 400-year-old Nishiki Market has over 100 stalls selling street food, snacks, and more. Wander the market sampling or go to a restaurant and try Kyoto's traditional obanzai meal with several small dishes. Or, like us, do both.
So Many More Dishes To Try
We loved discovering the breadth of food in Japan and we could have included so many more dishes. Taiyaki is a fish-shaped cake filled with matcha or adzuki red beans in Kyoto. Tonkatsu is a breaded deep-fried pork cutlet usually served with rice and cabbage on the side. Donburi is cooked meats or seafood like grilled eel over rice. Japanese food is so much more than sushi, sashimi, ramen, and tempura. Enjoy!