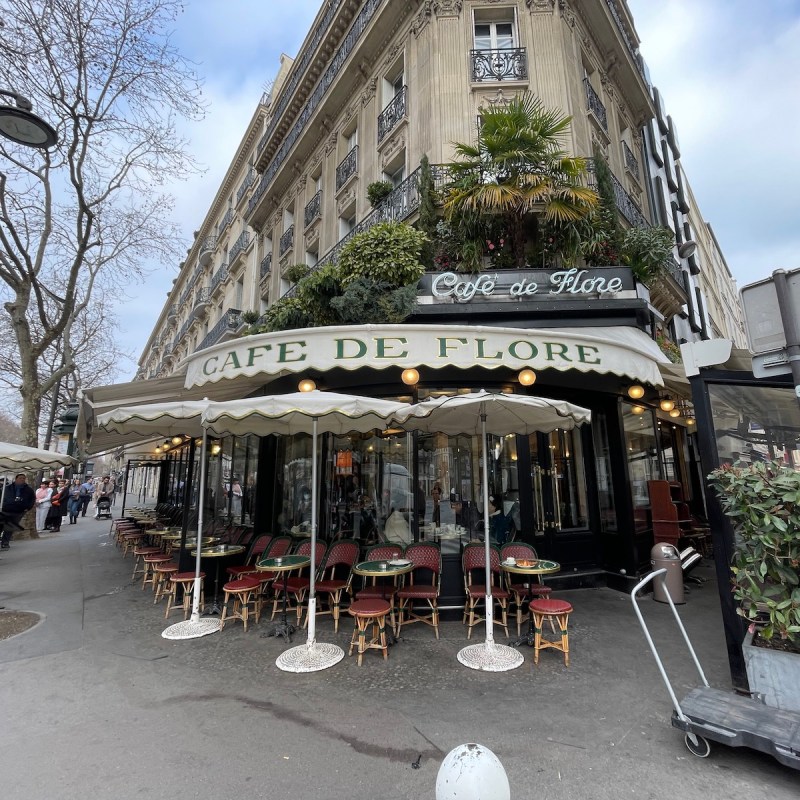 Parisian cafes and I have a long history to look back on. I have visited the city at least once a year since I was knee-high and later moved there for 6 years. But the first cafe I visited once I actually started drinking coffee and sitting on a cafe terrace watching people walk by was Les Deux Magots. It started me off on a rollercoaster of cafe visits, the variety of which you can only really enjoy in Paris.
While there are hundreds, if not thousands, of cafes in all shapes and sizes in Paris, there are a few that are so famous that they have become sights in their own right. Here, I mention some that mean a lot to me personally, for so many reasons, and others that are iconic, historic, or just gorgeous. And, yes, some overlap with this TravelAwaits article about cafes to experience in Paris, but doesn't that just mean that these truly are icons of the Parisian cafe culture? Be sure not to miss these seven iconic Parisian cafes.
1. Les Deux Magots
I was visiting with my mother— years, no, decades ago. I was in my existentialist phase, wearing black turtleneck sweaters, smoking Gauloises, and drinking Ricard. Even though I hated both, I had an image to keep. My long-suffering mom took me to Les Deux Magots, the very cafe where Simone de Beauvoir and Jean-Paul Sartre had sat and debated the meaning of life years before. I was in heaven. When I later lived in Paris, I often went back and just wished my mom could have been there with me.
What To Order: The food is typically Parisian, with croque monsieurs, oysters, and other staples. Personally, I suggest ordering the charcuterie and cheese board with your aperitif. It's pricey but large enough to count as dinner.
Pro Tip: On weekends, there is a queuing system for the terrace, so either come early and wait outside, or sit inside on the iconic red banquettes with the locals.
2. La Closerie Des Lilas
This is another cafe where de Beauvoir and Sartre sat and philosophized, and where Hemingway propped up the bar. La Closerie des Lilas, meaning "small lilac garden," is another one of those cafes where, over the years, everybody who was anybody sat and met up. From Picasso to Zola and Baudelaire to Beckett, this was simply the place to be. While the terrace is lovely, and there is a fancy but very overpriced restaurant, I love sitting in the bar to the left of the entrance, where little name plates adorn the tables spelling out some of the famous patrons.
What To Order: This is expensive, so I just tend to have a coffee or an Aperol spritz. But, for something yummy and not too pricey, try the truffle and cheese ravioli.
Pro Tip: You are steps away from the Jardin du Luxembourg, one of the most beautiful gardens in Paris. Bring a book and sit by the fountain for a while.
3. La Palette
What do Picasso and Anthony Bourdain have in common with me? La Palette. On a corner of Rue de Seine, studded with art galleries leading from the bustling Saint Germain de Pres to — you've guessed it — the Seine, La Palette is a traditional cafe that has little changed since Picasso's time. So much so that it has been listed as a historic monument. Inside, there is a small bar, but it is the backroom that is the interesting one. Here, you sit among paintings and tiled art in a veritable time warp. The terrace is great too, especially as you see the artsy people of the neighborhood saunter by, baguette under their arm. But for true atmosphere, sit inside.
What To Order: Paris is the best place for lunchtime omelets. Order the one with jambon de Paris and you cannot go wrong.
Pro Tip: At the end of the Rue de Seine lies the tiny Square Gabriel Pierné garden, which is filled with cherry blossoms in spring and hides a gorgeous statue of a little girl by Marcello Tommasi.
4. La Procope
The oldest cafe in Paris, it was here that Danton, Marat, and Robespierre concocted devious plans during the French Revolution, reminding me of school days, and later, even Napoleon Bonaparte ate here. Hidden away in the quaint and uncomfortably cobbled Rue de l'Ancienne Comédie, leading from Odeon through an archway, La Procope is as historic as it is iconic. Inside, a lovely staircase leads upstairs, and not one wall is straight, nor is the floor, but considering it first opened in 1686, that is only fair.
What To Order: Never mind coffee; book yourself in for dinner and go traditional: escargots for your starter, coq au vin for the main, and the not-to-be-missed flambeed crepe for dessert.
Pro Tip: A couple of buildings down is Grimart, a lovely art supply and stationery shop. They sell gorgeous notebooks.
5. Café De Flore
I know, I know: Café de Flore pops up in every single article about Parisian cafes. But it does so for good reason. It is where you meet friends when you live in Paris. It is where you sit during fashion week and watch all the Birds of Paradise stroll by. It is where you go for breakfast, or indeed, as I often did, to write for an hour or so. On the weekends, like at Les Deux Magots, there is a queue for the terrace. But during the week, you're fine, and inside is always a chic option, even if it deprives you of people-watching. Instead, you'll sit next to the locals that come every morning to read the paper.
What To Order: Breakfast! Depending on your appetite, have a flaky croissant, or try the tartine — simply half a baguette cut in two with butter and jam or honey. Inside, you can buy the cutest souvenirs, from plates to tea towels.
Pro Tip: Just when you think the age of magazines is over, head to the kiosk outside — especially during fashion week — and get your hands on one of the many thick, glossy fashion bibles. It's great fun to flip through while you sit on the terrace and oh-so-French.
6. La Rotonde
Picasso painted it, Hemingway wrote about it in The Sun Also Rises, and Cocteau and Modigliani frequented it. Just up from the Closerie des Lilas, La Rotonde on Boulevard Montparnasse is one of those cafes where, in its heyday, everybody seemed to be somebody, and it must have been buzzing with creativity. And, like many others, the terrace is great for people-watching. But if you don't see the inside, you are missing out.
What To Order: If you love seafood, this is the place to indulge. Order one of the iconic three-tiered seafood platters, packed full of crustaceans. Or, if that is a little daunting, definitely try the grilled turbot filet; one of my favorites.
Pro Tip: Just opposite the cafe, you have the famous La Coupole restaurant. In my mind, it used to be one of the best, but in recent years has lost a lot of its appeal, with the food just not being that good anymore. But do pop in for a glass of champagne and soak up the décor. The murals on the dome are a sight to see, as is the fine Art Deco décor.
7. Le Nemours
Another iconic cafe that most people mention, but again, Le Nemour is just so stylish and photogenic that even Angelina Jolie sat here in the film The Tourist. Right by the entrance to the Palais-Royal, the terrace is achingly beautiful and therefore deserves another mention.
What To Order: Have a coffee and a croissant, stay on the terrace, but pop to the toilet to marvel at the lovely monochrome floor tiles inside.
Pro Tip: Right next door is a little shop that sells figurines. Featuring figurines such as tin soldiers, TinTin, and all sorts of comic heroes, I can look at the window displays for hours.