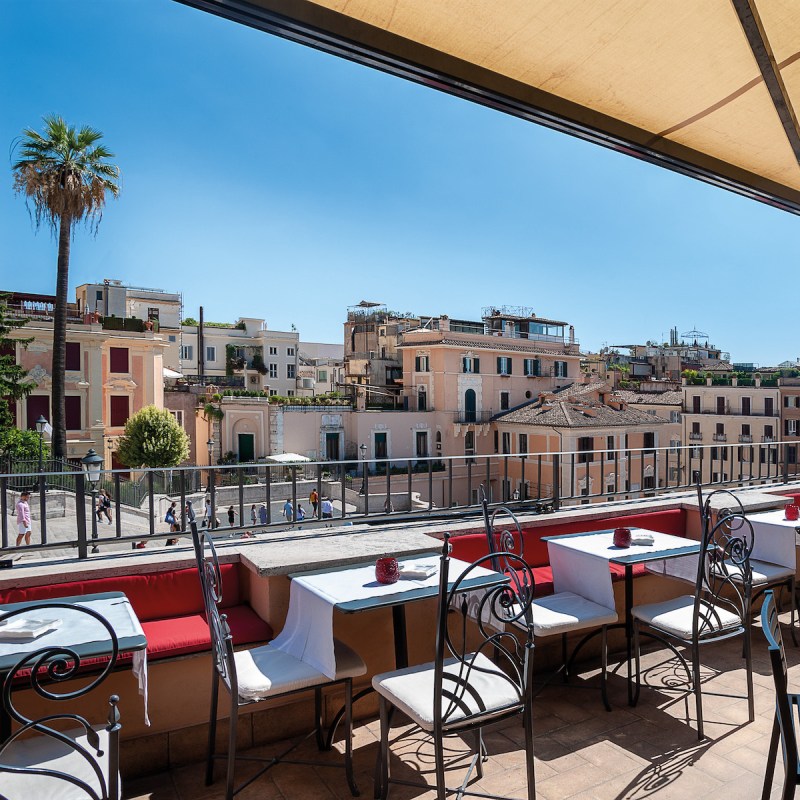 Rome is the perfect place to sit for a coffee, linger over a cornetto, an Italian croissant, for breakfast, or spend hours watching the world go by with an aperitif in hand. There are perfect places for this relaxing approach to fitting into Italy, enjoying the scenery, and indulging in a bit of dolce far niente.
The eternal city is full of little cafes and bars where locals usually stand by the counter to avoid tourists and to chat with the bartender, but visitors are happy to pay a little extra to sit outside on the terrace. Having recently spent far too much time — or quite honestly, never enough time — sitting outside and sipping some drink, I have collected some lovely places to enjoy a drink, a snack, or a light meal.
Probably nobody will agree with me that these are indeed the best bars and cafes in Rome, because not only are there so many, but also because everybody has their personal favorite areas and stipulations as to what makes a "best" bar or café. But these listed here I enjoyed enormously, frequented throughout my stay, and am happy to recommend, if in no particular order.
Salute!
1. Il Palazzetto
Campo Marzio
I have already mentioned this bar in my round-up of my favorite rooftop terraces, but it is so good that I want to name it twice. Il Palazzetto sits at the top of the Spanish Steps with simply unbeatable views and a sunset that you can only see like this in Rome. This is the place to come for an aperitivo or two, have a few bites, and watch the people milling around the Spanish Steps. Look out over the rooftops of Rome and wait for sunset.
Come here on your first evening, and you will be in the Rome mood immediately. Not that it takes long for Rome to get under your skin, but just sitting here is a perfect start to seeing and experiencing the city, even if it is the only thing you do in Rome. Up here it truly feels eternal.
2. Brassai
Ponte
On the corner of Via di Panico and Vicolo del Curato lies a tiny little café that is perfect for breakfast. Nearly every day when setting off from my stay at HiSuite, one of the lovely boutique stays in central Rome, I stopped here for a coffee and for the typically Italian cornetto, which is slightly different from the French croissant but just as popular. Inside, the locals were talking loudly over their breakfast at the bar, while I perched on one of the little chairs outside on the cobblestones.
Nothing fancy, but for a small place, they offer great sweet treats for breakfast as well as more substantial things such as scrambled eggs. The coffee is good, and the feeling is more local than touristy, even considering the river Tiber and the bridge to Castel Sant'Angelo are mere yards away.
3. Caffe Novecento
Parione
Another favorite place for breakfast is the Caffe Novecento near the Torre dell'Orologio. With great outdoor seating, this little place offers a wide range of varied breakfasts. They offer anything from a humble pastry to cooked breakfasts, from toasted sandwiches to rather yummy piadinas. These are warm flatbreads topped with all sorts of goodies, such as the Piadina al Cotto, topped with prosciutto, mozzarella, and radicchio. Frequented by travelers from all the surrounding little hotels and apartments, this is a lovely international affair, but still distinctly Roman and in a gorgeous setting.
4. Caffetteria Chiostro Del Bramante
Ponte
The Chiostro del Bramante is a former cloister turned design space hidden away in the warren of tiny lanes near Piazza Navona. I stumbled upon it because they were hosting a superb modern art exhibition when I was last in Rome, merging the shrill modern with the gorgeous historic setting to maximum effect. But I also stumbled upon the little café inside, the caffetteria.
You'd never know it's there from the outside; it is a perfect hideaway in a lovely historic building, serving very decent coffee and little snacks. It is the setting more than anything that makes me add this café to the list because it is so different from the bustling bars and cafes that line the streets just steps outside of this refuge.
5. Caffetteria Centrale
Vatican City
And talking about refuges, how about a café within the city but in another country? Right in the heart of the Vatican, within its museums, lies the Caffetteria Centrale. No, this one is not a hideaway as such, as it is hopping with tourists from around the world, all coming together to visit the marvel that is the Vatican, with its unbelievable treasures, such as the Sistine Chapel and countless Raphael and Michelangelo works.
But when you are not rushing past and are lucky to snap up a table, this is a place to enjoy a drink and a snack in a location that, despite what the hustle and bustle around you tell you, has only been frequented by a select few. How often do you get to sit in a place that has been home to countless popes? Imagine the history that took place all around you. It might not be the chicest café, but the setting makes it rather exclusive, and the coffee is not bad at all.
6. Lumen Garden, St Regis Rome
Castro Pretorio
And speaking of exclusive, if you want to have a reason to dress up a bit and enjoy a little luxury all around, head to Lumen Cocktails & Cuisine. The exclusive St Regis Rome is a historic hotel that offers bling at every corner and gives you several reasons to bring a dressy outfit.
Whether you sit in the Lumen Bar just past the lobby before the ballroom — with its stylish cocktail bar and cozy library snug — or outside in the Lumen Garden, a glass of prosecco or an Aperol Spritz will go perfectly with either setting. Take in the exhibition in the hotel's own art gallery before settling down, and then maybe stay for a dish of cacio e pepe, the traditional Roman pasta dish, best tried here.
7. Malavite
Pigneto
Even though most people rarely step outside of central Rome — after all, this is where all the main historic sights and the atmospheric old town are — there is also a different side to Rome. Obviously, there are many different sides to Rome, from purely residential quarters to working-class neighborhoods, from business areas to suburbs, all of which don't offer much to draw visitors.
But the neighborhood of Pigneto offers not only a look at Rome's young, hip, and somewhat alternative aspect, but also street art, street markets, and plenty of cafes and bars, all at a fraction of the price of those in central touristy Rome. A few hundred yards from the Pigneto metro stop, just east of the main railway station and behind the imposing Porta Maggiore, which dates to the 3rd century, you will find a bustling quarter and plenty of alternative Roman sites.
Stop off at the tiny Malavite for an Aperol or a coffee, maybe a simple Caprese salad, and balance on one of the little chairs in the pedestrian zone. One of several little eateries in the zone, this is the quarter to find organic food, vegetarian dishes, and good drinks, all enjoyed with some street musicians nearby.
8. Osteria Del Pegno
Ponte
For a typically Roman bar — an osteria in fact, so more a restaurant than a bar really — head to Osteria del Pegno in the old center near Piazza Navona. You can't miss it; it has a large mural of traveler Anthony Bourdain on the outside. I never did find out if he ate and drank here, but either way, this is a hidden little place where you can get a good bottle of wine at a reasonable price and linger over your plate of pasta all night long.
It's not fancy or modern and just has old-fashioned décor, but it's cozy and, as they say, "authentic." If you are not averse to trying something different, choose the Coniglio, the rabbit in garlicky tomato sauce. It goes surprisingly well with a light red wine.
Pro Tip: Whether you opt for coffee, an aperitif, or simply a nightcap after a day's sightseeing, there are ways to save money when in Rome on a budget: For your coffee, join the locals at the counter inside the café; for your aperitif, opt to head slightly off the city center; and for your wine, ask for the house wine — it rarely disappoints.