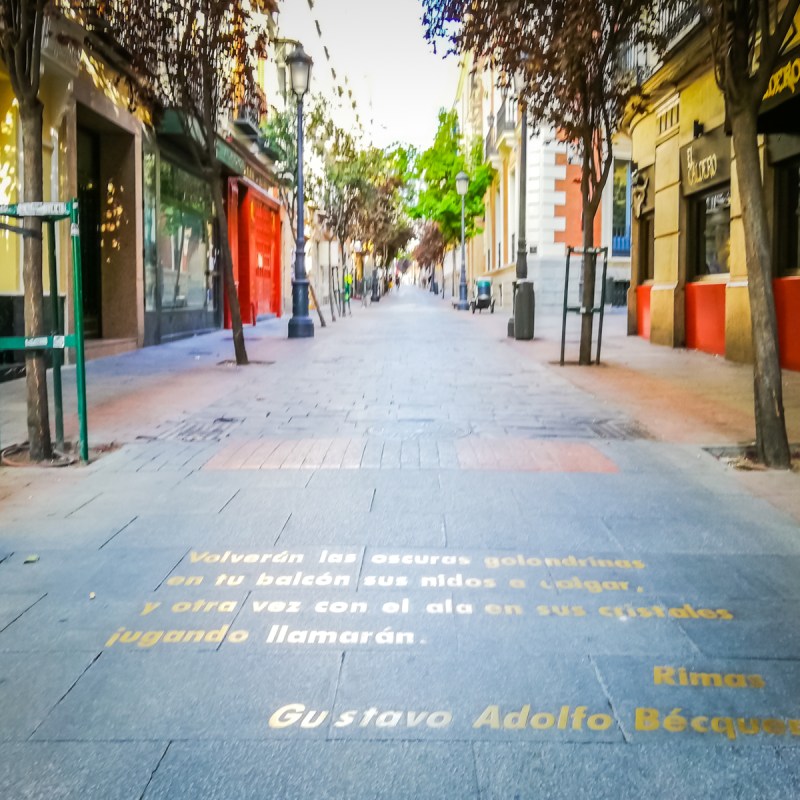 From delicious tapas bites to awe-inspiring medieval castles, Spain has something for every traveler. Here is a list of the best places to dine, explore, and just plain enjoy the beauty of Spain.
1. Barcelona Tapas At Cervesaria Catalana
Start off your trip with the rustic delights of Spanish finger food. World-renowned for having some of the best tapas, in Barcelona, Cerveceria Catalana impresses with a large selection of drinks and a combination of traditional and inventive small plates and other delicious bites.
Every trip to Spain requires a taste of the famed Jamon Iberico — air-cured ham that has been fed with acorns — and montaditos — bread served with various toppings. Other must-have tapas dishes include sauteed shrimp, patatas bravas, and manchego cheese.
Cervesaria Catalana is a beer bar at its heart, though, so be sure to grab a bottle of Spanish beer, such as a Voll-Damm Doble Malta or Alhambra 1925.
2. Restaurant Aponiente in El Puerto De Santa Maria
Situated in an old tide mill near the Bay of Cadiz in southwestern Spain, Aponiente only plates seafood. At the helm is Chef Angel Leon, who is often referred to as the "chef of the sea," and his 27-course tasting menu starts at the bottom of the food chain with algae and plankton and progresses to shellfish, fish sausages, and other concoctions based on larger creatures. A standout dish is his play on the classic Spanish paella, which incorporates plankton and aioli tartare.
3. Mugaritz, San Sebastian
Over the past few decades, Spanish cuisine has transformed from a reliance on rustic classics, instead becoming the epicenter of molecular gastronomy. The focus, however, is firmly on the country's freshest produce – meat and seafood. Nowhere is this more evident than at Mugaritz in the Gipuzkoa province. Part of the Basque region, which straddles the border of France and faces the Bay of Biscay, San Sebastian features innovation and culinary history. Mugaritz will shatter your preconceptions about what fine cuisine can be by transporting you through a three-hour, 20-course exploration of flavor, aroma, texture, and color. Dishes like creamy polished rice with mushrooms are variations on Spain's ubiquitous paella theme, while puffed anchovies encompass the sea and simple roasted chicken pays homage to country dining.
4. Explore Spain's Wines
Spain is filled with great wine-producing regions. Many know of its famed Riojas, but Garnacha (or Grenache) is an exciting alternative that you might not be ware of. Explore the wine with a tour of the vineyards at La Garnacha Campo de Borja. This tour follows the "ruta" or route of this particular wine through tours and tastings of Garnacha with its warm, powerful and aromatic complexity.
Spain has many other notable wine routes, including El Bierzo, Bullas, Navarre, and more. Check out some of the exciting tours for different varietals at Wine Routes of Spain.
5. Have A Drink And Watch Some Dancing At Palau Dal Mases
Add some entertainment to your dinner and drink with the nightly flamenco dancing at Palau Dal Mases in Barcelona. Set in a 16th-century baroque palace in the hopping entertainment and arts district, the restaurant also features fine art exhibits and weekly opera performances.
6. Sit At Hemingway's Favorite Spanish Bar
Literary aficionados can follow in the footsteps of Ernest Hemmingway, who spent considerable time living and writing in Spain. Any fan of The Sun Also Rises knows how Don Ernesto was able to vividly paint a picture of Pamplona's bullfights. The main characters would have coffee and drinks at the Cafe Iruna in the Plaza del Castillo, and so did Hemmingway. Today, you can revisit Hemmingway's Pamplona of the 1920s, as the cafe preserves its old-school charm.
7. Guell Park, Barcelona
If you are looking for art and design, you must check out Guell Park in Barcelona. A combination municipal garden, housing complex, and museum, the park is adorned with some of the best mosaic art in the world. Architect Antoni Gaudi designed and built the complex between 1900 and 1914, but it did not open to the public until 1926. A UNESCO Heritage Site since 1986, Guell Park attracts millions of visitors to its mythological mosaic sculptures.
8. Josep Pujiula Labyrinth, Argelaguer
The "Wild Village" at Argelaguer is a complex of strange structures near the Fluvia River in Catalonia. It has been a work in progress since the 1970s, with a considerable amount of resistance from the Spanish government. Some of the lands were public, and the government worried about the stability of some of creator Pujiula's structures. The site includes a labyrinth, a tower made of branches, a liveable cabin, and long traversable tunnels and walkways.
9. Barrio de las Letras, Madrid
If you are looking to be ensconced in Spanish literature, take a walk in the shoes of Cervantes and Quevado in the Barrio de las Letras in Madrid. The pedestrian streets are paved with quotes from famous Spanish authors who once called the neighborhood home. Nowadays, the area is close to some of the country's greatest museums, such as the Prado, Reina Sofía, and Thyssen-Bornemisza. The streets here are lined with cafes and restaurants, with other impressive sights such as the world-famous vertical garden at the CaixoForum art museum.
10. Malaga Costa del Sol
No trip to Spain is complete without experiencing the sun and beaches of the south, including Malaga Costa del Sol. The "sun coast" is filled with beachside resorts that boomed in post-war Europe, and still attract millions of annual visitors today — including many celebrities. It's located close to Gibraltar, which attracts British and other European visitors. Getting there is easy too, since it's served by three major airports: Málaga, Granada and Gibraltar International Airport.
11. Picos de Europa
Few natural destinations can rival the Picos de Europa National Park. Spain's oldest national park, its northern location near the sea exposes it to an unusual climate that ranges from warm to foggy humidity to banks of year-round snow. Hikes vary in difficulty, and both beginners and veteran hikers can have a fun and challenging outdoor adventure.
12. The Alhambra, Granada
The grand palace and fortress of Andalusia, The Alhambra was built in 889 AD on the remains of an old Roman fort. In the 13th century, it was expanded to its present grandeur as part of a Muslim Emirate in Granada. The Alhambra served as the palace for the Emirate, but returned to Spanish control after the Christian Reconquista in 1492. Christopher Columbus' trip to the Americas was authorized at The Alhambra, at the royal court of Ferdinand and Isabella. Visitors can relive the palace's millennium-plus of history through well-preserved Muslim and Christian artefacts.
13. Tibidabo – Biblical History From a High Mountain
The Tibidabo mountain outside of Barcelona is believed to be the site where Lucifer brought Jesus Christ during one of his temptations in the New Testament. Lucifer took Jesus up high on a mountain and offered him everything he could see. And in fact, from the top of this mountain, visitors have quite the panoramic view of the city below and the sea in the distance.
14. Castillo de Zafra
A dramatic snapshot of medieval Spain, Castillo de Zafra is an iconic castle built in the 12th century atop a large rocky hill. Located at Campillo de Duenas in the north-central region of Spain, the nearest major city to Castillo de Zafra is Guadalajara. And if the castle looks somewhat familiar, you may recognize it from season six of Game of Thrones as the castle was a filming location in several episodes.
15. Puente Romano
If you are looking for a perfect combination of luxury and beach, make your way to Marbella on Spain's southern shore. At the Puente Romano Beach Club, a village-like atmosphere awaits visitors. A pristine beach meets tennis courts, botanical gardens and open-air cocktail lounges.
16. Akelarre, San Sebastian
A winery, hotel and three-star Michelin restaurant, Akelarre offers a total luxury experience with dramatic cliff views of the sea. This property is very new, and exudes a chic modern style. Its namesake restaurant wows guests as well, but make sure to get your reservations well in advance as Akelarre is making a name for itself as a luxury resort with a rare perfect dining event.
17. Mas de Torrent Hotel and Spa
Heading up the Mediterranean coast from Barcelona, travelers enter the gorgeous Valencia region of Spain. Here, the countryside slowly blends into the Pyrenees lowlands of southwest France. Valencia offers much more than its famed orange groves and paella – although every visitor would be wise to sample both. There are many luxury resorts, even inland, such as the Mas de Torrent Hotel and Spa. Here you can experience the rustic elegance of an 18th-century Catalan farmhouse, renovated into a five-star hotel. Enjoy private pools, gardens, immersive spa treatments and the best cuisine in the Costa Brava.