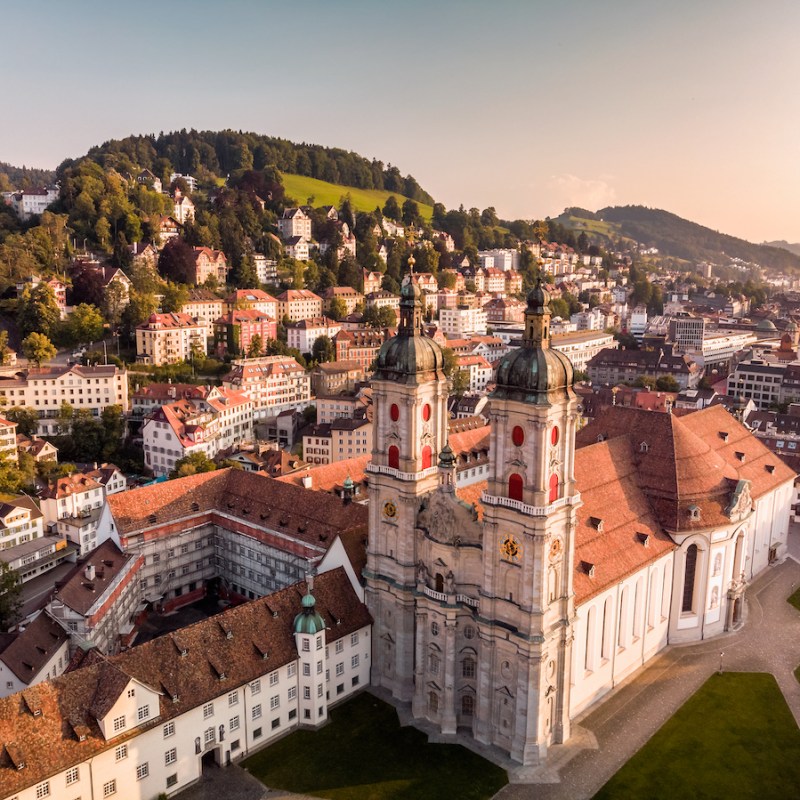 According to TravelAwaits' recent State of Travel survey, more than three-quarters of TravelAwaits readers plan on going abroad in 2023. Several of the top international countries our readers plan to visit this year are in Western Europe. Rome and Paris are great, but if you're looking for a unique visit to this side of the continent, our writers have some insider info for you. Here are their favorite lesser-known towns to visit in England, France, Italy, Malta, Portugal, Scotland, Spain, Sweden, Switzerland, and Wales, and why you should visit them in 2023!
1. Lacock, England
"Touted as the most filmed village in the world, Lacock netted its fame from the Downton Abbey and Harry Potter movies," Ann Bush tells us. Bush took the train from London's Paddington Station to visit Lacock, one of the most authentic 18th-century English villages.
Rolling green hills anchor golden fields in this rich farming community nestled in the English countryside. Less than 45 minutes from Stonehenge, Lacock feels as if it is lost in time. "The pub for our typical English lunch had changed little from the day it was built," Bush says. "A short walk along quaint country homes sprawls a private estate with a mansion on a hill that looked very familiar," she recalls, "it was the Hogwarts School of Witchcraft and Wizardry!"
2. Reims, France
About 90 miles northeast of Paris, Reims is the unofficial Champagne capital of France. Roughly 200,000 people inhabit this quaint city which was founded by the Romans in 80 B.C.
"At first glance, Reims appears to be much like most villages in France, complete with ancient churches and laid-back sidewalk cafes," Bush tells us, "But there is much more to this unique town."
Every French king for 900 years has been crowned at the Reims Cathedral, an amazing Gothic structure. Another interesting place is the Saint-Remi Basilica, a UNESCO World Heritage Site where relics of patron saints are stored.
Only sparkling wine produced in this historic Champagne region can be called Champagne.
Culinary delicacies include the biscuit rose de Reims, a rosy pink confection that was created centuries ago at the Maison Fossier Bakery in the heart of Reims. "They are often dipped in champagne before devouring," Bush explains.
3. Bonnieux, France
Kevin McGoff's meandering day trips in the Luberon sometimes find him in the village of Bonnieux. During a visit last fall, he stopped to enjoy the view of the valley below, dotted with orchards and vineyards turned golden yellow.
Perched upon a plateau, the village of Bonnieux stares at the imposing ruin of the Château de Lacoste on the opposite hill. The Marquis de Sade lived here during the period of his notoriety. Leaving Bonnieux in the other direction leads to the hiking trails of the Fôret des cèdres.
"Just down the hill from the town center is the Chateau la Canorgue. Overlooking these vineyards, Russell Crowe wooed Marion Cotillard in the movie, A Good Year," McGoff tells us, "The film's director Ridley Scott produces acclaimed wines at his nearby Mas des Infermiéres."
McGoff recommends discovering Bonnieux at Christmastime, where an elaborate crèche is on display in the 12th-century church at the top of the village.
4. Sceaux, France
A short train ride south of Paris, Sceaux feels far away from the noise and bustle of the capital. "Locals wander along Rue Houdan, buying baguettes, cheeses, and charcuterie from elegant little shops," describes Denise Stephens, "On Wednesday, Saturday, and Sunday, a market sells fruit and vegetables." Purchase picnic supplies here before heading to the town's main attraction.
Domaine de Sceaux has a pretty little chateau surrounded by an expansive park where paths lead past sculptures, fountains, and topiary. French landscape architect André Le Nôtre, designer of the garden at Versailles, also designed the formal gardens here in the 17th century.
"Down near the lake are two cherry orchards, one with pink flowering trees and the other with white flowering trees," says Stephens, "The orchards are in full bloom from late March to early April, making this an ideal time to visit, although the park is beautiful in all seasons."
5. Versailles, France
This gorgeous little town offers so much more than just a palace, according to Ulrike Lemmin-Woolfrey and Vanessa Chiasson, who both think Versailles belongs on your 2023 travel list. Brimming with history and charm, Versailles is just a short drive or train ride from Paris.
Versailles is home to one of the best farmers' markets Chiasson has ever experienced. "If you're dreaming of a rural French market experience, this is it," she says, "complete with indoor and outdoor cheese stands, sausage makers, chicken roasters, bread vendors, fruit and veggie sellers, and some unexpected treats (like Vietnamese spring rolls)!"
One of Lemmin-Woolfrey's favorite spots is the Potager du Roi, the King's veggie plot. Step behind the high walls and you'll discover a large orderly vegetable and fruit garden, complete with beehives, strawberry patches, and even the odd chicken. "Another favorite stop is the Carrés Saint-Louis, a unique arrangement of buildings with pastel-colored single-story houses that started life as a market under Louis XV," describes Lemmin-Woolfrey, "Today the quaint buildings play home to stores, cafes, and artisan workshops."
Lemmin-Woolfrey recommends visiting Versailles this year because the ornate, 14-room Apartment of Madame Du Barry, Louis XV's last mistress, has just been opened in the Chateau after extensive renovations.
Chiasson recommends visiting Versailles this year because "all of Paris and the surrounding region is busy preparing for the 2024 Olympics, and Versailles is included in this. The palace grounds will be home to events like some equestrian competitions. They're already prepping the grass and gardens for this event, something you can see firsthand if you take a cycling tour with Fat Tire Bikes."
6. Burano, Italy
A 45-minute water bus ride from St. Mark's Square, Burano is often missed by visitors to Venice. Tourists flock to its sister island Murano to check out the glassmaking, but only a fraction go a little further to the vibrantly colored Burano.
"Part of me is reluctant to promote this charming island town as one of its attractions is its relative calm," Chris Moore tells us, "Tourists are here for sure, but they are not yet shoulder-to-shoulder."
"Stroll down paths alongside peaceful canals crossed by hump-back bridges backed by scarlet, turquoise, canary yellow, and mauve houses," Moore says, "When you have stopped and snapped that Instagram-ready shot, turn the corner for an even more spectacular panorama."
Moore recommends stopping at one of the many waterside restaurants for something to eat or an Aperol Spritz before shopping for locally made lace. Burano belongs on your 2023 bucket list because as Moore puts it, "Vibrancy and serenity co-exist in harmony here, but for how long?"
7. Casoli, Italy
Casoli looks like a movie set, according to Jeanine Consoli, who asserts that it is one of the most beautiful villages in Italy. This charming town's cobbled stone streets lead to Neoclassical Churches and a historic castle. "Local restaurants are five-star in terms of quality and authentic flavor," Consoli contends, "and the views of the Apennine Mountains and the Adriatic Sea are breathtaking." Not far from the village you can ski or in the summer months take a swim. Consoli calls Casoli a "four-season destination in the heart of Italy."
8. Monterchi, Italy
If you just so happen to love frescoes by Piero della Francesca, then Catherine Ann Lombard has a special treat for you. Perched upon a lonely hill on the border between Umbria and Tuscany, the tiny village of Monterchi lies about half an hour outside of Arezzo. This former fortress provides panoramic classic Tuscan views of rolling hills, olive groves, and vineyards. But Monterchi's real treasure is the Museum of Madonna del Parto.
Lombard says the museum was built to exhibit Piero della Francesca's masterpiece, Madonna del Parto. The fresco was painted in 1459 inside the town's Church of Santa Maria a Momentana.
"This painting was inspired by his mother who was born in Monterchi," Lombard tells us, "What makes this museum so unique is that it is solely dedicated to displaying this one fresco, so you have nothing to run around and try to find and plenty of time to soak in the great master's use of color, light, proportion, and geometry."
9. Ravenna, Italy
Not far from Venice, Ravenna is one of Lombard's favorite cities in Italy to visit. "What's not to love about this city by the sea?" she asks. It is home to eight UNESCO monuments, "each full of Byzantine mosaics that will take your breath away," describes Lombard. "I particularly love how this city, which was the capital of no less than three empires — The Western Roman Empire, Ostrogothic Kingdom (493-553), and the Byzantine Empire (568-751) — is completely walkable," she says. A place where Italians actually live, not just a tourist stop, Ravenna offers shops and restaurants that are authentic in their style and taste.
Ravenna is also where the great Italian poet Dante Alighieri is buried. "There's a great story about how 200 years after Dante's death, Florence officials appealed to the pope to have the exiled poet's body returned to them," Lombard informs us, "When they went to fetch the sarcophagus, they found it empty! The crafty Franciscans had made a hole in the wall and secretly moved Dante's bones there. Through the centuries, to protect Dante's bones from being confiscated, the Franciscans kept moving them to different secret hiding places until the location was completely forgotten. Only by accident were they rediscovered in 1865 by a worker carrying out restoration work for the 600th anniversary of Dante's birth. Even today, Florence is trying to have their native poet returned to them, but Ravenna refuses."
10. Saluzzo, Italy
Once a powerful city-state, the town of Saluzzo is a little gem in northwest Italy. Palaces, churches, and castles inhabit the historical quarter, but many factors contribute to the town's uniqueness according to Jackie Parsons, co-owner of Hedonistic Hiking.
"Firstly, its location," Parsons explains, "Easily accessible from Turin, the town lies in the shadow of the region's highest mountain, the very beautiful Monviso, so you're never far from a great hike. In fact, I always make Saluzzo the first stop on my Jewels of Piedmont hiking tour. It's also at the heart of Piedmont's slow-food gastronomic traditions and close to wine-producing towns such as Barolo, so has some excellent restaurants."
Parsons recommends leaving plenty of time to explore. "Wander through the historic porticos, then climb cobbled lanes and medieval alleyways to the top of the old town and to the imposing castle (La Castiglia) and magnificent San Giovanni church and convent," she suggests.
Close by, visit the frescoes at the 13th-century castle at Manta, and the Cistercian Abbey at Staffarda which has an excellent restaurant, Il Sigillo.
11. Vicenza, Italy
Nestled in northeastern Italy, Vicenza is not overrun with tourists, Karen Warren tells us. This beautiful historic town is remarkable for being full of buildings by the 16th-century architect Andrea Palladio. There are so many that the whole city center is a UNESCO World Heritage Site. "Even if you haven't heard of Palladio you will be familiar with his style," explains Warren, "He designed many buildings in Venice, and his influence is seen across Europe and even in the U.S."
Warren says any time of year is a good time to visit. She recommends wandering the streets with their "grand architecture and smart shops." Vicenza has several museums, including the Jewellery Museum, as the town has been associated with jewel-making since early times. "If you have a car, you could also explore several Palladian villas in the surrounding countryside," Warren suggests, "Or you can just enjoy excellent Italian food in the restaurants of the Piazza dei Signori."
12. Senglea, Malta
Strolling Senglea's perimeter, you're at water level with grand cruise ships, super-yachts, passenger ferries, and tiny luzzu sailing in and out or crisscrossing the Grand Harbor, the world's deepest natural harbor.
Walk along the marina where mega-yachts park so its passengers can eat, play, and shop in its surrounding restaurants, bars, and boutiques. "These boats are jaw-dropping, and so are the prices you'll find in this area," quips Mary Charlebois.
For a budget-friendly experience, Charlebois suggests climbing a street made of steps. "Along the way, you'll encounter iconic Mediterranean neighborhoods with cafes, restaurants, shops, and prices that will balance your budget," she says.
"Explore monuments, shipyards, and Gardjola Gardens," Charlebois recommends, "The magnificent Basilica of Our Lady of Victories has some of Malta's finest art and sculpture. Ferry across the Grand Harbor to Valletta for a day of exploring. Then return to your tourist-free and budget-friendly Senglea for the night."
Pro Tip: Stay at The Snop House. The art-filled guest house is one of Malta's finest.
13. Sistelo, Portugal
Located in the north of Portugal, Sistelo is about 90 minutes by car from Porto. Home to about 300 inhabitants, it is one of Sarah Kingdom's favorite hidden gems in Europe. Dating back to medieval times, this little village is classified as one of Portugal's national monuments. Hand-built terraced fields earned it the nickname, "the little Portuguese Tibet."
The village climbs up a steep hill, with a narrow cobbled road leading to old granite houses and an array of picturesque espigueiros, old stone granaries, where villages once stored grain harvested from the terraced fields.
Sistelo is at the entrance to the Peneda-Gerês National Park, the greatest (and only) national park in Portugal. "If you like hiking, then this is the perfect destination for you," Kingdom says.
"Don't miss the Cha da Armada viewpoint, which offers the best views of Sistelo," advises Kingdom, "and the Brandas de Sistelo, a 7-mile trail starting in the village and passing through some of the most beautiful natural spots of the region, including centuries-old shepherd shelters."
14. Dunkeld, Scotland
Located in Perthshire, Scotland, the small town of Dunkeld is where you'll find the ancient oak tree mentioned in Shakespeare's Macbeth. "On arrival, over the pretty humped bridge over the river, the small town, with just one main street and a market square, awaits," describes Samantha Priestley. "There's a cute whisky shop, a continental deli, a vintage shop, and a dog-friendly pub, restaurant, and hotel," she tells us, "It's one of the smallest towns I've ever been to and also one of the prettiest, and one I always want to go back to."
Visit in winter when it's frosted with snow, or in summer to walk along by the river and sit outside the whisky shop in the square. In March 2023, Dunkeld plays host to The Niel Gow Festival, and annual festival named for a local musician. "There are various fruit picking opportunities at Dunkeld Orchard, including gooseberry picking in July," adds Priestley.
15. Kirkwall, Scotland
A quaint yet fascinating town, Kirkwall can be found on Scotland's Orkney Islands. Heather Markel says that it resembles a hybrid Scottish and Norse city. "Though you'll hear the Scottish accent and see highland cows, the chilly temperatures, landscapes, and town shops will make you wonder if this isn't its own part of the world," Markel tells us, "And you'll meet residents who feel it is!"
Here, you can walk through time and history. Markel suggests hiring a tour guide to take you around to wondrous places like Skara Brae and various standing stones. "You might be lucky to hear tales about the Vikings and what led to their demise," Markel remarks.
"A visit to the Highlands Distillery is a must," advises Markel, "not only for the delicious Scotch, but for the beautiful glass you'll get as a souvenir. If you're there at the right time, you might even get treated to northern lights dancing in the dark skies above. Visit Orkney's event page for a list of things to do."
Pro Tip: Check out Samantha Priestley's 6 Favorite Whisky Distilleries To Visit In Scotland.
16. Cuenca, Spain
Perched on the steep side of a mountain in Spain, Cuenca is a well-preserved medieval city that takes you back in time. Kingdom calls this historic town a "seriously underrated hidden gem."
Most tourists focus on the casas colgadas, or "hanging houses," that cling to the cliff edges over the Huécar gorge, but the entire old city is magical and deserving of its UNESCO World Heritage status according to Kingdom. Founded by the Moors, the walled town's steep cobbled streets and medieval castle ruins is full of churches, squares, and beautiful scenery. Built by Gallic stonemasons in the 12th century, Cuenca's Cathedral is not to be missed according to Kingdom.
With quaint cafes and shops, the town's streets are perfect for exploring. "The surrounding karst mountains coupled with the glowing green Júcar River provide numerous hiking trails of varying difficulties," Kingdom tells us, "Nearby Serrania de Cuenca National Park is vast and is especially well known for its bird watching."
17. Rota, Spain
The city of Rota is Andalusia, in the Bay of Cádiz. If you're driving through Southern Spain or taking a trip to Seville, Jill Robbins says to consider adding Rota to your itinerary, along with nearby Cadiz, Malaga, and Gibraltar.
Rota's main draw is its beautiful, pristine Atlantic Ocean beaches and relaxed, family-friendly atmosphere. There are seemingly endless options for casual beachfront dining and places to grab coffee or cocktails. The cobblestone downtown area has a variety of shops (many catering to beachgoers) and restaurants. "Ristorante Italiano Tuscania offers stunning views of downtown Rota, but you'll need to book in advance if you want to sit on the rooftop patio," Robbins advises.
"Rota is a popular summer destination for tourists from Spain and other parts of Europe," Robbins tells us, "After mid-September, the beaches become substantially less busy and the amount of Chiringuitos (beachfront café bars, often temporary structures) won't be as plentiful, but there are still warm days in the fall to enjoy the beach, although the water might be too cold for swimming or paddling without a wetsuit."
18. Palamós, Spain
In August, Sandi Barrett visited many small towns and villages along the Mediterranean Riviera and her first stop was the stunning coastal town of Palamós, Spain. Perched on the Costa Brava, sun-soaked Palamós is a beach playground.
"Sun lovers bask on the hot sandy strip popping in and out of the sea to cool off in the temperate turquoise waters," describes Barrett. "Just reminiscing about the beautiful clear water helps lower my blood pressure," she quips. Platja Gran de Palamós — the beach — wraps around a small bay and is surrounded by small eateries specializing in local Catalan cuisine.
One of the prettiest hotel views is from the Hotel Costa Brava, according to Barrett. "The winding pathway to the beach affords peeks at the stunning blue water waiting for you to wade in, relax, and enjoy," she says. Yes, please!
19. Pals, Spain
The charming medieval village of Pals sits on a hilltop less than an hour from Girona, several miles up from the pristine Costa Brava beaches. "Determined to maintain its medieval architecture, the village's Gothic historic center, Plaça Major, with the 1597 town hall, the city's main gate, made of 12th-century iron, ornate arches, doorways, and window frames have been lovingly restored to their former glory," Penny Zibula tells us.
"A gently winding road leads to the church of Sant Pere, the 49-foot-tall 12th-century bell tower, and four large 14th-century towers," Zibula describes, "The views of the countryside, with its distant rolling hills and flat rice fields, are magnificent."
Along with its rich history, Pals offers a selection of fine restaurants serving outstanding traditional Catalonian dishes, outdoor cafés, art galleries, quaint shops featuring colorful Catalan pottery, and enough recreational options to satisfy the most avid outdoor enthusiast.
20. Linköping, Sweden
Linköping is a friendly, walkable town in southeast Sweden, an hour south of Stockholm by train. A smorgasbord of tantalizing offerings, the town has enough history, culture, and activities to keep visitors mesmerized, according to Zibula.
"Flygvapenmuseum, the interactive Swedish Air Force Museum, is home to more than 100 original aircraft and artifacts," she tells us, "Its chronological history of Swedish military aviation alone could have kept me enthralled for an entire day. This was also true of Gamla Linköping Open Air Museum, a living museum of the late 1800s to early 1900s, and an interactive wonderland for children and adults alike."
"A cruise down the 120-mile Göta Kanal and through its locks is well worth the time," says Zibula, "So are visits to the stunning Linköping Cathedral, with a magnificent tower and a spire soaring 351 feet into the sky, and intriguing Linköping Castle, parts of which date back to the 12th century."
21. St. Gallen, Switzerland
Travelers who love history and culture would absolutely enjoy this city in northeastern Switzerland, Colborn assures us. It is home to the Abbey of St Gall, a UNESCO World Heritage Site. Boasting two beautiful towers, the abbey's cathedral is gorgeous, but its library will take your breath away.
One of the world's oldest and richest libraries, it transports visitors to "pre-medieval times when books were more precious than gold," Colborn describes, "Its ceiling is a three-dimensional work of art; the bookshelves made of heavy wood open up to reveal more secrets behind them. A statue of Saint Gallus (aka Saint Gall) stands in the square for the true cultural and spiritual leader from Ireland who spread his influence into the heathen Germany of the time.
Over 100 lovely balconies called adorn buildings around the city, six of which can be found around the Old Town near the Visitor Information Center, according to Colborn. Before reaching the center, you'll encounter a few blocks called the Red Square, where cars, benches, and stairs are all harmoniously carpeted red. Finally, the Textile Museum contains thousands of objects, antique lace, and fabrics found in Egyptian tombs.
22. Hay-On-Wye, Wales
Hay-on-Wye is a quirky small town in Wales and another one of Warren's suggestions for where our readers should be headed in Western Europe in 2023. "It is full of history and has an enviable location on the River Wye," Warren tells us, "But its real attraction is the bookstores: this is 'Britain's book town,' with more than 20 second-hand shops where you can find books on just about any subject you can imagine. The town has always been a magnet for collectors and booklovers, and now it is home to the twice-yearly Hay Festival, a prestigious gathering of writers and historians, politicians, and scientists."
Warren suggests visiting in the summer for the countryside, the riverside walks, or hiking along the long-distance Offa's Dyke Path. Explore the medieval streets, the Norman Castle, and the Cheese Market. "And, at any time of year, and whatever the weather, you can enjoy browsing in the bookshops and enjoying a drink in one of the town's historic pubs," she says.
Related Reading: