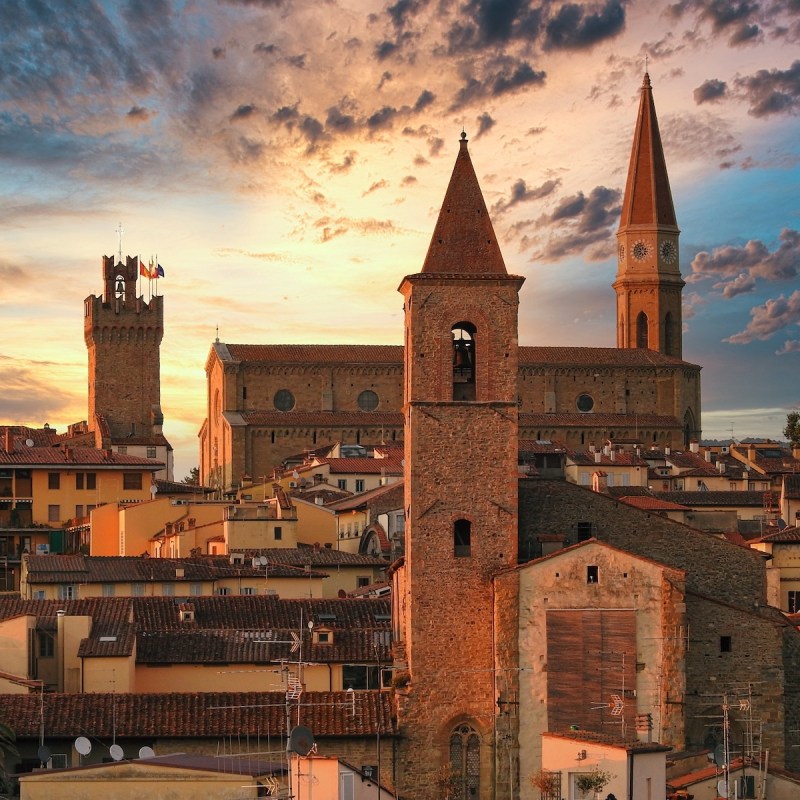 Only an hour away (by car or train) from Florence, the medieval town of Arezzo is home to the largest antique market in Italy. Besides its market where you can buy everything from furniture, books, linens, and kitchenware to rare items, this beautiful town offers you frescoes by Piero della Francesca, a Roman amphitheater, and the opportunity to view the home of artist Giorgio Vasari.
For cinema buffs, Arezzo was also the setting in the Oscar-winning 1997 film Life is Beautiful, so you can be sure its piazzas and side streets are delightfully picturesque, not to mention photographic!
There are at least a million reasons to fall in love with Arezzo — easy parking, great restaurants, wonderful outdoor cafés, friendly pedestrian streets — not to mention its more than ten museums, a dozen churches, and a magnificent cathedral full of art treasures.
I admit, deciding on what to see is a tough choice, especially when you only have a day or two and don't want to miss out on the antique market. But, we have to start somewhere! Here are the four reasons why I love Arezzo.
1. Wandering Around The Antique Market
Every first Sunday of the month as well as the Saturday before, you can wander around Arezzo's beautiful piazzas and Tuscan streets in search of treasures amongst the 500 or so vendors. The Piazza Grande is filled with everything including religious artifacts, silverware, paintings, musical instruments, mirrors, lamps, old record labels, Roman coins, and more. In short, the market is perfect for connoisseurs and bargain hunters alike.
Try to go early as the market is popular (visited by about 30,000 customers every year). But, of course, half the fun of treasure hunting is people-watching. The other half of the fun is haggling on the price. It is to be expected, so don't be shy. Start by knowing how much you want to spend. Then, ask the vendor the price, offer half, and negotiate from there. Remember, it's considered very rude to walk away once the vendor finally agrees with your offer.
The Arezzo Antique Market has been going since 1968 and you will probably need two or three hours to see most of it. If your husband is like mine — a philosophy professor fluent in Italian — then you will need even more time. Many vendors are happy to indulge in a nice chat.
Before going, be sure to first visit the Arezzo Antique Market official website. The website tells you how to get there, where to park, and a map of where the vendors are located.
Pro Tip: The hours for the market are:
April–October: Saturday: 9 a.m. – 8 p.m. and Sundays: 9 a.m. – 8 p.m.
November–March: Saturday: 9 a.m. – 7 p.m. and Sundays: 9 a.m. – 6 p.m.
2. Walking Around Enchanting City Streets
If you can't be in Arezzo during the Antique Market, don't despair. The town is full of antique shops, as well as other sights to delight you as you turn nearly every corner. What I love best about Arezzo is its pedestrian-friendly streets, full of grand piazzas and enchanting architectural details without Rome's aggressive motorbikes or Florence's hectic pace.
One of my favorite details is the 13th-century sculptures of the months, located above the main entrance to the Santa Maria della Pieve church, not far from the cathedral. While the "tower of a hundred holes" (so called from its many double windows) is characteristically one of the emblems of Arezzo, these recently restored polychrome sculptures truly capture the seasonal work in the fields alongside symbolic images of the zodiac. For example, January is personified by the two-faced Janus who is seated on a stool in front of a hearth, over which hangs a cauldron and sausages.
As you stroll around, you will also discover signs indicating where specific scenes were shot in the film Life is Beautiful. It's quite fun to think of yourself walking around a film set!
3. Indulging In The Mesmerizing Frescoes By Piero Della Francesca
Whenever I go to Arezzo, I always make it a point to visit the Basilica of San Francesco and the Cathedral of Arezzo, just to be able to soak in the harmonious frescoes by one of my favorite artists, Piero della Francesca (1412–1492). He is one of the most famous Renaissance Italian artists whose paintings are amazing works of harmony and proportion, given that he was (like Leonardo da Vinci) also a mathematician.
You can start at the cathedral, which is impossible to miss by its bell tower which the locals call the matitone or pencil. This Gothic cathedral is full of artwork, and Mary Magdalena by Piero della Francesca can be found on an unobtrusive wall on the left side, next to the door of the sacristy. Countless times I have stood in awe of her life-size figure looming over me. Her sturdy neck and slightly raised eyebrows have so much to tell! The cathedral is open every day from 7:30 a.m. to 6:30 p.m., and entrance is free.
You will need to reserve and purchase tickets, however, to view the frescos by Piero della Francesca in the Bacci Chapel, which is inside the Basilica of San Francesco. These frescoes depict the Legend of the True Cross, which tells the story of how wood from the Garden of Eden became the cross upon which Jesus was crucified, and includes many subplots and protagonists such as Emperor Constantine, his mother Helena, the death of Adam, early 7th century battles, and the meeting between King Solomon and the Queen of Sheba.
Of course, it helps to know the story, but either way, you cannot help but admire the beautiful blend of colors, realistic expressions, and the painter's expertise in painting light in a way that takes into account the natural light from the central window of the chapel.
Note that, as of this writing, tickets are not available online. You must reserve your tickets and you only have 30 minutes to view the frescoes.
Pro Tip: The opening hours in the summer are:
Monday, Tuesday, Thursday, and Friday: 9:00 a.m. – 7:00 p.m.
Saturday: 9:00 a.m. – 6:00 p.m.
Sunday: 1:00 p.m. – 6:00 p.m.
And during winter:
Monday, Tuesday, Thursday, and Friday: 9:00 a.m. – 6:00 p.m.
Saturday: 9:00 a.m. – 5:30 p.m.
Sunday: 1:00 p.m. – 5:30 p.m.
4. Museums To Please Everyone's Taste
Not everyone is an antique collector or an art lover, but between its more than ten museums, Arezzo still has a chance to capture your heart. The Roman amphitheater is right in the middle of town and can be viewed along with the Gaio Clinio Mecenate National Archaeological Museum, which contains Etruscan and Roman statues, jewelry, and other artifacts down through 3 millennia. You can easily spend an entire day here.
Then there's Casa Vasari, the house museum built and decorated with frescoes painted by Giorgio Vasari (1511-1574), a Renaissance artist, architect, and historian (not to mention friend and colleague of Michelangelo). Born in Arezzo, he used this house as a quiet escape from Florence, especially during the plague. The rich décor of his home, his art collection, and the quiet little garden is a real treat.
Who doesn't like gold? You can see beautiful pieces crafted by goldsmiths during the past 1,000 years up until the present day at the Museum of Gold. For nerdy geeks, there's the Museum of the Means of Communications of Arezzo, where you can see curious items of communication, including vintage and rare typewriters, computers, old cameras, and magic Venetian lanterns.
Finally, for kids of any age, there's the interactive museum dedicated to the Giostra del Saracino (The Colors of the Joust), a traditional knightly tournament that is held twice a year in the Piazza Grande. The event has medieval origins with four-quarters of the town contending for a golden spear. In this museum, you can see original clothes, objects, and engage with digital and interactive displays that reenact the entire event.
While it's easy to zip by Arezzo on your way between Rome and Florence, you might want to take a day or two to stop and discover this special Tuscan town. Its art, history, and traditions will certainly please any seasoned traveler. Also, who knows? Maybe you'll even take home an antique or two.
For more information on traveling to Italy, check out these articles: