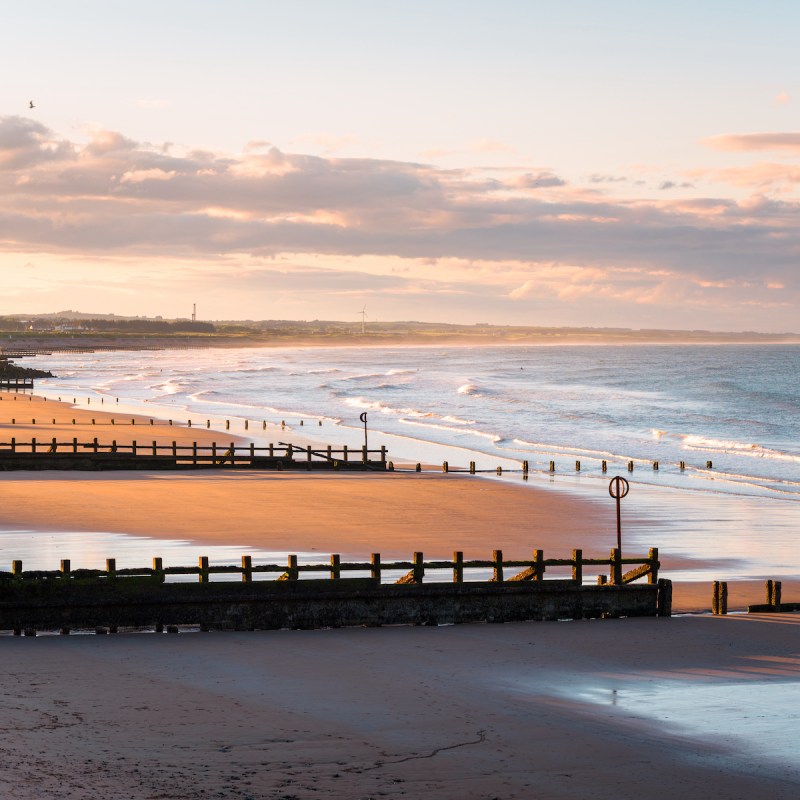 There is something meditative about walking on the beach, keeping an eye out for wave-tossed, smooth glass, finding some, and taking home a little treasure. It is well documented that walking outside in nature is good for your physical as well as mental health, but add searching for sea glass and you have a triple-whammy of well-being.
I have been an avid collector of sea glass for many years and search out a beach wherever I find myself in the world, and it seems that I am not alone.
So for all you avid collectors of sea glass out there, here are some of the best sea glass beaches — in no particular order — which you can search out in Europe. After all, a little break from sightseeing and instead strolling along the beach can only be good for you, right?
1. Seaham Beach
Seaham, England
Seaham Beach in County Durham on England's northeastern coast is undoubtedly the sea glass beach in the world, and its reputation precedes it. Check on any beachcomber forum or read any article on sea glass and you'll come across Seaham, and due to that it has recently become quite busy, with people going out of their way to get to this beach. But there is still glass, and multi-colored glass to boot. For me, it is a must-stop whenever I find myself at my in-laws' house in North Yorkshire, because it is such a gorgeous beach, set against high cliffs, and the sea glass is really quite spectacular.
For the best chance to find those gorgeous multis, head to the beach as the tide starts to recede and keep turning over the pebbles on the beach to find gems nestled underneath. Some people even bring little gardening forks to rake the pebbles and sand.
Pro Tip: To double your chances of getting the right tides, stay at the nearby Seaham Hall overnight. This grand hotel is simply lovely and has superb spa facilities included in the price. Just don't forget your swimming costume, like I did last time…
2. Aberdeen Beach
Aberdeen, Scotland
Located on the northeast coast of Scotland, the beaches around Aberdeen — the port city also dubbed the Granite City — are great for sea glass. The industrial setting, not necessarily calling out to tourists, is a good indicator that there has been lots of glass discarded carelessly into the sea. Add the fact that two rivers, the Dee and the Don, enter the North Sea here, and you have additional potential. The Aberdeen city beach is partitioned by groins, allowing sea glass to be trapped in the smaller beach sections. But don't just concentrate on Aberdeen Beach; there are other superb beaches along the length of the coast such as Stonewall in the south, which is also good for sea glass, but also Newburgh toward the north, which is a beach famous for its seals.
Pro Tip: At low tide, go for a clamber around the rocks along the Girdle Ness Lighthouse peninsula. There are a couple of small pebble beaches that are good for sea glass.
3. Murano Faro
Murano, Italy
Murano is one of the many islands dotting the Venice lagoon and is famous for its many glass manufacturers. Hop onto a vaporetto from Fondamente Nove to Murano and within around 30 minutes, you'll find yourself in a paradise for glass lovers, if not necessarily sea glass lovers.
While the island of Murano as such does not have any beaches, with every piece of land utilized by the island's residents and glass manufacturers, there is a tiny little stretch of beach right down by the ferry jetty. Not officially accessible, you can climb down and at low tide find some incredible little gems. Try to time your stealthy approach in between ferries, not just because of the swell, but also because the ferry people will shout at you. Also make sure you have someone to pull you back up, but do dare to do it, as it is a good little spot.
Pro Tip: Did you get stopped? In that case, head to the island of Lido and walk along the lovely beach there.
4. Kiel Canal
Kiel, Germany
Kiel is a northern city in Germany on a fjord leading in from the Baltic Sea. It's famous for its Kieler Woche — which is filled with sailing boats and tall ships — and as the entry point to the Kiel Canal, which connects the Baltic with the North Sea. Beaches line both sides of the fjord, but many spots along the coast are also taken up by ports and ship-building sites. If you head to Leuchtturm Friedrichsort, a green and white lighthouse, you will be far enough out of the city and the port area to enjoy not only peace and quiet on the beach, but also a good chance to find glass that had long ago been discarded by ships.
Pro Tip: Keep an eye out for amber. These ancient yellow-hued droplets of tree sap are very common along the Baltic Coast, if more toward the east than here, but that does not mean you cannot find them. To test that it is amber and not sea glass, mix a glass of warm water with plenty of salt, and if your potential piece of amber floats, it is indeed amber.
5. Plage Du Ponteil
Antibes, France
You can also find sea glass in the Mediterranean, especially near larger cities and ports. But head straight to Antibes to combine sightseeing, soaking up the South France beach vibes, and hopefully finding some sea glass baubles. Antibes, a perfect day trip from Nice and roughly halfway to Cannes, is not only charming with its pastel-hued buildings and port filled with sailboats as well as enormous luxury yachts, but it is also one of the French's favorite beach resorts. So, to have the beach to yourself for a bit of sea glass hunting, you will either need to get up early or visit out of season. While most of the beach is perfectly smooth sand, toward the water's edge there is a line of pebbles and general washed-up jetsam and flotsam, and this is where to look.
Pro Tip: From Plage du Ponteil you can walk across the peninsula to the gorgeous suburb of Juan-les-Pins on the other side. It's roughly a 20-minute walk through the residential neighborhood before you pop out at the chic Juan-les-Pins beach. Have a coffee at Café de la Plage, and a walk along the narrow stretches of beach here as well. You never know what you might find.
6. Llan-non Beach
Cardigan Bay, West Wales
While you can indeed find sea glass in the Baltic and the Mediterranean, the best places in Europe are certainly the British Isles, and the various coastlines, be they on the North Sea or the Atlantic Coast. Wales offers some spectacular coastline, and along Cardigan Bay, to be honest, pretty much all of the beaches can be veritable treasure troves. Lying south of the Irish Sea and north of the Celtic Sea, there is enough land around — and plenty of ship traffic — to make this a good spot to gather discarded glass.
As it is always useful to have a larger town or city, preferably with some industry and a port nearby, the beaches north and south of Aberystwyth are perfect. And because pebbles are always better than sand on the beach when it comes to good hunting grounds, then Llanon Beach, also spelled Lan-non Beach, and nearby Llanrhystud Beach are the best. You can find all sorts of colors here, even those desirable stoppers have been found along these coasts.
7. Lisfannon Beach
County Donegal, Ireland
On the other side of the Irish Sea, right up on the northwestern tip of Ireland, you will find a wild coast with dunes and creek-like seascapes, battered by the North Atlantic Ocean. The Lisfannon Beach is a perfect mix of sandy beach with the odd rocks and pebbles, making it quite famous as a sea glass beach. The good thing is that few people come to this tail end of Ireland, because to reach it, it is a 3-hour, 162 mile-drive from Dublin right to the northernmost end, past the narrow bit of the Republic of Ireland skirting Northern Ireland. There is not much up there to draw tourists, which, if you are a sea glass collector, is good news.
This part of Ireland is spectacular when it comes to nature, and you ought to base yourself in quaint Donegal to be able to explore the region bit by bit. There are plenty of beaches with sea glass, although it seems to be the consensus that Lisfannon is the best.
Pro Tip: Combine your trip with a visit to Northern Ireland, just a few miles east. You are not far from the Giant's Causeway, which is one of Northern Ireland's biggest tourist hotspots.