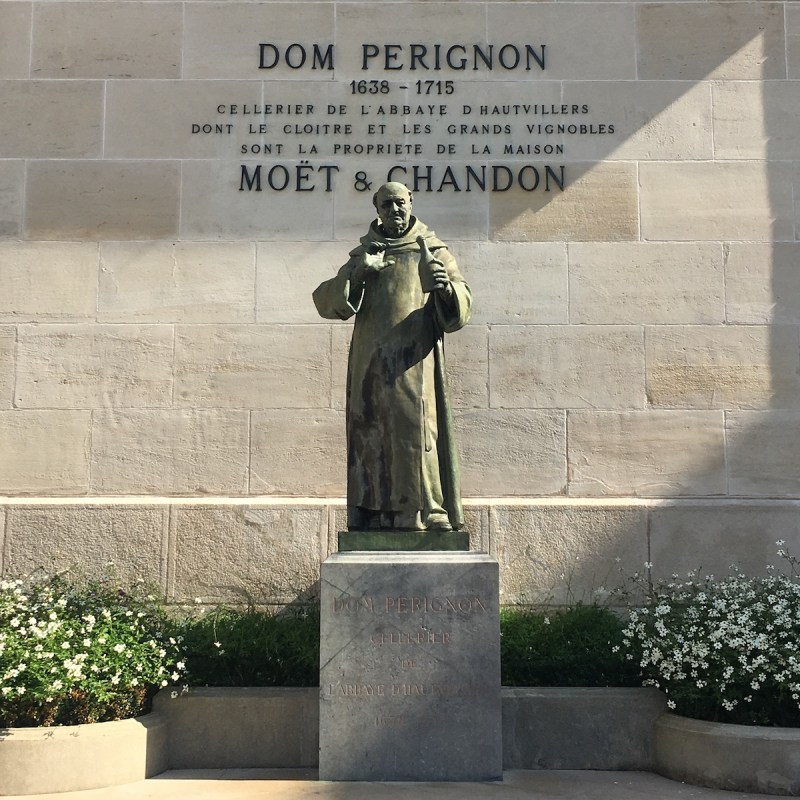 You certainly know you've arrived in a special place, even for France, when the shelves in the gas stations along the road are filled with champagne bottles; on a Sunday morning, the café terraces are buzzing with people enjoying a coupe de champagne rather than a beer or a coffee; the chocolates in the chocolatiers' windows come in cork shapes; and the streets bear names like "Avenue de Champagne." Welcome to the Champagne region.
There are more than 100 champagne houses, and thousands of smaller champagne producers, in this region. The exact number is difficult to secure since, theoretically, anybody could produce a champagne label as long as the grapes are sourced from within the region's borders. There is a union of champagne growers, some seriously strict rules to adhere to, and fierce citizen pride in the caves, houses, and wine-growing hills that are on the UNESCO World Heritage List.
Whether you find yourself in historic Reims (the capital of the region) or 20 minutes down the road, in tiny Épernay, sparkling wine is the lifeblood of Champagne.
Personally, I cannot remember a time when Champagne hasn't been my favorite drink, or when I haven't searched out a nice Champagne bar when traveling, so when I lived in Paris and was a mere 45 minutes by train from Champagne, I reveled in the chance to visit some of the famous houses.
Here is a selection of Champagne houses I loved visiting, each for special reasons. À votre santé.
1. Moët Chandon, Épernay
"Come quick, I am drinking the stars," called Dom Pérignon to his fellow monks when he first tasted a sparkling glass of Champagne. Reportedly.
A statue of Dom Pérignon stands outside the house of Moët Chandon (by the way, the "t" of Moët is pronounced, not silent) because this big château on the Avenue de Champagne combines Moët Chandon and Dom Pérignon properties. The more exclusive, and more expensive, Dom Pérignon is also owned by Moët Chandon, which in turn is part of the world's largest luxury group, Louis-Vuitton-Moët-Hennessey.
Moët Chandon is the largest, and probably best-known Champagne house in the world. Founded in 1743, the house knows how to sell itself. The entrance is wonderful, and inside, the staff is dressed impeccably in tailored suits with small Louis Vuitton bags and oh-so-French silk scarves. The experience is one of exclusivity, and every visitor is made to feel special for being allowed into the hallowed halls and caves. The tour takes you downstairs into the 17-odd miles of underground tunnels, explaining the processes, showing dusty, locked caves which hold truly special Dom Pérignon vintages, and allowing you to get the feeling for the seemingly endless man-made corridors, with brick arches holding back the world above you.
Following the tour, depending on the package you booked, you get either a group tasting or, like me, are taken to a special tasting with your own sommelier in the gardens of the grand house. The sommelier explains the different glasses of Champagne, the way to pour it, and offers a variety of vintages to try.
2. Veuve Clicquot, Reims
The probably most famous Champagne house in Reims is Veuve Clicquot. Champagne maker Madame Clicquot Ponsardin (known widely as Widow Clicquot) hailed from Reims and had a long history with the city. When traveling, you can easily spot a Veuve Clicquot display in airport duty-free shops. Their marketing gimmicks are superb, always offering a little something along with your bottle, be it the famous waymarkers, little carry cases, or those orange-looking umbrellas. But never say that the color of Veuve Clicquot is orange because, as I was told there and then, and repeatedly, it is a specific yellow, not orange. Indeed a copyrighted yellow, or so my guide insisted.
Yellow or orange, I love that Champagne.
Here in Reims, the caves are different from those in Épernay, because they are hewn straight out of the chalk and limestone and are much more atmospheric than Épernay caves. These caves were used during World Wars to shelter local residents, and there is plenty of graffiti and carvings left as historical evidence. The walls speak of their history, and the Champagne stored along the tunnels is nearly secondary.
The history is fascinating, and so is the tasting. It's held outside in the little garden with a Veuve Clicquot trailer, sun umbrellas, and more. And then there is the shop, filled with must-have yellow souvenirs, all such fun. I came home with a huge umbrella, a waymarker sign to Paris, a book on Widow Clicquot, and many more little knickknacks — plus a few bottles, of course. Come prepared with a large, empty bag!
3. Taittinger, Reims
The fact that the population evacuated into the caves of the Champagne houses in times of conflict and war, leaving behind art and graffiti scratched into the soft clay rock, adds poignant interest when exploring the Taittinger caves. The caves have entire walls covered in scratched cave art, from horses to faces names and dates. There are even remains of an ancient Abbey underground, and I have to admit that I probably spent more time looking out for these old wall decorations than looking at the Champagne bottles aging in the chalk caves.
Taittinger is one of the most popular Champagne houses in France, and the tours are organized like clockwork, but no less interesting than the slightly more bespoke ones, and the Champagne is very quaffable indeed. One of the highlights for photographers, which caused a bit of a traffic jam when leaving, is the Instagram-able old spiral staircase leading up from the caves. To get in the mood, you can go on a virtual visit before you book.
4. Champagne De Castellane, Épernay
Champagne de Castellane in Épernay, just a short walk from the little train station, stands out in many ways, but mostly because of its lovely red and cream brick tower. It reminds me a little of St. Pancras Station in London; maybe it is the Victorian interior, but see what you think. What sets this Champagne tour apart from others, despite it being one of the cheaper Champagnes around, is that it not only offers a museum with displays of old tools, bottles, labels, and all sorts of interesting, historic Champagne-related bits and pieces, but you also get a glimpse into the modern bottling and labeling part of the Champagne process. Other houses skip that part and concentrate on the brewing process.
You can also spot, if you look carefully, that Castellane makes Champagne for the English food store Marks & Spencer under their own label.
5. Perrier-Jouët, Épernay
The visit to Perrier-Jouët, the luxurious Champagne house on Avenue de Champagne was my absolute favorite, as I was lucky to get glimpses of the Belle Epoque (Art Nouveau) house, and hidden art installations in the caves, which not many visitors get to see. The house has recently opened its door for the first time to the public for visits.
Perrier-Jouët (again, like with Moët, the "t" is pronounced) is known for its Art Nouveau style, with the bottles decorated with the Emile Gallé–designed pink Japanese anemones. And the house carries the tradition onto a stunningly restored guest building that is like a time capsule, decorated in perfect Art Nouveau style. Here, famous and rich Champagne drinkers from around the globe can stay, by invitation only. How much you need to spend on Champagne a year to get invited, I can only guess.
Down in the cellars, not only can you see the pretty bottles maturing, but you can see caves filled with spectacular and bespoke art installations, commissioned by, and made solely for, Perrier-Jouët. They are hidden from the world. Google "Lost Time by Glithero" to see one of the magical installations (I was not allowed to take a picture, sadly), and then imagine it revealing itself when the normally locked doors are opened and these twinkling loops shimmer in the depth of the cave. Pure magic. Add a glass of vintage Perrier-Jouët, and your day won't get any better.
Pro Tips
Obviously, drinking lots of Champagne and driving do not go together. Nor do drinking lots of Champagne and taking the train back to Paris. So stay a night or two and make a perfect few days of it — days dedicated to Champagne.
If you find yourself in Épernay, stay at the lovely Hotel Jean Moët right by the Avenue de Champagne. It is thoroughly Champagne themed, with rooms named after Champagne bottle size and the name displayed on a capsule (those collectible metal disks on top of the Champagne cork).
In Reims, head to the fabulous Domaine Les Crayeres, with its superb restaurant and gorgeous setting.
While you're in France, consider: