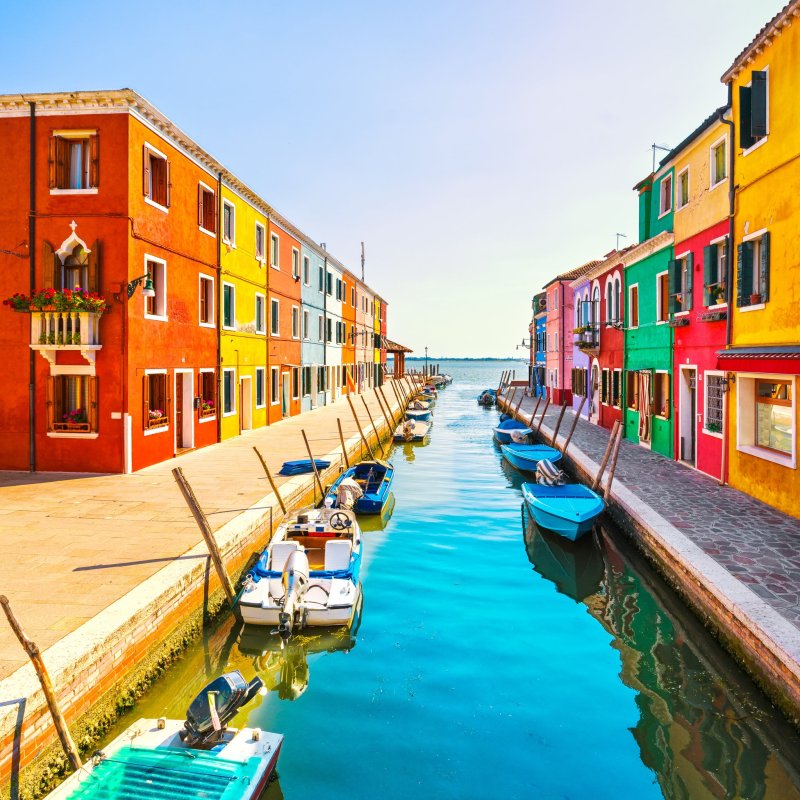 Known for its historic big cities, charming coastal villages, and postcard-perfect landscape, Europe is also one of the most colorful continents on Earth. From the Nyhavn Canal in Copenhagen to Menton, France, Costa Nova in Portugal, and the five villages that make up the Cinque Terre in Italy, there are places in Europe that captivate the eye and capture the mind of all travelers.
Italy is also where you'll find the island of Burano.
Located in the Northern Venetian Lagoon, Burano is a fishing community about 5 miles from Venice and Murano and linked to both via the Canale Bisatto, Canale Carbonera, and Scomenzera San Giacomo trail of canals. It is a 45-minute boat ride from both, and well worth the trip.
Much like Cinque Terre, and the other colorful towns of Europe, Burano is known for its vibrantly painted homes and buildings that line both sides of its many green-watered canals. Local legend says fishermen would paint their homes to help them find their way home when fog descended on the town.
Most of the homes are painted in light pastel hues that present different shades as the sun moves across the sky, and it's a photographer's dream come true. Interestingly, the colors of the houses are governed and protected by the town, meaning a homeowner must get government approval to update or change the color of the outside of their home.
The homeowners also play up the painted homes by accessorizing with matching flower pots, art, painted bicycles, and much more. One house, known as "La Casa di Bepi Sua" stands out. According to the town's official website, it is the most famous of the colored houses, as it's painted with many colors and geometric shapes.
Burano is also known worldwide for its handmade lace. Since the 1500s, lace makers have called Burano home, and their craftwork is exported all over the world. Legend has it that the early lace makers were inspired by the "foam veil made by the swish of a mermaid's tail."
There's even a Lace Museum celebrating the town's special craft. The museum is housed in what was once the Burano Lace School. Here you'll find more than 100 historic lace artifacts from the school as well as lace dating back to the 16th century.
Burano is a perfect day trip from Venice, so plan to spend several hours leisurely strolling the canals and tiny streets of Burano. There are several options for getting to Burano from Venice or Murano. Vaporettos, or Venetian water buses, run constantly from the area known as Fondamente Nuove in Venice to all the neighboring islands. Water taxis are also available. Scheduling a guided boat tour is another option, and could include other nearby islands such as Murano and Torcello.
Related Reading: