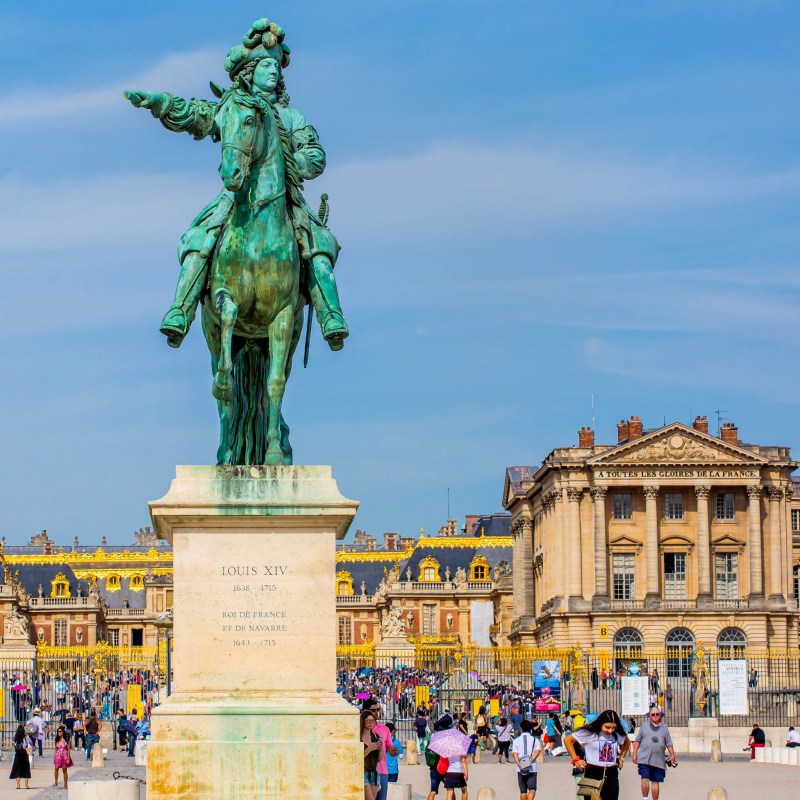 At the top of the must-see list of Paris attractions is the Palace of Versailles. Just 30 minutes from Paris, the royal Palace of Versailles is the ultimate in French decadence from a past era with 700 rooms, over 2,000 acres of magnificent gardens and parkland, the Petite Trianon, the mini-palace getaway created for Marie Antoinette, and the private apartments for the king and queen.
Depending on how much time you have, the palace and gardens can be seen in a few hours or over an entire day. However, there's an undiscovered treasure which most people don't visit: the lovely city of Versailles, which has so much to see and do, you can easily spend another day or two and still not do it all.
1. Walk Through The Gallery Of Coaches
A perfect accompaniment to the palace of Versailles is the Gallery of Coaches. Located across the street from the palace in the former royal stables, the museum displays a collection of regal and royal antique coaches dating back to the 1600s. The collection contains elaborately adorned grand ceremonial Berlin Coaches used for special occasions including the marriage of Napoleon I, the baptism of the Duke of Bordeaux, the coronation of Charles X, and the funeral of King Louis XVIII. The decadent and highly ornamental vehicles were made by hand by the best sculptors, embroiderers, cabinetmakers, and metal workers of the time. A range of mini-carriages that were used to transport Marie Antoinette's children, plus sedan chairs and sleds, are also on display. You can download a children's game booklet about the carriage collection before you visit.
2. Visit A Former Mansion, Now A Museum
A Versailles mansion constructed in 1751 under the reign of Louis XV has been repurposed and is now the Lambinet Museum. The original owner, when it was first built, was businessman Joseph Porchon. In 1852, the property was sold to Victor Lambinet, a judge on the Versailles court.
After Lambinet passed, his daughter-in-law bestowed the mansion to the city of Versailles in 1929. Among the 35 rooms on three levels, several still maintain the original decor and furniture. The museum displays an extensive collection of artifacts from the French Revolution along with objects and decorative items such as china, clocks, miniatures, and paintings. The fine arts department of the museum rotates a collection of 16th- to 20th-century paintings and sculptures.
3. Shop At The Food Market
If you can only do one activity on this list, it must be the visit to the food market. The second-largest food market in France, Marche Notre Dame will impress even the most sophisticated foodies. The sprawling culinary wonderland was built under the reign of Louis XXIII in the early 1600s, and today it's a feast for the eyes and the palate, with the best foods France and Europe have to offer.
Four identical buildings incorporate the indoor market, which hosts vendors such as butchers, fishmongers, and prepared food sellers. Outside, it's an incredible potpourri of stands boasting seasonal fruits and vegetables, foie gras and pates, pastries, organic eggs, French cheeses, Middle Eastern delicacies, spices, and local wines. There are also a number of takeout food stands and food trucks that sell crepes, sandwiches, sausages, paella, and burgers, all prepared on the spot. If the sight of this abundance of food makes you hungry, there are many ethnic restaurants and cafes alongside the market where you can enjoy a more formal lunch or dinner.
An ideal activity is to buy food at the market and have a picnic at one of the many bucolic parks and gardens in Versailles.
4. Enjoy An Opera At Versailles Royal Opera House
Did you know that the Palace of Versailles has a magnificent, jewel box-size opera house? King Louis XIV commissioned the construction of his own private opera house in 1682, conceived by architect Jules Hardouin-Mansart. However, there were numerous delays in the completion of the opera house, and another architect, Ange-Jacques Gabriel, who was inspired by the great opera houses Vicenza, Bologna, and Turin in Italy, was brought in. The opera house was inaugurated in 1770 for the marriage of the Dauphin (soon to be King Louis XVI) and his bride, the Archduchess Marie Antoinette. The opera house was refurbished between 2007 and 2009 to accommodate modern technology while retaining its original splendor. Currently, the opera house schedules a slate of operas, musicals, and ballets.
5. Stroll The King's Garden (Le Potager Du Roi)
In 1678, King Louis XIV commissioned Jean-Baptiste de La Quintinie to design a fruit orchard and vegetable and herb garden on top of a swamp. Even in these unfavorable conditions, the garden thrived, and Quintinie engineered the grounds to be able to grow things even out of season, such as asparagus in January and strawberries in March. The 22-acre garden took five years to develop and was declared a historical monument in 1925. Beautifully restored, Le Potager du Roi was reopened in 1991 and is now a UNESCO Heritage site.
You can purchase seasonal fruits and vegetables from the garden at the gift shop.
Best Restaurants In Versailles
For a compact city, Versailles can pride itself on a selection of excellent and diverse restaurants for all budgets.
World-famous French chef Alain Ducasse has made his indelible culinary mark on the Palace of Versailles. During the day, Ore, located inside the palace, is a casual cafe that conveniently accommodates visitors to have a time-efficient lunch or snack. At teatime, Ore offers a decadent Marie Antoinette dessert menu including house-made ice creams and sorbets, souffles, eclairs, and French macarons. In the evening, Ore transforms into a signature Ducasse restaurant, organizing themed dinners fit for a king or queen. Themes include a hunting dinner, the king's birth, a combination dinner and opera, and a New Year's Eve courtesan ball.
La Table du 11, discreetly tucked away in a Versailles courtyard, is a one Michelin star restaurant just a short walk from the palace. Chef Jean-Baptiste Lavergne-Morazzani conjures up contemporary French cooking with inventive dishes and modern presentation. The dinner menu features a five- or seven-course tasting menu.
Chef Gabriel Gras helms the kitchen at Le Bistrot du 11, the casual offshoot bistro of La Table du 11. At lunchtime, they offer a reasonably priced, two-course menu.
In the same courtyard as La Table du 11 is Salon du Cour, an adorable cafe and tea salon that serves home-baked desserts and a light food menu.
A bistro, an art studio giving painting and drawing lessons, an art gallery, and a home goods shop all exist under one roof at the delightful Esprit d' Atelier. At lunchtime, the bistro serves homey dishes including spinach and feta quiche and rhubarb and apple crumble.
Best Shops In Versailles
A husband-and-wife team has two unique boutiques across from one another in a secluded courtyard.
Atelier Saveurs is a deluxe tabletop and gourmet shop selling mostly French-made products, including olive oil, chocolate, liqueurs, jellies and jams, locally made soap, cosmetic and skincare products, and a jasmine-scented macaron, created exclusively for the boutique.
Inedite Toile de Jouy presents a collection of products using the classic toile de Jouy print, which adorns tote bags, lampshades, pillowcases, slippers, teacups, and clothing.
Best Places To Stay In Versailles
If you want to stay in the lap of luxury near the palace, book your stay at the Trianon Palace Versailles, a four-star Waldorf Astoria Hotel. It features luxurious rooms and suites, beautifully manicured gardens, a Guerlain spa, and heated indoor swimming pool. Superstar chef Gordon Ramsay has his name stamped on two restaurants at the hotel: Gordon Ramsay au Trianon, a Michelin-star, fine dining restaurant open only for dinner, and the more informal La Veranda, which has a more casual and varied menu and is open for breakfast, lunch, and dinner.
Le Louis Versailles Chateau Hotel-MGallery, a chic, boutique hotel, is part of the M Gallery brand, a selection of upscale hotels from the Sofitel chain. The four-star hotel is centrally located near the train station and the Palace of Versailles. Inside the hotel, a bar with an extensive wine and cocktail list and a gourmet restaurant that serves lunch and dinner are open seven days a week.
Just a short ride from Versailles is a romantic getaway inspired by painter Jean-Baptiste-Camille Corot. Les Etangs de Corot has 43 rooms, each individually designed, and a special suite was recently decorated in a 1960s style by fashion designers Paul and Joe. Chef Remi Chambard earned a Michelin star for the creative cuisine he serves at the Le Corot bistro. The Caudalie Spa offers exclusive treatments such as a Crushed Cabernet Scrub, a Honey and Wine Wrap, and the Winemaker Massage.
Pro Tips
There are many ways to get to Versailles from Paris. It's approximately 40 minutes from various train stations in central Paris, and there are two stations in Versailles: Versailles Rive Droite and Versailles Rive Gauche, which is closest to the palace. Round trip fares are about 8 euros. An Uber or taxi will cost approximately 40 to 50 euros each way.
Versailles is a walking town, but make sure you wear comfortable shoes with rubber soles as the distances between some of the attractions can make for long walks. Also, read up on how to visit the Palace of Versailles.