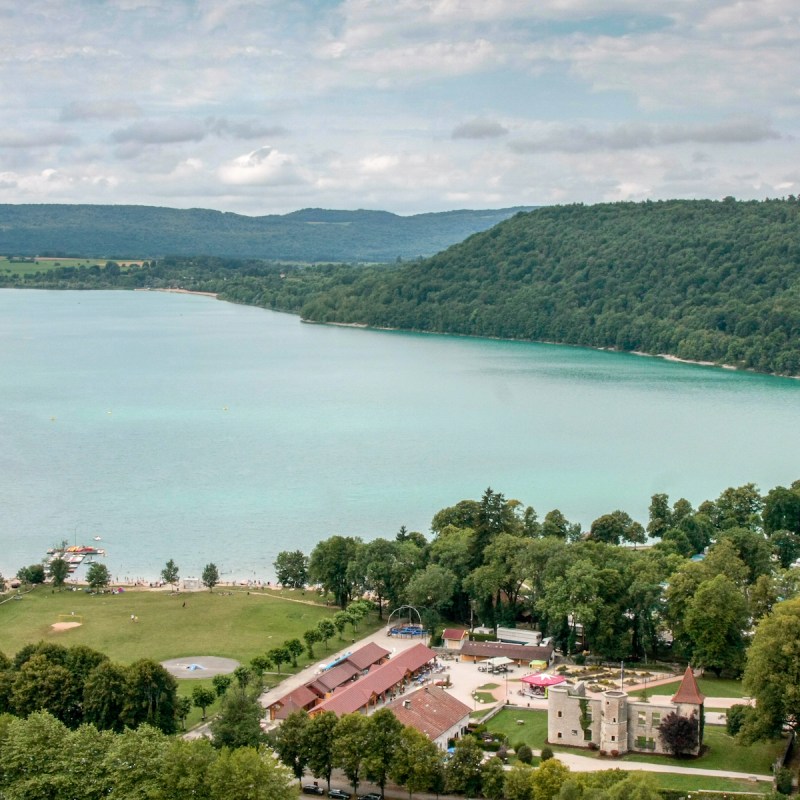 It's imperative to feel comfortable and safe while traveling.
Medjet
provides premier air medical transport, travel security, and crisis response memberships, providing peace of mind for an affordable price.
Now, let me start off straight away with a disclaimer so that neither you nor my husband gets the wrong idea: I have been camping a lot during my childhood summer vacations and have camped frequently with my family, when my daughter was younger for ease and budget reasons — I have even camped out in the desert in Qatar. But generally speaking, I am not a natural camping enthusiast and love the luxury of being pampered, sleeping in bed linen someone else has to wash, and sitting at a proper table for dinner with tablecloths and crystal wine glasses in hotels.
So, you can trust me when I say that the campsites I list here, are special and — at that time at least — were better than any hotel could have been, not necessarily because they provided me with a hotel experience. Instead, they provided me with a unique stay, be it in a tent under the pine trees or playing petanque in the sand. There's something appealing about not having anything fancy around, having to go and find your own amusement. Each holds great memories for special reasons.
For a happy traveler but not a natural camper, the other undeniable bonus in France is that the majority of campsites here have chalets. Yes, there are sites where you can park your car or campervan and pitch a tent, but there are also always comfortable huts that have separate bedrooms — and even bathrooms — so you won't have to crawl out of the tent at night and stand on a hedgehog when you are trying to find the toilet block in the dark (yes, it happened to me).
If you are either on a budget, on a road trip, or traveling with grandchildren, then "camping," at least at the sites mentioned, can often be the easier option, cheaper, more convenient, and (dare I say it?) more fun.
Here is a selection of great sites, some fancier than others, but all offering a special stay that you will enjoy.
1. Sunelia Interlude
Ile De Re, Charente-Maritime
It was my parents who first introduced me to camping on the Ile de Re. I, in turn, introduced my husband and daughter. On a later visit, I also introduced my parents-in-law and niece to this site. It's now a family thing, and at large gatherings, the pictures always come out.
The Ile de Re is a beautiful island off the west coast of France by La Rochelle, roughly a 5-hour drive from Paris. The island offers everything you need for a relaxing vacation: beautiful land-and seascapes, bicycle paths across the island, long beaches, fresh seafood, and most of all, a laid-back selection of accommodation. There are only a few small hotels on the island but many campsites.
This campsite, Sunelia Interlude, lies directly by the beach commune Le Bois-Plage-en-Re, and alongside a long sandy beach, perfect for frolicking in the waves, building sandcastles, flying kites, or going on endless walks. After a renovation, the campsite now offers three types of wooden chalets, complete with private decks, en-suite bathrooms, and on the site, a spa, a pool, rental bikes, and a store and food catering services.
Pro Tip: Just outside of the site on the way to the beach, the restaurant La Grillerade is perfect for dinner or lunch when you are spending the day on the beach.
2. Camping Les Sableres
Vieux-Boucau-Les-Bains, Les Landes
Also on France's Atlantic Coast just a little further south along the M63, exiting at Magescq, lies Camping Les Sableres by the town of Vieux-Boucau-les-Bains. Nestled under shade-giving pine trees on sandy grounds, the campsite lies just behind the dunes, sheltering it from the ocean and separating it from one of my favorite beaches in Europe.
This also happens to be my favorite campsite in France, because it is still quite basic (even if you can rent a luxury chalet). A lot of people still bring their own tent, pitching it under the trees (the sandy ground makes it quite tricky to get the pegs in, but that is part of the fun) and getting down to basics, with shared, but very well looked after, shower and bathroom facilities.
There are no fancy spas here. Instead, you have ping-pong and petanque sites. For fun, you just walk across the dunes to the beach, where you can participate in water sports, learn to surf, and enjoy the splendid surroundings.
Pro Tip: Vieux-Boucau has plenty of restaurants, stores, activities, and galleries within walking distance, allowing you to spend an entire summer vacation just here.
3. Camping Merko Lacarra
Saint-Jean-De-Luz, Pyrénées-Atlantiques
We are still on the same coast, but even further south, past Biarritz and in France's Basque region. Saint-Jean-de-Luz is a lovely seaside town just minutes away from the Spanish border and within easy driving distance of San Sebastian, one of the best foodie destinations in the world. The campsite, another vacation favorite of my family, lies along the coast just north of Saint-Jean-de-Luz, which has stopped being made up of endless straights of white sand. Due to the proximity of the Pyrenees, it's more rugged and rocky, but with small beaches nestled in between the cliffs. There are several campsites next to each other, but my chosen one, Merko Lacarra, again is a more traditional campsite without many modern conveniences. Instead, you bring your tent or park your campervan and play ball on the grass. Yes, there are some chalets, but nothing too fancy, because otherwise, it would be called a hotel, wouldn't it?
Pro Tip: This is hiking country, and there are plenty of trails around Saint-Jean-de-Luz's coast, so don't forget to bring some sturdy shoes as well as your swimming costumes.
4. Domaine De Chalaine
Lac De Chalain, Alpes Et Jura
Finally, we are leaving the Atlantic Coast and are heading to the southeast, the Jura region. Domaine de Chalaine can be reached by flying into Geneva in Switzerland (55 miles) or into Lyon (91 miles). Or, as I did, stop off here on your road trip through France heading toward Italy. The site lies next to Lac de Chalaine, a popular swimming lake with sandy beaches along its wooded coastline. Here you can bring your own tent or rent one of three accommodation options, from a traditional chalet to a bungalow or a basic hut called a mobile home.
This place aims to keep you busy with activities such as a waterpark, pedalos, canoes, bicycles, and scooter rentals; there is horse-riding, archery, and even rock-climbing. Indoor and outdoor pools allow for the at times changeable weather influenced by the nearby Alps. There is also plenty to see for bird-lovers — I spotted a woodpecker doing its thing right outside our little mobile home.
Pro Tip: This wild countryside is remote and wonderful, so it's best explored with a car at hand to take you to all the trails and scenic spots all around. You can rent cars at both airports.
5. Camping De Paris
Paris, 16th Arrondissement
Did you know you can camp in Paris? And I mean in Paris, not on the outskirts. It seems odd to include a campsite in Paris in this list, but while it would be lovely to spend a night or two in the Ritz or one of the glam other places, these come at a steep price, and also, sometimes, it's good to try something different, isn't it? I bet none of your friends have ever camped in Paris.
Camping de Paris lies in the 16th arrondissement, not too far from the hub of Porte Maillot in the northwest of the city center. You can either arrive with your own campervan and tent or rent a small wooden chalet nestled under the trees in the Bois de Boulogne. The campsite lies on the banks of the Seine, just behind the gorgeous Park Bagatelles. While I never stayed there personally, I have walked the dog past there many times and always thought it a great spot — so close to Paris, yet feeling like you are miles away in the countryside.
But Paris is always close. And because you are in Paris, there is, of course, a small restaurant and bar, an épicerie to buy your fresh baguette and cheeses from, a food truck, and an ordering service for breakfast to be brought to you in the morning. A shuttle bus takes you to Porte Maillot, where you can hop onto metro line 1, taking you right into the heart of Paris within a quick 5-minute ride. And, for something special within walking distance, there is a private vineyard within the Parc de la Bagatelle, which offers tastings and tours.
Pro Tip: In your chalet, you will get service like you'd expect from a hotel; fresh linen and towels every day. But for your other clothes, there is also a laundry, which is handy if you find yourself on a road trip.