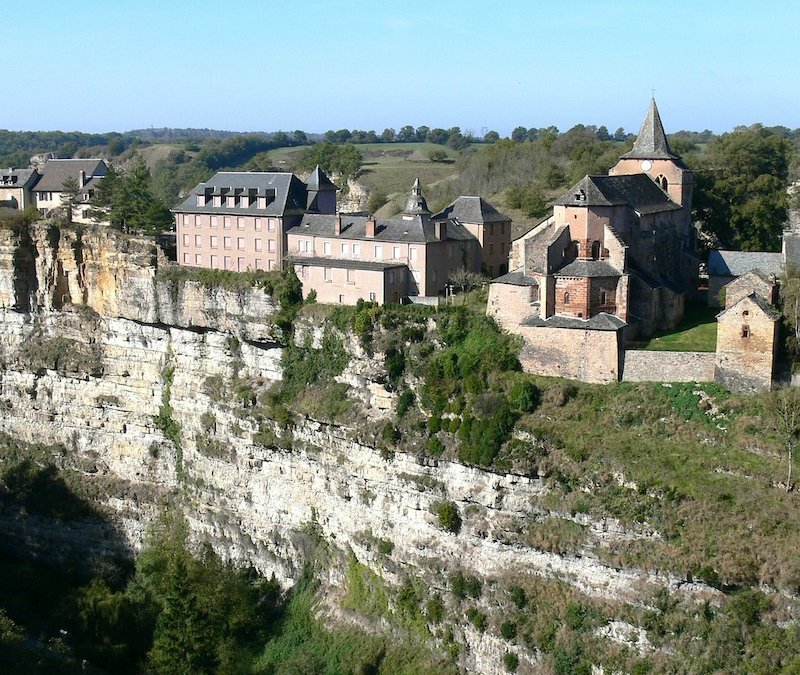 Residents of the French city of Bozouls have a unique view from their living rooms — a direct, 300-foot drop down.
Located in the Aveyron region of southern France, the town has sat on the edge of a deep, crescent-shaped hole in the ground for almost 1,000 years. This unique city plan combines both a natural canyon and a manmade town, resulting in one of the most stunning locations in France.
The canyon is more than 1,000 feet in diameter and 300 feet deep, and displays gorgeous limestone as well as lush, green trees and colorful flowers. The stone buildings directly on the edge of the canyon match the colors of the exposed rock, and the manmade buildings look as though they belong in nature as much as the surrounding trees.
The landscape of Bozouls is not a new phenomenon. The deep canyon is hundreds of years old, created by a former river, the Dordeau, which slowly eroded the area's natural limestone. When the water left, its shape remained, and the result was a beautiful, green, and rocky canyon.
Locals initially took advantage of the unique landscape by building a giant castle, using the landscape's unconquerable depths as a means of protection. While this 9th-century feature, unfortunately, did not survive to the modern day, a 12th-century church has remarkably stood the test of time.
Located on the strip of land in the middle of the canyon, the Sainte-Fauste church has been open to visitors for hundreds of years. Visitors can take in the beauty of the ancient, surviving architecture, and then peer over the edge of the rock they stand on, admiring all 300 feet of the nature below.
The town itself is fairly small — just around 3,000 residents — but they understand how beautiful their canyon is and are more than welcoming to tourists. There are standard town amenities, such as restaurants and coffee shops, as well as more unique experiences, such as a walking path on Hole Street and access to structures that are hundreds of years old.
Since Bozouls is a flight or long train ride away from the most popular French city tourist destinations, visitors should take advantage of their traveling and explore more than just this one beautiful city. Bozouls is part of the Aveyron region, which is filled with valleys, castles, and other remarkable old towns. Aveyron crosses into the Cevennes National Park, home to some of the most beautiful landscapes in the country.
Related Reading: