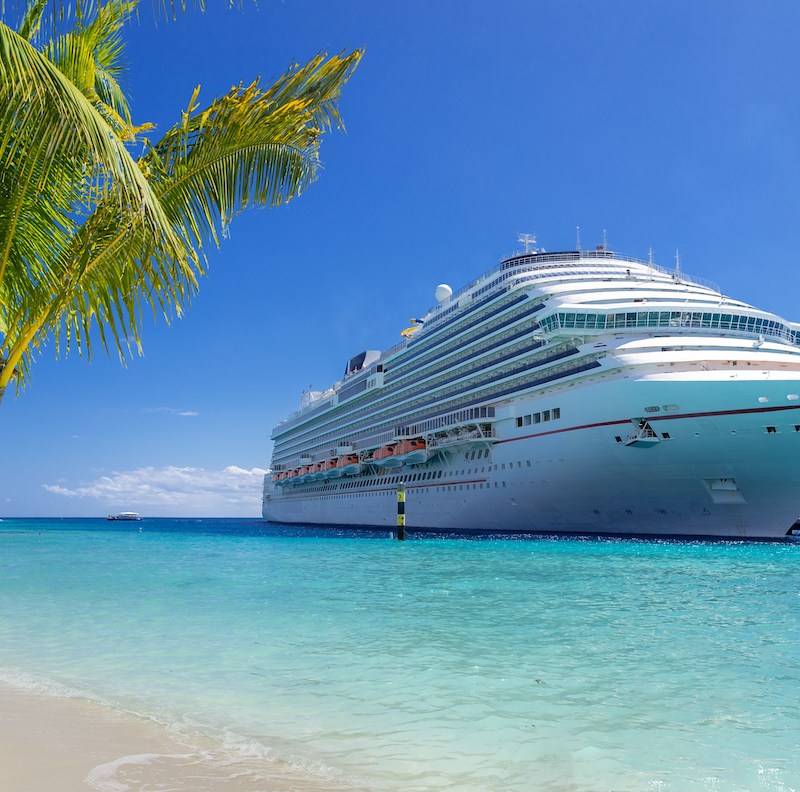 TravelAwaits' 2022 Best Of Travel Awards, presented by
Medjet
, showcases our readers' favorite destinations and businesses. Nominations took place in early March, and voting for the finalists ended in early May. We hope these picks inspire your future adventures; congrats to all of the winners!
Cue the calypso music, the Caribbean is calling! Forget cooking and cleaning! Take in unparalleled sights with an umbrella drink in your hand from a floating resort.
With gorgeous white sand and warm, crystal clear azure waters, the Eastern Caribbean is home to some of the most beautiful beaches in the world as well as many of the region's most popular islands. Snorkel coral reefs and explore historic Mayan ruins in the Western Caribbean. Sing your way through the ABC islands (Aruba, Bonaire, and Curaçao), marvel at natural wonders, and immerse yourself in a cacophony of Caribbean culture in the Southern Caribbean. Wherever you visit, you'll find delicious local flavors and some Caribbean rum!
As part of our 2022 Best of Travel Awards, we asked our readers what their favorite Caribbean cruise lines are. Here are the results!
1. Royal Caribbean (Winner)
The current title holder for world's largest cruise ship, Royal Caribbean International, is also our Best of Travel Awards winner for Best Caribbean Cruise Line 2022. Are we surprised? Caribbean is in the name after all!
On a Royal Caribbean Caribbean cruise, you can see towering mountains like Petit Piton in St. Lucia, explore Belize's lush rainforests, and admire Jamaican waterfalls and the coral reefs of Bonaire. You can also soak up some sun on Royal Caribbean's private island in the Bahamas, CocoCay.
2. Disney Cruise Line
Disney Cruise Line also has its own private island in the Bahamas called Castaway Cay. One side of the island, the aptly named Serenity Bay, is for grown-ups only.
Featuring Broadway-quality live performances, deck parties, exciting shore excursions, fun onboard activities, character experiences, and themed dining, Disney Caribbean cruises range from 4 to 10 nights. Ports of call include Cozumel, the Bahamas, Jamaica, and Progreso in the Western Caribbean; the Virgin Islands, Puerto Rico, and the Dominican Republic in the Eastern Caribbean; and St. Kitts, Barbados, and Aruba in the Southern Caribbean.
3. Princess Cruises
Our readers' third-favorite Caribbean cruise line is known for its immersive destination experiences and award-winning shore excursions. On a Princess Cruise Lines Caribbean cruise, you can travel through dense jungles to explore Cozumel's ancient Mayan ruins and exciting national parks; enjoy watersports at its private island resort, Princess Cays in the Bahamas; go swimming with stingrays in Grand Cayman; snorkel the world's second-largest barrier reef in Belize; or go for a catamaran ride in Antigua.
Another thing cruisers appreciate about Princess is the "More Ashore" program, which lets passengers experience ports after dark with late-night departures and overnight stays in ports such as Aruba, Curacao, St. Thomas, and Cozumel. Take in vibrant island nightlife with seafood dinners, live music, and street fair shopping.
Princess serves freshly prepared regional cuisine with sauces made from scratch, freshly baked bread, and "homemade" ice cream. The cruise line is also known for its spa, onboard entertainment, and comfy accommodations.
4. Norwegian Cruise Line
With a wide variety of ships to choose from, 10 convenient departure ports, and itineraries that offer plenty of time in paradise, it's easy to see why our readers love Norwegian Cruise Line. Caribbean cruise ports include St. Kitts, Jamaica, Belize, Grand Cayman, Aruba, Honduras, St. Thomas, and Puerto Rico. In Jamaica's Ocho Rios, you can swim with dolphins or climb a waterfall. Ride horseback along the pristine coastline of Puerto Plata, Costa Rica.
Norwegian features spacious, modern staterooms as well as award-winning dining and entertainment. Current performances include Kinky Boots, Jersey Boys, and Footloose. Norwegian boasts not one, but two private islands: Harvest Caye And Great Stirrup Cay. With the first onboard go-karts track, laser tag, and expansive aqua parks, it's also a great cruise line for families.
5. Celebrity Cruises
Whether you're looking for a quick getaway or a two-week island-hopping adventure, Celebrity Cruises has the Caribbean cruise for you with departure ports in Fort Lauderdale, Miami, and Tampa. Foodies especially will enjoy the chef-curated island flavors from jerk seasoning to curries; fresh fruit like mango, papaya, guava, and coconut; and fresh seafood such as mahi-mahi, grouper, kingfish, red and yellowtail snapper, and conch. For a true taste of the Caribbean, tour rum distilleries and cocoa and coffee farms.
Check out ancient forts, museums, old churchyards, and UNESCO World Heritage sites in ports of call like St. Kitt's and Nevis, Curacao, Barbados, and Puerto Rico. Discover Bonaire's salt flats and flamingoes, climb up waterfalls and down into caves, tee off on a lush green golf course, and shop for everything from Mexican silver to Cuban cigars.
6. Oceania Cruises
Experience lesser-known Caribbean coastlines, ports, and destinations with Oceania Cruises. Caribbean voyages to off-the-beaten-path Caribbean islands such as St. Vincent, Bonaire, Guadeloupe, and Dominica depart on small designer-inspired ships from Miami. This culinary- and destination-focused cruise line offers expertly curated travel experiences. Find out why Grenada is dubbed the "Spice Isle," try some authentic Caribe dishes at the lively and colorful Castries open-air market in Saint Lucia, and learn how to make real rum punch in Barbados.
7. Holland America
One of TravelAwaits writer Peggy Cleveland's favorite cruise lines, Holland America Line is also a favorite of our readers. With spacious, comfy ships, award-winning service, delicious dining, and plenty of activities, it is easy to see why. Cleveland recently got to sample the world-class dining on Holland America's new ship, Rotterdam.
Holland America's Caribbean cruises last anywhere from a few days to a few weeks with ports of call in the Cayman Islands, Key West, Cozumel, Aruba, and more. Traverse the Panama Canal, snorkel with sea turtles and parrotfish in St. Lucia, and ride horses on Half Moon Cay, the cruise line's exclusive private island in the Bahamas.
Related Reading:
It's imperative to feel comfortable and safe while traveling. Medjet provides premier air medical transport, travel security, and crisis response memberships, providing peace of mind for an affordable price.