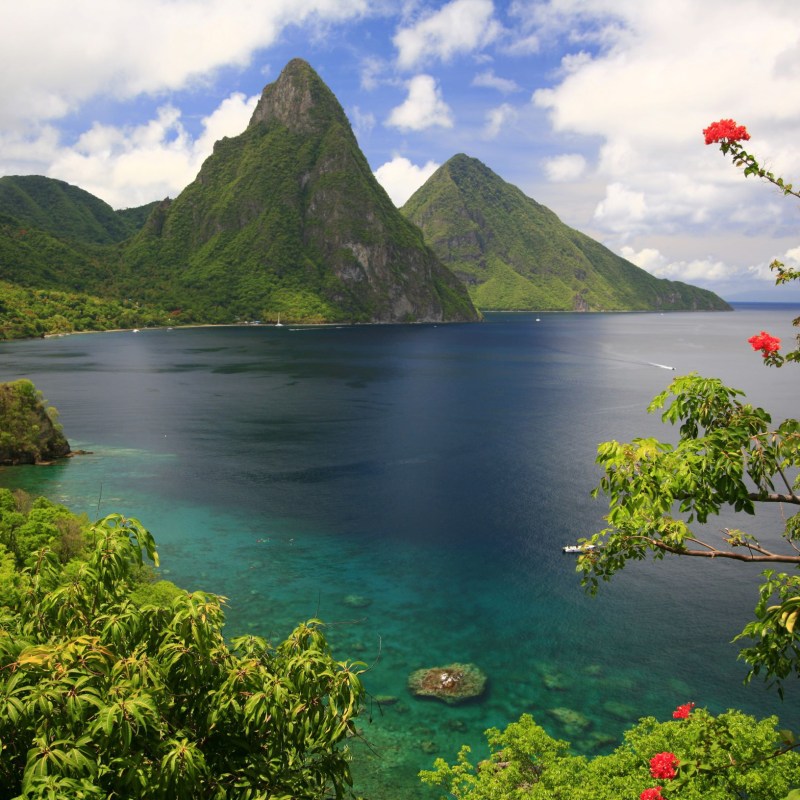 Saint Lucia is an island country located in the Caribbean Sea with a rich culture formed with Carib (the native people) and colonial English, Dutch, and French influences. Beaches typically bring people to the Caribbean, and Saint Lucia has its fair share of white, sandy beaches, but it also has verdant rainforests, mountains, a volcano, lush botanical gardens, and remnants of the colonial history worth exploring.
Arrive at Saint Lucia via the Hewanorra International Airport (UVF), located in the southern part of the island, 40 miles from the capital city of Castries. I prefer to stay in North Saint Lucia and the Rodney Bay area. You can walk to some of the attractions on the island, and it is just a boat ride away to access West Saint Lucia and the town of Soufriere and the Pitons (two iconic local mountains) providing epic views. The ride from the airport is about 90 minutes to 2 hours, but it takes you through the center of the island over mountains and through rainforests and is a beautiful scenic drive. Many shuttles stop about halfway for a snack and restroom break.
Pro Tip: Make sure to try the local Piton beer at the stop. On a hot day, it hits the spot.
Things To Do In St. Lucia
There are so many things to do in Saint Lucia. You can be as active as you want to be or just relax at the beach. I enjoyed taking the tours offered at the resorts I stayed at during my visits, as well as hiring a driver to show me the sights. When you stay in the Rodney Bay area, many of the tours will pick you up by boat and take you to Soufriere, the jumping-off point for many island activities. Here are some of my favorites. I have listed each individually, but many can be combined into a day trip.
Sulphur Springs
Sulphur Springs, the world's only drive-in volcano, is such a unique spot. You will first be overwhelmed with the smell of sulfur. Your guide will drive you up into the volcano and park. You then walk to overlooks where you can see steam, boiling water, and bubbling mud. There are some rough areas to walk over, but it is accessible for most people. After you finish at the volcano, you visit the springs and take a mud bath which is supposed to have healing properties. Afterward, rinse off in a waterfall.
Pro Tip: Pack a change of clothes and wear an old swimsuit. You don't want to stain that expensive designer suit.
Diamond Falls Botanical Gardens
The Diamond Falls Botanical Gardens is also known as the Soufriere Estate and dates back to a land grant in 1713 to the Devaux family. What was once a working plantation is now a heritage site and a popular tourist attraction. The paths through the gardens are well maintained and accessible for those with limited mobility. Tours will show you the highlights of the gardens culminating in a visit to the Diamond Waterfall, which gets its colors from mineral-laced waters. Its colorful appearance is a popular Instagram-worthy photo spot. If time allows, there are mineral baths, and the Old Mill Restaurant offers Caribbean food.
Pigeon Island National Landmark
The Pigeon Island National Landmark is one of my favorite places to visit in Saint Lucia. Although once an island, it is joined to Saint Lucia by a causeway built in 1972. The 44-acre site includes two beaches, a hike to a panoramic view, and the ruins of Fort Rodney from the French and British fight to control the island. Plan to arrive at the entrance gate at 9 when it opens. There is a modest entrance fee, and it is so worth the cost. You will want to begin your hike before it gets too warm.
The park is well marked with many exhibits that detail the history of the site. Once you reach the top, you will have epic views of both the Atlantic and Caribbean sides of the causeway, Rodney Bay, and the Sandals Grande St. Lucian adjacent to the park.
Pro Tip: Make a day of it and book a day pass to Sandals Grande St. Lucian. The pass includes access to meals, drinks, on-property entertainment, and non-motorized watercraft. The pass is good from 10 a.m. to 6 p.m. Take your hike when you arrive, then enjoy a late breakfast. Enjoy the resort and the beautiful beach. Well worth the splurge.
Soufriere
Soufriere is the original French capital of Saint Lucia. Plan to spend some time exploring the shops and eating a traditional meal. Many of the tours on Saint Lucia arrive here by boat before loading passengers onto shuttles to other destinations in the area. You will have time in the town before you hop back on the boat to your resort. Visit the Soufriere Foundation website for information about the area. They have great suggestions for where to find roadside vendors with handcrafted items for sale. Make sure to have cash available; many places cannot take credit or debit cards. You will also have great views of the Pitons. If you are very fit with good knees, take the Gros Piton Nature Trail. This is a very strenuous trail and is very challenging due to many straight up patches that will have you walking down some steep grades. The views are epic, but be honest about your fitness level before attempting.
Cathedral Basilica Of The Immaculate Conception
If you really want to experience local culture, attend Sunday mass at the Cathedral Basilica of the Immaculate Conception. The church is one of the largest in the Caribbean. The minute you walk inside, you will be enthralled by the vibrant colors of Caribbean and African influence. Add that to the choir's soaring voices and the brightly colored native dress of the congregation for a truly authentic experience.
Pro Tip: Have your resort arrange for a driver and they will come back to pick you up after the service is over.
Best Restaurants In St. Lucia
I don't have a lot of experience in this area as on both my visits, I stayed at a Sandals Resort and ate most of my meals there. For this reason, I reached out to a fellow travel writer, Lee Huffman, who recommended his interview with local Keiwa Simpson. She was born and raised in Saint Lucia and runs her own tour company, Discover St. Lucia Tours. I have included some of her suggestions. Keiwa shared some of the local specialties you will want to try. Green fig and saltfish are made from green bananas, known as figs locally. They are peeled and boiled with saltfish, a cod that is preserved in salt. Lots of herbs and spices make this a popular local dish. Accra are fish cakes and can be found in food stalls all the way up to fancy restaurants. Other local things to try are any dish made with conch, a local shellfish. Also, take advantage of Saint Lucia's resurging chocolate industry. One traditional way to try it is a cup of cocoa tea made from grated cocoa sticks.
Castries Central Market
Keiwa recommends the market for local food. Many stalls sell traditional Saint Lucian food, with some families working the market for generations. This is the place to get away from the resorts and try some authentic Caribe dishes. It is the largest market on the island and one of the busiest food destinations in the Caribbean. In addition to the produce, spices, and other ingredients, many vendors sell handcrafted items that make perfect souvenirs.
Matthews Relaxed Rooftop Restaurant
Matthews Relaxed Rooftop Restaurant is located in Rodney Bay upstairs in the Baywalk Mall. Dine overlooking the bay. Head Chef Brandford Edmunds has a diverse menu of local and internationally inspired dishes. The restaurant's specialty is fresh lobster, and they offer specials each day.
The Coal Pot Restaurant
This local gem is an open-air restaurant in Vigie Cove in Castries. The menu is heavy on French Caribbean dishes. Make sure to try St. Lucia Crab Backs and Callaloo soup. One of the things you will notice is the dishes. The owner is also an artist who makes handcrafted pottery. The place has an old-world feel, especially with the historic cannon found in the harbor and a place of honor on the grounds.
Buzz Seafood And Grill
Another of Keiwa's recommendations is located in Rodney Bay. Buzz Seafood and Grill offers indoor and patio dining in a casual atmosphere. This is the place to go for fresh local seafood. Make sure to try their crab and lobster cakes. Definitely on my list next time I visit the island.
Best Resorts In Saint Lucia
There is such a variety of places to stay in Saint Lucia at all price points. There are vacation rentals, luxury resorts, and even a hotel owned by a chocolate company.
Sandals
There are three Sandals Resorts on Saint Lucia: Halcyon Beach and Regency La Toc in Castries, and the Grande St. Lucian at Gros-Islet. I have stayed at both the Regency and the Grande on different visits to the island. One thing I love about Sandals is their Stay at One, Play at Three exchange program, where round-trip transfers between all resorts are included. It expands your options to 27 restaurants, 21 bars, and 11 pools. They truly are all-inclusive. Every time I have stayed at one, the only thing I spent money on was souvenirs and off-property excursions. My favorite thing that keeps me coming back is the service. The staff is incredible, well trained, and friendly. My husband is a fan of diving, so while I go to the spa or hang out at the pool, he takes advantage of the two dives a day included in the rates.
Oasis Marigot, St. Lucia Villas
One of the places Keiwa recommends is the Oasis Marigot, St. Lucia Villas, which is a vacation rental company. They have a variety of handpicked villas and condos for rent in the Marigot Bay area. The company has been in business for over 25 years and provides a concierge service for their guests. They can help you arrange all those little details like transfers from the airport or hiring a chef for your stay.
Rabot Hotel
I have not stayed here, but it is so on my list. The Rabot Hotel is every chocolate lover's dream. Owned by the luxury British chocolate brand Hotel Chocolat — which purchased the Rabot Estate, an organic, 140-acre cacao farm that dates back to 1745 — it is a whole new level of chocolate enjoyment. The hotel is set on the lush grounds of a UNESCO World Heritage Site and consists of 14 private eco-lodges, an open-air restaurant, as well as a bar and spa. On the grounds are the state's cacao groves which you will explore on the "Tree to Bar" experience. You will learn all about cacao production and then create your own chocolate.
The on-site Rabot Restaurant is a chocolate lover's dream. Innovative cacao cuisine will have you enjoying cacao as a spice, as its first use in history was as a savory ingredient. Try the ribeye with chocolate gravy. A fresh Cacao Bellini is a unique cocktail. Check out the menu for some unbelievably creative chocolate desserts.
With its diverse heritage and UNESCO World Heritage Sites, Saint Lucia is a stunning Caribbean island well worth the visit.
Related Articles: