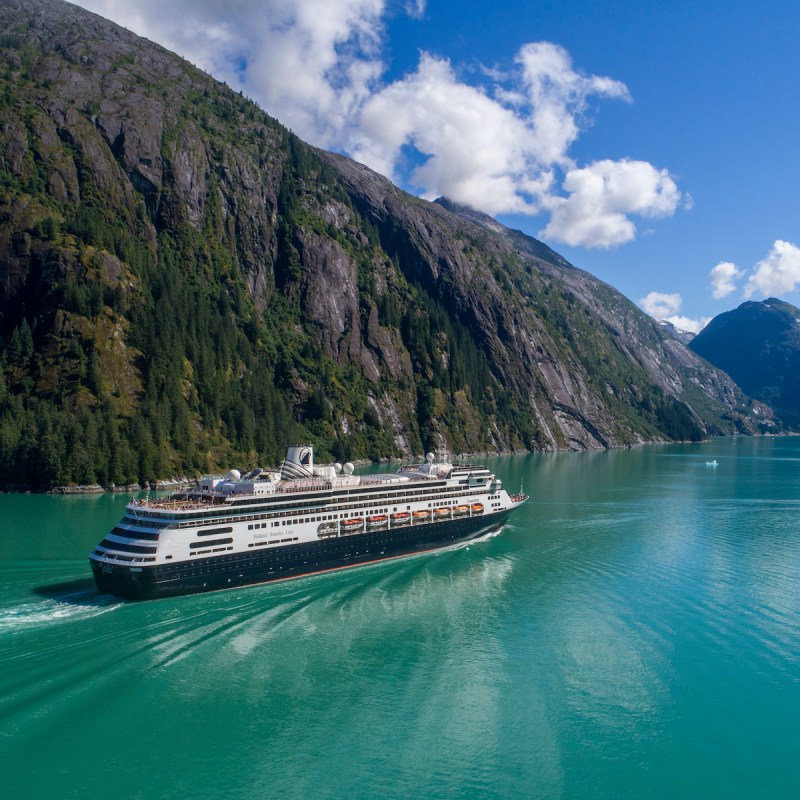 It is so interesting how your likes change over time. The first time I took a Holland America Cruise was when my husband and I were first married and, although we enjoyed the cruise at the time, we thought, "wow!" this is really an older crowd. More recently, we took a Holland America cruise to Alaska, and now that we are in our 50s it just felt right. I enjoyed Carnival in my 20s and a Disney Cruise was a perfect fit when our children were younger. Now that I am older, many of the bells and whistles, such as waterslides, on many cruise lines are just not what I am looking for. Here are the reasons why I love Holland America.
1. Ship Size
Holland America offers spacious mid-sized ships which carry no more than 2,700 guests. This creates a more intimate cruising experience. They aren't too big or too small. At less than 1,000 feet, the ships have more options for ports than larger ships. It is easier to find your way around the ship. I never felt I had to wait for anything on the ship and mid-sized ships seldom have lines. I also love that they look more like a historic liner versus a big box. The classic lines of the ships just add to the timeless elegance of traditional ocean travel.
2. Best Cruise Line For Alaska
Holland America has cruised Alaska longer than any other cruise line. This means they have long-term relationships across the region that enhance your stay. Explore small coastal towns, see wildlife, and enjoy at least 1 day of glacier cruising per voyage.
Alaska Up Close
Holland America launched its exclusive "Alaska Up Close" program which consists of three parts — Discover, Taste, and Experience Alaska. Discover Alaska through EXC Talks and Expert Led Programming. Learn from onboard naturalists and national park rangers about the natural wonders and wildlife of Alaska. The Holland America Culinary program has special features for Alaska cruises with cooking demonstrations, menu items, fresh-caught Alaska seafood, and even a Denali Brewing Company draft beer blend exclusively for Holland America. Explore with Holland America, which has long-term relationships across Alaska to provide their guests with award-winning excursions throughout the state.
Historic Operators In Glacier Bay
I will never forget cruising through Glacier Bay with the ship pulling up and then rotating 360 degrees so everyone could see this massive glacier. This was a highlight of my trip to Alaska. I spent 9 hours cruising the pristine water and listening to the national park ranger who boarded the ship at the beginning of the day. I saw whales breaching, otters and seals floating by the ship, and experienced the sound of glaciers calving. It was an incredible experience.
There are a total of 153 use-days to cruise Glacier Bay with only two ships per day. Holland America is one of two cruise lines that are historical operators under the Alaska National Interest Lands Conservation Act and, typically, the National Park Service awards the cruise lines 71 use-days. It also can compete for the remaining use days. This means more options for you to visit Glacier Bay on your Alaska cruise.
3. Luxury At Budget Prices
If you can't afford a luxury cruise line such as Seabourn, Viking, or Regent, Holland America is a good option at a more reasonable price. You'll find many of the amenities found on higher-end cruise lines at a much lower cost. Indulgent touches include luxurious beds and linens, Egyptian cotton towels, and the comfy bathrobes seen in upscale hotels. The impeccable service is due to almost one crew member for every two guests. Complimentary room service is available for even the lowest cabin category. Food and wine aboard Holland America ships can compete with the top luxury cruise lines. (See more in Food and Wine).
4. Food And Wine
Dining on a Holland America Cruise is fabulous due to the Holland America Line Culinary Council. It includes an elite team of seven world-renowned chefs who bring global influence and their expertise to planning the menus for the cruise line. Each has diverse culinary interests which inspire the signature dishes. Onboard is a talented executive chef who is a member of the prestigious Confrérie de la Chaîne des Rôtisseurs, an international food and wine society. Onboard, you will find everything from casual dining by the pool to elegant specialty restaurants. Much of the cuisine is regionally inspired.
Specialty restaurants onboard incur additional fees that are so worth it. I still remember dining at the Pinnacle Grill, a steakhouse. It ranked with the best steakhouses I've eaten at onshore. The service was impeccable, and the 28-day wet-aged USDA Prime steaks were almost fork tender. David Burke, a James Beard award-winning chef, as well as a Holland America Culinary Council member, has created innovative recipes that enhance the quality ingredients. Imagine a beautifully plated beef tenderloin served with lobster dumplings and a celery root puree with a lobster bearnaise and a horseradish bordelaise sauce. The Pinnacle Grill is a more intimate setting and, combined with the beautifully plated meals exquisitely prepared, it made for a very memorable meal and one I will repeat on my next cruise.
Wine lovers can enhance their education and enrich their journey with an extensive wine list carefully selected by world-renowned wine critic James Suckling, wine curator for Holland America. He has over 30 years of experience and has created James Suckling's Guide to Great Wines, which is available across the entire fleet. He hand selects only wines that scored 90 points or more and a few 100-point perfect wines. You can select from a wide range of champagnes, rosés, reds, and whites.
I love that there are many onboard opportunities for cooking demonstrations and tastings. Also, on each voyage, Holland America brings aboard a guest chef to help you learn about the culinary traditions in the ports you will be cruising to. Attend a food and wine tasting or a fine dining event (extra fee) to learn more about the local cuisine. Guest chefs will also lead culinary tours through local markets. Imagine shopping for French pastries in Tahiti or heading into the Thai countryside in search of the best Pad Thai.
5. Multi-Million Dollar Art Collection On Each Ship
I love art and a beautiful interior design that is more elegant than the Las Vegas-style on many cruise lines. Holland America delivers with stunning, sophisticated interiors adorned with a curated art collection on each ship. Rotterdam, the fleet's newish vessel, has an art collection valued at more than $4.1 million. It is curated by the Oslo-based YSA Design and the London-based ArtLink in partnership with hospitality design atelier Tihany Design. With 2,645 works valued from $500–$620,000, it is virtually a museum at sea. I love the diversity of the collection which represents 37 nationalities among the artists.
6. Catholic Mass
For practicing Catholics, having a priest onboard for church services is a plus. Unlike many Christian denominations, we are required to attend Mass on Sundays. This often enters my decision-making process for planning a vacation. Holland America is the only cruise line (other cruise lines have a priest for holidays or special cruises) to have a Catholic priest on board every ship for daily and Sunday services. It's such a plus for the Catholic crew members who are far from home for months at a time.
Pro Tip: Visit TravelAwaits' Book a Trip for not only discounted rates on last-minute cruises with Dream Vacations but also to research the ships.
For more detailed information about cruises, read these TravelAwaits articles: