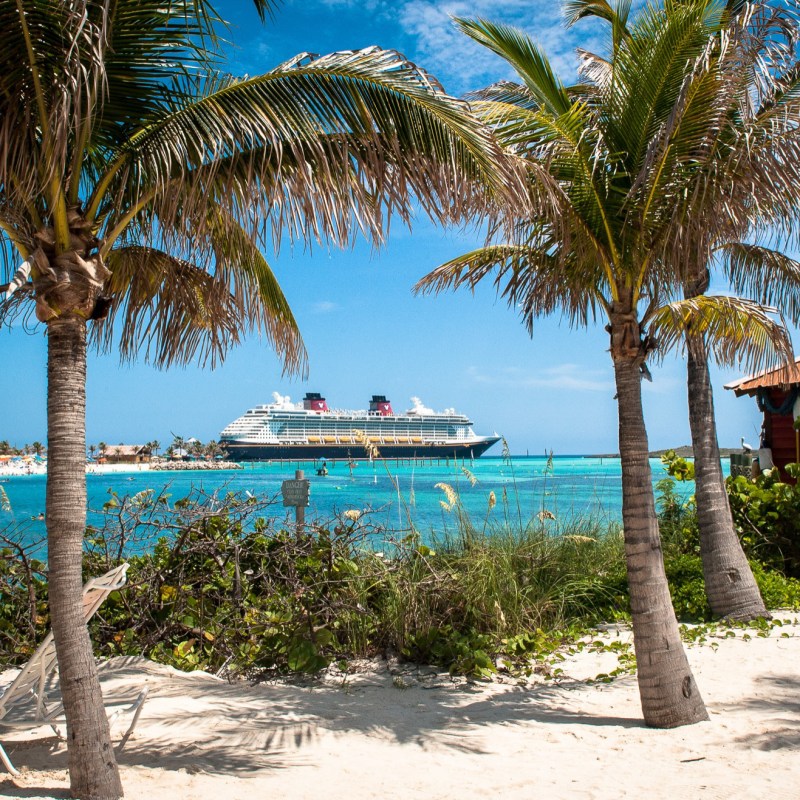 There are plenty of perks to a Caribbean cruise vacation: fantastic entertainment, unparalleled water vistas, all-inclusive meals, and soaking up the sun as you sail the cobalt sea. But there's one added perk that may trump all the rest: access to private islands reserved just for cruise line guests.
These aren't just sand and palm tree stops, although you'll find both of those in abundance. The best private islands also offer plush places to relax, cocktails served chairside, beachside barbecues, and water sports and activities, all reserved just for you — if you sail onboard one of the ships that stop at these magical private islands. Just how amazing are these private islands? Well, the cruise experts at CruiseCompete say that private islands rank number one on cruisers' to-do lists.
Royal Caribbean
Perfect Day at CocoCay
Adrenaline lovers, take note: Royal Caribbean's brand new Perfect Day at CocoCay (PDCC) is about to take the top spot on your bucket list! The 140-acre island is the place to race down the tallest (and possibly most-thrilling) waterslide in North America and ride the tide of the Caribbean's largest wave pool. You can also enjoy the views of the Bahamas from on high in a helium balloon that hovers 450 feet in the air. After all that action, unwind at the largest freshwater pool in the Caribbean (complete with a swim-up bar). Alternatively, amp up the vacation romance by renting an overwater villa for the day.
Insider Tip
It's very possible to arrive at PDCC on Royal Caribbean's Symphony of the Seas, which sails Caribbean itineraries and stops at CocoCay, since it's the largest ship at sea (it can carry a whopping 5,400 passengers). Although the ship may be massive, there are still quiet spots for relaxation, including the intimate Vintages Wine Bar, where you can sip an impressive number of wines by the glass.
Disney Cruise Line
Castaway Cay
If you think Disney is just for kids, think again. Not only do Disney Cruise Line ships offer adult-only dining, including the romantic Remy and Palo restaurants, but Disney's private island, Castaway Cay in the Bahamas, offers an entire side of the island that's just for grown-ups. Serenity Bay is reserved exclusively for adults 18 years of age and over. You can rent a private cabana, get an open-air massage under the palm trees, or sip a tropical cocktail at the Castaway Air Bar. Of course, if you want to indulge your inner child, there's plenty of fun going on over on the family side of the island, including a water slide that launches straight into the turquoise ocean!
Insider Tip
A great way to experience all the immersive Disney cruise theming is to sail on a Very Merrytime cruise during the winter holidays. Even though you'll still be floating on the warm Caribbean waters, all four ships — Wonder, Magic, Dream, and Fantasy — deck the halls with decorations, life-sized gingerbread houses, a 24-foot Christmas trees, garlands, poinsettias, twinkling lights, and carolers. Even Castaway Cay is decorated for the occasion!
Holland America
Half Moon Cay
Porthole Cruise magazine ranked Holland America's (HAL) sun-drenched Half Moon Cay on Little San Salvador Island in the Bahamas the Best Private Island in the Caribbean for a number of reasons, including its fabulous natural environment. Since Little San Salvador Island is an international bird sanctuary, it must, by law, remain 98 percent undeveloped. As a result, you can expect a peaceful (and very green) island experience. The cay's 700-acre lagoon has stingray feeding areas and myriad water sports, including a buoyed personal watercraft course. The Lobster Shack is the place to pull up a chair for Caribbean dining and drinks. Other highlights include private beachside cabanas with butler service.
Insider Tip
HAL offers a one-of-a-kind grown-up activity on board their ships: the opportunity to blend your own bottle of wine at BLEND by Chateau Ste. Michelle. You can combine up to five varietals of red wine to create your perfect blend; then it's bottled up and you can enjoy it at dinner or in your stateroom. You can even give your wine a name and create your own label!
Norwegian Cruise Line
Harvest Caye And Great Stirrup Cay
Norwegian Cruise Line actually offers two private islands for their cruise guests. In the Eastern Caribbean, Great Stirrup Cay in the Bahamas' Berry Island chain, is all about beautiful beaches, with two centrally located sandy options, and several more private spots around the island where you can spot marine life while you paddle in the warm water. Water sports here include snorkeling, paddle boats, sailboats, kayaks, and parasailing. In the Western Caribbean, Norwegian Cruise Line owns Harvest Caye, an island in Southern Belize. The 75-acre island features an array of activities including a massive 15,000 square foot pool, a water sports lagoon, a 7-acre beach with private cabanas, plus the massive 130-foot-tall Flight Tower, a launching point for zip lining, suspension bridges, and free-fall jumps, that offers stunning views of the verdant Belizean jungle nearby.
Insider Tip
Norwegian Cruise Line doesn't just offer up an ocean's worth of entertainment on their private islands — their ships also amp up the excitement with the first go-karts-at-sea revving up to 30 miles an hour on dual level tracks, plus virtual reality experiences, outdoor laser tag arenas, expansive aqua parks, and Broadway musicals.
Princess Cruise Lines
Princess Cays
Princess Cays is located on the southern portion of Eleuthera Island in the Bahamas and features half a mile of sugar-white beach framed by turquoise waters that are great for swimming and snorkeling. This is a low-key private getaway, with myriad spots to stretch out and put your toes in the sand or relax in the sun. You can even put your feet up in a swaying rope hammock under the palm trees. The water here is also perfect for a wide range of activities. Try out aqua bikes, sailboats, banana boats, and kayaking among other watery options.
Note that although Princess Cruise Lines has owned Princess Cays since 1992, since Carnival is the parent company of Princess, there are now Carnival itineraries that stop at the island as well.
Insider Tip
Princess's Discovery at SEA program brings immersive nature excursions and informative programs about the natural world to their cruises through a relationship with the Discovery Channel and Animal Planet. They even have Shark Week programming, although it's all on deck, not in the water! This will definitely come as a relief to those not ready to reenact Jaws.