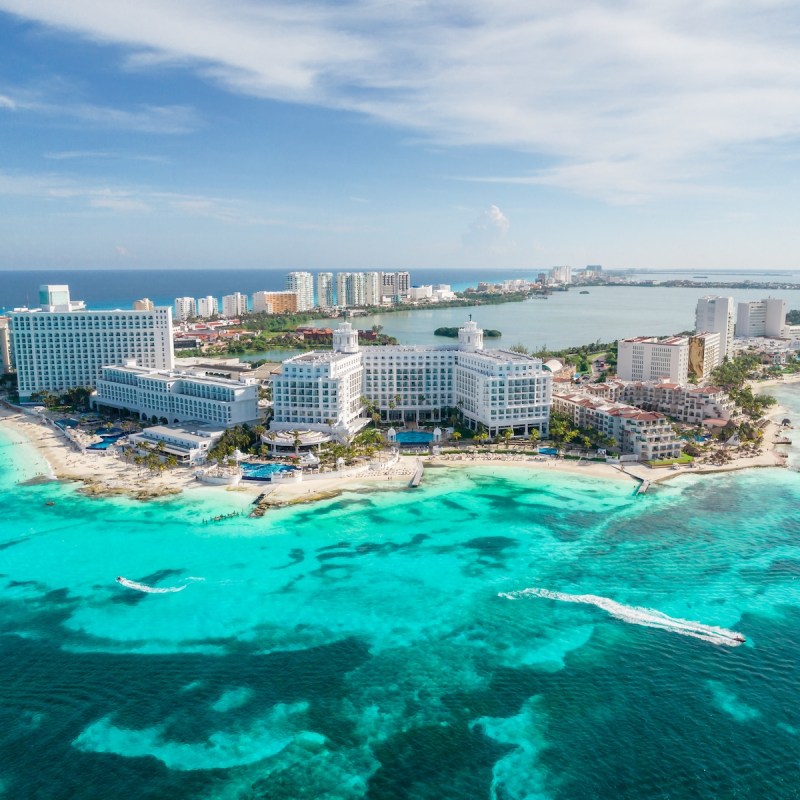 For the second year in a row, life has returned to normal flows. This means that your travel plans are back in the game. It is the right time to plan a well-deserved summer vacation in one of the best places to visit in the summer, domestic and international.
In fact, travel will be up 16 percent this summer, according to research by Allianz Partners, a travel insurance and assistance company. Interestingly, nearly 75 percent of Americans plan to travel domestically for their summer vacations this summer.
Here's how the research was conducted. Allianz Partners analyzed more than 1,175,000 flight itineraries for travelers who booked airfare and travel packages from partners who offer Allianz Global Assistance. Those itineraries are for trips between 5 and 8 days that are scheduled between Memorial Day and Labor Day.
"It's no surprise that Americans are planning to kick back and relax in sun-soaked destinations both domestically and internationally," Daniel Durazo, director of external communications at Allianz Partners, said in a statement. "However, U.S. cities that were once buzzing tourist destinations pre-pandemic, like Boston, New York City, and Los Angeles, are seeing a significant return of travelers this summer as well, signaling a positive step in tourism recovery."
Orlando, Florida, is the most popular domestic destination this summer, according to Allianz Partners' research. Meanwhile, Cancun, Mexico, is the most popular international destination this summer. Those results are to be expected: Those destinations have topped their respective lists for several years in a row.
Best Places to Visit in the Summer – Our Recommendations
Domestic Destinations
Orlando is always a popular destination for your summer vacation. After all, it's close to world-famous theme parks such as Walt Disney World, as well as numerous other notable attractions, including the John F. Kennedy Space Center.
Rounding out the top 9 most-popular domestic destinations for this summer are:
Seattle, Washington
Seattle promises a delightful summer experience with its lush greenery, perfect for exploring attractions like the iconic Space Needle with its breathtaking city views, and the vibrant Pike Place Market offering a multitude of fresh produce and local goods.
Honolulu, Hawaii
Honolulu has always been a popular destination with its stunning beaches, such as Waikiki Beach, ideal for sunbathing and water sports. The historic Pearl Harbor invites visitors to take in its rich history and pay respects at the USS Arizona Memorial. Visiting Honolulu will probably be one of the best summer vacation for most vacationers.
Kahului, Hawaii
Another popular Hawaiian destination, Kahului offers an immersive summer escape, with its enchanting beaches like the renowned Kanaha Beach Park, a haven for windsurfers and beachgoers alike. The scenic Iao Valley State National Park lets visitors enjoy the lush greenery and cascading waterfalls.
Boston, Massachusetts
Famous for its marathon, Boston provides a historically rich summer experience, with the Freedom Trail leading tourists through significant sites like the Paul Revere House and the Old State House. In addition, the picturesque Boston Common and Public Garden offer serene havens from the bustling city.
New York City
New York City is amazing during the summer with attractions like Central Park, perfect for picnics and leisurely strolls, and the iconic Statue of Liberty, one of the best summer vacation spots in New York. You simply have to explore New York's rich history and enjoy stunning panoramic views of the city from the crown.
Los Angeles, California
Los Angeles resembles a paradise on Earth with its sunny beaches like Venice Beach and Santa Monica Beach. They are perfect for sunbathing and people-watching in the summer months.
There are even more hugely popular attractions such as the Hollywood Walk of Fame and Universal Studios Hollywood offering visitors an opportunity to indulge in the glitz and glamour of the entertainment industry.
Las Vegas, Nevada
Las Vegas, the Sin City, offers an exhilarating summer vacation experience with its vibrant nightlife on the Strip, showcasing iconic hotels like the Bellagio and the Venetian, as well as the popular Bellagio Fountains with their captivating musical water performances. Casinos, restaurants, and bars are waiting for you at every corner.
Portland, Oregon
Portland provides a refreshing summer escape with its beautiful Forest Park, inviting visitors to explore nature trails and embrace the city's green surroundings.
If you're looking for one of the best summer vacation spots for peace and quiet, the Portland Japanese Garden offers a serene oasis with its stunning landscapes and traditional Japanese architecture.
Denver, Colorado
Denver, Colorado, is a memorable city to visit in the summer. Its scenic beauty and outdoor activities like hiking and mountain biking in the majestic Rocky Mountain National Park will be the highlight of your vacation. It almost matches the enchanting beauty of Grand Canyon.
Cultural experiences at the Denver Art Museum, showcasing a diverse collection of art from around the world, make Denver an ideal summer vacation destination for art aficionados.
Other popular summer destinations include San Diego, Grand Teton National Park, Yellowstone National Park, Yosemite National Park, Glacier National Park, San Francisco, Zion National Park, Acadia National Park, and Lake Michigan.
International Destinations
Cancun is enormously popular. While Cancun is known for white-sand beaches, turquoise waters, and numerous bars and restaurants, people who are adventurous can also explore the area's nearby jungle and mangrove forests.
Nine other destinations known for sun and sand round out the list of most popular international destinations this summer. They are:
San José del Cabo, Mexico
San José del Cabo allures visitors with its pristine beaches like Playa del Amor, providing a serene setting for sunbathing and water activities The historic San Jose del Cabo Church invites you to explore its rich cultural heritage and picturesque architecture.
Oranjestad, Aruba
Oranjestad captivates tourists with its pristine Eagle Beach, known for its soft white sands and crystal-clear waters. The Arikok National Park thrives with its diverse wildlife and natural wonders, making it a perfect summer escape for those of you who love visiting national parks.
Montego Bay, Jamaica
Montego Bay offers a vibrant summer experience with its popular Doctor's Cave Beach, probably on of Montego's best summer vacation spots for sunbathing and snorkeling. The historic Rose Hall Great House allows visitors to immerse themselves in Jamaica's rich history and folklore, making it a must-visit destination for history buffs.
Punta Cana, Dominican Republic
Punta Cana entices visitors with its stunning Bavaro Beach, perfect for water sports and beach relaxation. The Indigenous Eyes Ecological Park and Reserve offers an enchanting experience with its diverse wildlife and lush tropical vegetation, providing an ideal summer getaway for those of you who enjoy natural beauties.
Puerto Vallarta, Mexico
Puerto Vallarta, Mexico, promises a delightful summer vacation experience with its picturesque Los Muertos Beach, offering a vibrant beach atmosphere and various water activities. The iconic El Malecón boardwalk invites tourists to immerse themselves in the city's vibrant culture and art scene, making it an ideal destination for art enthusiasts.
Nassau, Bahamas
Nassau, Bahamas, welcomes visitors to indulge in its stunning Cable Beach, known for its crystal-clear waters and various beachside activities, while the historic Queen's Staircase offers an opportunity to dive into the island's colonial past and architectural marvels, making it a perfect summer destination for history buffs.
Providenciales Island, Turks and Caicos
Providenciales Island, Turks and Caicos, is famous for its pristine Grace Bay Beach, renowned for its turquoise waters and coral reefs, while the Chalk Sound National Park presents a serene escape with its stunning turquoise lagoon and mangroves, making it an ideal destination for your summer vacation this year.
Charlotte Amalie, U.S. Virgin Islands
Charlotte Amalie, U.S. Virgin Islands, will captivate you with its beautiful Magens Bay Beach, offering a tranquil setting for sunbathing and swimming. The Blackbeard's Castle invites tourists to explore the island's rich history and enjoy panoramic views of the town and harbor, making it one of the best summer vacation spots in Charlotte Amalie.
Liberia, Costa Rica
Liberia, Costa Rica, allures tourists with its stunning Playa Hermosa, known for its pristine sands and excellent surfing conditions. The Rincón de la Vieja National Park offers an adventurous experience with its diverse wildlife and picturesque hiking trails, making it an ideal destination for nature lovers seeking outdoor adventures on their summer vacation.
Since they are the most popular destinations in the summer season, be sure to read all of our Orlando and Cancun content, including:
FAQs
What Is the Most Trendy Travel Destination?
For all types of travelers, Barcelona is the place to be right now. With popular day trips accessible, like Ibiza, and a world of history splattered throughout the streets, travelers can spend a lifetime in Barcelona.
What Is the Top Mega Trend In Travel?
The trend in travel right now is a thing called "hush trips." For those who work remotely, a hush trip means balancing work on the road with a magical vacation destination.
What Are Some Popular Summer Vacation Destinations?
Popular summer vacation destinations include beach resorts such as the Bahamas and Hawaii, scenic mountain getaways like the Swiss Alps and the Rocky Mountains, and cultural hubs such as Rome and Madrid, catering to various travel preferences and interests.
How Can I Find Affordable Summer Vacation Deals?
To find affordable summer vacation deals, consider booking in advance, being flexible with travel dates, opting for all-inclusive packages, and utilizing travel reward points or loyalty programs. Additionally, monitoring deal websites, signing up for travel newsletters, and considering last-minute offers can help with finding budget-friendly options.
What Are Some Fun Activities for Families During the Summer Vacation?
Families can enjoy a range of activities during the summer vacation, including beach outings for swimming and sandcastle building, and outdoor adventures like hiking and camping. Some holidaymakers prefer cultural experiences such as museum visits and local festivals, or amusement park excursions for thrilling rides and entertainment suitable for all ages.
How Can I Stay Safe During Summer Vacation?
To stay safe during summer vacation, it's important to stay hydrated, use sunscreen, and dress appropriately for the weather. Additionally, being cautious in unfamiliar surroundings, staying informed about local safety guidelines and potential risks, and keeping important documents secure can contribute to a safe and enjoyable vacation experience.
What Are Some Tips for Planning a Hassle-Free Summer Vacation?
Planning a hassle-free summer vacation involves creating a detailed itinerary, making reservations in advance for accommodations and popular attractions, packing essential items and travel documents, and considering travel insurance for unexpected situations. Moreover, staying informed about local customs and regulations and preparing for any potential travel delays can contribute to a stress-free and enjoyable vacation.