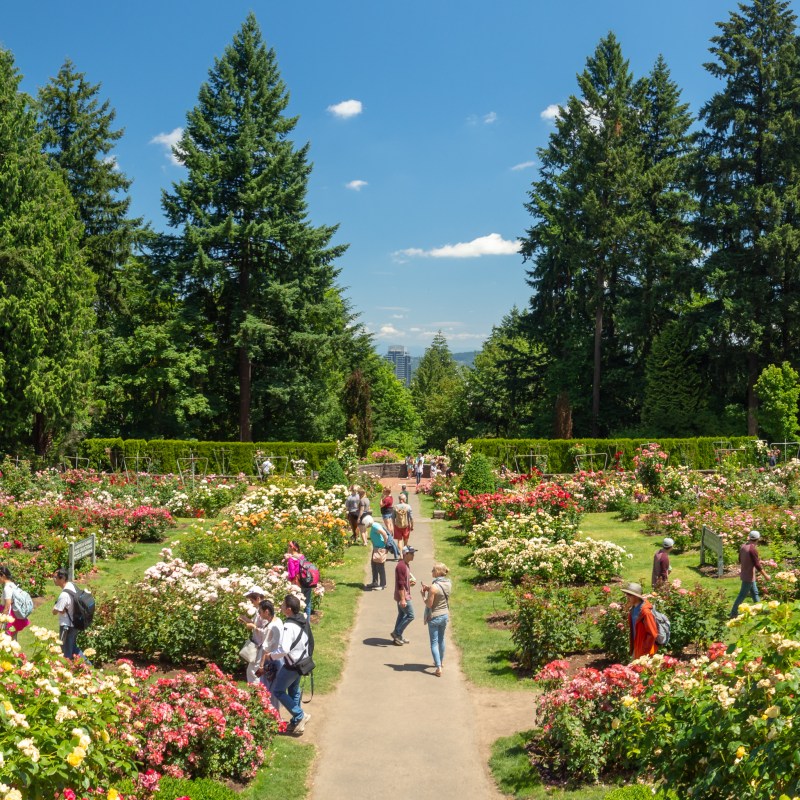 Portland, Oregon is called the City of Roses for good reason. In the late 1800s, a large pink hybrid tea rose, Madame Caroline Testout, made its way to Portland from France. Named for a clothing designer, the rose's popularity eclipsed all expectations after Madame Testout featured the rose at her fashion show.
Popularity spread overseas. About 10,000 Madame Caroline Testout roses were planted along Portland's streets for the Lewis and Clark Centennial Exposition in 1905. In 1907, Portland held its first Rose Festival, and by 1915, rose bushes lined 200 miles of Portland's streets.
Portland's year-round mild climate is ideal for growing roses. The coastal climate is also perfect for dahlias, lilacs, ferns, bamboo, Japanese maples, ginkgo trees, and giant redwoods. The list goes on and on. If you think Oz is green, wait until you see Portland's gardens.
1. International Rose Test Garden
When World War I started in Europe, rose gardeners feared the war would ruin Europe's hybrid roses. The International Rose Test Garden, started in 1917, gladly accepted and planted rose bushes that English rose growers sent to Portland. Today, it is one of 11 rose test gardens in the U.S.
The garden covers 4.5 acres and has several distinct sections, including test gardens where experts judge roses on their vigor, number of blooms, fragrance, and disease resistance. With over 10,000 bushes and 650 varieties, roses bloom historically from April to October, with June being the showiest month. Roses were still blooming on a recent trip in November, with colors ranging from a pale lavender to crimson.
The Royal Rosarian Garden
The Royal Rosarian Garden is named for a group of goodwill ambassadors dating back to 1912. The Order of Royal Rosarians is modeled after English King Henry VII's court; his reign ended the War of the Roses. As such, members are knighted. The garden features the rose each prime minister of the group has chosen to be his or her namesake rose.
A statue of a Royal Rosarian with his straw hat in hand is a popular place to take a photo.
Shakespeare Garden
Established in 1945, Shakespeare Garden originally contained herbs, flowers, and trees mentioned in Shakespeare's plays. Today, roses named for his characters grow in this garden as well.
Nearly overtaken by fuchsia roses, a plaque with Shakespeare's portrait and a quote, "Of all the flowers, methinks the rose is best," is on a brick wall bordering the garden.
Gold Medal Garden
Each year, the rose judged to be the garden's best in terms of blooms, fragrance, and hardiness is awarded a gold medal. Winners dating back to 1919 grow in the Gold Medal Garden — a showcase for the best of the best.
Pro Tips: To make the most of your visit, this walking tour highlights the most important roses, all sections of the garden, and an abbreviated history along the way. Visit in the afternoon when the air is warm and most fragrant. For photographers, bring a mini spray bottle and give the petals a little shower before photographing them.
Allow one to two hours to visit. The garden is ADA accessible and has restrooms.
2. Portland Japanese Garden
Located in the same park as the rose gardens, the Portland Japanese Garden turned a hilly, landslide-prone, and uninhabitable area into a tranquil oasis. It's one of the most authentic Japanese gardens outside of Japan. (Our own Brian Thomas has more on cherry blossom season in Japan.)
The Japanese garden has eight gardens of various designs covering 5.5 acres. It includes cultural experiences with performances, demonstrations on music and art, and temporary art exhibits. A bonsai garden near the Cultural Village is a must-see.
The Flat Garden
This must-see garden highlights the four seasons with a weeping cherry tree for spring, raked gravel forming a river pattern for summer, a 100-year-old Japanese maple that dazzles visitors with its fall foliage, and black pines that signify winter.
This garden is meant to be viewed from the Pavilion just as you might look upon a landscape painting. Sculpted azaleas provide the mountains and hills in the scene, and manicured ornamental grass provide islands in the white sand rivers.
From the Flat Garden, you'll have a bird's eye view of the Sand and Stone Garden — a karesansui, or dry landscape garden. It is meant to reveal the beauty of empty space.
The Natural Garden
Steps lead to this hillside four-season garden with local trees, shrubs, and plants that aren't traditionally part of a Japanese garden. Most of the plants are deciduous and will delight visitors with new buds and blooms in the spring and a riot of color in autumn.
Pro Tips: The Cultural Village, Pavilion Gallery, and Flat Garden with views of the Stone and Sand Garden are accessible. If needed, the garden provides a free shuttle bus from the welcome center (ticket kiosk) to the Cultural Village, bypassing a very steep climb. You can visit virtually and view fall foliage updates on their website. Allow two to three hours to visit. The garden has restrooms.
3. Hoyt Arboretum
With 12 miles of hiking trails, the 190-acre Hoyt Arboretum within Washington Park feels miles away from urban life. The arboretum's purpose is to conserve endangered plants and trees and does so with 2,300 species from six continents.
Highlights include the Magnolia Trail in spring and summer, the Maple Trail in the fall, and the Bamboo Forest and Redwood Trail year-round. For a great place to soak in the majesty, sounds, and scents of the forest, linger at the Redwood Deck.
Pro Tips: The Overlook and Bristlecone Pine Trails are accessible. The website has a downloadable trail map and estimated times for hiking several trails. The park has restrooms.
4. Lan Su Chinese Garden
Behind stucco walls in downtown Portland, Lan Su Chinese Garden is an unexpected treat. The garden is a collaborative effort between Portland and its sister city, Suzhou.
Within the garden walls, you'll see koi fish and pavilions, traditional artwork, fine wood carvings, and rare plants native to China. The tea house is a great place to take a break and admire Lake Zither, which is central to the garden.
Pro Tips: The garden is ADA accessible and has restrooms. Allow two hours for your visit.
5. Leach Botanical Garden
John and Lilla Leach bequeathed their property, including a charming stone cottage, to the city of Portland. The 4-acre Leach Botanical Garden has a mile of unpaved trails, plenty of local plants that are labeled, and scavenger and treasure hunts you can download from their website if you decide to bring your grandchildren along. Johnson Creek runs through the garden and attracts wildlife and birds.
Pro Tips: The walkways around the manor house are ADA accessible, but trails to Johnson Creek are not. Restrooms are currently closed. Allow one hour for your visit.
6. Elk Rock Garden
In one of the wealthiest neighborhoods in Portland, the 13-acre Elk Rock Garden belonged to Scotsman Peter Kerr, who first started planting the gardens in 1916. It is open to the public for free — something the family insisted upon when they donated the land to the Episcopal Diocese of Oregon.
The hillside gardens overlook the Willamette River. The gardens are well-tended but appear natural, with benches along meandering pathways to rest and enjoy the view. Ponds and lakes dot the property and support the wildlife. The website for Elk Rock Garden lists the scientific names of the plants and blooming times for each section of the garden. On a weekday, you may have this serene garden all to yourself.
Pro Tips: The gardens are not ADA accessible and do not have public restrooms. Allow one to two hours for your visit.
7. Crystal Springs Rhododendron Garden
Two-time Portland mayor William Ladd planted rhododendrons here before 1917, when it was his farm. Now 2,500 rhododendrons, azaleas, and indigenous plants grow in the Chrystal Springs Rhododendron Garden. Rhododendrons show off colorful blooms from late February to July.
Crystal Springs Lake, located within the garden's boundaries, attracts birds and wildlife.
Pro Tips: The garden has ADA accessible paths and restrooms. Allow one to two hours for your visit.
8. Pittock Mansion
One final rose garden at Pittock Mansion wraps up our list. Georgiana Pittock loved roses. In 1888, she invited the who's who of Portland to her home for an informal rose show, and the Portland Rose Society, America's first, was born. When the Pittocks built their mansion on a hill overlooking Portland in 1914, Mrs. Pittock made sure her gardens were full of her beloved roses.
In addition to seeing roses, the grounds have magnolias, hydrangeas, rhododendrons, and lilacs. Views of Portland and Mount Hood, Mount St. Helens, Mount Adams, Mount Rainier, and Mount Jefferson are an added bonus on a clear day.
Pro Tips: The grounds are ADA accessible and have restrooms. Allow one hour for visiting the grounds.
Further Reading: