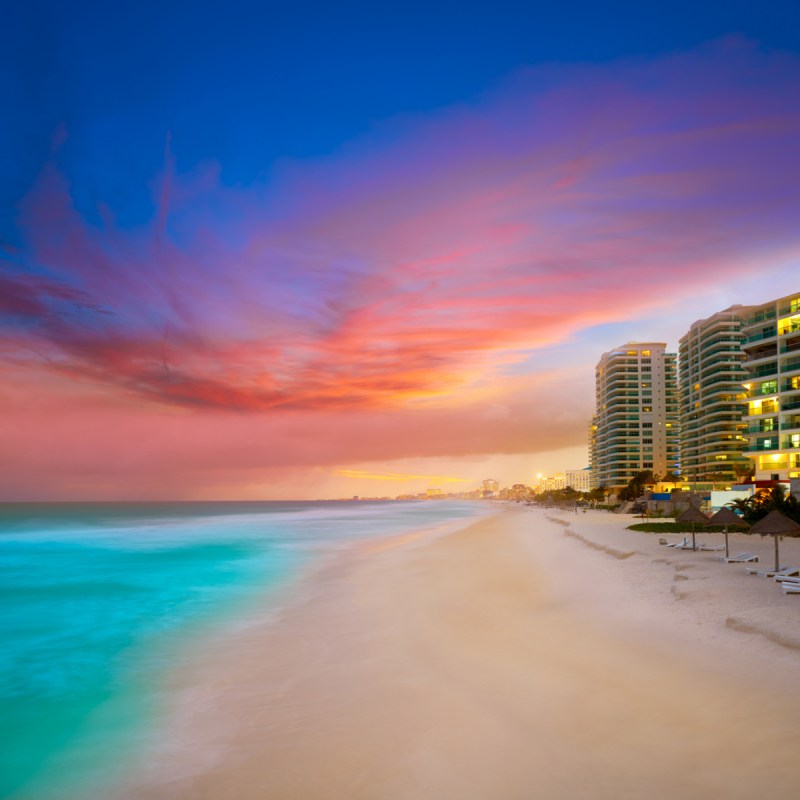 Mention a Mexican beach vacation and people generally think of gorgeous turquoise waters, white-sand beaches, and drinks made with tequila. Rightfully so! Well, all of that and more exists on the beautiful eastern coast of Mexico in Cancun and the Riviera Maya. My husband and I have been visiting Cancun for over 20 years. We find ourselves lounging on the white sand beaches one to two times a year since Cancun is a quick and easy trip from Dallas, Texas.
Cancun and the Riviera Maya both boast fabulous locations on the Caribbean Sea, welcoming visitors from all over the world. After they greet you with their balmy beach climate, they beckon you to stay a little longer with the lure of Mexican hospitality and the thought of sipping tequila under the sway of the palm trees.
Comparing the two is actually very common and though often used interchangeably, these two tourist hot spots are actually very different destinations!
Understanding the major differences between the two areas will help you to choose the best location for your style of travel, so let's dive in and explore what Cancun and the Riviera Maya have to offer!
Cancun Vs Riviera Maya: 7 Major Differences To Know Before You Visit
1. Size And Population
The biggest difference between Cancun and the Riviera Maya is the fact that Cancun is a city and the Riviera Maya is a region made up of many small towns.
Cancun: Large And Touristy City
Cancun, located on the northeast tip of Mexico's Yucatan Peninsula, is the largest city in the Yucatan Peninsula. At the time of publication, the population of Cancun was nearly one million people.
Tourists flock to Cancun's hotel area to enjoy the beautiful turquoise waters of the Caribbean, while the majority of Cancun's residents live in its downtown area where few tourists venture. This makes for a large separation between the tourist experience and the local experience when you visit Cancun.
Riviera Maya: Sprawling Region
The Riviera Maya, which is located just south of Cancun on the Yucatan Peninsula, is a region made up of several small towns. Popular cities in the Riviera Maya include Playa del Carmen, Tulum, Puerto Morelos, and Puerto Aventuras.
The largest town in the Riviera Maya, Playa del Carmen, has a population of 250,000 people, relatively small when compared to the population of Cancun. The smaller populations of these towns mean that tourists often intermingle with the locals, seeing what their everyday life is like.
2. Proximity To The Airport
If you do not want to travel for long in a car or shuttle once you arrive in Mexico, then you will definitely want to choose Cancun over the Riviera Maya.
Cancun: Minutes From Plane To Water
The Cancun Hotel Zone is located about 15 miles from the Cancun International Airport. This short drive takes approximately 25 minutes. Choosing to stay in Cancun means you could be sipping margaritas on the sand within an hour of landing in Mexico.
Riviera Maya: More Transit Time
Traveling outside of Cancun to the Riviera Maya requires more driving time. It is approximately 45 miles (or more) to reach the Riviera Maya. This means that you will be in the car for a minimum of an hour if you choose to stay in the Riviera Maya region of Mexico.
3. Hotel Choices
Cancun Hotel Complex: Large Resorts And Hotels
Cancun boasts a wide variety of hotels and resorts for travelers to enjoy. From budget-friendly options to five-star accommodations, you will find it all in Cancun.
The main hotel region in Cancun is the Hotel complex. This 13-mile zone contains high-rise resorts sitting on beautiful beaches overlooking the Caribbean Sea. There are also numerous budget-friendly accommodations in the downtown Cancun area. While you will find a few adults-only resorts in the Hotel Zone, many are geared toward families with children. They offer multiple dining options, several pools, and nightly entertainment to ensure that you never have to leave the resort (unless you want to).
Riviera Maya: Smaller Hotels And Vacation Rentals
The resorts in the Riviera Maya tend to be spread out along the stretch of land between Cancun and Playa del Carmen. These resorts vary between adults-only properties (including fellow writer Chris Moore's favorite Riviera Maya naturist resort!) and properties geared toward families. Like the big resorts in Cancun, most Riviera Maya resorts also boast several restaurants, bars, pools, and multiple entertainment options to help keep guests occupied and happy.
Accommodations in the cities of the Riviera Maya tend to be smaller hotels and vacation rentals. Again, you will find some properties that are geared toward just couples, but the majority of these properties are available for families as well. These vacation rental options are often interspersed throughout the city and mixed in with local residences. These are great for people who want to see how the locals live in the Riviera Maya.
4. Nightlife And Shopping
Another key difference between Cancun and the Riviera Maya is the sharp contrast in atmospheres and ambiance that you'll experience.
Cancun: Thriving Nightlife
Cancun has a thriving nightlife. and the energy of a big city. Here you can enjoy loads of shopping and restaurant options along with numerous bars and clubs offering fun and energetic nightlife choices. Shopping in Cancun ranges from bartering at Mercado 28 to browsing name brands like Walmart, Apple, and Costco.
Riviera Maya: Laid-Back Vibe
The Riviera Maya region tends to offer a more laid-back, relaxed vibe, which makes sense given how far apart the resorts are in this area, but there are still things you can see and do in Riviera Maya. Visitors can still enjoy some nightlife and shopping in towns like Playa del Carmen and Tulum, but if you are not staying in those cities, then you have to drive to get there. The shopping in Playa del Carmen is centered on the famous 5th Avenue. Here you will find stalls filled with local creations along with name-brand stores.
5. Beaches
The Yucatan Peninsula is known for its beautiful beaches. The beaches found in this area of Mexico contain gorgeous soft white sand leading into clear turquoise waters.
While the entire area has great beaches, there is definitely a difference in the types of beaches contained in each area. The ocean water in Cancun tends to have more waves and surf rolling in, while the waters in the Riviera Maya are often calmer thanks to the natural barrier reef that protects this area.
Cancun: White Sand For Miles
The beaches in Cancun are the beaches that you often see pictured and associated with this area of Mexico. These are the gorgeous white sand beaches with turquoise water. The beaches of Cancun stretch for miles, and although many resorts have a private area on the beach, it is actually public property. This means that the beaches in Cancun can become crowded.
Riviera Maya: Many Smaller, Less Crowded Beaches
The beaches in the Riviera Maya are just as beautiful but are often not as wide as the beaches in Cancun. The beaches that front the resorts on the stretch of land between Cancun and Playa del Carmen are generally not as long as the stretches of beaches in Cancun, either. That said, these beaches are usually less crowded and tend to have a very relaxed vibe. The beaches of Playa del Carmen, one of the most popular towns in the Riviera Maya, are all public, so they do tend to get crowded.
6. The Vibe
Cancun: Exudes Energy
Cancun just seems to exude energy around every corner. There is always something going on, so you definitely will not get bored during your time in the city. It is easy to spend the day out shopping and then spend the evening dancing the night away in the many clubs (both on and off resort properties). Cancun is what it is, and it is a party-centered town. Cancun provides a lively, party-till-you-drop kind of vibe that continues to draw the young and young at heart.
Riviera Maya: Laid-Back
The Riviera Maya area has a much more laid-back vibe. Here you can find a variety of atmospheres. Some resorts pride themselves on being laid-back, quiet retreats, while others bring the club-like atmosphere. The fact that the Riviera Maya region is so spread out makes it a little more difficult to bar hop or hit up several clubs in one night. This area generally draws those looking for fun, but not to the level of Cancun.
7. Area Attractions
Cancun: Fabulous Resort Fun
Known as a resort town, Cancun's main draw is the fabulous resorts that it offers. Many travelers visit Cancun and never leave their resort! Beyond the resort, Cancun also offers incredible nightlife and fabulous beaches. If you are looking for other attractions in the area, Cancun does have a few to offer. The Cancun Aquarium is a nice addition to a family itinerary. You can also set out on some cool excursions from the Cancun area including a trip to Chichen Itza or a ferry ride over to Isla Mujeres.
Riviera Maya: The Jungle and Ancient Mayan Ruins
Families love visiting the aquatic parks of Xel-Ha and Xcaret during their time in the Riviera Maya. This area is also great for exploring the crystal-clear waters of the cenotes found throughout the Yucatan Peninsula. Adrenaline junkies will love the opportunity to zip-line or ride ATVs through the jungle in this area of Mexico. Of course, we would be remiss if we did not mention the seaside Maya ruins of Tulum. Visiting 13th-century ancient Mayan Ruins is worth a day trip for the whole family. Mayan ruins will make your stay in Cancun an unforgettable experience.
Pro Tip On Seaweed Season in Cancun and Riviera Maya
Even though there are too many differences when comparing Cancun and Riviera Maya, both places are typically flooded with Sargassum seaweed each year between April and October. Due to the massive accumulation of seaweed in the Atlantic Ocean, the seaweed season has been known to extend through December.
The good news is that sargassum isn't bad for your health. It is a brown alga that floats on top of the water, forming a thick blanket of intertwined stems and leaves that never attach to the ocean floor. The bad news is that sargassum makes the Yucatan's water unappealing to swim in. It also reeks of rotten eggs, and it attracts flies.
However, if you book a hotel in Cancun's Hotel Zone or some more upscale beach destinations in the Riviera Maya, the staff will likely do their best to cart the sargassum off their beachfront.
Will the Sargassum Hit Cancun in 2023 and 2024?
Cancun and Riviera Maya beaches are expected to remain relatively free of seaweed during the winter months of 2023 and the upcoming 2024 summer holiday season due to distance, speed of travel, and currents in the Atlantic Ocean.
Cancun Vs. Riviera Maya: Bottom Line
No matter which of these destinations you choose, you are guaranteed an incredible experience in Mexico. Both Cancun and the Riviera Maya allow you to enjoy Mexican culture by immersing yourself in the food, history of Mayan ruins, and ambiance of the area that surrounds you. It is entirely up to you whether you prefer relaxing on a laid-back, quiet beach (go for the Riviera!), or hitting Cancun's party scene to dance the night away. No matter which area you choose, you are sure to fall in love with the Yucatan and the Mexican hospitality its welcoming people provide!
FAQs
Is It Safe to Travel to Cancun or Riviera Maya?
Yes, it is. Crime rates in Cancun and Riviera Maya are generally low, but it's always a good idea to take precautions to protect yourself and your belongings by staying in well-lit areas, avoiding walking alone at night, and keeping your valuables safe.
Which Has Better Cenotes, Riviera Maya or Cancun?
Riviera Maya has much better cenotes to swim and dive in than Cancun because of the sheer diversity of the sinkhole formations in Riviera Maya. On the other hand, there aren't any cenotes inside Cancun, and the nearest ones are about 30 minutes away.
Which Is More Affordable, Cancun or Riviera Maya?
Riviera Maya is more affordable than Cancun. Since Cancun is a bit city and Riviera Maya includes a variety of not-so-popular destinations, the prices in Riviera tend to be a little cheaper.
Which Is More Family Friendly, Cancun or Riviera Maya?
Cancun is definitely a better destination for families than Riviera Maya. If the convenience and comfort of beach resorts is what your family loves, then Cancun is your spot, but if you don't mind smaller beaches and more challenging moving around with small kids, then Riviera Maya could work for you.
Which Is Better for Outdoor Activities, Cancun or Riviera Maya?
Riviera Maya offers too many different outdoor experiences to compare it to Cancun. Also, typical ocean activities like snorkeling and scuba diving are way better on the Mesoamerican Barrier Reef than anywhere in Cancun.