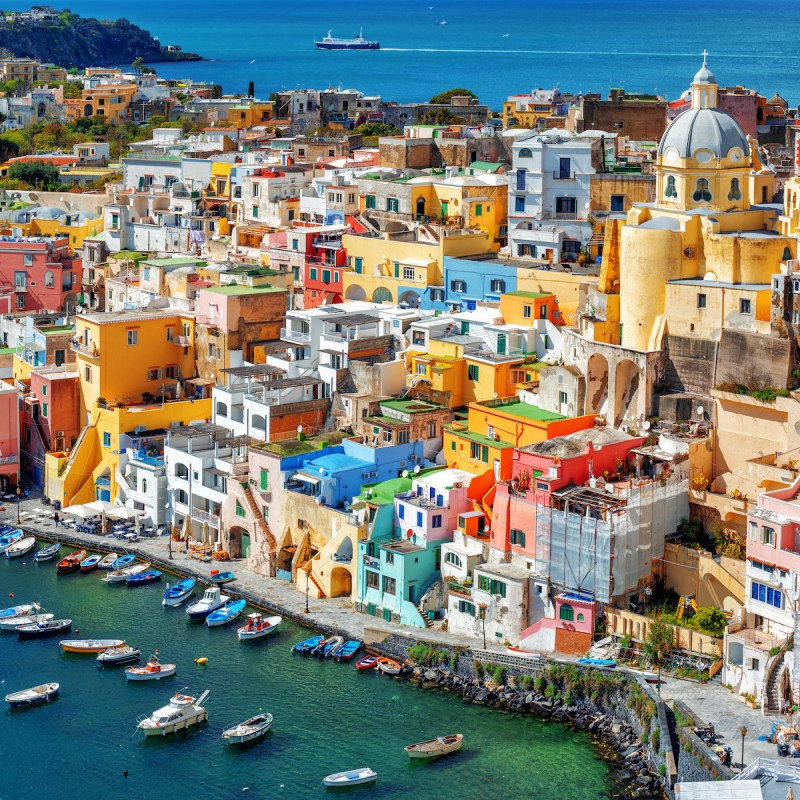 Surely, you don't need any reason to visit one of the world's most colorful places other than it being really cheerfully bright, do you? But, with travel slowly becoming an option again, and hopefully much easier in 2022, you've got to narrow down your options. So many colorful places, so little time.
To give you a few ideas, I have selected some of my personal favorite cities around the globe that add a bit of color to travel. Each offers travelers a good reason to visit in 2022, be it festivals, good deals, new approaches to travel, or simply a fun-packed year ahead. Now, the choice is yours.
1. Burano, Venice, Italy
Burano, the island in the Venetian Lagoon, a 45-minute Vaporetto ride from St. Mark's Square, is simply the most gorgeous and most colorful place in Europe. Not one house has been left unpainted, and it cheers you up to no end. But Venice itself and the surrounding islands, have become a bit of a circus in recent years, with gigantic cruise ships ruining the views for everybody and the sheer number of tourists making normal life nearly impossible for local residents. Now, Venice is taking back control and has not only banned cruise ships from coming into the city's port, but The Venetian administration is also capping the number of visitors allowed into the lagoon and the city, from mid-2022. To regulate access, the city will introduce electronic turnstiles at different entry points, launch a dedicated booking app, and levy an entrance fee of 3–10 euros (about $3.50–$11.80), for anyone visiting for the day, with costs depending on the season.
Not only will this make life for residents a bit better again, but also this regulation will make for a much better experience for visitors. Fewer crowds mean a more serene experience, as it should be for La Serenissima, and more space on your favorite cafe terrace.
Pro Tip: While Burano is the most colorful, there are plenty of other islands worth seeing. Try a tour that introduces you to a few of the lesser visited ones.
2. Panama City, Panama
I have a soft spot for Panama, and especially Panama City, which has intrigued me with its mix of modern, old and ancient sights, the colors, and the joie de vivre — a gateway to a hugely interesting country full of wildlife and wonderful habitats for humans, flora, and fauna alike. And Panama is not as overrun with tourists as many of its more popular neighbors, yet offers so much. In 2022, to attract more visitors, Copa Airlines has reintroduced its Panama Stopover program, which allows travelers to add a 24-hour to 7-day stopover in Panama for flights en route from the U.S. to 36 South American destinations at no extra cost.
Allowing you to add an extra vacation to your vacation, making two out of one, you can enjoy colorful Casco Viejo, grab yourself a slice of Carnivale, or visit the bright Frank Gehry-designed Bio Museum in Panama City. Or, head straight to the wonderful beaches and myriad islands off the coast for a little beach stopover before heading onward.
Pro Tip: If you are not hiring a car, hop on a tour organized by local guides to explore more of this diverse country.
3. Melbourne, Australia
Having called Melbourne home once, I was sad to follow the dreadful wildfires which were succeeded by some of the world's strictest pandemic lockdowns, shutting Australia down to visitors. Now, slowly emerging from both, it is time to not only get your travel mojo back but also boost the tourism sector Down Under. If choosing Melbourne as a hub, you can not only visit several of Australia's most colorful places from there, but you can also pop into the wonderful new WildLife Wonders wildlife sanctuary which is located in the Otways region along the Great Ocean Road. The Great Ocean Road is a natural wonder at the best of times, perfect for a road trip, but the Otways region is noted for its wildlife, and particularly the koalas who sit on nearly every tree there. On walks through the new sanctuary, you will see many critters including koalas, kangaroos, emus, even the adorably named potteroos. How could you possibly resist?
Pro Tip: When in a new location, experiencing the locals' views through art is always a good idea. But often, you can't afford to take a piece home. In Melbourne, the Affordable Art Fair in March gives you a better chance.
4. Charleston, South Carolina
Charleston really does not need a reason for you to visit, the city alone with its superb architecture and food is reason enough. Should you still need an extra nudge, how about these reasons? In 2022, Charleston will finally open its International African American Museum, examining its slavery history, while highlighting Black artists, and basically, dealing with a difficult section of history in a superb new venue.
Then there is the 75th Festival of Houses and Gardens taking place between March 16 and April 9, 2022, allowing you to peek behind the scenes of some of Charleston's beautiful addresses, while also indulging in a bit of music, food, and wine.
Pro Tip: And talking about music, the Spoleto Festival USA, one of the state's most prestigious classical music events, will be taking place in Charleston between May 27 and June 12, 2022.
5. Singapore
The city-state of Singapore is filled with colorful, historic neighborhoods and is always a good location to visit. And, at the time of this writing, fully vaccinated visitors from the U.S. no longer have to quarantine and can enjoy the city and its lush surroundings. Singapore is now trying to combine its prowess in business and luxury travel with a more sustainable approach to both. It is aiming for a 10-year goal toward a sustainable city and has taken its first steps which offer a great reason to visit in 2022. The newly opened Active, Beautiful and Clean Water, ABC Water, at Jurong Lake offers 12,000 square feet of manmade wetlands that can be explored on foot via elegant wooden walkways that wend toward expansive views of the lake. The walkways allow you to spot various native birds that call the wetlands home now, as well as other creatures, such as otters.
Pro Tip: Another great spot that has been rewilded, is the Rail Corridor that, not unlike the NYC Highline and the Petite Ceinture in Paris, has taken old railway tracks and let nature do its thing, adding an interesting green space to the city.
6. Procida, Italy
This superbly colorful Italian island city some 40 minutes' drive southwest of Naples has been voted Italian Capital of Culture 2022, giving you even more reason to make 2022 the year to visit. The theme of La Cultura non Isola (Culture does not isolate — as a play on words, with isola being the Italian word for island) is more than appropriate, and somewhat ironic because the location was chosen before the pandemic.
Procida 2022 is planning a wide and varied cultural programming, including contemporary art exhibitions, festivals, and performances, all spread over 330 days, aiming to encourage responsible travel throughout the year rather than getting the main influx of visitors during the summer months.
One of the highlights will be Procida's Palazzo d'Avalos, a former palace turned prison dating to the 1500s, which will open as a superb new cultural venue and green space, a reborn and reinvented historic place worth investigating closer.
Pro Tip: Together with Ischia and Capri, Procida is a superbly romantic location for a special occasion, or simply a day trip. You can reach them all by ferry or hydrofoil from Naples.
7. Copenhagen, Denmark
Continuously voted among the top Happy Places to live — and visit — in the world, Denmark and its capital Copenhagen are not only colorful and happy, but also green, sustainable, artsy, and exciting. A city trip to Copenhagen combined with a road trip through the country can only be considered a good idea.
In 2022, you can add a few more reasons to visit the land of hygge. If you are a cycling fan, the Tour de France will be setting off in July from Copenhagen and then going through Roskilde and Nyborg, while the third stage will go from Vejle to Sønderborg. Always known for inclusiveness, and acceptance of others, in spring 2022, Denmark is opening the FLUGT Danish Refugee Museum detailing this historic and ongoing part of all its history through subtle yet thought-provoking stories and exhibitions by and about refugees.
In a little bit of short notice, the Danish Queen Margrethe will be celebrating her 50-year anniversary in January 2022, and there will be a slew of parades and special events that would delight any fan of royal families.
Pro Tip: To really get into hygge, book yourself a stay in the utterly quaint Kaj Hotel, which is a cross between a hotel and a houseboat.