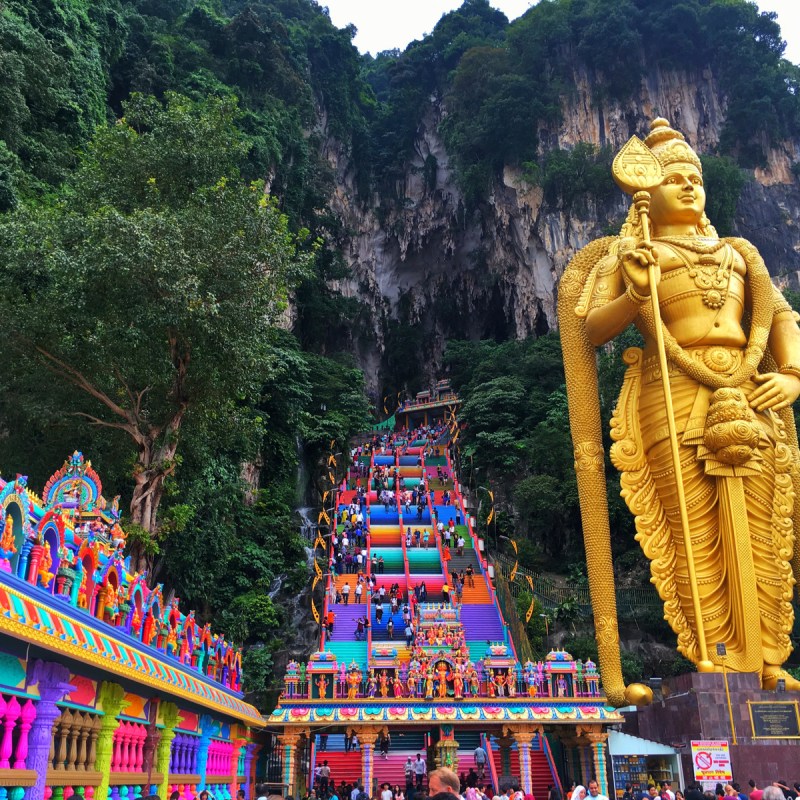 In our series of the most colorful cities (and places) in the world, I have taken you to North America, to Europe, and to Australia so far. Now we have reached Asia, and there are some treats in store.
While I often choose a city for its colorful architecture, in Asia, there is a colorful mix that makes up my choices; from cities with architecture in predominantly one hue to rainbow-colored places, but also cities made colorful by lights, be they neon or lanterns. As always, I tend to give favor to those places I have visited and that keep a vivid spot in my memory, while others are on my to-do list and have been researched thoroughly to make sure they really have that pop of color.
Here are my top choices for the most colorful cities in Asia. Enjoy!
1. Hội An, Vietnam
Hội An is one of the prettiest places in Vietnam, without doubt. Its architecture is a mix of Japanese, French, Chinese, and Vietnamese. Each style is very different from the other, but they work very well when all seen together.
The town is settled along a slow but branched river estuary, just a couple of miles off the stunning beaches along the South China Sea. While most of the houses in the town are colorful in themselves, it is the lanterns that make this a superbly colorful place, and simply magical. Lanterns were introduced to Hội An in the 16th century by the Japanese, and the locals have since made the production and design of lanterns into an art form. During the day, it is delightful to walk along the Chinese shophouses, maybe get measured for a bespoke outfit made from locally produced silk, and shop at the markets, but come night, it's a different ball game.
Along the river, the town is lit up with multi-colored lanterns, producing an atmosphere that is truly unique.
Pro Tip: In the evening, cross the Thu Bồn River from the old town via the Bridge of Lights to the night market on the An Hoi island in the river. Find a small local restaurant overlooking the riverfront and enjoy the colors all around you.
2. Jodhpur, India
It was my first time in India, on a tour through Rajasthan, that we stopped at the magnificent Mehrangarh Fort and looked down on Jodhpur spreading below. A blue city. Truly. So many houses had been painted a soft blue that the overall impression of the city merged into one blue cloud. Explanations as to why the buildings have been painted blue range from warding off bugs to cooling the residences to religious reasons, but whichever the true excuse, the effect is simply lovely.
Pro Tip: As I have already mentioned in The 11 Most Colorful Cities In The World, do try and catch lunch at the former maharaja's residence-turned-hotel, the Umaid Bhawan Palace. It offers a fabulous setting for a respite from the bustling and dusty city, and you can marvel at the splendor maharajas once lived in.
3. Jaipur, India
While Jodhpur is India's blue city, Jaipur is India's pink city, and it has previously garnered a mention as a perfect pink destination. Jaipur is Rajasthan's capital city, and it is magnificent. And pink. But don't be put off by the sound of pink, because it is not shocking pink, but a lovely, earthen shade between red and pink. The most visited sight is the Palace of the Winds. It doesn't just sound magical, but it looks it, too.
Why is Jaipur pink? Because it is the shade of hospitality, and back in 1875, for a state visit by the Prince of Wales, the then maharaja decided to paint the town pink. Nice if you can.
Pro Tip: Chand Baori, one of the most magnificent stairwells in the world, is only some 60 miles from Jaipur. It is a worthwhile stop on your tour around Rajasthan.
4. Kampung Pelangi, Indonesia
Kampung Pelangi, or the Rainbow Village of Semarang on the island of Java, is, as you might have guessed, colorful indeed. Once a slum, the local government decided to spend some $25,000 to spruce up the neighborhood. Many slum areas around the world have done similar projects, resulting in prettier and happier communities. Here, not only roofs are painted in rainbow colors, but also walls are adorned with individual frescoes and murals. The colors have turned this former run-down area into a tourist attraction, especially favored by Instagrammers who search out the most colorful walls for a pose. And tourists mean money, so it is a win-win. We get the pop of color while traveling, the residents get some much-needed dollars.
Pro Tip: For some natural rainbow colors, search out the rainbow eucalyptus trees found in Indonesia. Their bark comes in some amazing hues, and we have more on the colorful trees here.
5. Batu Caves, Selangor, Malaysia
The 272 steps that lead up to a Hindu temple and the gigantic statue of Lord Murugan were given a rainbow makeover in 2018. Previously an already colorful spectacle, with lots of gold around, now the sight can barely be more colorful. From orange to purple, various greens and blues, red and pink, the staircase that leads up to the temple (and past it to cathedral-like caves in the limestone mountain) is magnificent in its vibrancy. Add throngs of visitors, worshippers, and cheeky monkeys along the way, and your photographs will be very vivid indeed.
Pro Tip: Do be careful of the monkeys. They might look cute, but they are very forthright and skilled thieves. Hang onto your sunglasses, purse, and anything loose or shiny. My daughter brought nuts to feed them with, and instead of waiting for her to open the bag, they just ran off with the entire thing.
6. Shibuya Crossing, Tokyo, Japan
Tokyo is one of the most exciting cities in the world. The crowds, the noise, the culture shock, the thrills, all are an assault on all the senses.
You are excused if, like me, you walk around with your eyes scanning everything around you, mouth hanging open, not looking where you are going. I arrived at Shibuya Crossing like that, and simply stepped into the street. Luckily, that is okay — as long as the lights are with you. This, the world's largest pedestrian crossing, allows you to cross the large junction not just across each road, but also diagonally, with all traffic stopped for waves of pedestrians to shift in any direction. And all around you are gigantic neon signs, billboards with moving pictures and sound, plus the hundreds and thousands of people rushing by you. The effect is that of so much color and vibrancy that it puts Times Square to shame.  
Pro Tip: Read Haruki Murakami's After Dark, set in Shibuya, when you are there. A short novel, it takes place over one night, allowing you a glimpse into life around the district.
7. StoBoSa, Philippines
Another superb example of how color and art can inject new life and positivity into a poorer neighborhood are the shanty towns of StoBoSa (standing for Stonehill, Botiwtiw, and Sadjap) between Baguio and La Trinidad in the Philippines.
Back in 2016, the government together with the tourism office decided to launch the Philippines' first and largest community artwork project inspired by already successful re-inventions such as the favelas of Rio de Janeiro, Brazil, the Gamcheon Cultural Village of Busan in South Korea, and the previously mentioned Kampung Pelangi. The result was not just a blemish on the landscape turned into a cheerful, art-inspired community, but also an attractive tourist attraction.
Editor's Note: For more on the favelas of Rio de Janeiro, check out Ulrike's newest installment in the series, The Most Colorful Cities In Central And South America.
Pro Tip: This so-called Valley of Color is best explored as part of a tour that also allows you to see what the surroundings have to offer.  
8. Rainbow Village, Taichung, Taiwan
About 100 miles from the capital, Taipei, the Rainbow Village is worth a side trip. There are a lot of colorful communities in the world, but this one is hard to beat, with every single house different from the next and covered in its entirety in drawings. It's like stepping into a gigantic coloring book. The story behind the village is just as inspirational. Reportedly, the village started off as low-cost housing for veterans, but as time went by, the houses fell into disrepair, and the village came under threat of being torn down. But one resident, Mr. Huang, locally known as Grandpa, started to paint his house with characters and vibrant colors, and others followed suit. The village was saved, even if most of the original houses have since been replaced with sturdier examples.
Pro Tip: While a tourist attraction, this is a living community, and no entrance fee is asked for you to visit. However, any shopping for local souvenirs or making donations will direct money to the locals.
9. Little India, Singapore
Singapore is a city (and country) with so much to do and see, and a lot of it is colorful, be it the old Chinese shophouses or the markets. But the most colorful neighborhood is Little India. From Hindu temples exploding in a riot of colors to the House of Tan Teng Niah (the last vestige of China in the quarter) to the stalls selling saris in all colors and the gold stores that add a little bling to the surroundings, this is truly a vibrant area.
But the rest of Singapore also offers some great pops of color. Search out Alkaff Bridge at Robertson Quay, which is decked out in 55 different colors, and Haji Lane, which is full of street art. And pay a visit to Joo Chiat Lane and its surroundings, as it is bursting with beautiful pastel-colored shophouses.
Pro Tip: Singapore is famous for its street food, so head straight to a hawker center, i.e., a large food court, or, even better, go on a walking tour and eat as you go.