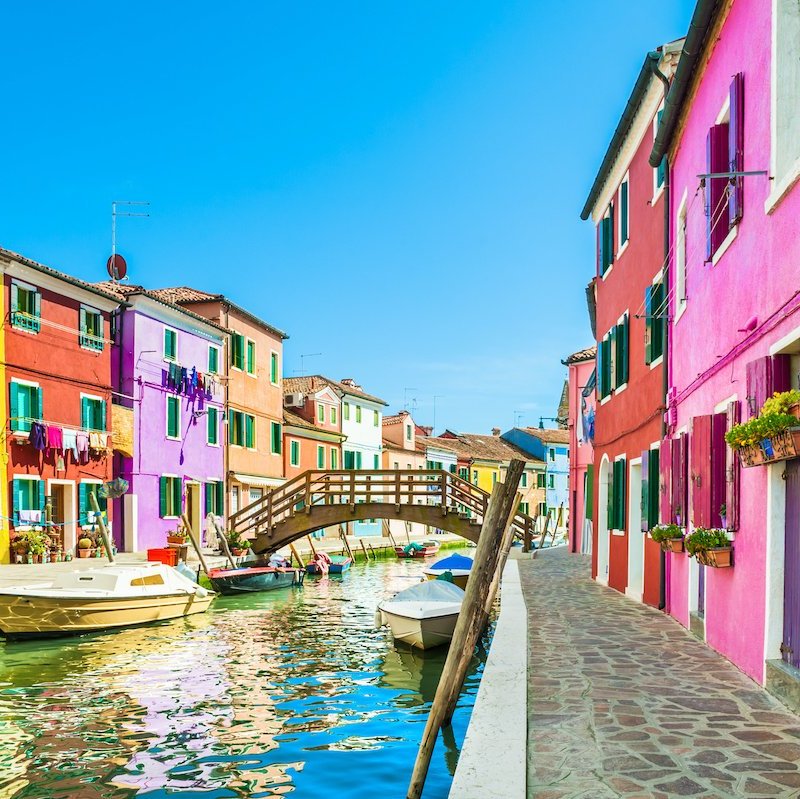 Hot on the heels of The World's Most Colorful Cities and The Most Colorful Cities in North America, here come my favorite European cities that are off the color charts.
This is a selection of vibrant European cities, towns, and neighborhoods that pop with color and are cheerful and happy as a result. I have chosen these because they are great places to visit for so many reasons, but their colorful architecture makes exploring the city's streets even more fun and makes for a great atmosphere. It just adds that little something extra.
So here are some of my favorite colorful spots in Europe, stretching north to south, east to west; some you will have heard of, others I am sure are new to you. All, though, are cheery and bright.
1. Burano, Italy
Already with a spot on my world's most colorful cities, Burano deserves a double mention. A 45-minute Vaporetto-ride from Venice, this island town in the Venetian Lagoon is a perennial favorite. Each house pops in a different color, only enhanced by the local women sitting on chairs outside their houses, often wearing black and working deftly on snow-white lace creations. If you are lucky, you will spot a brightly painted fishing boat going along the canal just at the right moment, making it nearly — but only nearly — too colorful for a picture.
Pro Tip: Who needs Pisa when you can see the leaning bell tower of the San Martino del Vescovo in Burano? It dates to 1703, stands 174 feet high, and is leaning some 6 feet to the side.
2. Balat, Istanbul, Turkey
This is a lovely neighborhood in Istanbul that is often foregone in favor of all the other, admittedly stunning, attractions and neighborhoods the city has on offer. But a trip to Balat should be on your list if you like picturesque buildings in all shades and colors — and little cafes perfectly located for people watching. A brief ferry or tram ride from the center of town, Balat (and its neighbor, Fener) are the former Greek Orthodox and Jewish quarters and teem with markets, cafes, and restaurants, small individual stores, and narrow lanes bustling with life. And color. For a perfect spot to stop for a while, visit Art Localist, a lovely cafe/art gallery with good coffee.
Pro Tip: Balat is a warren of tiny lanes and alleys, so why not go on a walking tour with someone who knows the neighborhood and its history?
3. Copenhagen, Denmark
Small enough to explore on foot, Copenhagen is perfect for a city break. It has a gorgeous waterfront and the world's third oldest amusement park, the Tivoli Gardens. Add some of the world's best restaurants, such as Noma, and shops that sell that famous Scandinavian chic (be it fashion or home furnishings), and you have a fabulous visit guaranteed. And to get that pop of color, look no further than Nyhavn, the New Harbour, which is in fact an old harbor dating to the 17th century. The old waterfront is lined not only with picturesque sailing and fishing boats but, more importantly, with brightly painted houses that make this spot one of the most photographed in the entire country.
Pro Tip: The fairy tale writer Hans Christian Andersen called Nyhavn home and not only lived at house number 20, but also in house numbers 67 and 18. Don't miss The Little Mermaid, a sculpture commemorating his work, just a couple of hundred yards north of Nyhavn.
4. Procida, Italy
And here is another colorful Italian island town: Procida, a Fleagrean Island roughly 24 miles off the coast of Naples in southern Italy. The small harbor of Procida is so picturesque it hurts. Think a small bay nestled into sheer, tall cliffs, every house along the waterfront a different color from the next; a lemon-colored church, tiny fishing boats bobbing in the sheltered marina, and a promenade lined with cafes and restaurants. It's gorgeous on land but best appreciated when arriving by boat, so taking the ferry from Naples or coming over by boat on an organized day trip is perfect.
Pro Tip: You will simply have to make it up to the top of Procida. It might be a bit of a steep climb, but it's worth it for the views down across the town's bright colors and on to the other islands and the Italian mainland. Take it slow, stay in the shade, and stop at regular intervals, and you'll be glad to have done it.
5. Bergen, Norway
Norway's second-largest city lies among fjords and mountains, and its old center around the harbor is a colorful delight. Stone and wooden houses alike are decked out in pastel shades and line the UNESCO World Heritage site Bryggen, the Hanseatic wharf area where rich merchants built their gorgeous residences. Residential homes are dotted along the mountainside and are connected to the waterfront through, occasionally, extremely narrow cobbled lanes, such as Wesenbergsmauet or Steinkjellergaten. It pays to get lost in Bergen and randomly take right or left turns to see what you find.
Pro Tip: To get a good overview of the harbor city, head up Ulriken mountain via cable car — or the not-quite-as-high Floyen mountain via funicular.
6. Menton, France
Menton is a small medieval coastal town in the south of France, nestled between Monaco and northern Italy. Founded by pirates and long ruled by the Monaco royal family, Menton established a republic in 1848 and joined France in 1860. All the buildings in Menton have been painted in sunny hues, from yellows to burnt orange and soft reds and pinks, making for a picture that is a perfect mix of Mediterranean and Provencal influence — and particularly impressive when seen from the sea.
Pro Tip: In February there are even more yellow and orange colors to celebrate during the annual Lemon Festival with displays and even parades featuring citrus fruit across the town.
7. Juzcar, Spain
From sunny citrus hues to a Smurf-blue village. It is not only the Smurf-blue color that this small village in the southern Spanish region of Malaga has embraced. No, there are Smurfs themes everywhere in Juzcar. Be it bright red cartoon mushrooms painted on the blue houses or Smurf figurines standing on balconies, you find yourself in cartoon land, even if it is less Smurf-crowded now than it once was. Disputes over Smurf copyrights resulted in the village having to take down most of their Smurf displays, despite paying royalties for a while. But Smurfs or not, the fact remains that this is an extremely blue village, sitting among the traditionally bright white villages of Andalusia.
Pro Tip: From your base in Malaga, rent a car for the day and drive inland to Juzcar, and then to Ronda, with its famous viaduct. It is easy driving and a lovely countryside to enjoy.
8. Portmeirion, Wales
Portmeirion is a bit of an oddball. This Italianate village set on the coast in northern Wales is basically a gigantic colorful folly. A private village, Portmeirion was designed and built by architect Sir Clough Williams-Ellis over a 50-year span between 1925 and 1975. The village has a hotel (in which Noel Coward famously wrote Blithe Spirit), plazas, churches, gardens, pastel-painted houses, shops, and basically everything you'd expect in an Italian village. While Williams-Ellis denies having been inspired by Portofino, there is no doubt that Portmeirion is based on an Italian town. It has inspired writers and film producers along the way, with many films and TV series having been filmed here.
Pro Tip: Spend a day, preferably a day and a night, here. There is much to explore in this gorgeous location, just like in any historic and naturally evolved Italian town, only that this is in Wales. So, occasionally, you will need to pinch yourself.
9. Wroclaw, Poland
Wroclaw lies on the river Oder in southwestern Poland, not far from the German and Czech Republic borders. It is best known for its medieval market square bordered by buildings painted in a multitude of hues. The market was founded by Henry the Bearded between 1214 and 1232, and the rich merchants' houses and town halls – there are two – were added over time, each one fancier and more decorated than the next. It is not just that each house is a different color, but many are multi-hued, such as a dark red house with turquoise framings on the windows and pink details within the frames. It is like a medieval scene straight out of a candy store.
Pro Tip: This is a gorgeous market square any time of the year, but come in December and the square is filled with a traditional Christmas Market. The buildings are illuminated by twinkle lights, making for a magical atmosphere.