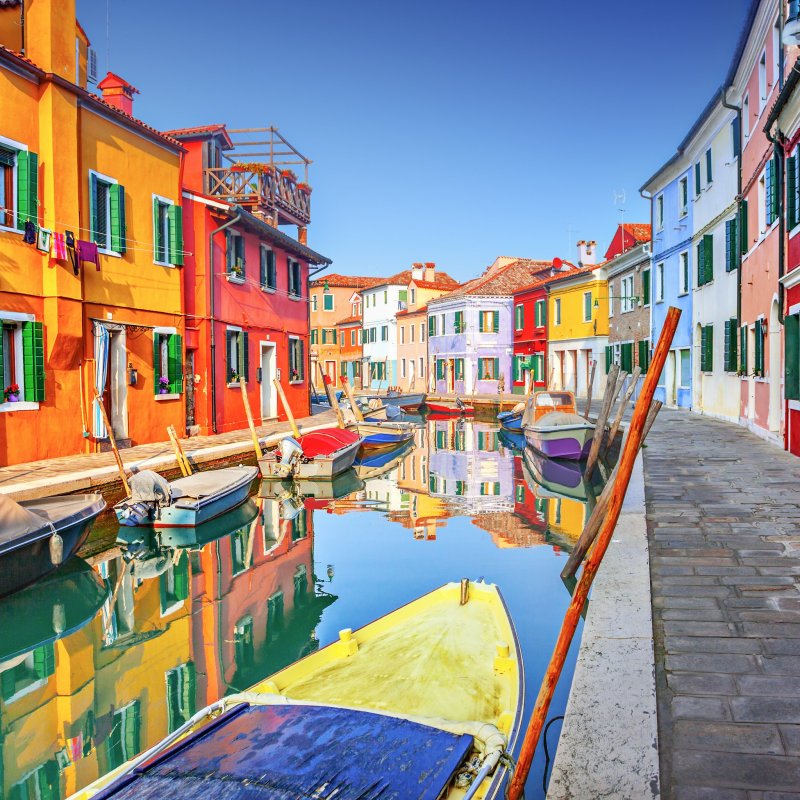 Is there anything more cheerful than cities that celebrate vivid color? Whether the buildings are all painted in the same shade, or, even better, each and every house in a different color, bright and cheerful cities make not only for perfect photo opportunities but boost the mood enormously. I am not only lucky to currently call a colorful city home — Bristol, where rows of houses along hillsides stand like a box of crayons and look fabulous in all weather — but when traveling, I am also strangely drawn to places that stand out from the crowd through their extensive use of paint.
I have chosen my personal favorite places, cities, suburbs, and parts of a town that all stand out for their bright buildings. They all make for lovely side trips on your vacation, and they're just waiting for you to take great pictures. Instagram, here we come.
1. Havana, Cuba
Number one on my list is, without a doubt, Havana, Cuba. It wins hands down because not only does the city have a plethora of brightly painted buildings, but it has really colorful vintage cars parked alongside the buildings. Often enough, whether done on purpose or by sheer chance, a parked car and the building behind it match in color. You would not believe how many pictures I have where exactly that happened.
Pro Tip: While in Cuba, try to go along to Trinidad. It's just as colorful as Havana, but with different architecture. A photographer's delight.
2. Bristol, England
My home when in the UK, Bristol delights me every day with its colorful houses. A hilly city with the river Avon having formed deep gorges in the vicinity, buildings along the cliff edges of high-lying quarters have been painted in bright colors, standing out like cheerful fence posts. Add to that individually painted front doors, and at every turn in Bristol, you find color. And that, even in the often-wet weather in the southwest of the UK, makes you smile every time you step outside.
Pro Tip: Take the roughly three-mile-long Harbourside Walk, which will lead you along the river with perfect views up to Redcliffe and Clifton (see how cliffs feature here in the names?). You'll also get photo opportunities of brightly-colored houseboats moored just below a block of cheerful houses.
3. Burano, Italy
When visiting Venice, many people come only for the day, or, at most, stay long enough to pop over to Murano, but the island of Burano is often overlooked. At the end of a 45-minute trip on Vaporetto 12 lies this little island filled with brightly-painted tiny houses that once belonged to fishermen, and where even today the old women sit outside and twist and knot the delicate lace the island is famous for.
Pro Tip: The Vaporetto 12 also stops off at Murano, famous for its glass, and Torcello, nearly uninhabited but with the lovely church Santa Maria Assunta. Buy a flexible ticket and hop on and off, making an entire day of it.
4. La Boca, Buenos Aires, Argentina
Buenos Aires is a sprawling city with lots to see and do. Luckily, it is nicely divided into districts, or barrios, each one famous for its own reasons. La Boca is the colorful one. Within the barrio of La Boca lies Caminito, the little path: a street museum where houses are bright, street art is plentiful, and life takes place outside on the street, with the odd tango danced right there. Touristy for sure, but fun all the same.
Pro Tip: In the streets of Caminito, an arts and craft market has stalls open every day but is best visited at weekends. Just hold onto your belongings.
5. Bo Kaap, Cape Town, South Africa
Bo Kaap is a neighborhood in central Cape Town and is one of the points on any must-see list when visiting. Here, the colorful buildings are not only bright, cheerful, and oh-so Instagram-able, but also tell a deeper story: This neighborhood used to be where enslaved people from the islands around Malaysia and Indonesia used to live. While they were enslaved, their houses were white, but once freed, they could paint their house any color they wanted it to be. Looking at the neighborhood now, it is a success story.
Pro Tip: Try some yummy Cape Malay koeksisters, a type of donut, at Faeeza's Home Kitchen.
6. Las Palmitas, Pachuca, Mexico
The first time I ever learned of Pachuca in central Mexico, some 60 miles northeast of Mexico City, was from a jigsaw puzzle I was doing. It was hard, with small houses covered in swirls of color, transforming the entire town into one large mural. And indeed, the neighborhood of Las Palmitas is one gigantic fresco, done in 2015 by artists called the German Crew with the help of the residents. It was a successful attempt to brighten up a neglected and violent working-class district and bring art to the people.
7. Valparaiso, Chile
The hillside of Valparaiso is a marvel to wander through: colorful houses, amazing street art, and even the steps that connect steeper areas turned into pianos or covered in poems. If you want art and color, this is the place to go. After your walkabouts, sit in one of the many restaurants, such as Cafe Turri, where you can appreciate the great views across bright houses and the ocean.
Pro Tip: There are many tiny alleys and lanes in Valparaiso. To not miss anything, book a walking tour with local guides.
8. Jodhpur, India
The second-largest city in the northern state of Rajasthan, Jodhpur is called the blue city, and when you are looking down from the imposing Mehrangarh Fort that towers over the city, it is easy to see why. The higgledy-piggledy houses in the old part are all painted a lovely hue of blue. There are various explanations in circulation as to why, from the color preventing termite attacks to it keeping the houses cool in the heat, or that followers of Shiva, whose body turned blue after being poisoned, painted their houses blue believing it to be a sacred color.
Pro Tip: Just on the city's doorstep lies the stunning Umaid Bhawan Palace, a former residence of the Maharaja of Jodhpur. It is now a hotel, so you can stay there,or simply pop in for lunch and play at being a maharaja or maharani for an hour or so.
9. Chefchaouen, Morocco
From one blue city to another: Chefchaouen in Morocco's Rif Mountains. With just as many theories about why Chefchaouen's buildings are blue circulating as in Jodhpur (mosquito repellent, representing the sky and/or the water, keeping cool), you will be pleased to hear that while most of the city is indeed blue, the old, walled kashba stands out with its earthen hue. But that makes it no less inviting: It contains a museum, a lovely garden, an art gallery, and plenty of history.
Pro Tip: To see more of the Rif Mountains, you can hike right out of the city along various treks.
10. Toulouse, France
Dubbed the Pink City, Toulouse is a foodie destination, a historic gem surrounded by magnificent countryside and home to that famous Canal du Midi, which connects the Atlantic Ocean with the Mediterranean Sea. It really is pink, with various orange hues thrown into the mix, and it's especially spectacular at sunset, when the city's buildings shimmer in their best shades. The difference with Toulouse is that the color is due to the local stone used when building the city, rather than paint.
Pro Tip: At sunset, go down to the Garonne River. This is the perfect location for watching the city turn all shades of pink and orange while sipping an aperitif at the Cafe des Artistes.
11. Cinque Terre, Italy
Another colorful town, this one clinging precariously onto the cliff face overlooking the Ligurian Sea in northern Italy, an easy drive away from Milan or Florence, Cinque Terre is also another favorite for jigsaw puzzles, being so picturesque that it attracts some 2.5 million people every year.
The town's name refers to the five villages nestled in successive bays, one prettier than the next. They all used to be connected by several paths high up the cliffs, but alas, the paths are prone to landslides and slippages. However, you can walk several parts of them safely, with spectacular views.
Pro Tip: You can also get from one coastal town to the next very easily by local train, and also pop across to nearby Pisa and Lucca for the day.