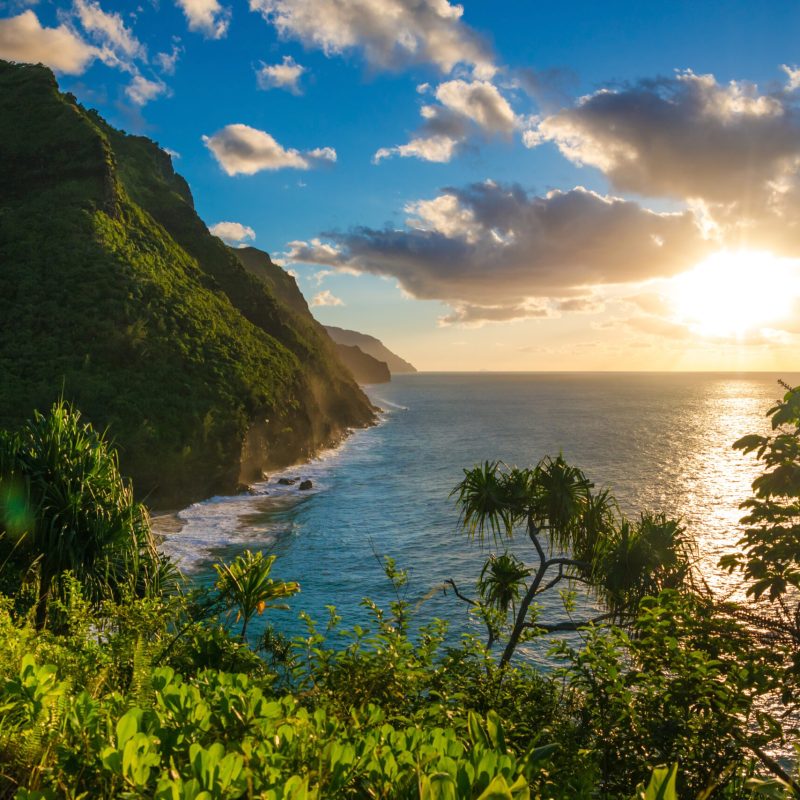 Swaying palm trees, glorious sunsets, golden beaches, lush landscapes, and year-round tropical temperatures all await on a getaway to Hawaii. With such lovely surroundings, it's not hard to simply kick back and relax on a getaway to this remote and beautiful location in the middle of the Pacific Ocean.
That said, the Hawaiian Islands are also filled with a spectacular array of activities to enjoy. Whether you're the type to pack in as much as you can on vacation, or balance a little sightseeing with beach time, Hawaii offers a variety of things to do, ranging from snorkeling trips and helicopter tours to opportunities to learn about local culture and history.
We've rounded up some of the best places to visit in Hawaii, arranged by island, below. But first, as you're planning your trip, consider participating in a small service project while you're there — a simple way to give back to a special place that has served as a popular vacation destination for decades (with all of the impact on the local environment that tourism can bring). Visitors can clean up beaches, plant native trees, and even restore a historic battleship. Check out a number of offerings here — some volunteering projects affiliated with the new Malama Hawaii program can even net you free hotel rooms or other special discounts at certain resorts.
Oahu: Places to Visit
Oahu is home to Hawaii's capital city of Honolulu, where you'll also find bustling Waikiki Beach, plenty of shopping options, and some incredible restaurants with local seafood on the menu. Further afield, the North Shore is known for its huge waves for surfers. With significant historic sights, opportunities to learn about the local culture, and natural wonders, you'll find plenty of things to do in Oahu.
Hike Diamond Head Crater
This volcanic crater just east of Waikiki Beach is part of Diamond Head State Monument. Its main hiking trail is well marked and includes concrete walkways and steep steps — locals like to conquer the summit for an outdoor workout. The distance is .8 miles each way. From the top you'll enjoy a spectacular view of Honolulu, surrounding mountains, and the vast blue ocean.
Pay Your Respects At Pearl Harbor
Pearl Harbor National Memorial commemorates the attack on the American military on December 7, 1941, marking the United States' entry into World War II. The USS Arizona Memorial serves as the final resting place for the more than 1,100 military service people who were aboard that ship at the start of the attack (in total, more than 2,400 soldiers, sailors and service people died that day). Pearl Harbor is a somber visit, but one well worth your time to not only honor fallen military, but also learn about a key moment in U.S. history through several multimedia exhibits.
Snorkel At Hanauma Bay
The coral reefs found in tranquil Hanauma Bay are the habitat for many different colorful fish. This is a protected spot with gentle water that's ideal for even first-time snorkelers; you can rent snorkel gear on site. A reservation system is currently in place, allowing for a limited number of guests each day in order to help protect this sensitive environment. Don't forget to pack your reef-safe sunscreen!
Tour Iolani Palace
King Kalakaua built Iolani Palace in 1882, and the grand estate served as a royal residence until the Hawaiian monarchy was overthrown in 1893. You can learn all about the history of this sacred spot — an ancient place of worship — through a number of different tours, either self-led or guided by a docent.
Learn At The Polynesian Cultural Center
Oahu's Polynesian Cultural Center is a great way to immerse yourself in the history and culture of not only Hawaii, but other areas of Polynesia, such as Tahiti, Fiji, and Samoa. When you step into the different villages, you'll learn — through interactive demonstrations — about the people who have called these areas home for centuries. There's also an opportunity to enjoy an extravagant luau, complete with traditional food, song, and dance.
Maui: Places to Visit
Maui has not only magnificent beaches along its coast, but also opportunities to cool off when you journey into the mountainous area. Superb snorkeling and scenic drives are just a few of the memory-making things to do in Maui, also known as the "Valley Isle."
Visit Haleakala National Park
This remarkable and sacred spot is a must-see on Maui. And the best time to experience the beauty of Haleakala, a dormant volcano, is from its summit in the early morning, when the sun breaks through the clouds and rises above peaks to the east. You'll need reservations to enter the park between 3 a.m. and 7 a.m. (yep, it's an early wake-up call!). If you don't want to rent a car and do it alone, plenty of tour operators offer excursions with transportation — and often breakfast — to witness this spectacle.
Head Into The High Country
In addition to exploring Haleakala National Monument, there are some remarkable things to do in Maui away from the beaches. Consider touring the Ali'i Kula Lavender farm, visiting Maui Wine to sample pineapple and other fruity varieties, or visiting the art galleries of Makawao of "upcountry" Maui.
Drive The Road To Hana
With one-lane bridges, switchbacks, and hairpin turns, the Road to Hana — a 52-mile stretch of pavement hugging the coast from Kahului to Hana — is not for the faint of heart. In fact, the tourism folks at the Hawaii Tourism Authority recommend making this excursion with professional guides on an organized tour. With someone else behind the wheel, you can more safely admire the gorgeous passing scenery! Neat stops along the way include cascading waterfalls, a stand of rainbow eucalyptus trees, and fresh food stands.
Go Whale Watching
Prime time for whale watching in Maui is the winter and early spring, when the majestic humpback whales migrate to the area from the northern Pacific. Book a whale-watching boat tour to learn from onboard naturalists, or try to spot them frolicking in distant waves from the shores of Kaanapali, Makena, and Wailea beaches.
Snorkel Around Molokini
Off the coast of Makena Beach, on the southwest side of Maui, is Molokini Crater. The crystal-clear waters around this crescent-shaped landmark are a great place to experience snorkeling in Maui, with the abundant number of colorful fish here. Several companies offer snorkeling tours to the region; typically a catamaran trip also includes a stop at Turtle Town, where you can spot green sea turtles hanging out in the coral reef.
Kauai: Places to Visit
Active travelers love Kauai with all of its options for hiking, snorkeling, ziplining, river kayaking, and even tubing through interior waterways. Lush with green valleys and dubbed the "Garden Isle," Kauai is Hawaii's oldest island — the first to be formed by a volcanic eruption millions of years ago.
Experience The Napali Coast
On Kauai's North Shore, the Napali Coast is a jaw-dropping display of cliffs rising from the ocean. Group this rugged landscape with cascading waterfalls and pristine beaches, and you've got some spectacular scenery that's best viewed from air (via helicopter) or sea (via boat or kayak). Otherwise, to access it by land, you'll need to make reservations to hike along the Kalalau Trail, which is 22 miles round trip, but you could bite off a small chunk just 2 miles to Hanakapi'ai Beach if you're game for something shorter.
Go Mountain Tubing
In cold-weather climates, mountain tubing is sailing down a snowy hill in a blown-up inner tube. In tropical Kauai it's floating along a former sugar-cane plantation irrigation ditch — one of the most unique water adventures in Hawaii. This is a mellow ride, where you simply need to kick back in the tube and let the natural flow of the water carry you along through the narrow canals and tunnels.
Give Surfing A Try
You'll find plenty of surf schools on Kauai, whether you're staying on the South Shore of Poipu or up north in Hanalei Bay. If you're brand new to the sport, you'll get a lesson on land first to practice hopping up on the board. Then you'll get into the water with an instructor, who will likely hold on to your board and give you a nudge when the perfect wave comes along to ride into shore.
Fly Through The Air While Ziplining
Soar over a rainforest canopy and deep valleys on an exciting zipline tour. Several outfitters on the island offer such experiences, and it's an adrenaline-charged way to get a bird's eye view of Kauai's pretty scenery — perhaps while facing some fear of heights at the same time!
Big Island (Island of Hawaii): Places to Visit
Officially known as the island of Hawaii, it's more often referred to as the Big Island, due to its size (yes, it's the biggest of the bunch). This unique place boasts a stunner of a national park as well as active volcanoes and black-sand beaches. The west side of the island of Hawaii also has a perfect climate for growing world-famous Kona coffee.
View A Volcano From Above On A Helicopter Tour
When Kilauea, one of the Big Island's active volcanoes, is erupting, it's an especially awesome time to book a helicopter tour of the island to see the glowing red molten lava flow into the ocean to create billowing acid mist called "laze." But even when Kilauea is in a quiet phase, a helicopter tour of the island of Hawaii provides really cool views of lush mountains, black-sand beaches, and tall waterfalls.
Traipse Around Hawaii Volcanoes National Park
The active Kilauea volcano is located inside Hawaii Volcanoes National Park, so a visit here will allow you to see steam rising from its multiple vents. Visit at night during an ongoing eruption and you may witness a fiery "lava lake" — bring a flashlight to maneuver safely. At this magnificent national park you can also walk through the giant Thurston Lava Tube, which is a tunnel that was cut into the earth by boiling, flowing lava about 500 years ago.
Visit A Kona Coffee Farm
The climate in the Kailua-Kona area of Hawaii, on the island's west side, is ideal for growing coffee beans. Learn how the beans are farmed and roasted at one of the local coffee farms. Tours (often free) may include a sample, but at the least you can purchase the authentic Kona coffee directly from the people who produce it — a perfect souvenir that supports a local business.
Stargaze At Mauna Kea
Early Hawaiians named the giant dormant volcano "Mauna Kea," which means "white mountain," as snow regularly dusts its 14,000-foot summit. Visitors can drive (or take a tour) to the visitor center at 9,200 feet to cool off at the high elevation on hot days. Tours also run to the visitor center or the summit for stargazing and planet viewing — Manua Kea's remote location allows for an especially sparkling sky on clear evenings.
For more things to do in Hawaii: