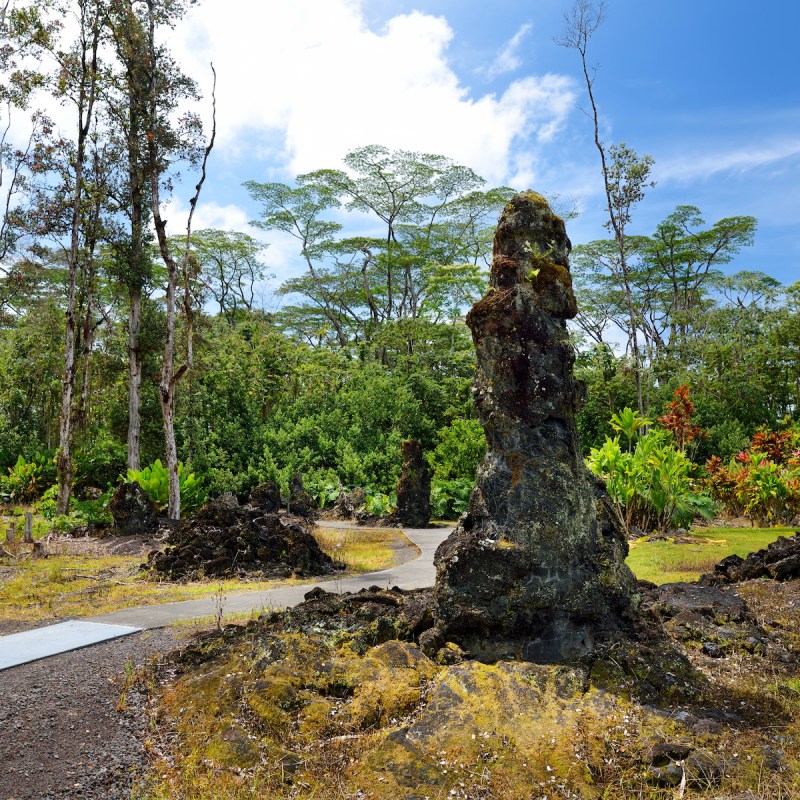 You'll often hear Hawaii's Big Island described as one of the "youngest" places in the world. That's because new earth is constantly being formed as lava flows, cools, and hardens. But while the Big Island may be a "young" destination, there's definitely a lot of old soul in and around its Lava Tree State Monument.
In this remarkable old-growth forest, you can still see the blemishes and battle wounds from 1790, when a mighty lava eruption steamrolled its way through the area. The fast-moving lava enveloped the trees. When the lava made contact with the cool, moist bark, casts of hardened lava formed around the tree trunks. And when the initial surge of lava subsided, the casts of these tree trunks remained, a ghostly reminder of the once-impressive trees that had dominated the forest.
Lava trees are often mistaken for petrified wood, and the confusion is understandable. They do look similar. But the centers of lava tree trunks are hollow; the organic matter burned away during the lava flow. What you're seeing is not petrified wood, but the shape of wood that once was, preserved for eternity in hardened lava. If you look carefully inside a hollowed-out lava tree (don't touch it!), you can see the imprint of the bark, almost like the tree left its own handprint inside the lava that ultimately took its life.
Lava Tree State Monument, also called Lava Tree State Park, is located on the southeast side of the Big Island, just 3 miles from the town of Pahoa. Here's what you should know before you go.
1. There's Much More To See Than Lava Trees
After reading about how lava trees are formed, you might think that the entire area is nothing but dark, sooty, eerie forms. But Lava Tree State Monument is actually a really pretty park! Next to the charcoal-colored lava trees, you'll see delicate ferns and flowers. You'll spot orchids, birds, and huge blossoms everywhere you look. The entire park is a testament to the power of nature in so many ways. You'll see new plant growth covering hardened lava and massive root systems that have recently toppled over. Everything here is constantly evolving — living, dying, and being reborn.
2. The Park Is Big, But The Loop Is Small
While Lava Tree State Monument is large (17 acres in total), much of this space is devoted to ecological preservation. Visitors can explore via the Lava Tree Trail, a 0.7-mile path that loops from the main parking lot. It's paved, well marked, and easy to follow. Leashed dogs are welcome.
3. It's Important To Stay On The Path
In just about any park, you'll see signs urging visitors to stick to the path. At Lava Tree State Monument, this isn't just a suggestion. There are carefully camouflaged cracks in the earth that can seriously injure unsuspecting explorers. This is one place where avoiding the proverbial road less traveled is excellent advice.
4. It's A Terrific Deal
What makes Lava Tree State Monument such a good deal? It's free! There is no admission cost, and there are no parking charges. It's also open 24 hours a day, which is great for travelers who are passing through late in the day or those who are eager to squeeze in one last attraction early in the morning before they leave. But while it would be lovely to watch the sun set in the park, there is really no reason to be there after dark. A visit is all about seeing the plant life, which you can obviously only do by daylight.
5. The Weather Is Unpredictable
Hawaii's Big Island has wonderful weather, but it does err on the side of unpredictability. Just because it's sunny in nearby Pahoa doesn't mean that it will be in Lava Tree State Monument. If you travel with a small umbrella or raincoat, bring it along. You'll also want to bring sunscreen, a sun hat (smart no matter where you are in Hawaii), and sturdy shoes. The path is in good shape, but there are muddy and slippery sections.
6. Expect Limited Amenities
Lava Tree State Monument is a small park, and there's not much you need other than a willingness to explore. But it's worth noting that the amenities here are limited to washrooms, picnic tables under a pavilion, a parking lot, and some interpretive signs and information panels. There's no gift shop, food services, or even staff. Bring along your own water bottles and snacks.
7. Some Portions Are Accessible
Lava Tree is ADA accessible — in theory. In 2018, work was scheduled to improve sections of the main paved loop to enhance accessibility. But those plans were interrupted when the need to repair earthquake damage arose. Thankfully, the two projects overlapped somewhat, and the efforts to restore parts of the park post-earthquake included renovating some of the path for everyone's benefit. However, it's worth noting that there is much room for improvement. For instance, tree roots have caused sections of the path to crack and lift.
8. Don't Skip The Museum
Lava is much more than a geological phenomenon to the people who live in and around Pahoa. Recent lava eruptions have brought tremendous heartbreak, lost homes, and lost businesses. They've also brought scientific inquiry, spiritual reflection, and community growth. You can learn about the many sides of living with lava at the Pahoa Lava Zone Museum. This wonderful new museum also houses artifacts from the now-closed Jaggar Museum, which was a popular attraction at Hawaii Volcanoes National Park.
9. There's A Great Coffee Spot Nearby
If you need a memorable caffeine fix after you explore, you'll find it in the town of Pahoa. Sirius Starseed Coffee is so small that you might miss it if you're not paying attention. This tiny coffee shop and internet cafe offers espresso-based drinks and coffee made from Hawaiian-grown coffee beans. You'll also find all the other coffee shop favorites, including smoothies, tea, and baked goods, plus a free lending library. (Note that this small space doesn't have a washroom.)
There's also a laundromat — the delightfully named Suds 'n Duds — just behind the neighboring building. If you got muddy while exploring Lava Tree State Monument, this is where you'll want to be!
Where Else Can You See Lava Trees?
Just because there's a volcanic eruption doesn't mean there are going to be lava trees. They only form under very precise conditions, which is why they are so rare. They're also delicate ecosystems, subject to being damaged in future eruptions, being removed for farming and development, and being taken as souvenirs. Not surprisingly, they're among the most unusual and hard-to-find ecological phenomena in the world.
You can see lava trees at the nearby Hawaii Volcanoes National Park. The park has several lava trees, as well as some lava tree molds. Tree molds occur in the same way as lava trees, but the final flow of lava never subsides. Instead, you can see the mold of the tree by looking down into the hardened lava. The park is also home to lava tubes, natural conduits where the lava once flowed beneath the hardened surface.
Lava trees are also located around the base of Mount Fuji in Japan and Mount Etna in Italy (where they are known as "cannon stones").
Related Reading: