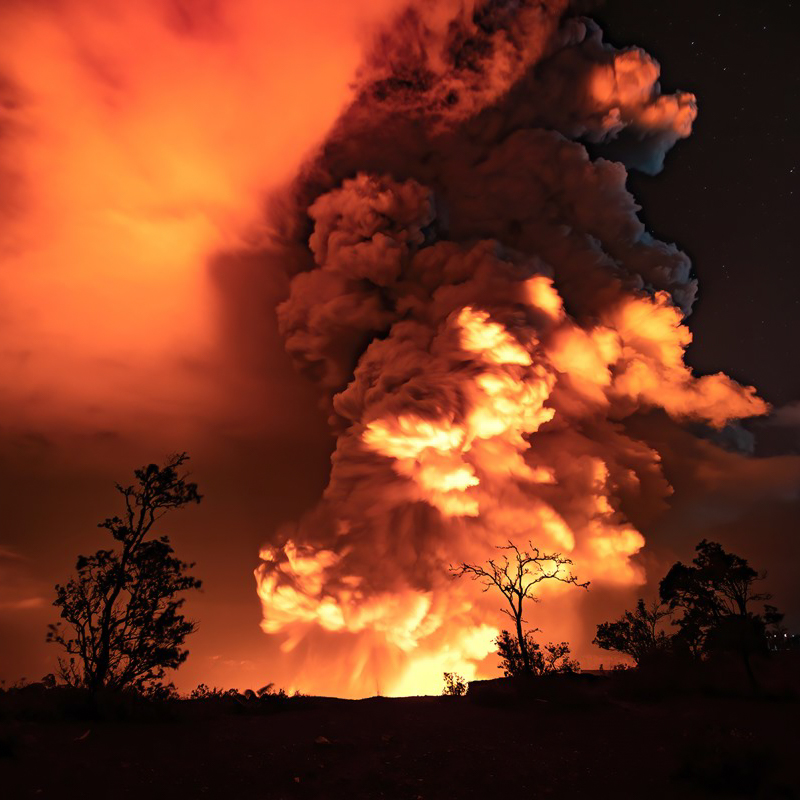 As if 2020 hasn't been tumultuous enough, the Kilauea Volcano on Hawaii's Big Island has erupted, shooting a steam cloud into the atmosphere and prompting warnings for residents to stay indoors.
Last night, the National Park Service, Hawaii, issued a warning that just after 9:30 p.m. HST, the U.S. Geological Survey's Hawaiian Volcano Observatory (HVO) "detected glow" within Halemaumau Crater at the summit of Kilauea Volcano and noted that an eruption had begun. The volcano is within Hawai'i Volcanoes National Park.
HVO later reported a magnitude-4.4 earthquake beneath Kilauea Volcano's south flank.
The U.S. Geological Society said they received more than 500 reports from people who said they felt the earthquake.
When the Kilauea Volcano erupted, it shot a steam cloud into the atmosphere for about an hour, an Associated Press article reports.
Tom Birchard, a senior forecaster with the National Weather Service in Hawaii, said the eruption was created when new lava flow mixed with a pool of water that was already inside the crater.
During the eruption, all the water evaporated out of the lake quickly, causing a steam cloud that shot "up about 30,000 feet into the atmosphere," Birchard said in the article.
The consequences of the eruption could be serious. Early this morning, COH Civil Defense (the Hawaii County Civil Defense Agency) tweeted the following warning:
"Trade winds will push any embedded ash toward the Southwest. Fallout is likely in the Kau District in Wood Valley, Pahala, Naalehu, and Ocean View. Stay indoors to avoid exposure."
The reason for the warning is that when people are exposed to ash, it irritates their eyes and respiratory systems.
In addition to changing the volcano alert level, the U.S. Geological Survey also changed the aviation code color to red — a warning for planes to avoid the area.
The volcano's eruption isn't necessarily a complete surprise. For the past several weeks, the Hawaiian Volcano Observatory has recorded ground deformation and earthquake rates at Kilauea Volcano's summit and upper East Rift Zone that "have exceeded background levels observed since the conclusion of the 2018 lower East Rift Zone eruption and summit collapse."
The Kilauea Volcano has erupted before. In 2018, it erupted, generating enough lava to fill 320,000 Olympic-sized swimming pools, AP reports. For perspective, the article explains an area more than half the size of Manhattan was buried in up to 80 feet, destroying more than 700 homes.
You can read up on the latest travel news here.