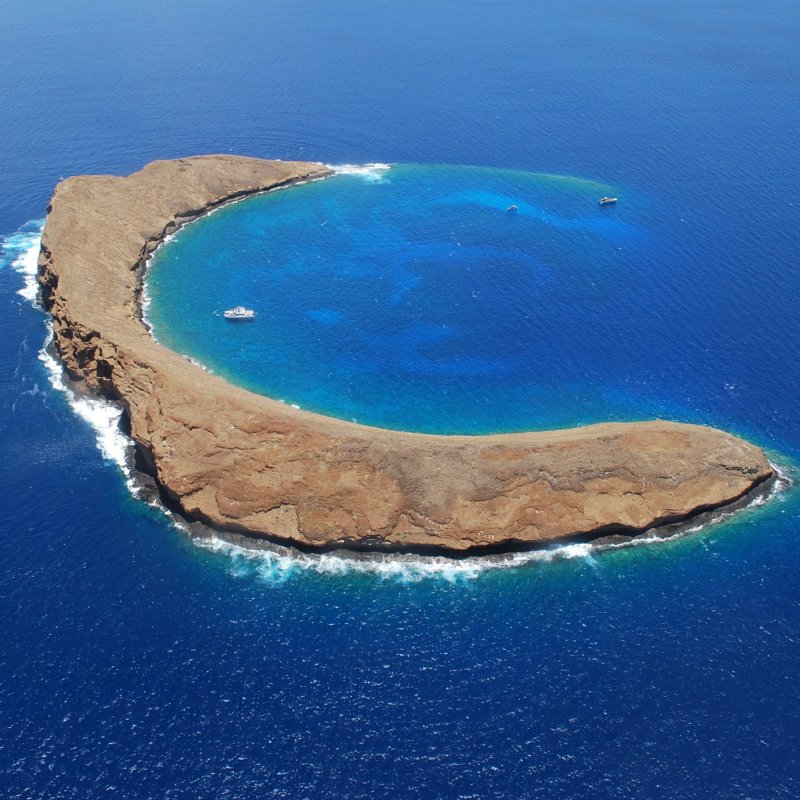 A crescent-shaped spit of land rising some 160 feet off the west coast of Maui, the landmass we know as Molokini isn't much to look at — at first. While it's rocky and rather barren above the ocean, beneath the surface it's an entirely different story. A site of spectacular beauty awaits snorkelers thanks to the partially submerged crater and a volcanic eruption that occurred some 230,000 years ago.
Snorkeling in Molokini Crater was an absolute highlight of my visit to Maui — one that I hope you get to experience soon. Here's what you should know before you go.
1. Molokini Is The Best Snorkeling Spot In Hawaii
Snorkeling in Molokini Crater — now a Marine Life Conservation District — is hugely popular for a reason. It is certainly the best spot to snorkel in Hawaii, and may just be the best in all of North America.
The crater itself is far from Maui's busy beaches, and the crater's sunken bowl protects wildlife from the open ocean, making it the perfect calm nook to see up to 250 varieties of fish, birds, and mammals, plus 38 varieties of coral. In the early morning, the visibility is amazing, and, on a good day, you can see up to 150 feet deep.
If that weren't enough, during certain times of year, you can even see whales in the distance! During my February visit, I actually heard them "singing" to one another beneath the surface. Their soothing sounds remain one of my favorite travel memories.
2. Arrive Early
No one likes getting up early in the morning. But when it comes to snorkeling in Molokini, waking up early is essential, since the early morning is when the water is at its calmest and clearest. By the late morning, the water is choppy, and visibility is limited. If you have the choice between a 6 a.m. departure and a 10 a.m. departure, choose the earlier option. And if you see a steeply discounted afternoon tour, know that visibility will be quite limited.
To mitigate the pain of that early morning wake-up call, try to plan your Molokini Crater snorkeling excursion early in your trip, presuming you've flown west to Hawaii from North America. Your internal clock will already be used to waking up before dawn, local time.
3. Complimentary Breakfast
Speaking of early mornings, most boat tours boast of offering a complimentary breakfast. This usually consists of store-bought pastries, fruit, yogurt, coffee, and pineapple-orange-guava juice. Some tours also offer quiche or breakfast sandwiches. The food is adequate, but not exactly exciting. The same can be said of the post-snorkel barbecue and booze on the longer tours.
The quality and variety vary by tour, and I think the best strategy is to go in with modest expectations and hope they'll be exceeded. But since you really do work up an appetite while snorkeling, a hearty post-adventure brunch at a beachside cafe is a smart plan.
4. Depart From Makena If Possible
Most Molokini Crater snorkeling outfitters depart from Maalaea, but that's not your only option. My personal preference is to depart from Makena with Kai Kanani. Makena is the closest community to the Molokini Crater. This means you get the shortest possible boat ride and you are (usually) the first to arrive, beating everyone else by at least 30 minutes.
Departing from Makena didn't just mean a shorter boat ride — it also meant getting up ridiculously early, since my hotel was in Lahaina. But it was absolutely worth it. It was utterly magical to be alone with just my fellow boat mates as we explored the underwater world.
A super-early departure from Makena would also be a bonus for anyone with a very tight schedule. The trips from Maalaea usually clock in at about 6 hours, owing to the much longer boat ride, while the Makena trips typically last 3.5 hours and conclude before 10 a.m. However, the trade-off is that your social time on the boat is really limited.
5. Motion Sickness
Another benefit of the boat ride from Makena? If you are prone to seasickness, you will appreciate the short ride. The waters around Maui are rarely rough, but they aren't exactly smooth! Even on the shorter trip, I felt a bit queasy and had to look at the horizon. (Though, as my husband points out, that isn't exactly surprising given my history with boats. He didn't feel a hint of nausea of any kind!)
If you do opt to depart from Maalaea, bring along some soothing ginger ale and a dose of anti-nausea medication. Many vessels advertise that they have their own special concoction of anti-seasickness juice. (Spoiler alert: It's just lemon-lime soda with some freshly grated ginger mixed in.) Alas, my sensitive stomach didn't appreciate that it was lukewarm, nor did I enjoy the texture of the ginger, so I was glad to have my usual standbys with me.
6. Know What To Expect
In general, most tours include about 45 minutes of snorkeling at Molokini Crater and another 30 to 45 minutes of snorkeling at a spot famous for sea turtles. All snorkeling equipment is included, including flotation devices for those who prefer to bob instead of swim, plus a light breakfast, drinks, and snacks as detailed.
You should bring your own rash-guard shirt as well as reef-friendly sunscreen. Wetsuits, rash-guard shirts, and underwater cameras are usually available for rent.
The tour staff consists of the captain and some additional deckhands. There is usually an onboard naturalist (our amazing guide helped us spot a shy octopus!) and sometimes a lifeguard. Tipping after the tour is encouraged, and $5 to $10 per person per staff member is standard.
7. The Size Of The Boat Matters
Molokini Crater tours range from small affairs of about two dozen people on a catamaran to much larger, multideck boats. The largest boats, like those offered by Quicksilver, come with waterslides, glass-bottom viewing platforms, and freshwater showers.
In my opinion, this is one experience where size absolutely matters. I was thrilled to experience Molokini Crater snorkeling as part of a much smaller group. However, that's just my preference. The larger boats do offer more activities and amenities and can be a good option for families or groups of friends.
The price of a Molokini Crater snorkeling tour can vary widely, from as low as $100 per person to $200 per person plus taxes and tips.
8. Arrive In Your Swimsuit
There are bathrooms onboard, but these aren't really meant to be changing facilities. Arrive with your swimsuit on underneath your clothing, and have a spare outfit to change into once you're back on dry land and waiting for a hot meal at the cafe.
9. Bring Your Own Towel
On most boats, you must bring your own towel. I recommend bringing two — one for the boat and one to sit on when you return to your car. Most hotels have beach towels they will happily lend to you, or you can pick one up at any of the ABC convenience stores.
10. Beach Loading And Unloading
In some cases, tour boats practice beach loading and unloading. This means that the passengers must wade out into the surf and onto the steps of the boat. Beach loading means fewer piers have to be built among the fragile coral and, in general, it's a good thing. But if you're not expecting it, you might feel awkward getting out to the boat this way.
First, expect to get wet as you walk across the surf (another reason to keep a spare outfit and towel in your car!). Bring footwear that you can easily slip on and off and that you don't mind getting wet, like a pair of flip-flops. Finally, bring all your belongings in one easy-to-carry bag, like a backpack or a sturdy tote. Pack your cell phone, keys, and other valuables into a waterproof bag and place it securely in your main bag — not your pocket! It's helpful to have your hands free to keep your balance as you walk into the shallow water and to grip the rails once you board.
11. Spiritual Significance
Finally, remember that you are a guest of the people of Hawaii. Molokini is more than just a beautiful nature preserve. It figures heavily in the legends and spiritual beliefs of Hawaiians, as do the animals you're privileged to see. Wearing reef-friendly sunscreen, making an effort to avoid any possible contact with marine animals, and choosing a tour operator that practices sustainability isn't just demonstrating sound environmental stewardship — it demonstrates your respect for this sacred region.