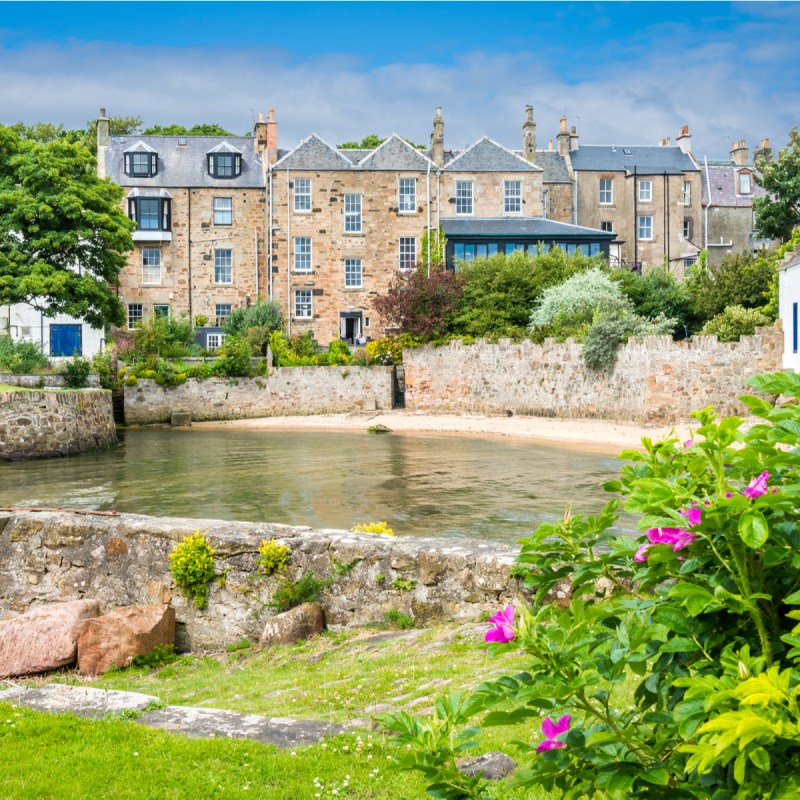 Scotland is a large and varied country, sometimes wild in its landscape, sometimes calm and serene, but always interesting. Drive out of any busy city and you're straight into open countryside, many filled with mountains and lochs. In the lowlands, you can travel easily between the two cities of Edinburgh and Glasgow, but sprinkled around them, on both coasts and deep inland, there are the most gorgeous small towns just waiting to be discovered. Some have been spawned from old fishing villages, some have taken the overflow of the cities and bloomed with a bigger population, while some are historic towns that were once royal burghs. But all of them offer beauty and interesting stories. In no particular order, here are 7 gorgeous small towns to visit in the Scottish Lowlands.
1. Anstruther
A pretty coastal town in the Kingdom of Fife, Anstruther still appears like the remote fishing village it once was. A short drive up the coast from Edinburgh, Anstruther makes a charming day trip from the city or a good base from which to explore the region of Fife. The sprinkle of little fishing villages on this coastline is a delight to discover, and the sandy beaches are pretty much deserted. Anstruther's harbor is packed with small boats, some so intriguing that it's relaxing and interesting to just spend time gazing out at them. With traditional pubs on corners and in the narrow old streets, it's a place to unwind, wander, and just take in the peace and quiet. The town's fish bar claims the best fish and chips in the world, which is a bold claim. I don't know if that's true, but I can confirm these are extremely good fish and chips!
Pro Tip: Book a candle-making workshop with local candle maker Jo Macfarlane. Workshops last about two-and-a-half hours and you'll learn how to make your own candles and take home your own creation from the class.
2. Dunfermline
For a small Scottish town, Dunfermline certainly has a big history. This quiet, unassuming town was once the capital of Scotland, though you wouldn't believe it today. It was here that King Malcome Canmore established his court after Macbeth died, and here that James I was born. Maybe it was all too long ago, but visitors tend to migrate to Edinburgh and other cities instead of this fascinating historic little town. But that does mean you get it pretty much to yourself. For a modern take on traditional Scottish cuisine, book a table at Jack O'Bryan's. Good quality, locally sourced ingredients are used to create beautifully presented dishes, and all with a nod to the home country.
Pro Tip: If you like a historic building with a touch of the macabre, visit the abbey and palace where King Robert the Bruce found his final resting place. There are guides on hand to show you where Robert is and to tell you how he fell and how he was moved to where he is now, which seems to be just a random spot on the floor. They'll also tell you his remains are there, except for his heart, which had been separated from his body. Bruce successfully kept Scotland free from England's rule until his death.
3. Dumfries
Known as "the queen of the south," Dumfries is a market town a stone's throw from the Scottish/English border. The town boasts some famous sons, including J M Barrie, author of Peter Pan, and Robbie Burns, Scotland's most famous poet and writer, who spent his final years here. The town's attractions reflect how proud they are of their two most famous residents. The Moat Brae is Scotland's national center for storytelling and children's literature, and you can explore the gardens and house that reportedly inspired the writing of Peter Pan. You can also visit the Robert Burns Centre to discover more about the nation's much-loved bard. Small cafes and art galleries adorn the streets here, in this traditional Scottish small town.
Pro Tip: Visit in January for the best Burns Night celebrations in Scotland. This festival, in honor of the great bard, spans 300 art shows, performances, and displays. It's community based, so everyone you see is based in the local area.
4. North Berwick
The sleepy town of North Berwick is a quiet and peaceful place of empty beaches and large sweeping golf courses. The Scottish Seabird Centre is perfectly placed here as seabirds perch on rocks and congregate on headlands in large groups. The largest colony of northern gannets in the world choose this as their favorite place to be. You can wander out with a pair of binoculars and watch them from afar, or join an organized tour to get the best views. The town has won awards for its gardens and flower displays, and it has some beautifully maintained common parkland areas. This is the place to indulge in quaint tearooms and ice cream parlors, and to wander by the sea, enjoying the fresh air and calm.
Pro Tip: Pop into Osteria restaurant for some award-winning Italian food. The chef here is the youngest person ever to win Italian Restaurant Chef of the Year and the Scottish Restaurant Chef of the Year. You'll soon see why when you visit — the food is outstanding.
5. Linlithgow
Birthplace of Mary Queen of Scots and James V of Scotland, you don't get much more historically important than Linlithgow. Although most of Scotland has some historical significance, this town is especially important. The ruins of the great palace where Mary and James were both born, sits on the banks of Loch Linlithgow and is an inspiring sight. You can tour the ruins, but the upper floor isn't accessible to anyone with mobility issues. Some of the stone ground is unstable and care is needed when climbing over the ruins. The town has a good local farmer's market on the fourth Saturday of every month. If you can time your visit to coincide with the market, you can pick up some locally produced treats. If you like walking, John Muir Way is a two-hour-round walk that takes in the highlights of the town, plus some more off-the-beaten-track sites.
Where To Stay
The Court Residence Aparthotel features 16 rooms, all equipped with a kitchenette and everything you need to take care of yourself during your stay. Perfect for anyone who wants the freedom to come and go as they please and explore Linlithgow at their own pace.
6. Melrose
Situated in the Scottish Borders, Melrose is just a hop over from England, but it is very Scottish! The abbey, dating from 1136, is an impressive ruin with important historical significance. A casket was found in this abbey that contained the missing heart of Robert the Bruce, whose body was found in Dunfermline! The abbey is the attraction most visitors come to see, but the town itself is quaint and pretty and the surrounding countryside is quite breathtaking. The Romans built a fort here, on what they called "the place of the three hills." Today, a museum tells the story of the Romans in this area and evidence of their occupation is still evident. Dining out will mostly be centered around pubs, with some good cafes in the daytime for cake and tea. The surrounding countryside, which you can see from the town, is perfect for hiking and walking.
Where To Stay
Harmony House, aptly named, is an 18th-century house that was originally built as a private dwelling and is now an eight-bedroom holiday house. Plenty of period features remain in this stunning old manor house, but all modern amenities have been added, so you get the best of both worlds. This vast house sleeps up to 15 people and is set in beautiful grounds with amazing views.
7. East Kilbride
In the 1950s, East Kilbride was a rural hamlet made up mostly of farmland, but as the nearby city of Glasgow began to expand in population, this one-time village was made into a town to provide housing and amenities for more people. This makes East Kilbride a "new town." Evidence of its former self is everywhere: in the National Museum for Rural Life and in the ruins of the area's two castles. The oldest part of the town is still referred to as "the village," but is now a busy scene of shops and restaurants. The town is a striking mix of old and new. The church here dates back to 1774, while Whitelee Wind Farm is the UK's biggest onshore wind farm, complete with a visitors center. For a small town, East Kilbride has gone all out to provide things to do for its inhabitants. There's an ice rink, an aqua center, golf courses, and a shopping mall.
Where To Stay
The Coach House is an incredible 19th-century building, built as a stable and accommodation for the coachman and his family. It's now an amazing cottage that sleeps 5 and is surrounded by 5 acres of grounds. This is a quirky and unusual place to stay, with lots of space and interesting history.
Scotland is large and varied, with big cities surrounded by unique villages and small towns: