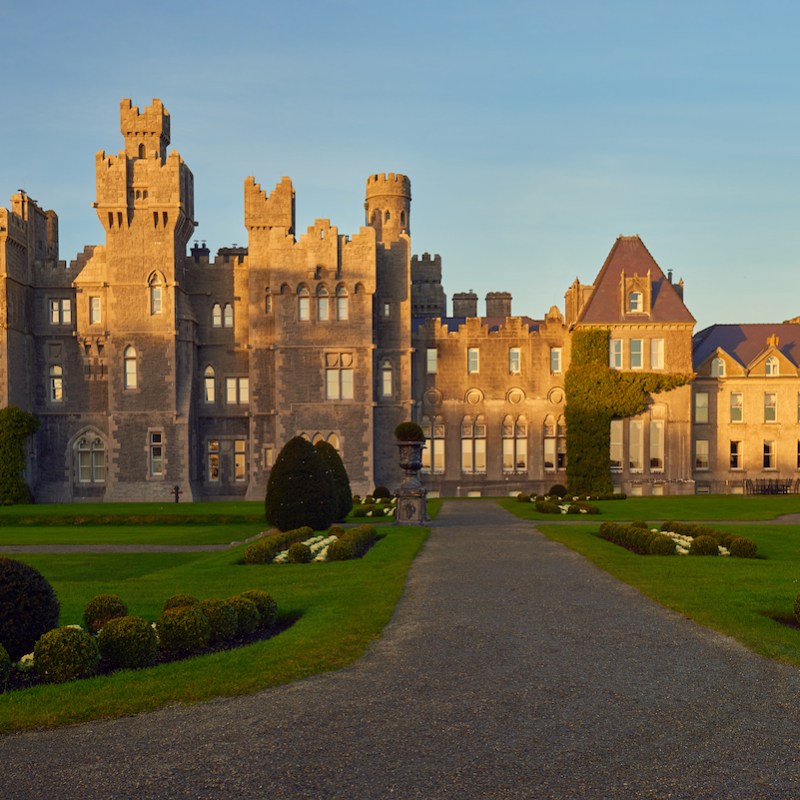 Touring a castle is fun but it can be disappointing when you have to leave because the castle is closing for the day. That's not the case with Ashford Castle in Ireland. You see, the 800-year-old castle is actually a luxury hotel. Here's a look at what sets Ashford Castle apart from other castles — and hotels.
A Storied History
Located outside of Cong, in County Mayo, Ashford Castle is 27 miles northwest of Galway and 155 miles from the airport in Dublin. The castle, which overlooks Lough (lake) Corrib, was built in 1228 by the Anglo-Norman de Burgo family after they defeated the native O'Connors of Connaught, Ashford Castle management explains.
Ashford Castle, which once was home to the Guinness family, has been acquired and completely renovated several times. Most recently, the castle was acquired by The Red Carnation Hotel Collection in 2014, and subsequently underwent what is estimated to be a $75 million renovation, according to Conde Nast Traveler.
Fun Fact: In 1951, while filming the classic movie The Quiet Man with John Wayne and Maureen O'Hara, director John Ford and many of the cast and crew stayed at the castle, Celtic Castles explains.
Exquisite Rooms
Ashford Castle has 83 rooms and suites — and there's even the private Hideaway Cottage. As you would expect of a five-star hotel, the rooms have been exquisitely designed to blend modern luxuries with the castle's original features. For example, the rooms feature "unique works of art, carefully sourced antique furniture and sumptuous fabrics with custom designed carpets," castle management explains.
The most luxurious suite is the Reagan Presidential Suite, a split-level suite named after President Ronald Reagan and Nancy — who stayed at Ashford Castle in 1984. The suite features an original fireplace, an antique George III-style four-poster bed, and spectacular views of Lough Corrib.
World-Class Dining
Ashford Castle's Prince of Wales Bar was built in the late 1800s. In 1905, the bar was visited by the Prince of Wales himself, who later became King George V of England. Later, the hotel named the George V Dining Room in the King's honor. The dining room, which was built by the Guinness family, is filled with Waterford Crystal chandeliers.
Meals at Ashford Castle are prepared using locally sourced produce as well as produce grown at the castle's own gardens. You can even take Afternoon Tea or enjoy wine tastings in the wine cellars, which were built in the 16th century.
A Day's Worth Of Activity
Since the castle is situated on 350 acres with manicured gardens, ancient forests, and woodlands, there is plenty to do outside. In addition to tennis, golf, clay shooting, and archery, there also is horseback riding through the forest.
Pro Tips: Don't miss the castle's Hawk Walks, where you can fly a Harris Hawk under the guidance of a falconry instructor. Ashford Castle has also partnered with authentic, local West of Ireland craftspeople so you can visit their homes and workshops.
Know Before You Go
Ashford Castle is currently closed, following Ireland's COVID-19 guidelines. You can check here for information about its reopening. In the meantime, you can look at Lough Corrib using Ashford Castle's webcam or take a virtual tour of the castle here. For more castle inspiration, see all our fabulous castle content here.