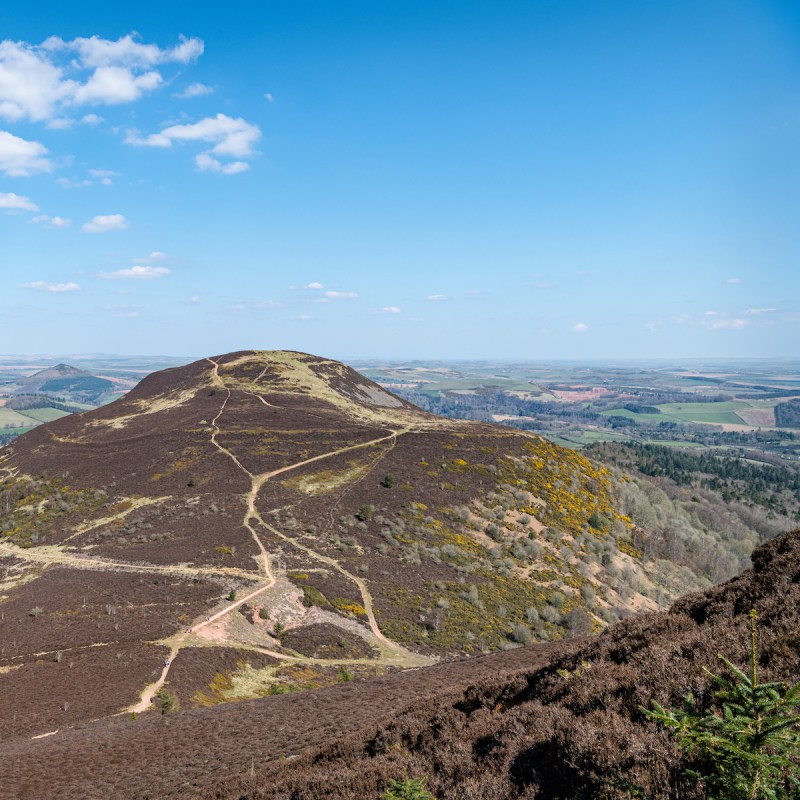 There's no better way to experience the vast and changing landscape of Scotland than by walking through it. The variation of mountains, lochs, moorland, and rugged coastline means you have a choice in what kind of walking you'd like to do. There's also a choice in difficulty level, meaning you can pick out the walking tour that best suits your fitness and mobility. Walking tours in Scotland are punctuated by whisky tasting, country pubs, luxury hotels, and locally sourced food in distinctive restaurants. Here's our pick of the best walking tours in Scotland.
1. Wilderness Walking, Arran
Blessed with dramatic mountain peaks, gorgeous beaches, and a wealth of cultural treasures, Arran is often referred to as "Scotland in miniature," and it isn't too hard to see why. On this new short break guided walking tour, Wilderness Scotland guides hikers on a variety of routes, teaching them about the island's rich history and culture while staying in themed accommodations. Highlights include a visit to King's Cave, where Robert the Bruce is said to have encountered his spider, a remote route over the Saddle with dramatic mountains and tumbling waterfalls, and where there is a chance to see red deer, a trip to Holy Isle with its spiritual heritage dating back to the 6th century, and climbing Goatfell, Arran's highest point before afternoon tea at Brodick Castle.
Pro Tip
The west highlands area of Scotland is the most populated by midges, so to enjoy the beauty without the bother of being bitten, be prepared. The FrogBand is a wristband and travel accessory created by entrepreneur Oliver Preston. This wearable device is a discreet, stylish, and practical container for must-have travel liquids for eager and extreme adventurers. It's ideal for insect repellent, but also hand sanitizer and sunblock. 
2. The Speyside Way
The Speyside Way is one of Scotland's lesser-known trails and winds from the Cairngorms Plateau to the sea, along the banks of the River Spey, Scotland's whisky river. Hike the Speyside Way long distance walking trail, journeying just over 62 miles from the fishing village of Buckie on the Moray coast to the village of Aviemore at the foothills of the Cairngorm Mountains. Follow the banks of the River Spey. You'll pass through open moorland, and pause at some of Scotland's finest whisky distilleries ahead of arrival in the mountains. Stay at welcoming guesthouses, bed and breakfasts, small hotels, and inns along the route.
3. The Tweed And The Scottish Borders
The hills and valleys of the borders have always fired passions, inspiring both bitter battles and great literary works. This hotel-to-hotel walk explores the heart of the now tranquil region, revealing romantic ruins, timeless towns, and its connections to Sir Walter Scott, as 2021 marks the 250th anniversary of the writer's birth. Guests can begin the holiday in Edinburgh's Waverley Station, named after Scott's novels, and there are visits to the writer's home at Abbotsford House, St. Ronan's Wells and Melrose Abbey, and the Eildon Hills, mentioned in The Lay of the Minstrel. Throughout the trip, walkers will follow the waters of the Tweed past an orderly patchwork of water-fed valleys, sheep-grazed pastures, and low, rolling hills. The area's past is revealed at Traquair House, Scotland's oldest inhabited home and one-time refuge of Mary Queen of Scots and the Roman fort of Trimontium. The tours are completely tailored to suit the individual, so they really suit all levels.
Pro Tip
Invest in a good pair of walking boots before you go. I can speak from experience when I say, this really does make all the difference. I used to walk in sneakers and regular boots, but with such a diverse terrain in Scotland, it really does make life easier to have the right footwear. I got a pair of Regatta walking boots, and my comfort levels have gone up considerably.
4. Walk Loch Ness
Few places stir the imagination like Loch Ness. This 6-night self-guided walk explores the remote, southern side of Loch Ness where shady forests, tumbling waterfalls, and rolling, heather-clad moors provide a misty backdrop to some of the most spectacular hiking in the Scottish Glens. It's a timeless landscape and the place to visit for rich Scottish Highlands clan culture and history as well as a peaceful retreat away from it all. The walking is relaxed, with few serious climbs, taking in the serene Caledonian Canal, a section of the Great Glen Way, pretty Beauly Firth, and a wealth of lochs and rivers whose glassy waters mirror the seemingly endless sky. Plant and birdlife are prolific, and there's a high probability of spotting deer, too. To prepare, see our article on 10 Things To Know Before Visiting Loch Ness.
5. Head To The Scottish Highlands And Feed Reindeer
Join local guide, Peter, from Tours By Locals, on a delightful full-day adventure tour of the Scottish Highlands. From paddling in the glorious lochs to hitting the daring heights of the ski area for panoramic views, this tour is an exciting mix of the Scottish outdoors. The experience is wholly customizable, meaning that the activities can be as adventurous or relaxed as the group would like. All ages will fawn over meeting the reindeer found in the Cairngorms Mountains which are Britain's only free-ranging herd of reindeer and are friendly to all who meet them. The tour also routes up the Cairngorms slopes. Here, intrepid walkers will have panoramic views of the highlands, stretching as far as the eye can see. There are further options to include a walk around a fascinating outdoor sculpture park trail or head to one of the local museums such as the Highland Folk Museum or Clan McPherson Museum.
Pro Tip
New for 2021 is the Walk And Whisky tour. Explore Scotland's lochs and castles followed by a taste of Speyside Whisky on this brand-new walking tour. Discover Scotland's natural beauty with a visit to Cairngorms National Park, located in the heart of the Scottish Highlands which boasts beautiful vast landscapes; from wild high mountains to heather moors and magnificent forests. After a morning of walking, you'll visit Glenlivet Distillery which produces single malt whisky and has been operating since 1824. Next, you'll head to Balvenie Castle or Drumin Castle to find out about the history of times gone by. And if one whisky tasting wasn't enough, you can head to the Macallan Distillery to try its premium quality whisky which uses "Golden Promise" barley and matures the whisky in specially cured sherry casks.
6. Beinn Bhuidhe
This one is for those hikers who like things a little quieter, a little remote and off the beaten track, and just a little bit challenging. Beinn Bhuidhe is a munro, or mountain, that offers isolation for its walkers, as it is set apart from the other munros. The walk to the munro is a hike in itself and you'll find it's much more peaceful than some of the more popular mountain routes. Walking up the mountain is partly through rough terrain with some areas that can prove unsteady underfoot, so you need to be a confident hiker for this one.
7. Edinburgh Run Tours
If you're already an experienced walker and you fancy picking up the pace, you can book one of the Edinburgh Run Tours. Enjoy the outdoors with an Explorer Package in conjunction with local hotel Courtyard by Marriott. Ideally located for any adventure in the nearby Pentland Hills, this is a unique package where you can include wild swimming or an amazing run in the Scottish countryside. The package includes overnight accommodations, a spare room for your beloved kit, breakfast, grab-and-go lunch to enjoy when you are on your local adventure, and a 5 GBP laundry voucher to clean your kit if required. Courtyard by Marriott Edinburgh West is located just outside the city center, and is Scotland's first "Sporting Hotel." Playing host to the Scottish National football and rugby teams, guests have access to the Oriam Centre — a Scottish center for sports.
Where To Eat
When you've worked up an appetite, head down to Loch Fyne restaurant at Cairndow. After originating as an oyster farm in the loch, Loch Fyne Oysters opened its Loch Fyne Oyster Bar in 1988 at Clachan. The company has expanded into a restaurant chain, and the Oyster Bar continues to be a tourist attraction at Cairndow. Loch Fyne oysters pair beautifully with the natural non-filtered organic wine 204N from Sicilian winemaker Salvatore Tamburello, which can be ordered through Independent Wine, and now this wine is offered in house as the best match to the venue oysters.
Scotland is a fascinating country to visit: