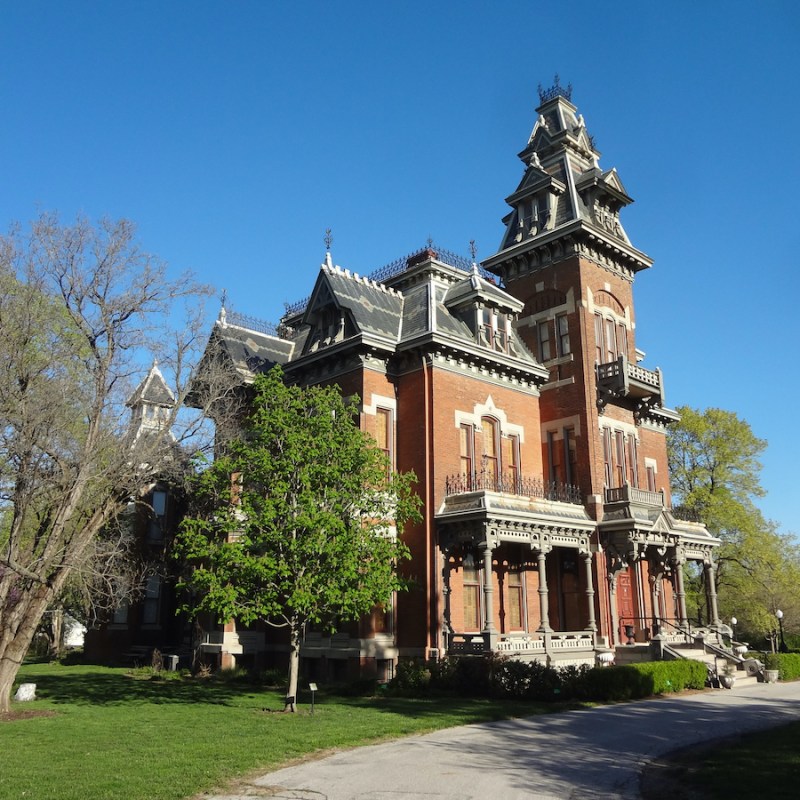 America's heart, the Midwest, is crammed full of natural wonders, charm, and loads of history. From its indigenous people to explorers, pioneers, and immigrants, Midwestern residents from the past left impactful legacies, and discovering these stories is one of the most rewarding parts of any trip, visit, or vacation.
Here are 14 Midwestern towns that have stood the test of time, and where rich, ingrained history can still be felt, experienced, and appreciated.
1. Independence, Missouri
Home to a U.S. President and stunning church headquarters, and once the center of westward expansion on the Santa Fe, California, and Oregon Trails, Independence teems with history, and you can see it around nearly every corner!
This was where President Harry S. Truman first became involved in politics. Today, you can tour the downtown courthouse where he served as a judge as well as his home — part of a National Historic Site — and his presidential library. The Community of Christ Temple, a modern glass and steel creation, rises above the town in dramatic fashion. Visitors are welcome here to learn more about the church's beginnings in Independence and why it's still so spiritually significant. 
A stop off at the National Frontier Trails Museum will help you better understand the shared experiences of men, women, and children heading west from Independence during the 1800s — with all of the trials, tribulations, and challenges they faced along the way.
To learn more about all of the fantastic things to see, do, and experience in Independence, Missouri, check out the city's online visitors guide or visit our Independence content here.
2. Ste. Genevieve, Missouri
The oldest town in the state of Missouri, Ste. Genevieve is situated right along the Mississippi River and was founded in the 1700s by French settlers. Today, the town named for the patron saint of Paris still retains its European charm. It boasts many excellently preserved examples of French colonial architecture, including the Felix Valle House State Historic Site. Adding to the charm, the town still boasts narrow streets and fenced, lovely gardens, so you'll really get that Old World feel.
For serious Francophiles, Ste. Genevieve's festivals — which celebrate the town's French roots and history — can't be beat. The French Heritage Festival held in June, the Jour de Fete Arts & Crafts Festival in August, and the Le Reveillon Christmas Celebration are favorites of visitors and locals alike. 
3. Hermann, Missouri
While the French founded Ste. Gen, the Germans get the credit for settling another beloved Missouri town — Hermann. This small spot west of St. Louis was built into the bluffs above the Missouri River starting in the 1840s, and today it is well-known for its red brick buildings, cute shops and cafes, and almost a dozen wineries, making it the perfect weekend getaway!
Those wineries are pieces of history unto themselves: Many were founded by families who first settled in this area because it reminded them of the Rhine River Valley back in Germany. While Hermann is charming all year round, it's bustling during Oktoberfest. Plan well ahead if you want to visit during that time. 
4. Carthage, Missouri
Located near Joplin, the southwestern Missouri town of Carthage is a historic gem that shines all on its own. A state historic site here commemorates the Battle of Carthage, which was the first full-scale skirmish of the Civil War. The town's gorgeous courthouse is fun to explore and makes for the perfect selfie backdrop, and Carthage Historic Preservation, founded in 1978 by a group of concerned citizens, has done incredible work to preserve the numerous Victorian-era homes in town. In fact, three of the town's districts are listed on the National Register of Historic Places! Want more? Consider our picks for the best things to see and do in Carthage.
5. Alton, Illinois
Alton, located right on the Mississippi River north of St. Louis, had a load of history, incredible natural beauty, and a record-breaking favorite son! Famous for its limestone bluffs which rise dramatically from the river, Alton has always been a trading town and shipping center. It was here in 1837 that Elijah Lovejoy lost his life in the battle for abolition, and his printing press was tossed in the river.
In 1858, a debate between then-candidate for U.S. Senate Abraham Lincoln and Stephen Douglas took place, and Alton was the hometown of Robert Wadlow, who was certified by the Guinness Book of World Records as the tallest man who ever lived (he was 8 feet, 11.5 inches tall!). Alton's downtown is a delight, with many shops and cafes. Fast Eddie's Bon Air is a crowd favorite, known for its burgers and cold beer.
6. Galena, Illinois
Named for the lead ore unearthed here long before colonial settlers arrived, Galena has a lot to offer any visitor. The Native Americans who lived here knew the land was rich in mineral resources; one of their burial mounds — 
Casper Bluff — isn't far from town and can be visited today. A large swath of Galena is on the National Register of Historic Places. Among them is the place where President Ulysses S. Grant once lived. 
A walk along the town's riverfront reminds you that this spot was once a major riverboat hub, and Galena's charming, historic downtown is crammed with adorable boutiques, galleries, and places to grab a delicious bite to eat — or perhaps a glass of locally produced wine. Want to visit? Get planning with our seven reasons to visit Galena.
7. Springfield, Illinois
Another Illinois town with a presidential past, Springfield is a stand-out when it comes to history. Of course, the state capital city was Abraham Lincoln's home, and it was here the country lawyer first became involved in politics. Today, the library that pays tribute to the nation's 16th president features hands-on exhibits as well as artifacts and memorabilia from his time in office. You can also visit Lincoln's Greek Revival-style former home and his final resting place in Springfield's Oak Ridge Cemetery. The Lincoln Tomb is marked with an obelisk; Mary Todd Lincoln and three of the couple's four sons are also buried here.
The Old State Capitol, where Lincoln served as a state lawmaker, is also worth a visit, as is the current state capitol building, with its statue of Honest Abe right out front. Read more to find out how to spend the perfect weekend in Springfield!
8. Nauvoo, Illinois
Nauvoo, Illinois, on the Mississippi River just across from southeastern Iowa, is full of spiritual significance and cultural history. In 1839, Joseph Smith, founder of the Church of Jesus Christ of Latter-day Saints, brought his followers here to establish their temple. At one point, Nauvoo had thousands of residents: the church members as well as craftsmen, traders, and builders who came to support the booming community. 
But when Smith was killed and what remained of the church eventually left for Utah, the town became home to other settlers, including a French utopian society.
Today, the Joseph Smith Historic Site in Nauvoo includes a group of buildings and homes significant to the church's early days; tours of them start at the Visitor's Center. Not far from town, the Carthage jail where Smith's murder took place is also open to visitors, and the church holds pageants every summer to commemorate the town's history.
9. New Harmony, Indiana
The village of New Harmony in southern Indiana features loads of rich tradition, gorgeous architecture, and an extra helping of history. 
In 1814, a group of German immigrants seeking religious freedom founded the town. About 10 years later, they decided to head back east and sold New Harmony to a wealthy industrialist who sought to create a utopian society. Word got out and scientists, educators, and philosophers flooded the small spot on the Wabash River, leaving their legacy for generations to come.
At the Atheneum Visitors Center, you'll learn all about these early settlers and can also sign up for a 2-hour walking tour. New Harmony's homes, institutes, and galleries are beautifully preserved and are terrific places to explore! For more inspiration, consider our picks for how to spend a perfect day in quaint New Harmony. 
10. Davenport, Iowa
With its rolling bluffs off the Mississippi River, stunning Victorian mansions, and vibrant riverfront downtown, Davenport absolutely deserves a spot on our list. It's the largest of the Quad Cities — located halfway between Chicago and Des Moines — with a vibrant arts and culture scene that blends seamlessly with its industrial riverboat past. Its riverfront features several parks that are perfect for walking, jogging, and biking, and the downtown Figge Art Museum is one of the best anywhere.
To really get a feel for Davenport's past, a stop by the German American Heritage Center is essential. Here, you'll learn all about the immigrants who made Davenport their home and helped build the city. Going to be in the Quad Cities? Don't miss the best things to see and do in Davenport while you're there.
11. Pella, Iowa
With its Dutch roots and fabulous tulip festival, the small town of Pella, Iowa, is a historic show-stopper! Its downtown district feels distinctly European with its Old World architecture and green spaces. The town's heritage museums will introduce you to Pella's Dutch founders and early residents, its Molengracht Plaza delights visitors with a working drawbridge and waterway, and the Vermeer Windmill is the tallest working grain mill in the U.S. (For a great bird's eye view, take a tour and climb to the top!) 
Of course, you'll want to sample Dutch delicacies including pastries, cheese, and sausage. When trip planning, keep in mind that each May, the town comes alive with thousands of brilliant blooming tulips. 
12. Lindsborg, Kansas
For another European experience without the hassle of a transcontinental flight, head to Lindsborg, Kansas. This small town south of Salina was founded by Swedish immigrants who came to the area in the late 1860s to farm. Today, the town boasts boutiques and galleries featuring Swedish art and gifts. You'll delight in the dala horse sculptures (they are a national symbol of Sweden, after all!) placed throughout the town, and the architecture, with its distinct style and color, definitely resembles what you'd find in Stockholm or Gothenburg. 
Plan to save plenty of room for Swedish meatballs, waffles, pancakes, and other traditional cuisine, and if you plan to visit in October, make it during an odd-numbered year so you can enjoy the biennial Svensk Hyllningsfest, a large festival that celebrates all things Swedish. Interest piqued? Here's why you should discover Little Sweden in Lindsborg, Kansas.
13. Abilene, Kansas
Lots of visitors to Abilene, Kansas, really like Ike! After all, this is where America's 34th president, Dwight D. Eisenhower, grew up and where his Presidential Library, Museum, and Boyhood Home are all located. While you can certainly retrace the leader's steps and pay tribute to him at his final resting place on the library's grounds, there are other great things to do and see in Abilene, too.
Keep in mind: This is a true Wild West town, complete with cattle drives, saloons, and an interesting array of sheriffs — including wild Bill Hickok! To learn more about Abilene's rough-and-tumble past, head to the Dickinson County Heritage Center, where you can also try your hand at horseback — on the historic carousel housed here, that is! The town's grand Seeyle Mansion, fully furnished in period items, is also worth a visit and tour. Learn much more about Abilene beyond Ike here.
14. Mineral Point, Wisconsin
Wisconsin's third-oldest city, Mineral Point, is something special. Strolling its streets, you'll feel as if you've been transported to Britain. That's because once lead and zinc were discovered in town, miners from Cornwall emigrated to the area to work the ground. They built the charming stone cottages that can still be found in Mineral Point today; Pendarvis House, a Wisconsin Historic Site, is an excellent example. The story of how it was saved from the ravages of time is one you won't soon forget.
Mineral Point also has a vibrant arts scene and lots of terrific dining options. Make sure to try a traditional Cornish pasty and, of course, cheese curds. You are in Wisconsin, after all!