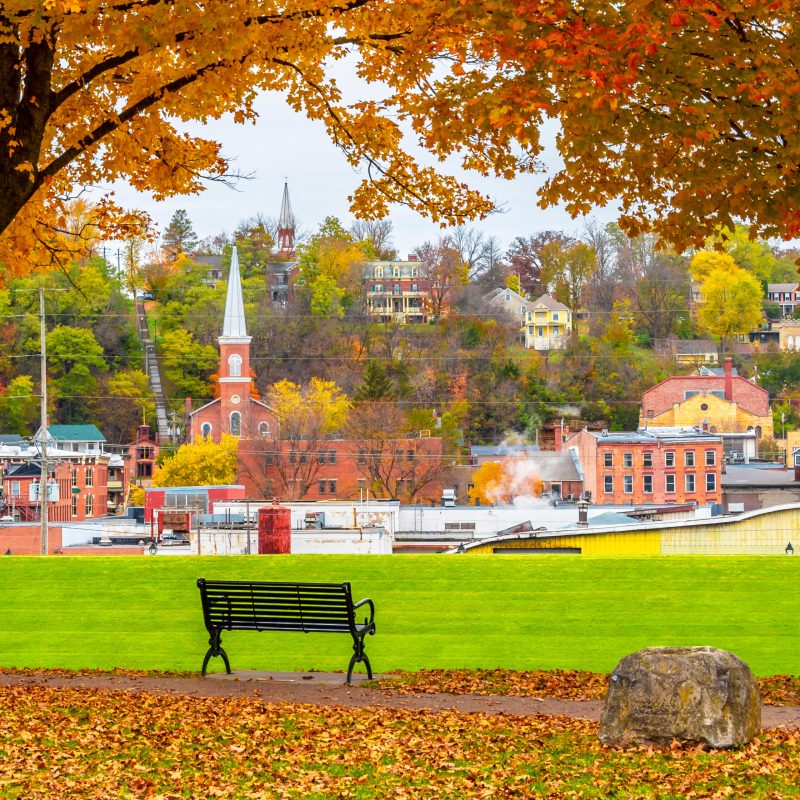 I was born and raised in Illinois, so I'm quite familiar with the different parts of the state. There's Chicago and its massive suburbs — the third-largest city in the country, which accounts for nearly 70 percent of the population of Illinois. There's Central Illinois and its five major cities, most of them college towns, all laid out in a triangle: Peoria, Bloomington-Normal, Champaign-Urbana, Decatur, and Springfield. There's Southern Illinois, with its rolling hills and rural, almost Kentucky-like feel.
And then there's the least-known region of Illinois: the northwestern corner of the state. Chicago dominates the northern portion of the state, but hidden away, tucked in the far northwestern corner, is perhaps the best-kept secret in the whole state: Galena, Illinois.
When I say the far northwestern corner, I mean it. Downtown Galena is 10 minutes from Iowa and 10 minutes from Wisconsin. It's as far north and west as you can get within the state's borders. And in that secluded location is the perfect getaway town for Chicagoans. (And these days, it's the perfect getaway town for travelers from all over the country.)
Here are seven great reasons to visit Galena, Illinois.
1. It's Steeped In History
Galena's roots are found in its name, which refers to galena, the mineral form of lead sulfide. Once the mineral was discovered in the region in the 1850s, Galena became a lead mining boom town. At one point, the port where the Galena River meets the Mississippi River was the busiest port between Minneapolis and Saint Louis.
During this boom, Galena's most famous resident arrived in town: Ulysses S. Grant left his farm in Saint Louis to work at his father's leather goods store in Galena. He was living in Galena when he rejoined the military, eventually becoming a general in the Civil War. When he returned home as a war hero, the town of Galena gave him a house on Bouthillier Street. The Ulysses S. Grant Home is managed by the Illinois Historic Preservation Agency and offers tours. Learn more about the town's history and Grant himself at The Galena & U.S. Grant Museum.
Grant's Italianate-style home is just one of many historic sites that can be toured in Galena. Built out of limestone in 1826, The Dowling House was the first house in town. In fact, the entire Galena Historic District is listed on the National Register of Historic Places, as is about 85 percent of the town. Most of the buildings are immaculately maintained. A drive through downtown Galena feels like a drive through the 1860s: The storefronts, the churches, and the homes all look like they did 150 years ago.
Because of this, there's a seemingly unlimited number of charming bed and breakfasts. My wife and I have visited Galena more than five times, and we've never stayed in the same place twice. You'll feel like you're waking up in a Victorian bedroom in 1875!
2. It's Home To One Of The Best Main Streets In America
If you've ever spoken to someone about Galena, this is probably what they referenced. Downtown Galena is built on a sloping hill leading down to the Galena River Valley, and the curved Main Street that frames the river is truly one of the best in the country. When my wife and I vacation in quaint towns, we always visit the main streets. They're always charming, but I've never experienced one as neat as Galena's.
The curve of the street makes for a unique experience. Main Street is framed by two- and three-story brick buildings, and the gradual curve makes you feel like you're following a gigantic one-lane maze. The street is more than a half-mile long, so honestly, you'll probably need several days to take it all in.
Because it's so long, Main Street has nearly every shop, bar, and restaurant you could imagine. There are clothing stores, antique stores, gift shops, and art studios. There are bars, restaurants, breakfast joints, and ice cream shops. Hardware stores, jewelry stores, wine tasting rooms — you could visit Galena for an entire weekend and still have shops you weren't able to see.
3. The Restaurants Are Amazing
My wife and I travel a lot, and when it comes to quick weekend getaways, I would say that Galena has been our go-to spot more than any other place in the Midwest. We've visited in all four seasons. One trip was over the Fourth of July, one trip was in the fall, several trips happened around Christmas (ski trips to Chestnut Mountain with our boys), and one trip was in the late spring. Because of that, we have tried more than 20 restaurants in Galena. Here are some of our favorites.
Gobbie's Sports Pub & Eatery
Gobbie's is our spot if we just want some pizza and maybe a beer. On ski trips, this was a big hit with our boys. We could get a big pizza, and they could play with the shuffleboard table. The salads are massive.
Green Street Tavern
Green Street Tavern is the perfect lunch spot. The space is the old tavern inside the historic DeSoto House Hotel (which is still operating). We try to get a table by the window and split a sandwich. There's an old wooden bar that will remind you of a hotel desk from the 1800s.
Fried Green Tomatoes
For steak, scallops, and pasta, head to Fried Green Tomatoes in historic downtown Galena. It is located in the Dowling Building, which once housed Grant's father's leather goods store. Open for dinner every night except for Monday, the restaurant is not kid-friendly and does not provide booster seats or high chairs.
4. There's A Lot To Do Outdoors
Galena has activities for all seasons. I'll get to the winter in a bit, but for spring, summer, and fall, there are many different outdoor activities to enjoy.
Kayak The Galena River
For a relaxing afternoon, contact Nuts Outdoors or Galena River Outfitters about taking a kayak trip up the Galena River (almost to Wisconsin) and back to downtown Galena.
Hike Trails At Apple River Canyon State Park
Outdoor activities are not just restricted to the Galena River. My wife and I drove to Apple River Canyon State Park and hiked the trails there for a day. All of the trails are very short, so we weren't exhausted as we took in all of the rivers overlooks in the canyon.
Tour Wineries On Electric Bikes
Nuts Outdoors even offers a winery tour on electric bicycles. The terrain around Galena is very hilly, so electric bicycles are a must. Let the bike assist you up and down the hills on your way to Galena Cellars Vineyard & Winery.
Golf At Eagle Ridge Resort & Spa
Surrounded by almost 6,800 acres of northwest Illinois countryside, Eagle Ridge Resort & Spa features four championship golf courses. It also hosts the annual Great Galena Balloon Race on the third full weekend of June where you can watch pros race hot air balloons and listen to live music.
Explore Casper Bluff Land & Water Reserve
Take in views of the Mighty Mississippi from the bluffs of Casper Bluff Land & Water Reserve. See prairies, oak savannas, and the Thunderbird effigy mound and learn about past Native American presence on a guided tour. Mowed trails make for accessible hiking.
5. You Don't Have To Travel To The Mountains To Go Skiing
When our boys were younger, we took a lot of trips to Colorado or Utah to go skiing. But then we found an easier option for ski-seeking Midwesterners in Saint Louis: You can just drive the 4.5 hours to Galena for a shorter, sweeter ski vacation.
About 5 miles south of Galena is Chestnut Mountain Resort. No, Chestnut Mountain isn't like the Rockies. But it does have 420 feet of elevation change, and that's enough for a very enjoyable ski experience. The mountain, which is right on the Mississippi River, offers gradual runs on the north end, very steep runs on the south end, and everything in between. We found it was the perfect size for our family to spread out and enjoy a ski trip.
The absolute best thing about Chestnut Mountain is the proximity of the rooms at the lodge to the slopes. The lodge is at the top of the mountain, not the bottom, so you can walk out of your room, strap on your skis, and head down the mountain. At the end of the day, you get off the lift, walk a few feet, and you're back at the lodge.
There are multiple dining options at the lodge, so you don't really ever have to leave the area. We've gone back several times with our now-adult children, and it's been even more enjoyable. They have more energy than we do, so we'll ski for a while and then go relax in the hot tub while they ski until midnight under the completely lighted ski runs. It's the perfect ski vacation, and it's close to home!
6. It's A Great Place To Spend The Fourth Of July
If someone asks me when to go to Galena, I tell them that if they are looking to go skiing, they should go in the winter. If they aren't interested in skiing, they should go for the Fourth of July.
The festivities in town on the Fourth are spectacular. There's a parade down Main Street, and it's one of the best Fourth of July parades I've attended. It's an old-time parade, like something you'd see in the 1960s. Main Street and all of its vertical buildings make the perfect parade route.
And then there are the fireworks. As I mentioned before, downtown sits on a hillside of a river valley, which makes it the perfect place to watch the Fourth of July fireworks. My wife and I climbed up a few streets on the hillside to get a better view, choosing to sit on the steps of one of the churches and watch the fireworks in the valley below. It was perfect.
7. Did I Mention The Shopping?
I touched on it once, but I want to mention it again — Main Street is a shopper's paradise. Nearly a million annual visitors keep the shops along Main Street bustling year-round.
My wife likes to plan girls' weekends, and Galena is on her list of places to go with her group. They like to shop on these weekends, and you could easily spend two days doing that in Galena.
For me, it's easy to get lost on Main Street if I'm not paying attention. Because the street curves, you can't easily look up and down it. So sometimes I'll go to put something in the car, turn around, and forget where I am among the hundreds of stores.
I should mention that getting lost on a weekend getaway is a very good thing!
Related Reading: