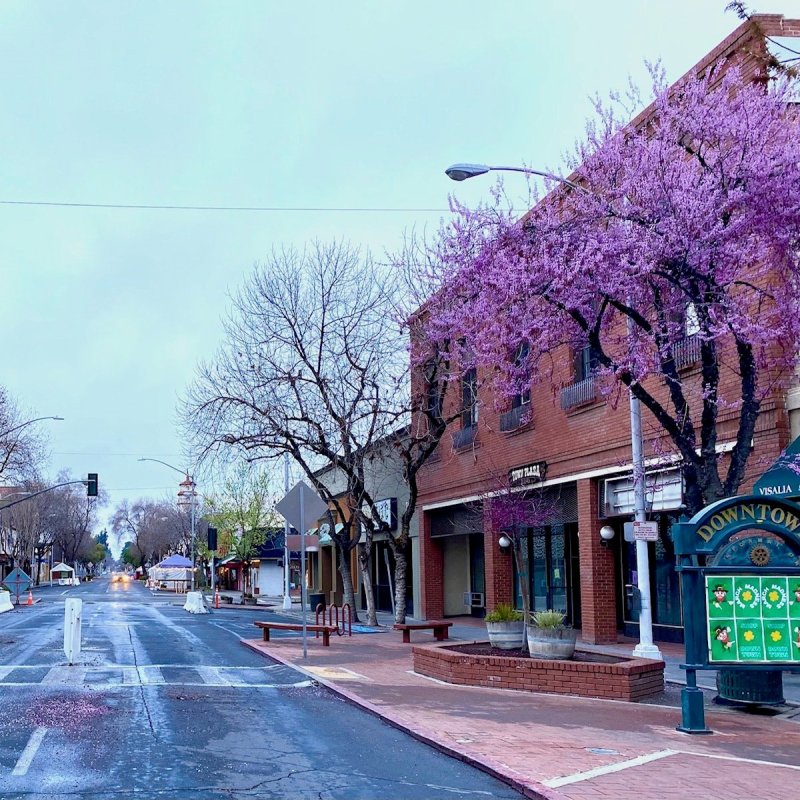 I used to prefer big cities to small towns, but the last year has changed that. After exploring dozens of smaller towns in California, I've discovered that I appreciate the slower pace of life, charming downtowns, and the sense of community. Visalia checks all these boxes and is now among my favorite new places.
My husband and I were fortunate to be invited to Visalia to explore all this town has to offer within its boundaries as well as the abundant natural resources just a short drive away. I thought two days would be sufficient to see and do most everything in Visalia, but it wasn't. I see a return trip in my future.
Visalia is located in California's Central Valley, probably the most important agricultural region in the state. It's just three and a half hours north of Los Angeles or south of San Francisco. Founded in 1852, Visalia is surrounded by orchards growing oranges, almonds, and walnuts. Nearby are Sequoia and Kings Canyon National Parks offering 1,300 square miles of open space to explore. This is a great place for outdoor lovers to spend a weekend.
This trip was paid for by Visit Visalia, but all opinions are my own.
Things To Do In Visalia
While Visalia makes a great home base for exploring the nearby national parks, there is also plenty to do within the city limits. I definitely recommend allowing time for both.
Tulare County Museum Of Farm Labor And Agriculture
We began our time in Visalia at the Tulare County Museum of Farm Labor and Agriculture, and I'm so glad we did. It was a great introduction to the region and helped inform all of our other activities. The museum covers a wide range of history starting with the Native Americans who inhabited the area — the Yokuts — and continuing through all the different groups that helped settle Tulare County and the Central Valley. The museum's property is quite large and includes several historic buildings like Surprise School — a one-room schoolhouse built in 1908 — and a reconstructed log cabin from 1854. If you're visiting with young children, they'll definitely enjoy the old caboose from the Southern Pacific Railway. The museum is located in Mooney Grove Park, which is the oldest county park in California. As you drive around the park, keep an eye out for the brightly colored peacocks.
Farmer Bob's World
I wasn't sure what to expect before visiting Farmer Bob's World, but for both Jason (my husband) and me, it was one of the highlights of our trip. We were fortunate to tour this farm just days before its grand opening and meet the attraction's namesake, Bob McKellar. At almost 90 years old, Farmer Bob decided that kids and families need to better understand where their food comes from, so he created an educational attraction. The centerpiece of the attraction is a tractor-pulled wagon ride through the orange groves with narration. Visitors will learn about the McKellar Family, how orange trees are planted, and how the fruit is harvested each year. At the end of the tour, we had the chance to pick two oranges using clippers. We left much more informed about agriculture in general and orange growing in particular. Any family visiting the area should make time to visit this place!
Fox Theater
I've always been a theater buff, so the chance to tour the historic Visalia Fox Theater was a real treat. Opened in 1930 as part of the Fox Theater chain, the theater combines a Spanish-style exterior with an East Indian interior. Every aspect of the interior is beautifully decorated, from the staircase railings to the light fixtures. Built during a time when organs were a part of any movie theater experience, the Fox Theater still has its organ, and its organist, 91-year-old Pete Sweeney, has been playing here since he was 15! Today the theater is home to the Sequoia Symphony Orchestra and a children's theater group, Enchanted Playhouse.
Walking Tour Of Downtown
Increasingly, small towns throughout the U.S. are preserving their downtowns, making them attractive to both locals and visitors, and Visalia is doing the same. Its downtown is full of historic buildings with architectural styles ranging from Italianate to Art Deco. To learn more, grab a self-guided tour map at the Visit Visalia office and explore 18 different buildings dating as far back as 1857. While walking along Main Street, be sure to look down at the curbs where you'll see metal rings anchored in granite — this was where horses were hitched before the automobile became commonplace.
Sequoia And Kings Canyon National Parks
With over 1,000 miles of trails, Sequoia and Kings Canyon National Parks are a hiker's dream, offering dramatic mountain views, rivers with rapids, Giant Sequoias, and even a few waterfalls. Sequoia is a 45-minute drive from Visalia while Kings Canyon is an hour and a half, but since they are managed as one unit, you'll pay the entrance fee just once.
A highlight of any visit to Sequoia is the General Sherman Tree, the largest tree by volume in the world. No, it's not the tallest or the widest, but it has more wood in its trunk than any other tree on Earth. It's 275 feet tall and approximately 2,200 years old. The tree is named for the American Civil War General William Tecumseh Sherman.
We were fortunate to explore Sequoia National Park on snowshoes with Krista Simonic of Sequoia Guides. Typically, Jason and I explore national parks on our own, but a guided experience really expanded our understanding of both the ecology and history of the park. We trekked through the snow along the three-mile Congress Trail, constantly surrounded by a grove of giant sequoias. The view of these rugged, red trees contrasted with the fresh white snow was stunning. If you're able to visit the park in the winter like we did, you'll be rewarded with no crowds and gorgeous scenery. Learn more about our Sequoia experience and the seven best hikes in Sequoia according to an experienced guide (Krista Simonic) here.
Best Restaurants In Visalia
Visalia's proximity to national parks is one of its attractions, but so is its large selection of great restaurants. An added bonus is that most of the restaurants are quite affordable.
Jason and I had arrived a bit early for our tour of Fox Theater, and since it was raining outside, we decided to grab a cup of coffee and a snack at Bee Hive Bake Shop. The bakery case was loaded with delicious-looking treats like danishes, cupcakes, and cookies. After a long deliberation, we settled on a cheese and almond danish which was really tasty. Bee Hive also sells lunch items, so this would be a great option for breakfast or lunch.
Another breakfast spot I'd recommend is Component Coffee Lab. What started as a mobile coffee cart expanded to a brick-and-mortar restaurant in 2018. Tucked down a small breezeway, this place offers a nice selection of coffee drinks, pastries, and breakfast items including plenty of vegan options as well.
I was delighted to learn that Visalia has a microbrewery district. My only regret is not having enough time to explore more of it. Our first night in town, Jason and I opted to have dinner at Brewbakers Brewing Co., the oldest brewery in town. With at least six beers on tap at any time, there's something for everyone. We thoroughly enjoyed the Sequoia Red, a style of beer that can be hard to find. The food was good as well with plenty of options for vegetarians like me.
For a splurge or special occasion, The Elderwood is the place to go. This rooftop restaurant located in The Darling Hotel serves delicious food and craft cocktails along with great views of town. We ordered coconut tofu curry and shrimp scampi and would recommend both dishes.
Best Hotels In Visalia
With over two dozen hotels in Visalia, there is something for everyone's taste and budget. Jason and I stayed at the Visalia Marriott at the Convention Center. I've long been a fan of Marriott hotels since they are consistently clean, comfortable, and well-staffed. The downside is that they can all look alike. So it was a nice surprise to see that the decor reflected the environs. A large mural of sequoias greeted us in the hallway after exiting the elevator. In our room, the desk appeared to be a cross-section of a tree complete with bark along the edges. And an enlarged photo of sequoias adorned the wall. But even more importantly, downtown Visalia was just a one-block walk from the hotel.
The Darling Hotel is also a nice option for upscale accommodations. This Art Deco building was originally the Tulare County courthouse annex, but today it's a stylish boutique hotel centrally located downtown.
Visalia is small enough to easily navigate but large enough to offer plenty of attractions, restaurants, shopping, and accommodations. And with its convenient location near two national parks, it makes for a great long weekend stay.
If you prefer to stay in a vacation home, VRBO has plenty of excellent options:
Dreaming of Visalia – your dream vacation awaits you
Top guest reviews
Good home to rent for a family vacation. Clean, nice area, cozy, and an all around nice stay.
The property was easy to find. Nice location and a very quiet neighborhood. The pros: This is a nice place to unwind after a long day of being at the Sequoia National Park. Again, it is a nice and quiet neighborhood. I also like the fact that it was close to downtown so I can get my morning coffee. The host was great to work with. I was looking all over for trash bags and was not able to find any and Lisa took care of that right away after she read my message.The cons: My boys wanted to get into the hot tub, but the smell of chlorine was a bit overpowering so I told them no. They also wanted to feed the koi fish in the pond, but we were not able to find any fish food underneath the grill cabinet outside. The day before we checked out, we realized at 10 PM that we were down to one roll of toilet paper. Oh my… I didn't want to message Lisa being that it was late already and we were leaving at 6 AM the next morning. We were able to make it so I guess that's all that matters. If I was staying longer, of course, I would have messaged her.All in all, yes, I would stay here again with my family.
The property is well maintained. We thoroughly enjoyed our stay and would love to return in the future. Lisa has been a great host and was very prompt in responding to questions. It is not very far from Sequoia and Kings Canyon National Park. It is very close to the shopping areas. We were also able to take advantage of Farmer's market which is also very close to the property.
Spent a great 3 nights after camping in Sequoia and Kings Canyon NPs. Perfect size for our family of 4 with everyone getting their own room but would easily accommodate 3 couples (4 if one sleeps on the futon in the living room). Owners were responsive with ques Front porch and backyard were both super relaxing. Would definitely stay again if we're in the area.
The property was clean and exactly as described. Check in and instructions were great. We didn't use the hot tub or outdoor kitchen, but everything looked great. We had a great time in the area.
Read Less ∧
Read More ∨
Dreaming of Visalia – your dream vacation awaits you
Top guest reviews
Overall everything was great , we really enjoyed it , the bad in the master bedroom falls and we had to redo it ever night! Truly if they replaced that bed the house would be perfect ! But the Bed does really need to be changed out ! Would I stay again YES!
Booked this stay to visit the national parks, which is about 50 minutes from the park. Was in a convenient location in Visalia to grocery stores if you plan on eating at home. Easy check in and check out, and has a great patio space for morning coffee or evening cocktail. Place was clean, which is important! Would stay again if I'm in the area.
The property was as advertised. Lots of space, huge kitchen with the utensils you need to cook. It located in a quiet neighborhood and close to Costco gas :), Target and lots of other stores. The drive to the South Entrance of Seqouia is less than an hour. Enjoyed our stay and would stay again.
Everything about this rental was super user- friendly and awesome.
We were so comfortable in this lovely home. It was clean and had everything we needed to enjoy our trip. It was easy to get on the road to Sequoia National Park.
Read Less ∧
Read More ∨