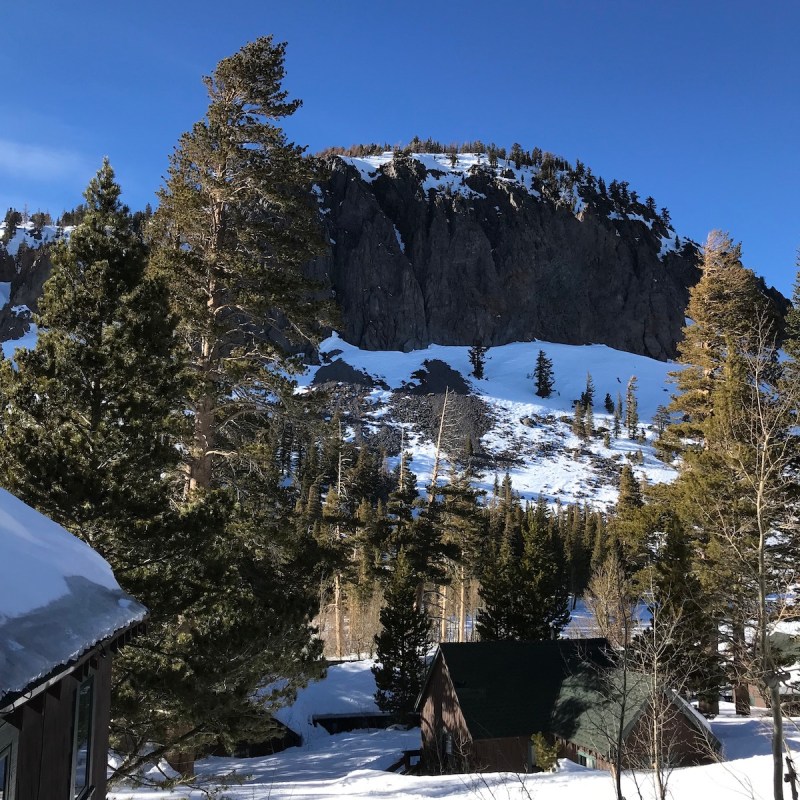 Mammoth Lakes, with its majestic mountains, crystal clear lakes, and expansive volcanic valley, is a gem in the Eastern Sierra Nevada Mountain range of California. Winters average 250 to 300 inches of snow annually. Just a few hours from major California cities lies this idyllic mountain getaway. Mammoth is easily accessible by car and airplane. In the winter, it is a destination not to miss, even if you don't ski. Here are the best things to do in Mammoth Lakes even if you don't plan to hit the slopes.
1. Walking On Snowflakes
Make your way to the Tamarack Cross Country Ski Center Yurt. They offer rentals, lessons, and guided tours to get you on your way. Well-trained guides will assist you in getting outfitted for snowshoeing. Snowshoeing is a low strenuous activity that can be enjoyed alongside the frozen twin lakes area. Walk as far as you like, enjoying more than 19 miles of trails. While walking in the snowshoes, you might giggle at the sound of the crunch of the snow under you. Don't worry if you don't have all-weather boots, rentals and walking poles are available to make your outing more enjoyable. My family and I went for a walk with snowshoes. It was fun, beautiful, and an easy, nonstressful enjoyable way to lightly exercise in this beautiful area.
Pro Tip: Carry water, sunglasses, lip balm, and a hat for protection. Enjoy a snack while you view the majestic scenery. Sign up for the free Moon tour, Sunset tour, and Naturalist tour walks. Wear layers when walking in the mountains. 
2. Explore The Village
The Village is located in the center of Mammoth Lakes Ski area. If it looks similar to the Whistler Blackcomb village, it should, it was developed in 2003 by IntraWest, designed to be walkable without a car. It is surrounded by upscale shops and restaurants with two deluxe hotels flanking the village. Grab a bite to eat, stroll the grounds, window shop, and sip some hot apple cider while sitting outside at the large public fireplace to warm your chilly cheeks. 
Pro Tip: During the day, take the free, 10-minute gondola that runs daily between the Village up to Canyon Lodge skimming over the many private cabins of Mammoth. Exit the lodge and walk to Lincoln Bar, snow side, and watch skiers and snowboarders begin their runs. It's a great people watching area with ample outdoor seats. Bring sunglasses and a hat — the snow can get bright. No lift ticket is required!
3. Go To The Top 
Take a spectacular aerial gondola ride with 360-degree views of the Sierras and beyond. Take off in an enclosed Gondola beginning at the Main Lodge and climb to a breathtaking altitude of 11,053 feet. Ride next to and above adventurous skiers and snowboarders as you all head to the top! Your ticket allows you to exit halfway at McCoy Station. Stop and explore the station before making it to the summit. Head toward the rear of the lodge and take a selfie with Wooly the Mammoth, the mascot for the mountain. Take a break and sip coffee outside at Steeps Bar and watch skiers pass by. If you are lucky, you might see the Olympic Team practicing on a slalom run!
Get back on the gondola to continue your ride to the summit. Visit the Interpretive Center and learn about the geology and history of Mammoth Mountain. After the exhibit, grab a snack at the Eleven53 café and enjoy the panoramic views.
Pro Tip: Wear layers and walk out onto the snow for a great selfie with a summit sign stating the elevation. The snow is hard-packed and groomed, so street shoes should be fine to wear. I would leave the high heels back at the cabin. Bring sunglasses and your camera. You will feel like you are on top of the world. The slopes are just feet away: You can almost touch them! Drink as much water as you can as dehydration and high altitude, unfortunately, go together. Who knows, this might inspire you to take a ski/snowboard lesson!
4. Spa-La-La
Indulge and treat yourself to a spa treatment at the Double Eagle Resort and Spa at the nearby June Lake. After you have selected from a variety of spa and salon treatments, indulge in the resort's available activities. Later take a dip in their indoor pool or whirlpool spa, or enjoy the gym. Plan ahead and make reservations!
5. Zoom Over The Snow 
Look no further for a new and exciting winter activity than snowmobiling in the Sierras. Take a tour that is perfect for you, whether you are a novice or an experienced rider. Enjoy over 95 miles of trails. Visit this amazing topography of tree-lined trails, and you'll witness the beauty of geological formations that form the Mammoth Lakes Area.
6. Hit The Snow Sliding 
For the more adventurous, head over to Woolly's Tube Park and enjoy a tube ride down groomed lanes in a high-speed snow tube. No need to walk up the hill with your tube. Catch a lift to the top, then swoosh down the groomed run. There is a large area to play and throw snowballs. After, head over to their heated deck and enjoy a hot cocoa or cocktail at their snack bar. Plan ahead for this outing. Reservations are wise.
7. Go Nordic
Although this may be the most strenuous activity besides skiing or snowboarding, there are miles and miles of cross-country Nordic-style trails to enjoy here. Tamarack Cross Country Ski Center can set you up with rentals, guides, lessons, and trails. During the month of March, the center hosts a biathlon event for skilled athletes that combines cross-country skiing and rifle shooting on a course. 
8. Enjoy The Perfect Ending
After a day of exploring, treat yourself to a magical, culinary experience that will leave you speechless. The LakeFront Restaurant is nestled into the hill amongst the cabins overlooking frozen Twin Lakes. A rustic and charming fine dining area awaits you once you pass through the cozy piano bar, where live music entertains guests next to a warm fireplace. The dining room is small, cozy, and intimate. The menu is sumptuous with items that would make any foodie blush. 
After snowshoeing, my family and I enjoyed a wonderful meal here. We started with a celery, cream, and leek soup, followed by our entrees: duck confit and elk chops. The wait staff was so attentive, presenting a wooden box to select a special handcrafted steak knife. Little touches like that seem like a forgotten art. For dessert, we shared a Bourbon Cider pot de Crème. It was absolutely fabulous! I travel all over the world and am afforded the luxury to eat well. This dinner was incredible and was a highlight of my own culinary experiences.
Getting To Mammoth Lakes
The new airline services provided by United from LAX ( Los Angeles), SFO (San Francisco), and DEN (Denver), to Bishop, (BIH), make getting to Mammoth a breeze! Ample affordable transportation to the resort area is available for the 45-minute drive from Bishop to the Mammoth Lakes area by car rental agencies, Uber, and Eastern Sierra Shuttle Service. Another option is the three-hour drive south from Reno Airport.
Alternatively, many interesting sites can be visited during the five-hour drive from Los Angeles. After entering the high desert, consider stopping by the largest Airline Junk Yard or visiting Red Rock Canyon. The journey is a spectacular display of earth striations and tectonic imagery. Pass through Lone Pine, a launch point for climbers dreaming of summiting Mount Whitney. At 14,505 feet, it's the tallest mountain in the Lower 48. In the middle of nowhere is Manzanar, one of the ten Japanese American internment camps of WWII; it's a moving and deeply profound place to visit. A drive through the town of Bishop wouldn't be complete without stopping at Shatz Bakery. Climbing the Sherwin Grade affords breathtaking scenery of the volcanic dome valley that butts up to the Sierras. During the winter, snow will be abundant, and the roads are groomed and quite safe to drive. If there is a forecast for snow, CalTrans makes it easy to prepare ahead of time, notifying drivers if chains are required.
Blissful Slumber
Mammoth Mountain Resort provides accommodations for every budget, group size, and type of lodging. If you really want to experience the beauty and majesty of this snow-filled slice of heaven I personally recommend Tamarack Lodge. This historic and picturesque lodge is steeped in rustic charm. Recharge away from the hustle and bustle of downtown Mammoth in the solitude of your quiet, tranquil, and cozy cabin. 
Pro Tip: Catch a free bus at the steps of the lodge that connects with the entire mountain resort. A quick 10-minute ride will transport you to a bustling ski village, restaurants, grocery store, and shops.
Getting Around Mammoth Lakes
Transportation and getting around town is a snap. The city provides a free color-coded bus system connecting the entire mountain.