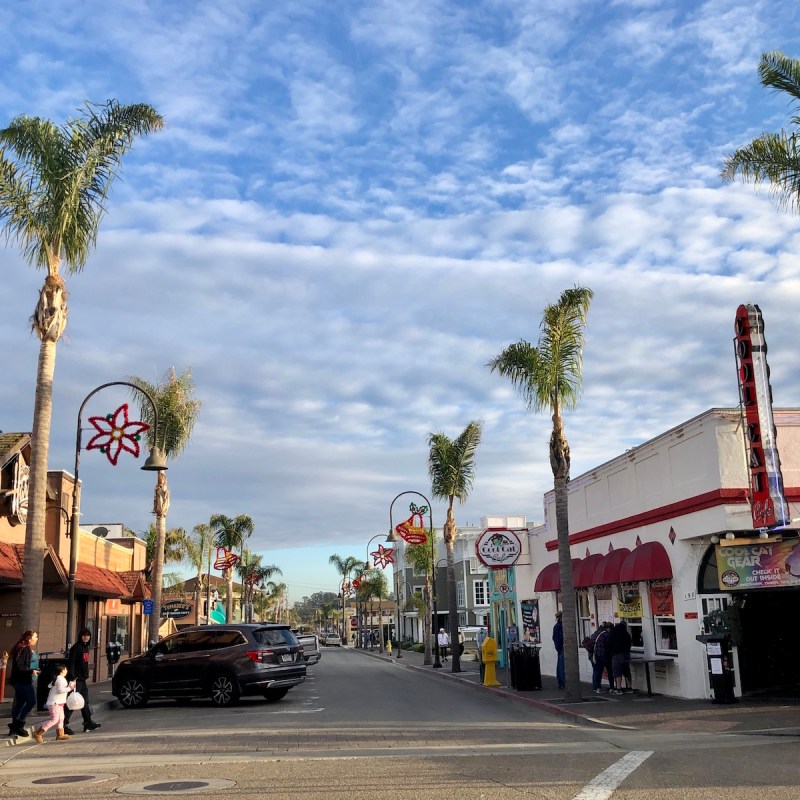 Over the years, the small California Central Coast town of Pismo Beach has been linked to tasty local attributes ranging from clams to wines to waves. So, it comes as no surprise that the town exudes not just a charming surfing vibe, but a delicious seafood-and-winery scene as well.
Located about 3 hours northwest of Los Angeles, near the point where Highway 101 and Highway 1 merge, Pismo Beach enjoys a stunning oceanside setting. Wide, sandy beaches extend in both directions, all centered by a picturesque pier that extends 1,200 feet into the Pacific Ocean.
Decades ago, Pismo Beach was known as the clam capital of the world, and the town is named after the pismo clam. Although clams are said to be somewhat scarce on the beach these days, the town's famous clam chowder still rules in restaurants near the pier.
Pismo Beach also stands out for the many wineries that dot the rolling hills to the east. The proximity of wine regions such as Edna Valley, Arroyo Grande Valley, Avila Valley, and Paso Robles makes for a wonderful mash-up of wine and beach cultures — so much so that Pismo Beach bills itself as offering "the perfect pairing of wine and waves."
The scene has produced dozens of delicious dining spots, many of which are within easy walking distance from one another in the downtown area. Here are 9 fabulous restaurants to try in Pismo Beach.
1. Cracked Crab
Featuring colorful beachy décor, super-fresh seafood, and warm sourdough rolls, the Cracked Crab restaurant has long been a favorite of locals and visitors.
The seafood spot is widely known for its house specialty — "big buckets" of steamed seafood, sausage, and vegetables. The buckets come chock-full of a choice of Dungeness crab, shrimp, mussels, or clams, along with red potatoes and cobs of corn. Adding to Cracked Crab's fun atmosphere, the contents of the buckets are dumped onto customers' tables and implements for cracking are provided.
The meals are accompanied by drawn butter, homemade spicy cocktail and triple mustard sauces, and sourdough rolls. The big buckets are the perfect choice for socializing with family and friends, and on my recent visit, I watched several large groups enjoying their buckets full of seafood and veggies.
I was dining alone, so I opted for a crab cocktail, which came with large lumps of tender crab and a dollop of spicy cocktail sauce, served on a bed of crispy greens. It was perfect for a late lunch.
Cracked Crab also offers a San Francisco-style cioppino (seafood stew), as well an array of other seafood favorites like fish and chips, crab roll, and fish tacos.
Pro Tip: I arrived at Cracked Crab in the middle of the afternoon on a winter Sunday and was seated right away. But if you come at a more popular time, be prepared to wait in line. The restaurant does not take reservations, and the dining room tends to fill up. The good news is that it is definitely worth the wait.
2. Giuseppe's Cucina Italiana
For a taste of Italy on the California Coast, check out Giuseppe's Cucina Italiana, a charming spot located just down the street from the Cracked Crab on bustling Price Street.
An early advocate of the farm-to-fork philosophy, Giuseppe's gets its vegetables and fruits from the owner's working farm in nearby Edna Valley. Everything from figs and olives to San Marzano tomatoes and Meyer lemons are produced at the farm.
The menu is split into traditional Italian courses and features popular choices like butternut squash-filled ravioli, carbonara, and fritto misto made up of flash-fried calamari steak, prawns, and scallops.
Giuseppe's also has a number of seasonal offerings, such as chanterelle mushroom bruschetta and local halibut gorgonzola served with whipped potatoes, sauteed veggies, cherry tomatoes, and a red onion and basil gorgonzola cream sauce.
3. The Splash Café
World-famous clam chowder awaits at the Splash Café, another not-to-be-missed restaurant in downtown Pismo Beach. For more than 30 years, Splash Café has been a community mainstay, regularly winning the first-place prize at Pismo's annual Clam Festival.
It would be hard to miss the Splash Café when walking along charming Pomeroy Avenue. Whimsical surfing murals decorate the exterior walls, and you are likely to encounter a line of customers waiting for the signature clam chowder served in a sourdough bread bowl.
While chowder is the star, Splash has a varied menu that includes fish and chips, burgers, tacos, and steamers as well.
Pro Tip: For a small additional charge, you can order your chowder with toppings such as seafood, clams, bacon, green onion, and cheese (or fully loaded). The seafood topping is the go-to move for Splash regulars.
4. Brad's Restaurant
Casual American dining — featuring not just the signature clam chowder but also tri-tip sandwiches, barbecued ribs, and fish and chips — is on the menu at Brad's Restaurant, an inviting establishment near the beach in downtown Pismo Beach.
Known for its oak pit barbecue, Brad's features baby back pork ribs, beef ribs, barbecue chicken, and marinated tri-tip. Along with a full-service dining room, Brad's has a lovely patio for al fresco dining.
Pro Tip: Brad's also has an extensive breakfast menu, offering 10 different omelet choices and a hearty skillet breakfast with potatoes, mushrooms, bell peppers, onion, and ham, topped with cheese and two eggs.
5. Wooly's Beach Bar & Grill
Open-air beachfront dining and panoramic ocean views are in store for diners at Wooly's Beach Bar & Grill, a fun spot located right along the Pismo Beach boardwalk and near the pier.
Along with the stellar views and atmosphere, Wooly's offers a variety of tacos, including everything from Baja fish tacos and Asian shrimp tacos to pork carnitas street tacos and beef carne asada tacos.
The menu also includes "Pismo favorites" like carne asada fries, chowder fries (waffle fries topped with clam chowder, cheese, bacon bits, and green onions), and Asian hot wings.
6. Oyster Loft
Located right next door to Wooly's on the beach is the seafood spot Oyster Loft, where diners are treated to impeccable service, upscale cuisine, and regional seafood dishes.
True to its name, Oyster Loft offers a number of oyster dishes, including fresh oysters and a small plate of oysters charbroiled with butter, garlic, asiago cheese, parsley, and lemon. The menu also features other seafood standouts like pan-seared scallops, grilled Skuna Bay salmon, and a tuna poke tower made of diced yellowfin tuna, avocado, cucumber noodles, miso mayo, and wonton crisps.
Oyster Loft is also known for its extensive sake, beer, cocktail, and wine menu. The wine list includes many local offerings such as the Arroyo Grande Valley Laetitia Brute Rosé, the Santa Maria Valley Foxen Rosé of Pinot Noir, and the Central Coast Malene Rosé.
7. Ada's Fish House
Seafood with an East Coast flavor is available at Ada's Fish House, a family-run establishment on Pismo Beach's Price Street.
The restaurant's website notes that executive chef and owner Douglas Cristallo MacMillan was born and raised in Boston and brings an East Coast influence to Ada's in the form of lobster rolls, clam chowder, New England-style crab cakes, and key lime cheesecake.
The menu also includes a wide variety of seafood favorites like oysters on a half shell, steamed clams, lobster mac-n-cheese, fish and chips, and seafood pasta. Ada's drink menu offers an extensive selection of whites, rosés, sparkling, and red wines, as well as beer and cocktails.
8. Beachin' Biscuits
For a spot with biscuits of virtually every variety, as well as a number of other breakfast favorites, plan to make a stop at Beachin' Biscuits.
Along with a variety of biscuit-and-gravy options, the fun Price Street café offers biscuits with scrambled eggs, and biscuit sandwiches featuring eggs, sausage, bacon, and other morning toppings.
Playing off its surfing theme, the Beachin' Biscuits menu features a "boogie board breakfast burrito," a "tsunami burrito" (with all the meats), and "gnarly potatoes" (homestyle potatoes topped with sausage gravy and two over-medium eggs). Top it all off with a cup of Beachin's "bougie coffee."
9. Old West Cinnamon Rolls
Billed as a true California original, Old West Cinnamon Rolls date back more than 40 years when Betty Clemens of nearby Shell Beach created the recipe for her signature bread. The recipe soon evolved into cinnamon rolls, and her creation has since become a popular fixture at state fairs and bakeries all over the United States.
The bakery's website notes that after all this time, the cinnamon rolls are still handmade and baked fresh daily using the original bread recipe. "Every roll we make is as juicy, succulent and delicious as the ones Betty used to make 40 years ago," the website continues.
Along with the original roll, Old West's menu features frosted, crumb, almond, raisin, walnut, pecan, and raisin walnut rolls, as well as a number of other sweet treats like muffins and carrot cake. Coffee, lattés, and cappuccinos are also available.
Pro Tip: If a fun outdoor food-stand setting is more to your liking, Pismo's World Famous Pizza and Chowder House sits on an open-air corner lot right in the middle of the downtown. Along with its namesake pizza and chowder, the spot offers beachy choices like shave ice and curly fries.
For more activities on and around the California Coast, check out these stories: