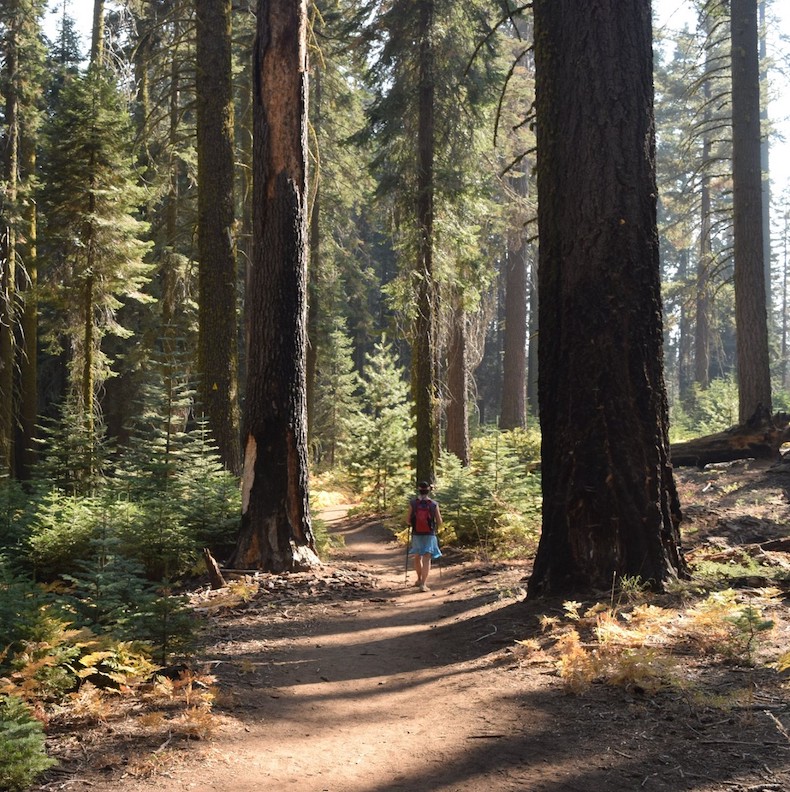 With over 1,000 miles of trails, Sequoia and Kings Canyon National Parks are a hiker's dream offering dramatic mountain views, rivers with rapids, giant sequoias, and even a few waterfalls. And whether you're in excellent shape and ready to climb mountains or just want a short jaunt, there are trails to accommodate everyone.
Thanks to Visit Visalia, my husband, Jason, and I had the opportunity to visit Sequoia Park and experience its natural beauty. Offering a wide variety of accommodations, restaurants, and attractions, Visalia, California, is the perfect home base while visiting either Sequoia or Kings Canyon National Parks.
During our time in Sequoia National Park, we were fortunate to experience the Congress Trail — one of the park's most famous hikes — with an experienced guide. Krista Simonic, owner of Sequoia Guides, led us on a 3-mile snowshoeing adventure. Born and raised in the Sierra foothills, just outside Sequoia Park, Krista is well versed in the history of the area and intimately familiar with the flora and fauna. After enjoying our snowshoeing experience, Krista was kind enough to share her favorite hikes with me.
This trip was paid for by Visit Visalia and Sequoia Guides, but all opinions are my own.
9 Best Hikes In Sequoia National Park – Recommendations and Tips from an Experienced Guide
1. General Sherman Tree
If you're going to Sequoia National Park then you are definitely making a stop at the General Sherman Tree, the largest tree by volume in the world. No, it's not the tallest or the widest, but it has more wood in its trunk than on any tree on Earth. It's 275 feet tall and approximately 2,200 years old. The tree is named for the American Civil War General William Tecumseh Sherman.
Sequoia Giant Forest is a large sequoia grove, located on a rolling plateau between the Marble and Middle Forks of the Kaweah River in Sequoia Park. It is the largest of the unlogged giant sequoia groves, and it has more large sequoias than any other grove. It contains the largest living sequoia, the General Sherman Tree.
If you're looking for a fairly short and easy hike, the General Sherman Tree trail is just 1.5 miles and includes viewing of this majestic giant sequoia. As we walked around the tree, our guide, Krista, pointed out a branch that had fallen from the tree during a storm in 2006. The branch is so large that it crushed the surrounding fence and seriously damaged the sidewalk. From the ground, the tree's branches appear small, but this fallen one helped us understand the enormity of these giants.
If you want a longer hike, try the Congress Trail, which is approximately three miles. We found this trail to be beautiful in the winter, but it can be enjoyed any time of the year. Along the way, you'll see The Senate, The House, and a number of other famous sequoia trees. Toward the end of the trail, look for the Room Tree and climb inside. Due to damage from a Sequoia National Forest fire, a large portion of this tree's trunk is hollow, making it appear like a small room.
Editor's Note: If you're interested in snowshoeing in the national parks and beyond, consider all our snowshoeing content here.
2. Crescent Meadow
Bright green foliage contrasting against the red bark of the giant sequoias is the setting for the Crescent Meadow Trail. Come in the spring and wildflowers will add even more color to the scenery. This spot has inspired many artists over the years.
The 2-mile trail is fairly easy, making it a great option if you're traveling with young children or anyone with limited mobility. Along the way, you'll see Tharp's Log, a single sequoia log cabin built by miner Hale Tharp in 1861. Keep your eyes open for wildlife including deer, coyotes, bobcats, and black bears.
To extend your hike, opt for one of several trails that extends from Crescent Meadows including Trail of the Sequoias.
Pro Tip: The drive to Crescent Meadows Trail includes the famous Tunnel Log that came into being after an unnamed giant sequoia fell across Crescent Meadow Road in late 1937 as a result of natural causes. The following summer, a tunnel was cut through the fallen log as a visitor attraction.
3. Moro Rock
The Moro Rock Trail is more of a climb than a hike, but regardless, you'll be rewarded with amazing views. Climb 350 steps to the top of this enormous granite rock for views of California's Great Western Divide, a Sierra Nevada mountain range that forms part of the border between the Kings Canyon and Sequoia National Parks. This scenic point also offers the chance to look down on the giant sequoias instead of up.
This trail is a combination of stone and concrete steps that includes handrails for safety. During peak seasons — late spring to early fall — it can be very crowded, so plan to arrive early. Keep in mind that the elevation is 6,725 feet, so the air is thinner, and your breathing may be more labored.
Pro Tip: Two lesser-visited granite-dome viewpoints in the park are Little Baldy and Big Baldy. Both involve longer trails and steeper climbs, but the reward will be amazing views and few visitors.
4. Tokopah Falls
As you drive through Sequoia Park, you'll frequently see the Kaweah River as it twists and turns through the valley. Get up close to the river along the Tokopah Falls trail, and you'll be rewarded at the end with a 1,200-foot waterfall. This 4.2-mile round trip trail includes a gradual ascent of 630 feet. The falls are at their best during the spring after winter snow has melted. Add in the fact that wildflowers will be blooming along the trail, and spring is definitely the ideal time for this particular hike.
5. Alta Peak
According to Visit Visalia, the Alta Peak Trail is among the nine best hikes in Sequoia Park. But this one isn't for the faint of heart. This 14-mile round-trip trail includes an elevation gain of almost 4,000 feet. If you're considering this hike, keep in mind that the high elevation means thinner air. You should be in really good health and excellent shape to attempt this. You'll need at least seven to eight hours for this hike, so be sure to pack everything you'll need for the day including food, water, and warm clothing. The payoff: the dramatic mountain top views, especially along the last mile and a half.
6. Lakes Trail
If you're looking for a long trail that's just a bit easier than Alta Peak, head to the Lakes Trail. Choose to hike to Heather Lake, Aster Lake, Emerald Lake, Pear Lake, or all four. The round trip distances range from 8.2 to 12.8 miles with a total elevation gain of 2,500 feet. You'll be rewarded with views of the Marble Fork of the Kaweah Canyon and four beautiful lakes. All of this is set below the dramatic Alta Peak. Along the way, you may encounter deer, bears, coyotes, and marmots. This trail can take anywhere from 6 to 10 hours to hike and can be quite busy, so plan to arrive early.
Pro Tip: Both the Alta Peak and Lakes Trails are at high elevations, and hikers may experience altitude sickness. Hydrate before starting the hike and continuously during the hike to help avoid this.
7. Paved And Accessible Trails
Not everyone comes to a national park for athletic challenges, and fortunately, Sequoia National Park offers plenty of short and paved trails. If you're traveling with young children in strollers or anyone with limited mobility, here are several shorter experiences.
Big Trees Trail is just half a mile roundtrip, but it offers a delightful stroll around Round Meadow, which is surrounded by giant sequoias. Along the way are plenty of benches available where you can sit and relax while taking in the scenery. Pack a picnic lunch to enjoy in this idyllic setting.
Hike the quarter-mile Beetle Rock Trail and you'll be rewarded with an excellent view of California's Central Valley. If you're here toward the end of the day, this is also a nice place to watch the sunset.
Both the Round Meadow and Beetle Rock Trail are close to the Giant Forest Museum and Visitor Center, so be sure to allow time to visit and learn more about sequoia trees. Staffed by National Park Service Rangers, this is also the ideal place to get advice about what to see during your visit.
Located in nearby Kings Canyon National Park, the General Grant Tree Trail is also just half a mile roundtrip. Here you can visit the second largest sequoia along with other unique sites like the Fallen Monarch Tree and Gamlin Cabin.
The National Park Service recently released a free National Park App that provides detailed information about all the parks and monuments in the United States. Be sure to download this app before your visit. Since cell service is limited in the park, use the option to access information offline. The app includes maps and parking information for all of the hikes described here as well as more details about accessibility throughout the park.
The only place on earth to see groves of giant sequoia trees is in the Sierra Nevada Mountains of California, and certainly, the most impressive specimens are found in Sequoia National Park. But within this park, there is so much more to see, from dramatic mountain tops to waterfalls and alpine lakes to roaring rapids. I've now visited this park twice, and yet I've barely scraped the surface. I will need to return many more times to continue exploring this magical place.
8. Hazelwood Nature Trail
Generally considered an easier route, this 1.1-km loop trail near Stony Creek Village takes an average of 17 min to complete. It is popular for hiking and walking and is beautiful to visit all year round. You'll need to leave dogs at home though because they aren't allowed on this trail.
This pleasant Sequoia hiking experience will take you through excellent stands of giant sequoias. Trailside exhibits provide information about the plants and animals in the area and also tell of historical figures who helped make these parks what they are.
9. High Sierra Trail to Bearpaw Meadow
The legendary High Sierra trail has been considered a Sequoia tradition for more than 75 years. The trail is moderate, with several creek crossings and dramatic views of the Great Western Divide and lush meadows along the journey.
The journey gains and loses elevation the entire way, so we decided to rest and enjoy Buck Creek because the last 1.3 miles gain 600 vertical feet and are without water. It takes approximately three to four hours to reach the Bearpaw Meadow and complete the High Sierra Trail.
Pro Tip: From Bearpaw High Sierra Camp, which is open from June to September, you can explore the High Sierra in comfort and style.
FAQs
How Many Days Do You Need in Sequoia National Park?
Two days in Sequoia National Park is enough time to see all the major sites, such as the largest tree in the world and a gorgeous marble cavern. Ideally, you can add a trip to Kings Canyon National Park and stay for three to five days.
What to Do at Sequoia National Park?
Whether you are snowshoeing in winter, fishing on Lake Success in summer, or making your way through Crystal Cave in fall, with Sequoia Park attractions, there is no shortage of things to do in the park.
Can You Stay in Sequoia National Park?
Yes. Campgrounds are scattered throughout the parks, but most must be reserved in advance. There is also in-park lodging, though limited. It is recommended that reservations be made well in advance wherever you choose to stay.
How To Get Around Sequoia National Park?
During the summer months, the Sequoia Shuttle provides transportation from most hotels to the Giant Forest Museum in Sequoia National Park. Entry to the park is included in the fee. Once in the park, utilize the free in-park shuttle to navigate the park.
Is Yosemite Better than Sequoia National Park?
Sequoia National Park is better for a quieter, more relaxed vacation, but if cost isn't a concern and you're craving some epic rock climbing or waterfall hikes, you'll want to pick Yosemite. Nonetheless, the debate about which is better has been going on since 1873.