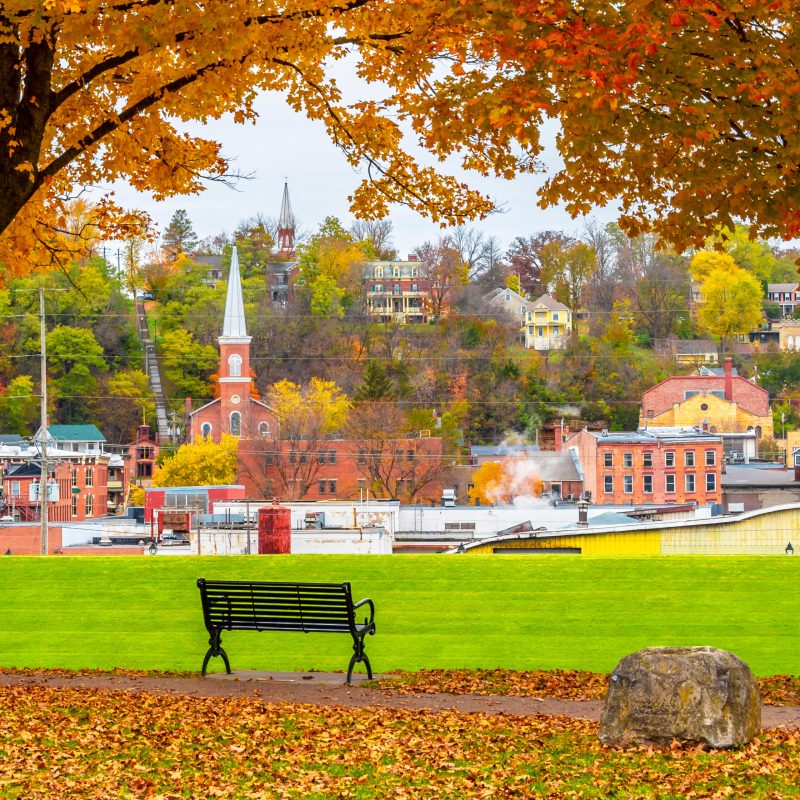 One of the unexpected benefits of how our travel plans changed in 2020 is that we had more time to explore the quaint towns that can sometimes be overlooked in favor of big-ticket destinations. This year gave us an opportunity to rediscover some favorite spots, find new hidden gems, and enjoy all of the charm small town travel has to offer. We looked back at some of our favorite quaint towns of 2020 and hope this inspires you to add some of these towns to your 2021 travel plans!
Carmel-By-The-Sea, California
One of our favorite warmer weather escapes is charming Carmel-By-The-Sea, where you'll find your fill of sun, sand, shopping, and of course local wine! Part of what sets Carmel-By-The-Sea apart from other beach towns is its unique yet walkable design filled with hidden passageways and picturesque courtyards that you'll love exploring. Intrigued? Our writer Jill Dutton has suggestions for where to stay, eat, and shop during a weekend escape to this oceanfront paradise.
Lake George, New York
If you're looking for a summertime outdoor escape, look no further than idyllic Lake George in Upstate New York. With plenty of opportunities for hiking, boating, and biking, a visit to Lake George offers a little something for everyone, and the lakeside setting is a beautiful place to spend time outdoors. When you're ready to relax, this town in the Adirondacks also has endless options for dining, drinking, and shopping.
Lewisburg, West Virginia
Named America's coolest small town by Frommer's Budget Travel, Lewisburg packs a lot of punch into a small town package. In Lewisburg, you'll find a robust culinary scene and an emphasis on the arts, along with endless outdoor activities including hiking and walking trails. There are plenty of opportunities for scenic drives through the countryside, especially in the fall when the foliage is at its peak. Here are 8 reasons to add beautiful Lewisburg to your 2021 travel list.
New Ulm, Minnesota
History buffs will swoon over quaint New Ulm, home of the Minnesota Music Hall of Fame, America's second-oldest family brewery, and many more historic sites, New Ulm is the perfect place to learn and explore. You'll also get a unique taste of Germany in the food and shopping scene, as New Ulm is named for a community in Bavaria.
Temecula, California
Nestled in Southern California wine country, Temecula is a must-visit for wine enthusiasts with more than 40 different wineries to choose from. Located between Los Angeles and San Diego, Temecula is easily accessible and is a great spot for a day trip from one of these larger cities. We know it may be impossible to visit all 40 wineries during your visit, so we narrowed the list down to the 9 best wineries to enjoy during your Temecula getaway.
Eureka Springs, Arkansas
Tucked into the Ozark Mountains of Arkansas, Eureka Springs is a charming small town filled with natural wonders. Don't let its small size fool you, there's plenty of adventure here, from fishing and water sports on the rivers to exploring underground caves and caverns. Don't miss the natural springs the town is named for, or the wonderful shopping and dining options.
Hermann, Missouri
Another quaint town with German flair, Hermann sits on the bluffs of the Missouri River and boasts beautiful river views, interesting history, and several wineries to try. The town is very walkable, lined with red brick buildings, and has plenty of wonderful restaurants and shops to visit. If wine-hopping is on your agenda, you can safely do so via a wine trolly that will take you around the town.
Newburyport, Massachusetts
With its charming red brick buildings and long, sandy beaches, Newburyport is the perfect East Coast escape. Only 40 minutes from Boston, Newburyport has plenty of outdoor options to explore and enjoy, from barrier islands to hiking to birding. We have plenty of recommendations on how to spend a perfect day (or long weekend!) here, and of course our list includes delectable lobster and other East Coast essentials.
Camden, Maine
Strolling through Camden will make you feel like you've stepped into a postcard. Situated on Maine's rugged coastline, Camden features waterfront dining and activities set against a charming backdrop of whitewashed churches and historic buildings. Sailing, hiking, and chowing down on Maine's fresh-caught seafood are all top recommendations for a weekend getaway to this storybook coastal town.
Blowing Rock, North Carolina
If you're like us, you may be tempted to visit Blowing Rock for the name alone! Blowing Rock is an outdoor mountain playground, and you'll discover endless opportunities for hiking, fly fishing, and cold-weather activities during the winter months. When you're done adventuring through the mountains, take a stroll through Blowing Rock's charming downtown area and discover restaurants, shops, and galleries.
Galena, Illinois
Galena is a hidden gem in the far northwestern corner of Illinois, only 10 minutes from both Iowa and Wisconsin. The perfect escape from bustling Chicago, Galena is steeped in history and has historic homes, many of which now serve as charming bed and breakfasts. The view down main street can't be beat, and there are more shops than you can count. Still need convincing? Here are the top 7 reasons to visit this quaint Illinois town.
Frankenmuth, Michigan
It seems we couldn't get enough of small towns steeped in German roots during 2020, and Frankenmuth is no exception. In Frankenmuth not only will you find German influences in the food and drink, but many of the buildings look like fairytale castles out of the European countryside. You can try your hand at rolling Bavarian pretzels, celebrate Christmas year-round in some of the shops, and experience other tastes of Germany in this historic town.