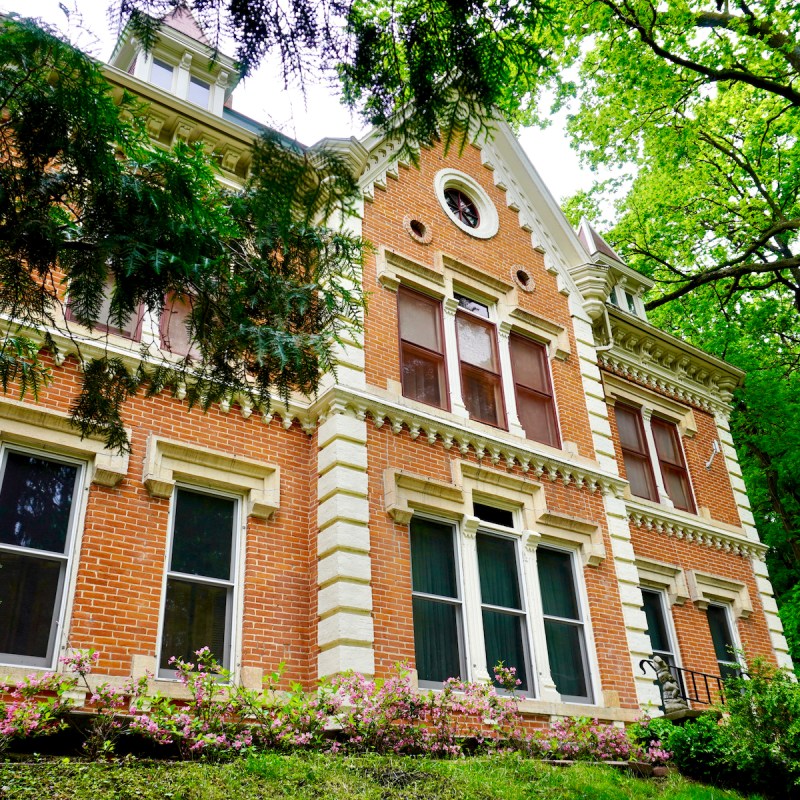 Located about 90 minutes southwest of Minneapolis, the city of New Ulm is a unique spot to visit. Founded in 1854, New Ulm is named after Ulm, a community in Germany's Bavaria.
From its days as a rural community on the southern plains of Minnesota, New Ulm has grown into an attractive city full of friendly residents eager to share its German-American story with visitors. The quaint city of about 13,500 celebrates its mix of Native American and German-American history and culture. With its unique attractions, restaurants, and shopping opportunities, you'll have a fantastic time spending a weekend in the city.
Whether it's spending a day along the Cottonwood River in Flandrau State Park or exploring the city of New Ulm's German-American heritage, here's what to do during your getaway.
Things To Do In New Ulm
1. Minnesota Music Hall Of Fame
Celebrating everything from rock and roll and polka music to marching bands, the Minnesota Music Hall of Fame offers a walk through music history. While honoring music legends such as Prince, Bob Dylan, Judy Garland, and the Andrews Sisters, the Hall of Fame celebrates lesser-known figures as well. One star — Eddie Cochran — suffered an untimely death at 21 after a car accident during a tour in England. The Albert Lea native scored a major hit with "Summertime Blues."
2. Brown County Historical Society
The city of New Ulm, about 35 miles north of Mankato, may be best known as the place where the last major conflict in the American Indian Wars of the 1860s began. A group of Santee Dakota Native Americans launched an attack on the town after the federal government reneged on payments for their land and local businesses refused to lend them credit.
You can learn more about the war and its ramifications by traveling back in time at the Brown County Historical Society. Housed in a classic post office, the museum covers the history of New Ulm and features household items from Germany, an ice cutter used to cut chunks out of the frozen Minnesota River, and a telephone operator's switchboard.
3. Enjoy A Walk Around Town
Enjoy a stroll and immerse yourself in the town's German-American history at the same time by visiting the homes of John Lind, who served as Minnesota's governor and in the House of Representatives; Wanda Gag, the author and illustrator of Millions of Cats; and the Kiesling House, which dates to the 1860s. As you walk through downtown, you'll see buildings that resemble storefronts from Germany, with some dating to the late 1800s. The German-Bohemian Immigrant Monument in German Park celebrates the city's immigrants.
4. Hermann Monument
Built in the 1890s to honor a German victory over the Romans, the Hermann Monument stands atop a dome in Hermann Heights Park. You can climb about 100 increasingly steep steps to the base of the Hermann statue for a breathtaking view of New Ulm and the Minnesota River Valley. A museum at the base of the dome covers the history of New Ulm and the German Arminius tribe. After your visit with Hermann, head to the visitor center downtown, where you'll see a giant-size footprint on the wall attributed to Hermann.
5. August Schell Brewing Company Tour
Unable to find a quality German beer in his new hometown, August Schell, a German immigrant from the Black Forest region, decided to open his own brewery. Since 1860, the August Schell Brewing Company has produced several styles of beer, including the classic Schell's Bock, a dark lager. Since acquiring Grain Belt Beer, Schell's Brewery has been the largest brewery in Minnesota.
Tour the original site of the 160-year-old Schell's Brewery, including August's house and the old brewhouse. You'll even learn about the brewery's community band, the Schell's Hobo Band. The tour ends with a tasting of some of Schell's most flavorful drinks, including their root beer soda.
6. Keep Time With The Glockenspiel
Set your watch for a visit to the 45-foot-tall Glockenspiel on the north end of Minnesota Street. A three-member polka band performs from beneath the clock at noon, 3 p.m., and 5 p.m. daily, celebrating the city of New Ulm's German-American heritage. Dedicated in 1980, the Glockenspiel's 12 figurines — representing historical figures — celebrate New Ulm's history and culture while rotating on a platform. During the holiday season, the polka band is replaced by a Nativity scene that's displayed until early January.
7. Harkin Store
In 1870, the riverboat business was active along the Minnesota River. Things were going so well that locals established the town of West Newton. Harkin Store opened, expecting to do gangbuster business. Then, the railroad came to the area. Since it didn't travel through West Newton, the riverboat business dried up, and the general store faded away, closing its doors in 1901.
Today, you can visit the general store to get a look at life during the store's heyday. Check out the tin cups, canned food, and utensils. The museum is open seasonally from Memorial Day through Labor Day.
8. Morgan Creek Vineyards
Minnesota is home to 30 wineries, and southern Minnesota is the perfect environment in which to grow cold-weather grapes. With a beautiful rural setting including an old oak tree next to a red barn and tons of fragrant flowers, Morgan Creek Vineyards produces more than 15 varieties of wine. The award-winning vineyard also offers wood-fired pizza and charcuterie plates.
9. Shop Like You're In Germany
You'll feel like you're visiting a Christkindlmarkt when you shop at some of New Ulm's downtown stores. Domeier's German Store offers authentic German chocolates, food, mustard, toys, steins, and holiday ornaments. If you're in the market for a cuckoo clock, head to Guten Tag Haus. The store also sells other German products, including nutcrackers, steins, incense smokers, and New Ulm souvenirs.
Best Restaurants In New Ulm
Whether you're in the mood for American fare or an authentic German experience, New Ulm has you covered.
Lola – An American Bistro
Offering breakfast and lunch, Lola – An American Bistro is part coffeehouse and part eatery. You may want to sample the apple cinnamon French toast featuring a sliced baguette in rum cinnamon batter with pecan butter and caramelized apples. For lunch, consider the handmade chicken pot pie or the mac and cheese with creamy gouda cheese, buttered bread crumbs, and crispy bacon. Lola also operates a food truck.
Veigel's Kaiserhoff
For a taste of Germany, pull up a chair at Veigel's Kaiserhoff. From the German-style trim on the building's exterior, you'll know you're about to have an authentic experience. From sauerkraut balls to jaeger schnitzel with red cabbage and spaetzle, you're in for a treat. The restaurant also offers American standards, such as salads, burgers, and steaks.
Ulmer Cafe
Located downtown, Ulmer Cafe is a great spot to enjoy breakfast or lunch. With a traditional breakfast menu, you can enjoy your favorite omelet or maybe French toast. Of course, you can always go with an order of two eggs and your favorite meat selection. For lunch, check out the German sausage special with sides of potato salad and sauerkraut, or the burgers, soups, and sandwiches.
Turner Hall
Turner Hall is the perfect spot for a cold beer and a nice meal. Whether it's the "German Plate for Two" with brats, ribs, grilled pork chops, spaetzle, and other sides, or a juicy burger, the former community hall is one of the best stops in the city of New Ulm.
George's Fine Steaks & Spirits
Serving up outstanding steak and salmon, George's Fine Steaks & Spirits is a must-try for a casual dinner. Kick off your dining experience with Steak Shooters n' Shrimp, or try the Seafood Shooters with shrimp and scallops. George's offers a nice selection of beer and wine as well.
Best Places To Stay In New Ulm
Bingham Hall Bed & Breakfast
You'll be treated like royalty at the four-room Bingham Hall Bed & Breakfast. Besides an outstanding breakfast, the owners believe in excellent customer service and want to ensure you have a wonderful visit. The bed and breakfast is located only minutes from downtown New Ulm.
Best Western Plus New Ulm
You'll feel like you're staying at a hotel in Bavaria when you check in to the Best Western Plus New Ulm. With its German-style exterior and mix of contemporary American and old-world decor, the hotel definitely offers a one-of-a-kind experience. Each guest room has a German crest on the door. As you wander around the hotel's main floor, you'll find German-American art and hallways with street lamps like those you'd see in a small German village.
Related Reading: