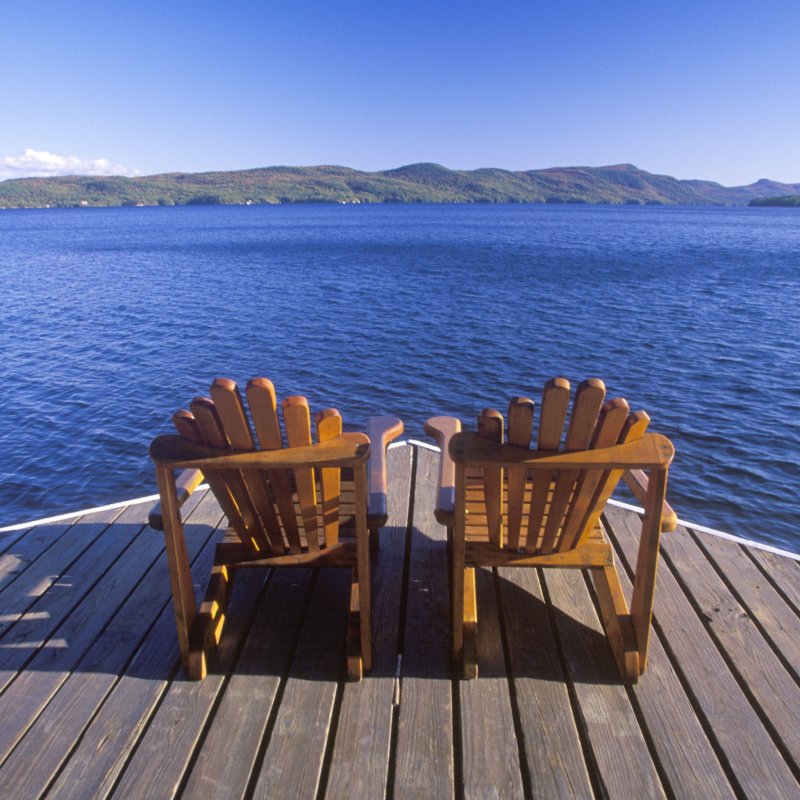 Perhaps it's because I recently binge-watched every season of The Marvelous Mrs. Maisel and noticed that the real-life resort used as Steiner Resort is for sale (or perhaps I'm simply growing increasingly restless from being stuck at home during the pandemic), but I can't stop daydreaming about summertime in Upstate New York.
Although Midge's impending divorce in Season 2 demoted her to sash girl during the swimsuit competition along Oquaga Lake in the Catskills, vacationers will find the clear, calm waters of beautiful Lake George, about 3 hours northeast in the Adirondacks, equally idyllic.
Covering six million acres, Adirondack Park is roughly three times larger than Yellowstone National Park and essentially the same size as the state of Vermont.
The largest and most easterly of the Adirondack lakes, Lake George is about 200 miles north of the Big Apple and 70 miles north of New York's capital city, Albany. Here's where to play, eat, and stay when you visit beautiful Lake George.
Things To Do In Lake George
Surrounded by the Adirondack Mountains, the town of Lake George sits on the southwestern tip of a long, narrow lake of the same name. While not officially one of the 11 Finger Lakes of Western New York near Syracuse, Lake George is similarly shaped, stretching vertically near the Vermont border.
Here's what to do in the area.
Spend Time On The Lake
Visiting beautiful Lake George and not enjoying the lake would be like going to New York City and not visiting the Empire State Building. One of the best things to do in Lake George is to spend time on the water. In the town of Lake George, you can rent a speedboat or pontoon from Brodie's Lakeside.
Leave the driving to someone else with a cruise on the Lake George Steamboat Company's Minne Ha Ha or Mohican. Spend an hour or nearly all day on the glassy waters of Lake George, or enjoy a champagne brunch or a dinner cruise.
If you prefer a self-powered experience on Lake George, head north to Bolton Landing and rent a canoe or kayak from the Lake George Kayak Company.
And if you want to get in the water, book a dive charter with Captain Frank Hartley at Halfmoon Marine Services. The Halfmoon Explorer, specifically designed for divers, is located at Lake George's Gilchrist Marina.
Take A Hike
Just west of Lake George, Prospect Mountain offers panoramic views of the lake and surrounding mountains. On a clear day, you can see as far as the Laurentian Mountains in Canada!
The trail to the summit is a 3-mile round-trip hike with a steep grade that can be quite treacherous in spots. So if you'd prefer to drive, take the Prospect Mountain Veterans Memorial Highway.
Whether you arrive on foot or by car, don't miss the remains of the Prospect Mountain Cable Incline Railway at the top of Prospect Mountain. Built in 1895 to run wealthy travelers up the mountain every half hour, it was once the longest cable railroad in the world. Passengers boarding the cable railway were typically headed to the Prospect Mountain House. Unfortunately, this luxurious hotel burned down, but you can still see its stone fireplace at the top of the mountain.
Another popular hiking trail near Lake George is the Buck Mountain Trail, located about 20 minutes northeast of Lake George, near Kattskill Bay on the east side of the lake. There are two trails to the summit.
For a flatter, easier hike, follow the 3.5-mile Lakeshore Trail along the eastern banks of Lake George for beautiful views of the lake, plenty of picnic spots, and a waterfall or two.
Pro Tip: No matter which trail you hike, be sure to wear bug spray!
Go Bike Riding
If you prefer to explore picturesque Upstate New York on two wheels (rather than on two feet), the Warren County Bikeway connects Lake George with Glens Falls, roughly 12 miles away just north of the Hudson River. And if you want to keep going from there, Glens Falls is a junction to several other bike routes and recreational trails.
Visit Fort William Henry
History buffs will want to carve out time to visit Fort William Henry on the southern banks of Lake George, just northwest of Lake George Beach. Named after two British royal grandsons, the fort was built in the 1750s as an outpost to protect inland waterways from New York City to Montreal.
Explore the sights and sounds of Fort William Henry via a self-guided walking tour of the museum and buildings using your cell phone. Or take in an 18th-century military demonstration complete with muskets and cannons at scheduled times throughout the week.
Head To Adirondack Winery
From the rieslings of the Finger Lakes region to the ice wines of the Niagara Escarpment, Upstate New York is home to many phenomenal wines. In Lake George, visit Adirondack Winery to taste a selection of handcrafted, award-winning wines produced by husband-and-wife team Mike and Sasha Pardy. Enjoy fruit-infused wines featuring the fresh flavors of peaches and blackberries, dry reds aged in toasted oak barrels, or red port-style dessert wines expertly paired with cheese, chocolate, and other nibbles.
Check Out Lake George Distilling Company
If you prefer spirits to Seyval blanc, sauvignon, or sangria, then check out Lake George Distilling Company. Established in 2012, the distillery handcrafts whiskey, bourbon, and other spirits in small batches using regional ingredients like locally grown corn and apples from Adirondack orchards.
Pro Tip: For other things to see and do near Lake George, consider a day trip to Saratoga Springs or another quaint town in Upstate New York.
Best Restaurants In Lake George
The Boathouse Restaurant
Family-owned for more than three decades, The Boathouse Restaurant on Lake George is fun and family-friendly. Enjoy a glass of wine or sip a cocktail as you watch the boats sail by, or linger over a delicious, seasonally inspired meal featuring the best locally sourced ingredients.
The Inn At Erlowest
For an elegant and romantic evening out, dine at this magnificent turn-of-the-century stone mansion. With its extensive wine list, expertly prepared farm-to-table seasonal menu, and impeccable service, The Inn at Erlowest will leave lasting memories.
Bistro LeRoux
Although it's a bit off the beaten path (and not on the lake), Bistro LeRoux is worth the short drive to the southeastern edge of town. With a menu crafted from only the best seasonal ingredients, the chefs accommodate every appetite by proudly offering half-plate portions in addition to gluten-free and vegetarian fare.
Best Places To Shop In Lake George
For a little retail therapy, Lake George has two popular options: The Outlets at Lake George and Adirondack Outlet Mall.
Featuring designers like Michael Kors, Ralph Lauren, and Vera Bradley, along with popular brands like Adidas, COACH, and Levi's, The Outlets at Lake George have an east and west location, flanking both sides of Highway 9.
No matter what it's like outside, the climate-controlled Adirondack Outlet Mall ensures smooth sailing at its more than 50 stores ranging from Under Armour to the Moose on the Loose Deli.
Best Places To Stay In Lake George
The Lodges At Cresthaven
With more than 50 well-appointed vacation rentals, The Lodges at Cresthaven blend hotel luxury and Adirondack lodge charm. Each two-bedroom, two-bath townhouse includes a fully equipped kitchen, gas fireplace, washer/dryer, and complete entertainment center.
The Inn At Erlowest
Covering 15 acres right on the lake, with two beaches and dock rentals, The Inn at Erlowest mentioned in the dining section is also a delightful place to stay. Choose one of the 10 suites in the stone mansion or stay in one of the townhouses or villas.
The Sagamore Resort
Located on a private 70-acre island in Lake George, The Sagamore Resort near Bolton Landing is a prestigious Adirondack landmark that dates to the 1880s. Choose from accommodations in the historic main hotel, at one of the seven rustic lodges, in the innkeeper's former home, or at one of the resort's spacious condos.
Best Camping In Lake George
Adirondack Camping Village
From tent camping to cabins to RV hookups, if you're searching for closer-to-nature accommodations in Lake George, you should check out the Adirondack Camping Village. The secluded, wooded campsites of this family-owned-and-operated camping resort are located in the northwest part of town, just a short drive from the lake.
Lake George RV Park
Offering recreational vehicle campsites as well as 40-foot on-site rentals, Lake George RV Park is another accommodation option for glampers. If you're visiting Lake George with your dog, you'll love its Charlie's Bark Park, a 2-acre, off-leash dog park that includes shaded walking trails, a dog wash station, and more. Your pup will never want to leave!
Best Glamping Near Lake George
If you prefer the more glamorous version of camping known as glamping, then check out these options a short drive from Lake George. Approximately 40 minutes west of the lake's southern tip, Camp Orenda in Johnsburg has six canvas cabins with queen-sized beds, down comforters, hot showers, and heated toilets. And in Chestertown, about 20 minutes from Bolton Landing on Lake George's western shore, Posh Primitive is another luxury camping option in the Southern Adirondack Mountains.
Pro Tip: If you hear the Catskills or the Adirondack Mountains calling, unwind in at one of these nine incredible glamping destinations in Upstate New York.
Whether you stay for a few days or more than a month or visit in the summer or during another season, you'll find that there are plenty of things to see, do, eat, and experience in beautiful Lake George in Upstate New York's exquisite Adirondack region.