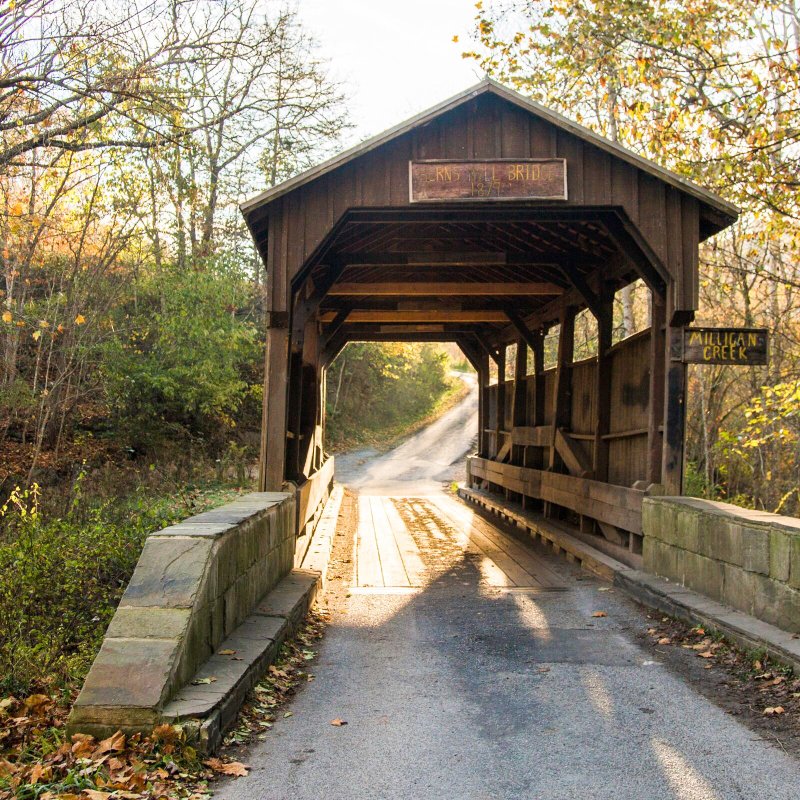 I recently rode the Cardinal train through West Virginia, stopping in Huntington, Charleston, and White Sulphur Springs/Lewisburg. It was a spectacular ride, featuring fall foliage, mountains, the Shenandoah Valley, and views of West Virginia's whitewater rivers only accessible by train. While I fell in love with the entire region, Lewisburg won a special place in my heart with its friendly people, beautiful main street, small-town charm, innovative dining scene, and unique lodging options.
This small town, with a population of about 4,000, boasts the arts and fine dining of a much larger city. It's easy to see why Frommer's Budget Travel named Lewisburg America's coolest small town.
1. It's Got A Vibrant Culinary Scene
Lewisburg is a foodie's paradise, and it's easy to find mouthwatering meals, from Southern comfort food to farm-to-table cuisine to fine French dining.
At The French Goat, I dined on hot and savory French onion soup and a main course of filet mignon with whipped potatoes and French beans topped with oh-so-rich foie gras butter. After dinner, we relaxed on the front porch with an aperitif apres le diner while chatting with locals.
At The Local, a grocery and deli, the menu changes daily, but if it's available, try the smoked brisket chili. Or stop by Stardust Cafe, a farm-to-table favorite for locals and visitors, for the caper berry trout salad. At Draper's, inside the Greenbrier Resort, you'll want to try Mr. Justice's Favorite Fried Chicken. If you stop by Food & Friends, a cozy American cafe, at lunchtime, order the Carolina crab croissant and be sure to pick up a piece (or three) of the delectable chocolate at the cash register. At Livery Tavern, you can enjoy American fare like steak and seafood or try one of the vegetarian or vegan options, all served in an 1800s-style dining room.
2. It's A Small Town That's Big On The Arts
Though it's a small town, Lewisburg is home to an outstanding arts scene.
The Greenbrier Valley Theatre, the state professional theater of West Virginia, offers plays, poetry, and live dance, plus special events like the GVT Play Fest, which features several 10-minute plays written by West Virginia playwrights.
Then there's the Trillium Performing Arts, which for 36 years has encouraged artistic expression through education, participation, and performance. The organization's Lewis Theatre opened in 1939. After nearly 70 years, the structure was in need of some TLC, so Trillium initiated a capital campaign to renovate it into a space suitable for both film and live performances. Today, you'll find a variety of performance arts there, including Friday Night Alive, a family-friendly event showcasing local talent.
As if that weren't enough, Lewisburg is home to a Carnegie Hall, one of four remaining in the world.
3. You Can Enjoy Lots Of Live Music
In any of Lewisburg's bars or pubs, you might just hear your new favorite song.
Musical events you won't want to miss include the West Virginia Winter Music Festival, a benefit for musicians in need; the State Fair of West Virginia Concert Series; and Healing Appalachia, an event intended to eradicate addiction in the greater Appalachian region.
4. There Are Charming Boutiques And Galleries
West Virginia-made products, art, and even kitchen items can all be found in the downtown district. It would be easy to spend a day perusing the shops and taking home pieces you never knew you needed.
At Wolf Creek Gallery, you'll discover carefully curated women's clothing and jewelry. Lee Street Studios is a school-turned-artisan collective where artists create, display, and sell their work. Patina offers an eclectic mix of antiques, vintage decor, and art.
If you're visiting on the first Friday of the month, check out the First Fridays After Five event, where you'll find shops, galleries, and restaurants open through the evening and offering complimentary refreshments and entertainment. When I visited, I purchased some cheese for the train at Bella and enjoyed a wine sample (or two) at the boutique shops.
While you're downtown, take a tour of the area to learn about the historic buildings and period architecture. You can use the online guided tour or pick up a printed version at the Greenbrier Valley Visitors Center.
5. The Local Brews Are Fantastic
Staying true to its Appalachian roots, Smooth Ambler utilizes local ingredients like mountain water and hand-selected grains to distill its bourbon. Greenbrier Valley Brewing Company brews up six flagship flavors, six seasonals, and an ever-changing selection of small batches for craft beer lovers. Hawk Knob is West Virginia's first cidery, specializing in dry-aged meads and traditional dry ciders.
6. You Can Take A Scenic Drive
The scenery surrounding Lewisburg is spectacular. Go for a drive to take in all the area's scenic beauty, including rolling hills and expansive farmland. Along the way, stop to take photos of the Herns Mill Covered Bridge, one of only two covered bridges remaining in Greenbrier County. Follow the Lower Greenbrier River Byway that travels 27 miles along the railroad to view more of the scenic countryside and wooded areas, or head to the White Sulphur Springs National Fish Hatchery for a guided or self-guided tour. After touring the hatchery, enjoy the walking trails on the grounds or hike up one of the neighboring mountains.
7. There's A Great Farmers Market
I love discovering what food is local to an area and where that food comes from, so I was like a kid in a candy store when I learned that Lewisburg has not one but two farmers markets. The two markets — the Greenbrier Valley Farmers Market and the Lewisburg Farmers Market — have since merged to form the Courthouse Farmers Market, open Saturdays from 8 a.m. to 1 p.m.
There's traditional market fare — locally grown produce, grass-fed beef, honey, syrups, and jams, plus baked goods — but what really got me excited were the fresh-baked bagels from Blue Moon Bagels. The story I heard was that a New York film crew had been in town, and when they discovered these bagels, they ordered dozens to take home with them — to New York. That says a lot, considering that New York is known for its bagels. Whether the story is true or not, these were fantastic bagels — so soft and savory that they nearly melted in my mouth. We took a few dozen with us for the road, too.
The year-round market is located outdoors from May through October and indoors from November through April.
8. It's Close To A World-Famous Resort
White Sulphur Springs, just down the road from Lewisburg, is where you'll find The Greenbrier, a world-famous resort since 1778. One of the most luxurious resorts in the world, The Greenbrier has not only hosted celebrities, business leaders, and 27 U.S. presidents, but it also has a secret bunker! The space was carved into the mountainside beneath the resort to serve as a Cold War fallout shelter and as a government-relocation facility for Congress. Today, visitors can tour the bunker and see this piece of history.
Take a carriage ride around the property, swim in the mineral-water pool, indulge in a spa treatment, or shop to your heart's content at this luxury resort with lavish decor by the famous Dorothy Draper & Company.
Planning a trip to West Virginia? Here are seven things to do in the state with the whole family.