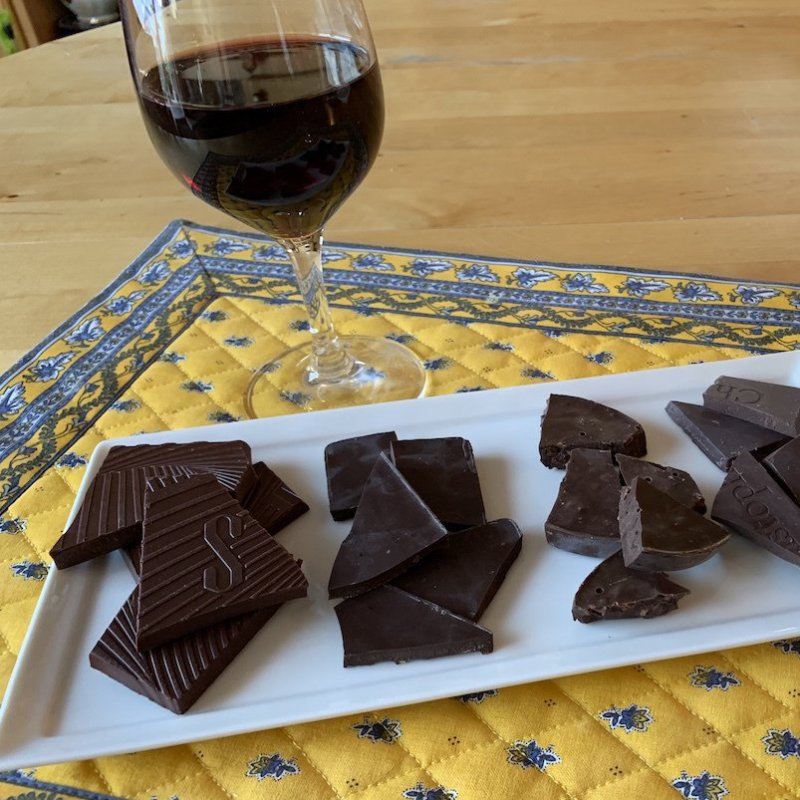 Wine and chocolate pair beautifully together. The trick is finding the right combination. The key is polyphenols, chemical compounds present in both wine and chocolate that are good for you. They have antioxidant and anti-inflammatory properties but also affect flavors. The more polyphenols, the more pronounced the bitter taste. To understand what this means, try some chocolate with 70 percent cocoa solids or a big, dark red, super dry cabernet sauvignon to get the idea.
A World Of Choices
There are countless wines from which to choose as well as abundant chocolates. We have tasted some of the best of each during our travels around the world. Chocolate provides a good baseline for deciding your wine options, so we'll use that as our pairing platform. Some basic guidelines can help you create delicious pairings, but remember that everyone's taste is different. This is about having fun, so try what sounds good to you and see what happens! We'll do our best to put the best with the best, in our opinion, to help you create your own fantastic chocolate and wine pairings to try at home.
1. Dark Chocolate And Juicy Reds
Dark chocolate includes 35 percent or more cocoa solids. For those who don't care for sweets, this category is the golden ticket. Some brands recognized for amazing dark chocolate include the French Valrhona, Swiss Lindt, Belgium's Godiva, and Endangered Species made in the U.S. The higher the percentage of cocoa solids, the more intense the cocoa content.
Dark chocolate is rich and strong, so it pairs well with wines that can stand up to intense wine flavor. But you don't want the wine to be too dry or it will make for a bitter finish. For us, that means delightfully bold red wines that have a bit of sugar to them, like shiraz or syrah and zinfandel. A couple of choices we enjoy include shiraz wines from Australia's Grateful Palate and Gnarly Head old vine zinfandel.
2. Milk Chocolate And Sweeter Wines
Milk chocolate is a favorite of so many people because it offers delicious chocolate flavor in a sweet and creamy package. So many countries produce wonderful milk chocolate that it can be hard to choose. It's important to look for a quality brand that doesn't add fillers, waxes, and other ingredients. Some of our favorites are England's Cadbury Dairy Milk, Droste from Holland, and Germany's Milka.
Because milk chocolate has a creamy sweetness to it, it pairs well with many different wines. If you like red wines, go for something a little lighter such as pinot noir or chianti. You can also go easily with a white wine that compliments the sweetness such as gewurztraminer or pinot gris. To revel in the creaminess of milk chocolate, pair it with a fantastic Portuguese port or Madeira wine. Here are a few we like to give you some ideas. We love the Mark West pinot noir. Zind-Humbrecht offers many lovely Alsatian gewurztraminer and pinot gris wines. And when it comes to port, we prefer the tawny varieties from famous makers such as Graham's, Dow's, and Sandeman. You can visit Portugal's beautiful Madeira Island and pick up some of the famous wines right from the source.
3. White Chocolate And The Sweet Finishers
Some say that white chocolate is not true chocolate because it does not incorporate the cocoa nibs that give typical chocolates their distinctive brown color. We say fooey! White chocolate, which must contain at least 20 percent cocoa butter, is just another delicious variation that we want to include in our chocolate and wine pairing library. These days many chocolatiers use white chocolate as a base for unique creations and exciting possibilities for broadening the horizons of chocolate lovers everywhere. Green and Black's and Askinosie make white chocolate tasty enough to convince even non-believers.
Pairing white chocolate with wine is not as challenging as it may sound. We typically head for our favorite dessert wines. Ice wine, Moscato d'Asti, late harvest riesling, and cream sherry complement the flavors of white chocolate well. Ice wines are a real treat. They get their sweet flavor from the grapes being left ripening on the vines even as they freeze in frigid winter temperatures. They're made with various grapes such as cabernet franc and gruner veltliner. Some of our favorites come from Inniskillin. We love the light bubbles of Risata and Mia Dolcea Moscato d'Asti wines. Osborne and Harveys Bristol cream sherry are also great choices.
4. Chocolate With Fresh Or Dried Fruit
When it comes to having fun with fantastic chocolate wine pairings, variety is also key. Whether you prefer dark, milk, or white chocolate, you'll also want to have some chocolates that include other enhancements. These additions will make a lot of difference in the wine pairings because they capture the nuances in both the chocolates and the wines. Chocolate with dried fruit included is a fantastic option. Dark chocolate-covered cherries, candied oranges, raisins, and apricots are all delicious. Of course, fresh blueberries or strawberries dipped in chocolate are heavenly too.
We love to match the flavors in the chocolate and fruit with the wine to create a complementary pairing. Chocolates with dried fruit with a Lambrusco like Riunite make a fine pair. For chocolate-covered fresh fruit like strawberries, try a nice demi-sec cremant like our favorite from De Chanceny. If you want to do something different, try matching the undertones of the wine with the fruits, such as chenin blanc with apricot, sancerre with peaches or pears, and sauternes with raisins.
5. Chocolate With Nuts
One of our favorite chocolate combinations comes when chocolate and nuts meet. Chocolate-covered almonds, pistachios, hazelnuts, and others do a happy dance in our mouths. The combination of nuts and chocolate also provides fun when pairing with wines. Nuts can be pricey, but you can buy a chocolate bar with nuts or try nuts.com, which can have some good deals.
We enjoy fortified wines with the chocolate-nuts combination. Madeira, sherry, port, Marsala, or even a nice, sweet vermouth will go well with nutty chocolates. For a different twist, you can also go with a match that complements the specific nut qualities, such as a rounded cabernet sauvignon with pecans, sauvignon blanc with pistachios, or sparkling wine with macadamias or almonds.
6. Chocolate Cake
Chocolate cake is a treat unto itself. There are so many aspects of it that can vary by preference. Milk chocolate versus dark chocolate. Add a little coffee to the frosting for a tinge of mocha. Some people like fruit or jam between the layers. Then there are the purists, the flourless chocolate cake with chocolate ganache crowd. We have tried and love them all and know it's strictly a matter of personal taste. If you don't feel like baking yourself, get one delivered from a local bakery or national one.
Champagne would be our first choice for pairing because we think bubbles and chocolate frosting are a match made in heaven. Moet and Chandon is our go-to sparkling. Mumm makes a variety of affordable and tasty options. We also love a rich, red Sicilian Nero d'Avola wine like Planeta's Santa Cecilia.
7. Chocolate Cups
For the ultimate integration of wine and chocolate, we suggest investing in some small chocolate drinking cups. While you can get them in any flavor, we like the dark chocolate ones the best. Obidos, Portugal, initially introduced us to the beauty of cherry liqueur called Ginja being served in the tiny chocolate cups eaten upon drinking the sweet beverage. We soon realized that many liquid refreshments would go great inside the cup.
A quick jump from Ginja would be port or Madeira. After all, they all have the same birthplace in Portugal. But ice wine, moscato, late harvest riesling, Sauternes, or cream sherry would all work well as a decidedly sweet finish to a wine and chocolate pairing party. For another taste sensation, try filling a chocolate cup with Hungarian Tokaji wine. Made from white grapes, Tokaji, like the late harvest wines from Megyer, would not only beautifully fill cups, but hearts as well.
Enjoy these fantastic chocolate and wine pairings or come up with your own winning combinations. Check local wine shops, grocers, and online retailers to see what they have that interests you. You don't have to spend a lot of money either. The only rule is that whatever flavors you enjoy — those are the best.
Related articles: