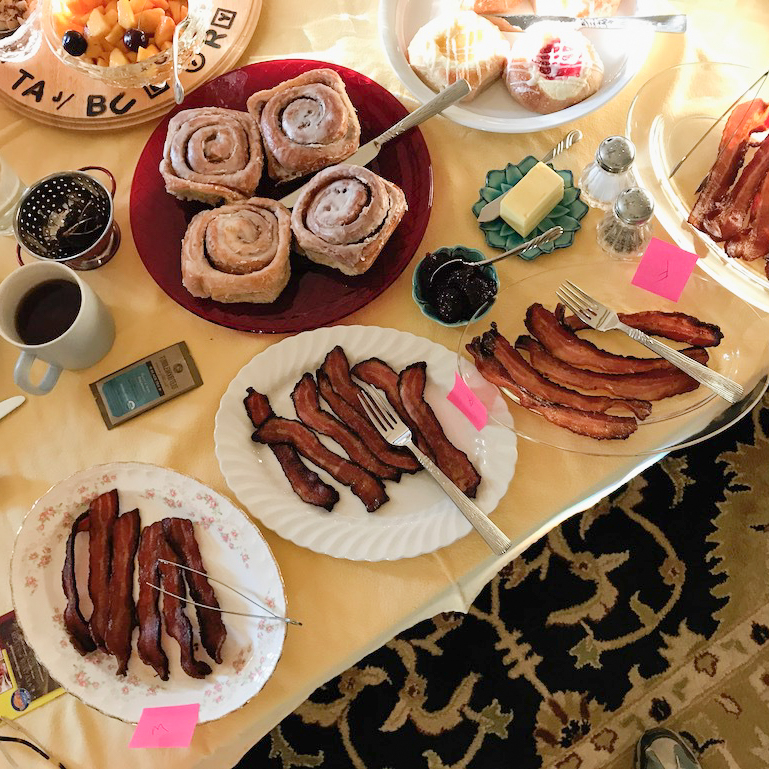 There's something so exciting about being introduced to wonderful new culinary insights through the process of a tasting experience. Wine and beer tastings are popular for beverage enthusiasts. Cheese, chocolate, exotic fruit, charcuterie, even condiments like butter or salt can make a memorable tasting experience. And while it's fun to be treated to a tasting by upscale restaurants or local producers, we've discovered the sheer joy of rolling up our sleeves to do it on our own. So you can get in on the fun, here are our top tips for creating a memorable tasting experience at home.
1. Choose Something You Enjoy
To be honest, there is so much variety in the foods and beverages you can purchase easily these days, you could practically have a tasting for anything. But the most important aspect of a successful tasting is to choose something that you enjoy. Make a list of food, condiments, beverages, and anything consumable you really like. Vodkas, cookies, butters, teas, lobster rolls, chocolates, salsas, whatever. What can you imagine tasting in all its variety and have fun doing it? That's what makes a memorable tasting. Then be sure you have access to the options you want, whether beers from your local retailer, candies from online suppliers, or herbs growing in your international garden at home. Remember that if you're having alcohol or beverages, you'll want to have some snacks to absorb the alcohol or liquid too. Crackers, fruit, veggies, cheese, charcuterie, nuts, and other nibbles will help you manage your consumption with care.
2. Select A Variety In Your Category
When you're doing a tasting in a category you enjoy, you may have a tendency to stick with what you already know and like. But the key to creating a memorable tasting experience at home is to have enough variety that you'll discover something new or revisit something known in a new way.
Let's say you want to do a cheese tasting. Do you want to compare and contrast the same type of cheese; for example, cheddars? If so, choose a variety of different ages, sharpness levels, and producers. How do Vermont, California, New York, Oregon, and Wisconsin cheddars compare? What differences do you notice when you compare them with cheddars from England, Wales, Ireland, and Australia? You could compare products from one country, such as wines from France. Or you could taste similar wines from several international regions.
3. Determine Your Tasting Identification Method
How will you identify each of the samples you'll be tasting?
Will you be doing a "blind tasting," where you don't know which item on your list you will be trying when? If so, you'll want to keep the label or any identifying features secret. You can do this by putting each sample in a bag or glass, as the case may be, and noting the item in a manner you cannot see, such as under the bag or on a hidden napkin beneath the glass. Then be sure to shuffle them so you lose track of which is what. Don't peek until after you've finished tasting all the samples.
For an open tasting, just organize the samples in a way that makes sense, such as driest wines to sweetest, lightest beers to darkest, or mildest mustard to the most pungent.
4. Decide Your Ranking System
Some people like to taste for fun, while others want to discover new favorites. If you want to use your tastings as a learning tool, you'll need to have a system for ranking the items you taste. Make it as fun or serious as you like. We've used systems like one to ten forks, finger-kicking bad to finger-licking good, and the noble numbering scale. The key to success is being sure that your system will differentiate each item from all the others — no ties allowed.
Whatever system you use, be sure you have enough levels on your scale for each item and a reasonable number of items. We once did a paczki tasting (Polish jelly donuts) that filled us up just halfway through. Rank as you go so you can scale up or down as you work through your tasting list. Finalize the rankings after you've completed all the tastes. Sometimes, a taste that seemed pretty good in the beginning becomes not so great by comparison when better tastes come along, and vice versa.
5. Take Notes
When you taste multiples of certain items, it can become challenging to tell them apart, especially for something new to you. That's why taking notes is such a great idea. Whatever you're tasting likely has different components like color, texture, and aroma. Take a careful look at each item before tasting. Give it a sniff. Engage all of your senses. Importantly, remember you're tasting, not eating.
Tasting requires that you go slow and small. That is easier with tastings of things like olive oils, balsamic vinegars, salts, and other items you use sparingly. But the same holds true for pastas or root beers, burgers or pizzas. This is particularly important to remember when doing tastings with alcohol. If you're not careful, halfway through you might forget the whole point of the tasting. Take a sip or bite of the item. How does it feel in your mouth? What do you notice in terms of aroma, flavor, or texture? Jot down some of your impressions when you've given it a try. Compare each item with the others, and think about whether you'd like to enjoy it again.
6. Pick Your Winners
Your tastings will introduce you to winners and likely some losers, too. Once you've done your tastings, taken your notes, and assigned your rankings, you'll get a solid idea of what tastes you'd like to have again and which will not be invited to return. Part of the fun is learning more about your own tastes. Did you suddenly discover you're wild about Wisconsin cheeses? Or that you really don't care for hot peppers?
Be careful to note the law of diminishing returns in your tastings. For instance, no matter how huge your sweet tooth is, the tenth sweet dessert is likely to be somewhat less agreeable than the first. That's why tasting rather than consuming is an important part of the process. If you find there are just too many tastes you want to include, put together additional tastings to satisfy your curiosity and still give the proper attention to the tastes at hand. We've done wine tastings where everyone brings a bottle of wine for tasting. With 15 bottles of wine to taste, it's perfectly acceptable to spit after tasting, otherwise, you might not make it all the way through.
7. Have A Virtual Tasting Or Share With Friends
Right now, we're becoming experts at virtual entertainment. If you're staying snugly at home by yourself, invite a friend or two to taste along with you. It's fun to compare and contrast thoughts and notes, and easy to do with Zoom, Facebook Live, and other shared visual media. Just be sure that everyone has the same menu of items and that when you are tasting, you all try the same item at the same time. You can even add a virtual tour that goes with the theme of your tasting. If you're living safely with friends or family, make a tasting party you can all enjoy.
Having a tasting is a fun way to learn more about flavors as well as your own preferences. Our top tips for creating a memorable tasting experience at home are intended to provide some reference points for you. But the real magic in a memorable tasting is to spark your curiosity, relax, and have fun. Why not get started today: read our suggestions for 7 fantastic chocolate and wine pairings to try at home.