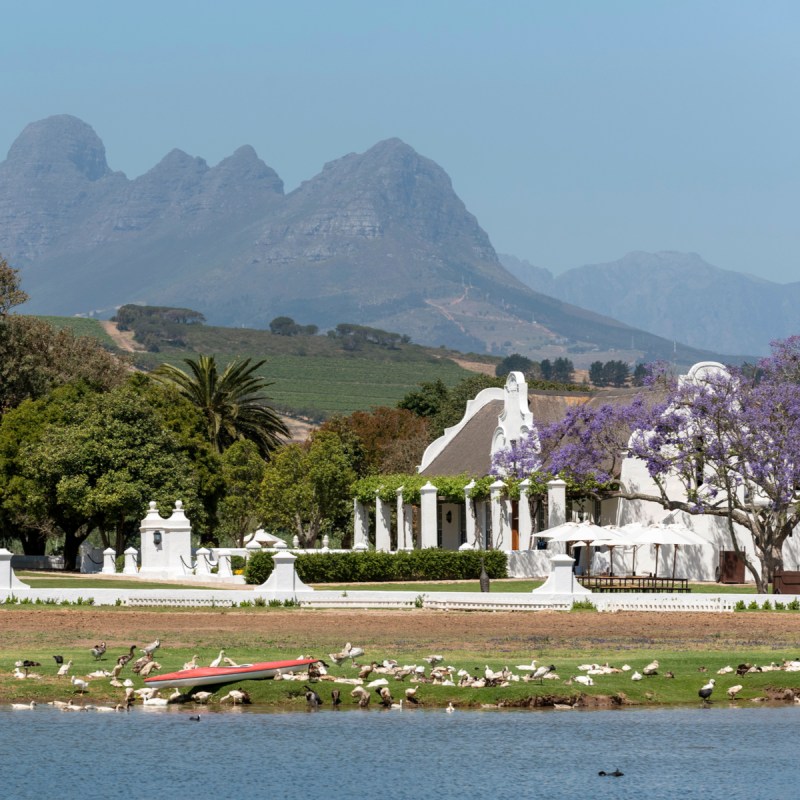 "Wine is sunlight, held together by water," as Galileo Galilei, the Italian astronomer, physicist, and engineer, once stated. Although there is a bit more to it than that, I think the statement sums up the sheer enjoyment a good glass of wine can offer.
As I shared in my roundup of the seven best international wine regions according to a wine-lover, I am by no means a viticulture expert; instead, I've chosen my favorite global vineyards according to the overall experience, for history, setting, or, yes, the wine they produce. Others come by local recommendation.
This is a diverse selection from around the globe, a selection of cellar doors, each one offering something special — and with great wines to taste.
Champagne, France
A quick one-hour drive from Paris, the Champagne region is known around the world for its sparkling wine, which is only allowed to call itself champagne because it's grown within the region's borders. The brainchild of monk Dom Perignon, this tipple is the drink for a special occasion. Visit all year round, but remember that in September during harvest time, it's all hands on deck for the viticulturists.
1. Moet Et Chandon, Epernay
This is simply the house to visit to feel special. Part of the luxury emporium of LVMH (Louis Vuitton Moet Hennessy), at Moet et Chandon, even the guides wear Louis Vuitton scarves and bags, and the chateau, right in Epernay on the Avenue de Champagne, is spectacular. This is an interesting first look at how champagne is produced where you can ogle at the grand Dom Perignon vintages. This is also the place to learn how to pronounce Moet the correct way: it is not moh-ay, but moh-ett since Mr. Moet was Dutch, and he pronounced the t in his name.
2. Veuve Clicquot, Reims
Any duty-free stand in any airport usually has an eye-catching display of unusual orange merchandise that denotes Veuve Clicquot champagne, but mention the word orange, and you will learn that the house's color is not orange but a special trademark yellow. You will also learn the history of the widow Clicquot (veuve means widow in French), who was a formidable woman ahead of her time. Keep a lookout in the caves below Reims for the amazing graffiti and carvings in the chalk walls; these caves sheltered the local population during WWI.
3. Taittinger, Reims
Taittinger offers a very commercialized tour, but it is nevertheless worthwhile, as the caves are truly ancient and full of chalk carvings, remains of a cloister dating back to the 1300s, and atmospheric hidden places that double as storage for their best champagnes. For photographers, the spiral staircase leading back up offers some great photo opportunities. And the champagne, while not one of the most expensive, is very drinkable. Taittinger specializes in a modern outlook, with trendy designed bottles aimed to break with the stuffy old heritage.
Bordeaux, France
The Bordeaux wine region in the southwest of France is vast, comprising some 30+ smaller regions, with recognized names such as Medoc, Graves, Saint-Emilion, Pomerol, and Entre-Deux-Mers. There are nearly 300,000 vineyards to choose from, so picking which one to visit can be difficult. Here are my recommendations.
4. Chateau Tour Saint-Christophe, Saint-Emilion
This mid-1800s vineyard sits in the terraced hills and offers tastings in a modern setting, with windows opening across the amazing views. Specializing in fruity reds, they offer an interesting way of teaching visitors about wine. Part of tasting involves smelling, and you get set a task to identify various smells the sommelier hands you, from rose petals to vanilla. You'll find it is amazingly difficult to identify a smell. The best thing is that they sell smelling kits for you to take home to try out on your friends, together with the affordable wines, which they will ship around the world for you.
5. Chateau Lafite Rothschild, Pauillac
This winery has a history dating back to the 1200s. In fact, the vineyard and the family were visited and much-lauded by Thomas Jefferson in his day. There are three chateaux that make up the Lafitte Rothschild estate, and it is a sprawling, historic property that's fun to explore regardless of the wine, but the cellars are also stunning. Tasting these heavy, superb, historic wines is a treat, one to be treasured as, chances are, most of us will never be able to afford a bottle of the good stuff, with prices in the hundreds of dollars. You cannot buy bottles in this vineyard, which is probably just as well.
6. Chateau Les Carmes Haut-Brion, Bordeaux
The only vineyard within the city limits of Bordeaux, this is an easy winery to visit. It combines old and new in a rural setting that seems a million miles away yet is surrounded by the city. The property has a historic chateau dating back to 1584 and a hyper-modern winery, designed by Philippe Starck and Luc Arsene-Henry, that looks like a gigantic black metal ship. The Bordeaux-typical grapes cabernet Franc, cabernet sauvignon, merlot, and petit verdot produce a good, and relatively, pricey red.
Victoria, Australia
There are three major wine regions within the southwestern state of Victoria: the Yarra Valley, the Bellarine Peninsula, and the Mornington Peninsula. Each has its own attractions aside from the vineyards, especially when it comes to the two peninsulas, which make up Melbourne's Port Phillip Bay. This region is best known for its pinot noir and sparkling wines. Harvest time is in and around March, so some cellar doors may be closed then.
7. Foxeys Hangout, Red Hill, Mornington Peninsula
This is the first place I ever tasted a red sparkling wine. While I must admit to preferring their smooth pinot noir, it opened my eyes to the art that lies behind winemaking. This modern vineyard has a fabulous deck and modern restaurant that serves innovative share plates that accompany the wines perfectly.
8. Jack Rabbit, Bellarine Peninsula
On the other side of the bay, on a hill overlooking the entire region, lies the Jack Rabbit cellar door. In addition to superb pinot noir, this winery produces a very drinkable range of pinot grigio, roses, sparkling wine, and shiraz. With a fabulous restaurant that customers literally fly in for from Melbourne by helicopter (but which is not eye-wateringly expensive) and a cheaper cafe next door, you can spend quite a while here exploring the setting, tasting the wine, and shopping for quirky rabbit-ear kitchen souvenirs. I still use my tea towel today.
9. Balgownie Estate, Maiden Gully, Yarra Valley
I stopped off at this wine estate after landing nearby in a hot air balloon. After an early start and a superb flight, the sparkling wine breakfast at this vineyard was simply perfect. This is a popular estate, complete with a food market on weekends, places to stay, and venues for weddings. While commercial, there is no getting around the fact that in addition to their famous shiraz and cabernet sauvignon, the light and fruity sparkling wine is superb.
Western Cape, South Africa
Nestled into the southernmost part of the continent, the Western Cape's wine regions lie less than an hour's drive from Cape Town. Dating back to the mid-1600s, the Cape Winelands are divided into six main regions with the best-known being Stellenbosch and Franschhoek. The region's signature grape is Chenin Blanc, but there are also plenty of good reds and the South African-originated pinotage to try.
10. Vergenoegd Low, Stellenbosch
One of the oldest working farms in South Africa, dating back to the late 1600s, this estate not only produces a good variety of wines, from whites to rose and reds, shiraz to merlot to cabernet sauvignon and house blends, but it does so with sustainability in mind. And, I have to admit, the true reason I chose to visit this vineyard is the natural pest control utilized on the estate: some 2,000 Indian Runner ducks who quack their way onto the fields every day, gobbling up pests such as snails and insects. To boot, there is a little cafe with tables under enormous shade-giving trees, and it's easy to while away a few hours here.
11. Boschendal Wine Farm, Franschoek
This vineyard and its restaurants were recommended by a local, and as it usually goes, they know best. The historic estate, which has a feeling of old-world farming with the gabled houses set next to tall oak trees, produces around a quarter of a million cases annually of red, white, and sparkling wine. Varieties include chardonnay, sauvignon blanc, semillon, cabernet sauvignon, merlot, and syrah. But, for a perfectly rounded experience, book your tasting so it falls after lunch in the lovely The Werf restaurant. The food is superb, with most ingredients either plucked from the garden out back or sourced locally, and makes a good base for the tastings to come.
Veneto, Italy
The Veneto wine region lies nestled between the Alps, Lake Garda, and the Venetian lagoons, and produces around 18 percent of Italy's wine, and a wide range of it, too. From everybody's favorite, prosecco, to light reds such as Valpolicella and rich Amarone and Bardolino, there is something for every palate.
12. Brunelli Wine, San Pietro In Cariano
Situated between Lake Garda and Verona, the family-owned Brunelli vineyard first caught my eye because of its name. I was reading one of Donna Leon's crime stories set in Venice and Commissario Brunetti was on my mind. Brunelli was close enough to decide on which vineyard to visit. Specializing in my favorite Italian light red, Valpolicella, plus an Amarone, and shipping cases around the world, this is a good winery to have chosen. Tours include a light lunch of cheese, salami, vegetables, and dessert, and the winery also hosts cooking classes, so this is an all-round winner.
13. Garbara, Treviso
Is there anything better than to sit on a terrace overlooking rolling green hills and a mountain range behind while snacking on a platter of charcuterie and cheese and sipping a chilled sparkling prosecco? In Italy? Not much, really. Garbara specializes in sparkling wines, from prosecco to frizzante, sweeter and dry varieties. Run by the family for four generations, Garbara produces a few thousand bottles each year.
Casablanca, Chile
Casablanca is the one wine region in Chile that is trying to put white Chilean wines on the map. Located between Santiago and Valparaiso, it is an easy stop-off point when visiting, and a good opportunity to try a unique Chilean wine.
14. Vinamar, Casablanca
From the main road, you can already see the huge white house of Vinamar, which is very apt for its address, rising like a white Moroccan palace presiding over the ordered lines of vines. Inside, the black-and-white tiled floor and impressive wine racks are glamorous, and sitting on the terrace sampling the produce while snacking on some fine plates from the bistro makes you feel like royalty. The sparkling white is highly recommended.
Rioja, Spain
When you think of Spanish wine, you think of Rioja, which spreads south of Bilbao over 54,000 hectares and encompasses three smaller regions: La Rioja, Basque County, and Navarre.
15. Bodegas Marques De Riscal, Elciego, Alava
A lover of modern architecture and red wine, I chose this vineyard because it not only produces fabulous Rioja but also has the City of Wine, a complex designed by architect Frank Gehry, where you can learn about local wines and history. It also hosts some restaurants. Contrasting the modern City of Wine structure, the ancient wine barrel storage here is amazing and the whole experience a well-rounded affair.
Pro Tip
Remember that harvest time in the Northern Hemisphere is between August and October, and in the Southern Hemisphere it is around March so many vineyards will be closed to the public, busy producing the next great vintage during those times.