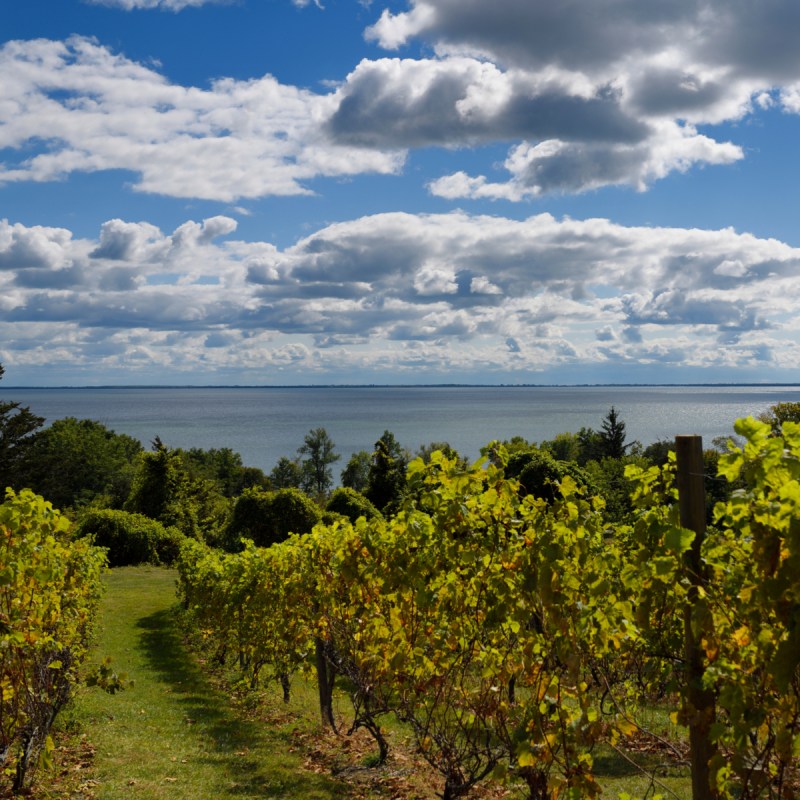 As Canada's reputation as a wine producer has grown, more and more visitors have become familiar with the country's biggest wine regions, including British Columbia's Okanagan Valley, Ontario's Niagara Escarpment and Niagara-on-the-Lake, and Nova Scotia's Annapolis Valley and Bay of Fundy. However, there are approximately 550 wineries in Canada spread out across all 10 provinces. That's a lot to discover!
The wine scenes of some provinces, including the prairie provinces of Alberta, Saskatchewan, and Manitoba, are still in their infancy. Hopefully, the next 10 to 20 years will bring new developments. However, other provinces like Newfoundland, Prince Edward Island, Quebec, and Ontario have much to offer and are eager to welcome visitors looking to go off the beaten path. These places are experimenting with grapes the rest of the world hasn't even heard of!
Nearly every variety of grape thrives in Canada, but success is dependent on the region, soil, and climate. However, there's no denying that some grapes are more vulnerable to damage from Canada's ferocious winters than others. For that reason, many Canadian winemakers are embracing cold-hardy varietals, which are much more resistant to freezing weather.
Some of the most common cold-hardy grapes are Marechal Foch, Frontenac, Sabrevois, Saint-Pepin, Louise Swenson, and Marquette. Some varieties, such as Frontenac, are extremely cold hardy, producing a full crop after temperatures as low as -30 degrees.
Many of these grapes are hybrids of different grapes, carefully developed by scientists to thrive in cold climates. Some rather particular oenophiles turn their noses up at cold-hardy grapes. They don't know what they're missing! Canadian winemakers are creating terrific products with traditional and cold-hardy grapes.
The following wine regions and wine experiences are well worth seeking out to deepen your appreciation of Canadian wines.
1. Newfoundland: Fruit And Sap Wines
Winemakers thrive across Canada, even on the rugged island of Newfoundland, famous for its daunting winters. Fruit and sap wines are the stars of Newfoundland's wine scene.
At Auk Island Winery, water extracted from icebergs is used in the production of fruit wines, including blackcurrant, gooseberry, crowberry, and bakeapple. Bakeapples, known as cloudberries in Scandinavia, are a Newfoundland delicacy commonly found in jams, jellies, and sauces. If you're going to buy one wine in Newfoundland, this is the one to try. You truly won't find it anywhere else.
Markland Cottage Winery also excels at fruit wines. In fact, it's the largest exclusive fruit winery in Canada! The unique estate building was once a cottage hospital, lending an interesting history to this pretty spot.
Finally, Sap World makes wine from birch sap. It's a bit of an acquired taste, but well worth seeking out.
Pro Tip: Newfoundland is also one of the few places in the world where you can purchase birch beer-flavored Crush soda. It's definitely a flavor worth exploring, whether you drink alcohol or not!
2. Prince Edward Island: Literary Legends
Fans of children's literature might argue that Prince Edward Island is home to Canada's most famous wine. After all, who could forget the notorious red currant wine made by Marilla in Anne of Green Gables? Alas, the libation was a fictional tipple, but you can still experience a number of sweet wines as you explore Canada's smallest province.
Mead is the specialty at Island Honey Wine Company, and the flavors include haskap berry, lavender, wildflower, and more.
If you like your wine sweet but not quite to the level of mead, Matos Winery makes wine with strawberries and other wild berries. They also have a classic chardonnay and Gamay noir for those who prefer things a little drier. Matos offers public tours and tastings on its 10-acre estate.
And for the ultimate Canadian experience, you can sample maple wine (along with other fruit flavors) at Rossignol Estate Winery. Their tasting room is filled with local art you can buy.
Pro Tip: While you can't drink Marilla's famous red currant wine, you can try another drink made famous by Anne of Green Gables. Raspberry cordial, a kind of lightly carbonated raspberry soda, is available at stores across the island.
3. Ile D'Orleans, Quebec: Icy Experiences
Canada is the world's leading producer of ice wine, a sweet, highly concentrated wine that is made by pressing ripened grapes that have been hanging on the vines for months. On the first night when the temperature dips to 17.6 degrees, they're finally harvested. Over 60 percent of Canada's ice wine is produced in the Ontario region of Niagara-on-the-Lake, but there are many ice wineries in Quebec as well.
Some of Quebec's best ice wine is made on the Ile d'Orleans, a small island not far from Quebec City. This is one of the province's leading agricultural regions, and its mild climate makes for a long, temperate growing season — but ice wine makers know they can count on the temperatures to reach the requisite frosty lows needed to produce the perfect wine.
In 1535, explorer Jacques Cartier dubbed the Ile d'Orleans the Isle de Bacchus, after the Roman god of agriculture, wine, and fertility, because there were so many wild grapes growing everywhere. Today, the Vignoble Isle de Bacchus makes red, white, and rose wines, along with ice wines and late-harvest wines (the second pressing of ice wine grapes, resulting in a less sweet wine). The nearby Vignoble Sainte-Petronille makes red, white (including pinot gris and riesling), and rose wines, grape mistelle (a sweet fortified wine), and late-harvest wines (but no ice wine).
Pro Tip: The Ile d'Orleans is also home to an authentic nougaterie, one of just a few in North America. Nougat is a smooth and chewy confection of egg whites, honey, and almonds that you can enjoy as is or flavored with local blueberries, maple, or authentic Breton-style caramel and sea salt. The nougat bars make for unique and delicious souvenirs.
4. Prince Edward County, Ontario: Royal Tasting Experiences
Not to be confused with the similarly named province of Prince Edward Island, Prince Edward County is a region in southern Ontario, just a few hours away from the powerhouse wine producers of the Niagara Escarpment and Niagara-on-the-Lake. One of the fastest-growing wine regions in Canada, Prince Edward County is home to close to 40 wineries, with more opening every year. Cabernet Franc, riesling, Gamay, pinot gris, baco noir, and merlot are some of the common grapes grown in the area.
An outstanding vineyard that should be on every traveler's list is Lacey Estates, which produces oaked and unoaked chardonnay, a spectacular gewurztraminer, and cabernet Franc, among others. Sandbanks Winery, situated beside Lake Ontario and just a short drive from the hugely popular Sandbanks Provincial Park, produces baco noir, Marechal Foch, chardonnay, and their popular Dunes Red, a blend of Foch, Gamay, and cabernet.
Waupoos Estates Winery, set on a 1,000-acre waterfront property, is the oldest winery in the area and boasts 18 different varieties of wine, including cabernet sauvignon, cabernet Franc, Gamay noir, pinot gris, Auxerrois, and riesling. Their on-site orchard produces more than a dozen varieties of apples, and they make their own special apple ciders.
At the Huff Estates Inn & Winery, 21 elegant guest rooms, plenty of art, and a sculpture garden await guests who want to turn their wine tasting into a full experience. Wine lovers will be intrigued by the state-of-the-art facilities. A very low-tech crush pad and fermentation tank sit on top of a hill, letting gravity do the work of filling the barrels!
Since the wineries of Prince Edward County are so close together, it's easy to visit several in one day. A number of companies offer guided tours, allowing guests to indulge to their heart's content while someone else takes care of the driving and directions.
What To Know Before You Go
The legal drinking age in Canada is either 18 or 19, depending on which province you are in.
Provincial laws dominate Canada's wine trade — so much so that it can be extremely difficult to find wine from one province in another. Further complicating matters is that most provinces regulate how and where wine is sold. Additionally, there are strict criteria governing what wines may be sold in provincial liquor stores. Many wineries are too small to offer the provincial liquor commissions the volumes they require. So if you discover a wine you love, buy it! There's no guarantee you'll find it elsewhere in Canada.