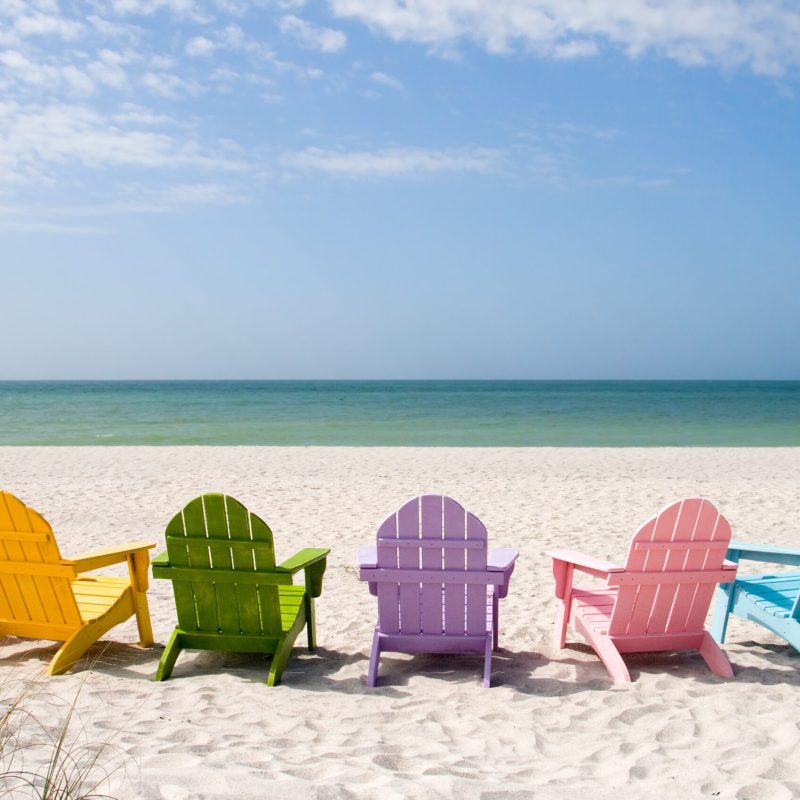 If you are anything like me, you love a good beach day. Whether you fly south for the winter or live close to the beach year-round, the proper supplies can make or break a beach trip. Sure, having my toes in the sand and listening to the waves crash on the shore is wonderful, but the experience is only enhanced with a beach read, a cold drink, and the perfect beach chair. 
Surprisingly, there are a lot of different options to choose from when it comes to beach chairs. They can vary in style, size, color, practicality, and more. If you want to invest in your beach trips, it's time to pick the best beach chair. 
If you aren't sure what options are out there or need some help, you are in the right spot. Keep reading for a list of my favorite beach chairs perfect for all your different beach-going friends. 
My Favorite Chairs
Shop Now
$300
The Yeti Hondo is a study beach chair that is made to last. The fabric is breathable yet strong: Thanks to its solid joints and woven features, it can hold up to 500 pounds. It features a handle for easy carrying and a cup holder to hold your favorite beach drink.
These chairs are for outdoor enthusiasts since they are often used for camping and beach-going. The chair is waterproof, so it will be protected from high tides, and the sleek design gives it a timeless quality. This collapsible, deluxe chair will be a staple of every sunbathing trip since the fabric is UV-resistant and will never fade.
Shop Now
$109
The XL Beach Chair, as the name implies, is one of the larger beach chair options. It sits 11 inches off of the ground, with a 33-inch-tall back frame. If you have long legs and are desperate for a foldable chair that comfortably fits your height, look no further.
The fabric of the seat is supported by a double-looped elastic bungee system that makes any long weekend more comfortable. It features a long carrying strap, an adjustable headrest, and a larger insulated cooler pocket on the back to store snacks and drinks. 
I love the fresh colors that just scream summer, including minty blue stripes and floral banana leaf. The black and white colorways are the perfect neutrals to match any swimsuit you have.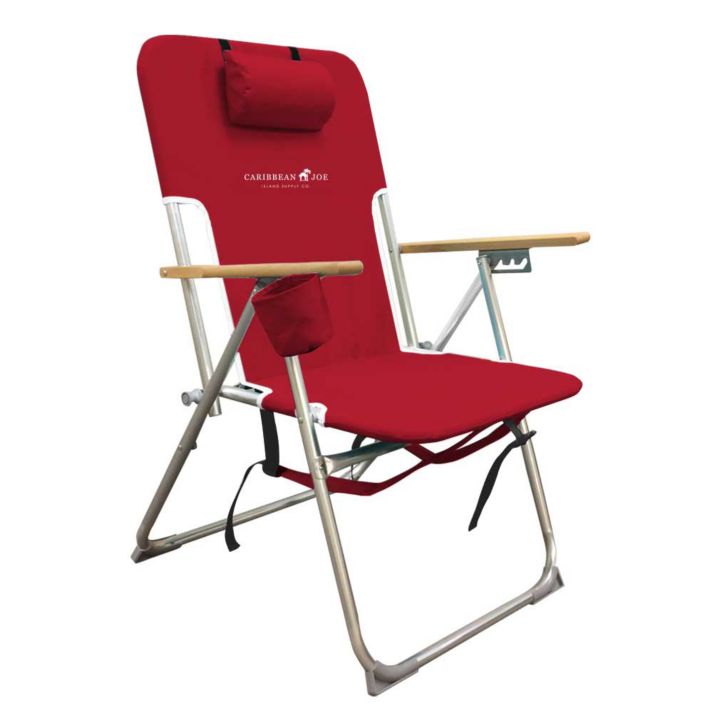 Shop Now
$64.99
This beach chair also has the ability to support up to 300 pounds with its heavy-duty steel frame. This chair is sturdy — but not bulky — and features padded backpack straps for easy transportation.
I love how the chair includes a cup holder, head pillow, and four different reclining levels for ultimate waterfront relaxation. This is a great budget-friendly option that still has plenty of great features.
Shop Now
$69.99
The Rio Beach chair sits much higher off the ground than an average lounge chair, with a floor-to-chair height of 17 inches. The side of the chair comes with a built-in cup holder, cell phone slot, and bottle opener.
There is also an insulated storage pouch with a mesh pocket on the armrest so I can keep my phone safe and my snacks hidden from greedy seagulls. The chair can hold up to 250 pounds and can be folded and carried with its built-in strap.
Shop Now
$184.99
Tommy Bahama is one of the most well-known beach chair suppliers. The seat of this chair sits 15 inches off of the ground and has extra wide armrests for maximum comfort. It can hold up to 250 pounds and features a sturdy, rust-proof aluminum frame.
I love that this portable chair has four different reclining positions. Even though it's a set of two, my relaxation partner and I don't have to negotiate which set-up we like best.
This chair also comes with locking brackets to reinforce your chair's place in the sand. Fold it up and use the carrying strap to bring it to the beach, and take advantage of the mesh pocket, bottle opener, and cup holder that it comes with once you get there.
Shop Now
$54.99
The #WEJOY chair is for adults and is made of 600D Oxford and Q195 steel tube, which gives it the capacity to support 300 pounds. I can also rely on the diamond-shaped Oxford fabric to prevent any rips or tears.
The chair is lightweight and folds easily for transportation, and the padded shoulder straps make any walk to the ocean or lakeshore a breeze. 
The back of the chair features a pocket to safely store my phone, sunscreen, and book while I take a dip in the water. The fabric is quick-drying for those surprise sun showers (especially if this beach chair is pulling double duty as patio furniture). 
Shop Now
$57.99
If you are looking for a classically-styled outdoor chair, this is the choice for you. It comes in a ton of exciting colors, but I just adore the webbed design that gives it a retro look and feel. I love that I won't have to worry about the colors fading since these American-made chairs feature UV-resistant materials.
It also features a rust-free aluminum frame and a 275-pound weight capacity. These chairs are extremely versatile and can be taken straight from my family's barbeque to a day on the beach. 
Shop Now
$73.84
This beach chair changes the way you relax on the beach. As you recline the chair, the lower panel acts as a footrest so the user can fully lay back in a neutral position. Talk about the perfect set-up for a beach nap!
Additionally, the chair includes a sun shade that will help shield the upper half of my body from UV rays, so I can keep a low profile from the sun (sunscreen is still needed, of course). 
The reclining beach chair also comes with an adjustable pillow and a side tray to hold my drinks and other beach necessities. Although this chair is larger than others, it still has the ability to fold up for easy storage and transportation. The material is durable and waterproof and can be cleaned with one swipe of a beach towel.
Shop Now
$44.99
This camping and beach chair is a great budget-friendly option that will still give you the comfort and versatility you want in a beach chair. The material of the chair is made of polyester and covers a fully-cushioned seat and back, which both provide support and comfort.
The cooler bag attached to the armrest can hold up to four drinks, which means I can take fewer trips back to the beach house to stock up. The chair also features a side pocket and a storage bag that the chair easily fits into when collapsed. The chair holds up to 325 pounds and has a roomy 24-inch seat.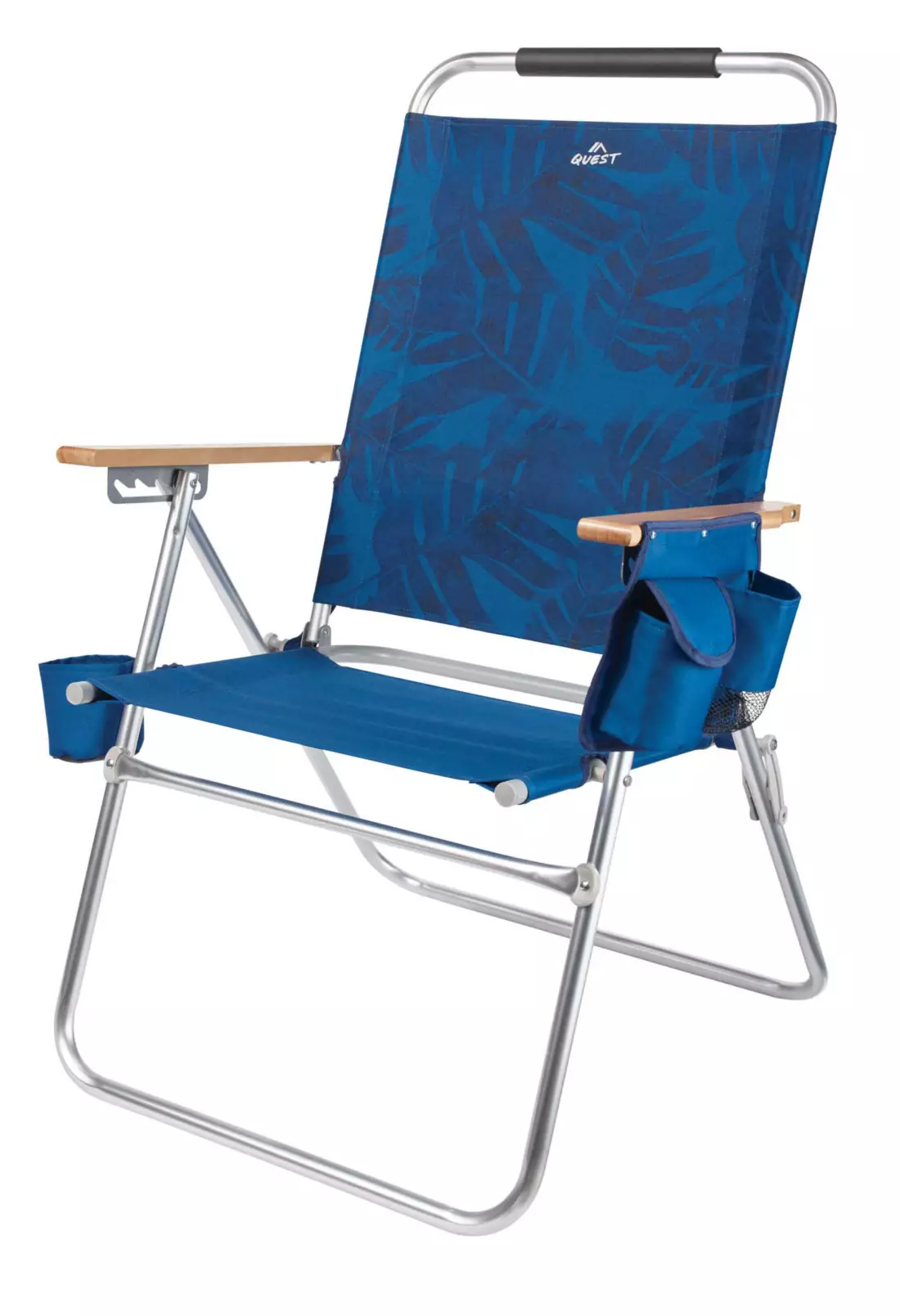 Shop Now
$59.99
The Quest beach chair is another wonderful option if you want a high-quality beach chair but don't want to spend more than $100. Want to sit up straight with a high back? This chair has what you need. Looking to lay flat as you work your way through your summer reading list? The Quest High Profile Beach Chair has your back. 
There is a side pouch for personal belongings and a cup holder on both armrests, meaning you don't have to choose between water and a fun drink with an umbrella in it. The aluminum frame is padded at the top so I can lean my head back comfortably. This chair also has wooden armrests. This chair is easy to throw over my shoulder with the padded strap attached.
Shop Now
$141.99
This beach chair is for the serious beach-goers. If you like to spend all day at the beach and be prepped with enough food, drinks, and entertainment to last many hours, this is the lounger you need. 
Attached to one of the armrests is a fully-detachable cooler that can hold 24 cans. The ONIVA Fusion comes with its own backpack straps and features a cell phone pocket, umbrella loops, and even more exterior pockets. 
Attached to the other armrest is a folding tray side table with two shelves underneath it that can fold up when not in use. The entire chair can fold flat and be carried with its backpack straps to and from the beach. With this chair, you can easily bring food, drinks, towels, your camera, books, and more to the beach for a full day of fun and relaxation. 
Beach Days Ahead
Now that you have your favorite chair, it's time to get to the beach. There are so many ways to take advantage of the beach, so these are only a few of my favorites: 
Escaping The Winter
If you live somewhere with harsh winters and you can't move due to family, employment, or other reasons, you might want to consider becoming a snowbird. "Flying south" for the winter and traveling to a warm, beachy state will brighten your winter and lift your spirits. 
Whether you invest in a timeshare or book an Airbnb for just a month, once you escape the cold to enjoy the beach, you won't ever go back. 
There are plenty of places to choose from when picking a beach escape, but Florida is an incredibly popular choice. With small beach town communities, great restaurants, beautiful scenery, and charming small businesses, you can't really go wrong. If you want some suggestions, check out my favorite spots on the East Coast of Florida, as well as the Gulf Coast. 
Trying New Experiences
It feels like a piece of heaven to sit back, grab your favorite book, and rest in your beach chair while listening to the sounds of waves for hours on end. However, the beach is also a great place to try new activities that you have never done or haven't done in many years. 
While it might seem like parasailing, jet skiing, and other beach activities are more "spring break" than "relaxation," I'm here to tell you that beach activities are for people of all ages. In fact, TravelAwaits writer Gail Clifford tried hang gliding for the first time at 55 and loved every minute of it! 
Although I would absolutely never recommend doing anything that is painful or dangerous, the beach is the perfect place to try new things. Even if I'm just playing in the waves, there is always fun to be had. 
Time To Grab A Chair And Go!
A comfortable and functional beach chair can make all the difference during your beach day. It can serve as a napping spot, a resting spot in between walks, a perfect seat for people watching, and so much more. 
Grab your chair, some sunscreen, and your favorite beach activity essentials, and hit the sand!
To finish stocking up for your next beach trip, check out:
The Best Beach Toys Review 2021
The Best Beach Towels Of 2021 (Review)