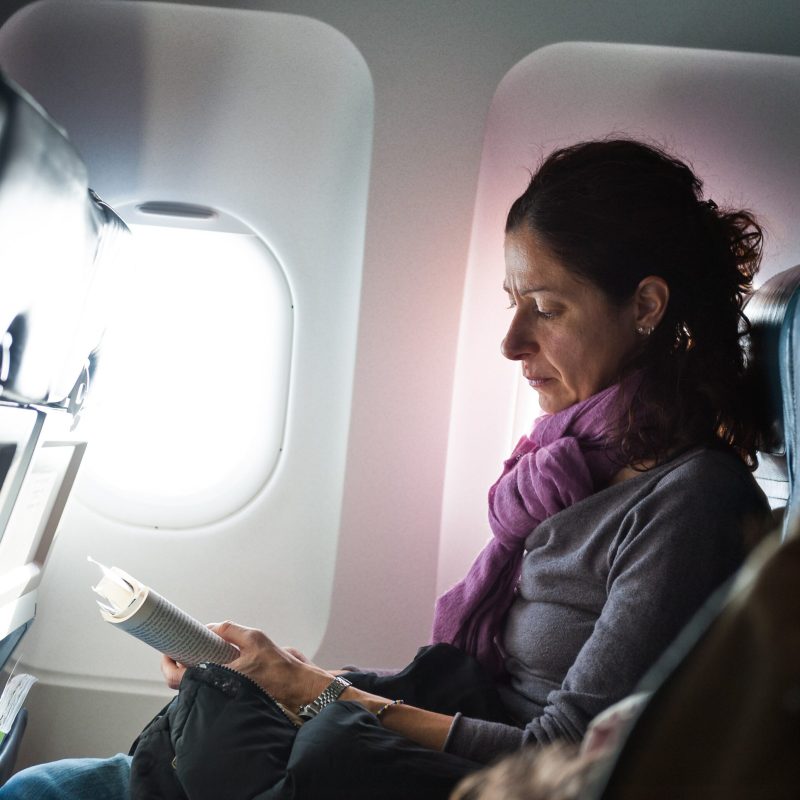 From the great Michelangelo to the imaginative J.K. Rowling, everyone needs a bit of inspiration from time to time. Whether it be creating a masterful work of art, writing a best-selling book, or maybe just letting go of your fears to take a trip to one of your bucket list destinations — inspiration is what sparks many of these things to transpire in our lives.
To give you a head start, here are seven books we suggest you read to feed the travel bug in you!
1. A Woman Alone: Travel Tales From Around The Globe
Some of the tales of traveling in this book, edited by Faith Conlon, Ingrid Emerick, and Christina Henry de Tessan, may be a bit far-fetched compared to your own travel plans, but it's great motivational material nonetheless! This book allows you to witness the journeys of adventurous women as they embark on their own solo travel missions.
Barnes and Noble describes the book as a compilation of "funny, thrilling, occasionally terrifying, ultimately transformative stories of navigating some of the most unusual destinations on the globe."
Some of these women's' journeys may be a bit unorthodox, but they represent the motto of women taking a step away from their norms to experience all that life has to offer.
2. The Geography Of Bliss
If you're the type of reader who finds inspiration in being challenged and encountering a mix of philosophical viewpoints, you'll be able to appreciate all that this book, written by speaker and New York Times bestseller Eric Weiner, has to offer. Weiner takes readers on a journey that's part self-help as he investigates "not what happiness is, but where it is."
Barnes and Noble sum ups the book perfectly in calling it "a unique mix of travel, psychology, science, and humor" in which Weiner answers deep questions and offers "travelers of all moods some interesting new ideas for sunnier destinations and dispositions."
3. Blue Highways: A Journey Into America
For the small-town wanderer, this autobiographical piece by William Least Heat-Moon may satisfy your bookwormish needs while also sending you on a small town journey of your own.
Barnes and Noble's description notes that Blue Highways is "hailed as a masterpiece of American travel writing," and calls it "an unforgettable journey along our nation's backroads." Least Heat-Moon's discoveries, recollections, and anecdotes are "a revelation of the true American experience."
4. The Alchemist
Seeing as this book is a modern classic, you may have already stumbled across it if you're an avid reader. If you've read it already encountered Paulo Coelho's most famed work, give it another read. If you haven't picked this book up, consider grabbing a copy right now. It truly does embody the authentic travel spirit.
According to the Barnes and Noble's synopsis, "Santiago's journey teaches us about the essential wisdom of listening to our hearts, of recognizing opportunity and learning to read the omens strewn along life's path, and, most importantly, to follow our dreams."
5. The Happiness Of Pursuit
This book's title may be able to speak for itself on just how inspirational it is, but in case you still aren't sold, author A. J. Jacobs says of Chris Guillebeau's The Happiness of Pursuit, "If you like complacency and mediocrity, do not read this book. It's dangerously inspiring."
The Happiness of Pursuit is simply that, a log of ordinary people finding joy in pursuing their wildest dreams — and learning what drives them. Guillebeau details his journey around the world and his interactions with other "questers" he meets along the way.
Brené Brown says the book is, "smart, honest, and dangerous. Why dangerous? Because it is as practical as it is inspiring. You won't just be daydreaming about your quest — you'll be packing for it!"
6. Tales of Trains: Where The Journey Is The Destination
This book proves that there is joy to be found in the journey, not just the destination. It narrates a series of long-distance train rides and the author's trail of events along the way.
Just how long is the trail? Well, according to the author, Nora Dunn, the book "covers over 42,000 kilometers of train travel through 11 countries, in 44 days."
Dunn is adamant that this isn't a how-to book, but instead a "what's it like" book. If you're a traveler who finds little to no joy in the journey, perhaps reading this book can give you some insight as to why there is fun to be had in not only your destination but getting there as well.
7. Eat, Pray, Love
Eat, Pray, Love by Elizabeth Gilbert is the quintessential book to turn to for travel inspiration — as long as a little romance doesn't bother you. This book, published in 2006, chronicles Gilbert's adventures, but it's more than a book about traveling; this book details how Gilbert found her zest for life as she got to know different sides of herself in Italy, India, and Bali.
According to a 2019 Forbes highlight on Gilbert's undying passion for travel, she has a strong inclination to urge people who may be stuck in their own world to get up and get going.
"I've traveled my entire life. I've traveled alone. I've traveled all over the world. I've traveled in the strangest circumstances from [luxurious situations ] to a $4 hotel room in Calcutta. I have never done anything but grow as a result of what I've seen and learned," Gilbert told a group of travel professionals in attendance at a ship christening in Budapest.
"In these dark times, of division and fear and anxiety, never is it more important to travel. Never is it more important than to leave your home and to go face to face, not on the internet, but in the flesh and meet people who are not the same as you."
If that doesn't make you book the first flight to India — or wherever your heart is calling you — then we don't know what will!
Are you a book-lover searching for more inspiration? Perhaps a visit to the magical book store that inspired many of the scenes from J.K. Rowling's famous Harry Potter series would suit you. Meet Livraria Lello, Portugal's stunning bookshop, and maybe one of the must-visit spots on your next trip!