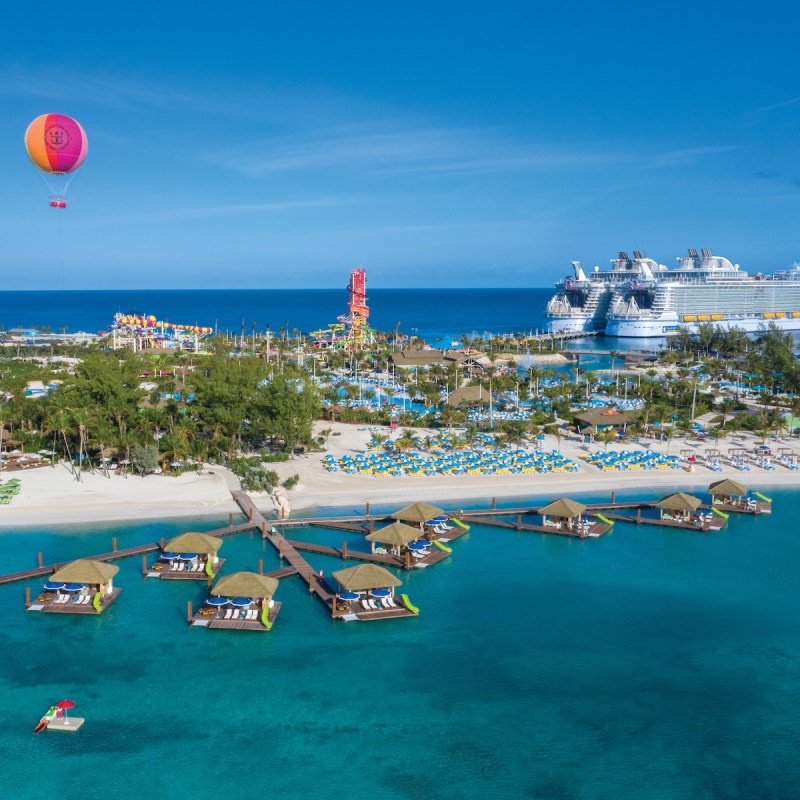 Extended family groups are excited about reconnecting and sharing memorable moments together, making multigenerational vacations one of this year's leading travel trends. These three-generation trips offer incredible opportunities for bonding, creating new traditions, and enjoying unforgettable experiences with loved ones.
Multigenerational groups vary in age, interests, budgets, and vacation styles. The key is to find a trip the whole family will love. Cruises offer something for everyone and they're a great way for generations to explore the world and make lifelong memories together. Daily itineraries are flexible, allowing family members to enjoy the trip at their own pace.
There are cruise lines to fit every family's preferences. Multigenerational families can choose from amenity-rich megaships, upscale mid-sized vessels, ultra-luxurious smaller ships, and expedition ships built to explore the world's most remote destinations.
Here are 10 of the best ocean-going cruise lines for your multigenerational family vacation, listed in alphabetical order.
1. Carnival Cruise Line
Carnival Cruise Line has long been a leader in family-friendly voyages. The cruise line is seeing strong demand for its brand of family cruising and it's popular with multigenerational families and reunion groups seeking nonstop fun. Carnival Cruise Line caters to all ages with a wide variety of experiences, including complimentary programs for kids and teens, an extensive array of restaurants, immersive entertainment, family-friendly shore excursions, adult-oriented attractions, and fun-filled activities the whole family can enjoy together.
Carnival Cruise Line's voyages sail from 14 U.S. homeports, making it easy for families to reach their cruise. Ships in Carnival's fleet are family-pleasing playgrounds featuring thrilling top-deck attractions like the massive WaterWorks water park, ropes courses, and BOLT — the fastest roller coaster at sea. Carnival's exclusive Seuss at Sea activities, family comedy shows, and Family Feud Live entertainment programs are fun for parents, kids, and grandparents alike. Family Harbor, a family-focused accommodations area complete with the private Family Harbor Lounge, is an excellent option for multigenerational groups sailing on Carnival's Vista and Excel class ships.
2. Celebrity Cruises
Celebrity Cruises offers an upscale cruising experience for multigenerational families with an emphasis on memorable experiences, innovative features, stylish venues, outstanding dining and entertainment, and indulgent spas. Celebrity Cruises offers a variety of accommodations perfect for multigenerational groups, including family veranda staterooms and luxurious suites in The Retreat — an exclusive enclave available on select ships. Family-friendly programs and activities are scheduled throughout each cruise, including hot glass classes and movie nights under the stars.
Multigenerational vacationers will appreciate the cruise line's family-friendly shore excursions and enriching programs for younger guests: Camp At Sea for children 3–12 and the Teen Club for teens. Celebrity Cruises partnered with top companies to create its award-winning Camp at Sea program focusing on four main categories of interest: Art, Recreation, Culinary, and S.T.E.M. Celebrity's fully customizable youth program is based solely on participants' interests, with over 500 activities available as well as fun-filled teen events. Celebrity Cruises has also been certified as an Autism Friendly Cruise Line by Autism of the Seas.
3. Disney Cruise Line
Disney Cruise Line's magical voyages feature immersive storytelling, beloved Disney characters, cinematic dining experiences, and imaginative family entertainment. The cruise line is well-known for creating unforgettable experiences for families on its ships, with exceptional programs and Disney-themed venues all ages can enjoy together. Disney Cruise Line ships feature outstanding rotational dining, sought-after Disney character interactions, incredible kids' and teens' clubs, adult-exclusive areas, family-friendly staterooms, and world-class entertainment.
Disney Cruise Line's sailings are ideal for multigenerational families. Adults and kids bond during family-focused shore excursions and full-day adventures designed to bring family members together. Out-of-this-world family experiences and boatloads of fun also await on board. On Disney Wish, generations can enjoy interactive meals at the first Frozen and Marvel-themed dining venues at sea. Take a splash-filled ride on the AquaMouse water coaster and have extraordinary space-hopping experiences in innovative Star Wars-themed areas for adults and kids. Disney Cruise Line's next ship, Disney Treasure, will feature a whole new world of memorable attractions as well. Multigenerational families can make their Port Canaveral-based voyages even more enchanting by adding a convenient land package at nearby Walt Disney World.
4. Holland America Line
Great multigenerational vacations merge the interests of several generations while also providing attractions each can enjoy separately. Holland America Line's award-winning premium class ships provide something special for every age group and interest, making it a superb choice for multigenerational family vacationers. The line's upscale, midsize vessels feature outstanding restaurants, fantastic performances and live music clubs, culinary and enrichment programs, fun family activities, swimming pools, and Kids Club youth programs and venues for kids and teens.
Holland America Line offers a robust array of itineraries with a wide variety of memorable shore excursions and destination-rich programming. Alaska and Caribbean itineraries are particularly popular with multigenerational family groups. The cruise line is passionate about culinary excellence and its Culinary Council chefs create outstanding regionally inspired cuisine for guests to enjoy. Accommodations on Holland America Line's ships include spacious family-friendly staterooms, connecting cabins, and suites well-suited for multigenerational groups. Families will also appreciate the line's outstanding reunion package and "Kids Cruise Free" deals.
5. Lindblad Expeditions
Lindblad Expeditions delivers exceptional small-ship expedition experiences for multigenerational travelers seeking the trip of a lifetime. Multigenerational travel has long been popular with Lindblad Expeditions guests, particularly on their Galápagos and Alaska itineraries. Lindblad Expeditions' exclusive National Geographic Global Explorers program for kids and teens under 18 is offered on sailings in both of those destinations, as well as on exciting voyages in Baja California and Antarctica. Ships vary in size, ranging between 28 and 148 guests.
Immersive journeys with Lindblad Expeditions allow multigenerational families to reconnect, learn about the world, and share priceless experiences. Lindblad Expeditions finds it's often the grandparents who plan multigenerational trips to celebrate major milestones or treat their family to a bucket-list adventure. The cruise line offers special savings on select departures for children and multigenerational families traveling as a group.
6. Norwegian Cruise Line
Norwegian Cruise Line is an excellent option for multigenerational families seeking an unstructured resort-style cruise vacation with extensive dining choices, show-stopping entertainment, and exciting activities for the whole family. Multigenerational groups can enjoy a multitude of casual and specialty restaurants, exhilarating attractions like multi-level go-kart race tracks and open-air laser tag arenas, complimentary Splash Academy youth programs for tots through teens, and stellar Broadway-style performances and entertainment for all ages.
Multigenerational families can choose from a wide range of accommodations on Norwegian Cruise Line, including family staterooms and stunning suites in The Haven by Norwegian — an exclusive ship-within-a-ship for family members seeking a higher-end cruise experience. Special offers make multigenerational family cruises even more wallet-friendly, including free third and fourth guests on select sailings and a variety of discounts for groups booking five or more staterooms.
7. Paul Gauguin Cruises
The idyllic South Pacific region tops bucket lists for many multigenerational travelers. Paul Gauguin Cruises offers award-winning luxury small-ship voyages perfect for making lifelong memories in this enchanting destination. The all-inclusive cruises aboard the intimate m/s Paul Gauguin provide unparalleled opportunities for family bonding while enjoying unforgettable experiences in Tahiti, French Polynesia, Fiji, and beyond. Paul Gauguin itineraries make island-hopping easy, allowing multigenerational families to reconnect and effortlessly explore five or more spectacular isles at their own pace.
Voyages aboard The Gauguin are exceptional for multigenerational families wishing to celebrate and see the world together. The ship accommodates 330 guests and features outstanding culinary experiences in three restaurants, spacious overwater staterooms and suites, a specially designed shipboard watersports marina, engaging entertainment and enrichment programs, and an excellent spa. The ship's fantastic local Tahitian cultural ambassadors bring the Polynesian culture to life and the service on board is extraordinary. Paul Gauguin Cruises' complimentary Moana Explorer Program, created in partnership with Te mana o te moana, provides daily naturalist-led activities and adventures for children ages 7–15 on select sailings.
8. Princess Cruises
Princess Cruises offers enriching voyages of discovery that all generations can enjoy together. The cruise line offers a classic sailing experience focusing on fabulous cuisine, entertainment, relaxation, and immersive adventures. Multigenerational vacations are popular on Princess Cruises. The cruise line has increased the number of family suites on board to accommodate family and multigenerational guests. Alaska and European itineraries are ideal for multigenerational summer sailings, while Caribbean cruises and Mexico voyages are top choices during the winter.
Grandparents, parents, and grandkids look forward to memories together on multigenerational family cruise vacations. With its award-winning technology, the Princess MedallionClass experience makes it convenient for family members to stay connected on board, arrange dining preferences, and select activities everyone will enjoy. Fun-filled family activities include Movies Under the Stars, game nights, Broadway-style shows, top-deck stargazing at sea, pool time, and playing together on the sports deck. Princess Cruises also features Camp Discovery Youth Center programs for kids and teens, Discovery and Animal Planet small-group shore excursions, and exceptional specialty restaurants perfect for celebrating milestone family events.
9. Royal Caribbean International
Multigenerational families can enjoy epic vacations and make lifelong memories on Royal Caribbean International sailings. The family-friendly cruise line's fleet is packed with thrilling water parks and fun zones, top-notch entertainment, action-filled Adventure Ocean youth and teen programs, an outstanding array of palate-pleasing dining venues, cool neighborhoods, and amazing accommodations for families. Royal Caribbean offers an extensive range of cruise itineraries perfect for making memories together.
Royal Caribbean's Wonder of the Seas and Icon of the Seas are the world's two largest cruise ships. These floating mega-resorts are designed to deliver incredible family and multigenerational group vacations for all ages. Royal Caribbean's new Icon of the Seas will feature more family accommodation options, the largest water park at sea, and a first-of-its-kind Surfside neighborhood designed just for families.
10. The Ritz-Carlton Yacht Collection
An ultra-luxury yachting experience awaits multigenerational families sailing with The Ritz-Carlton Yacht Collection. The cruise line entered the market last year with its first of three custom-built luxury yachts — the 298-passenger Evrima. Voyages aboard The Ritz-Carlton Collection's intimate yachts offer multigenerational families a wealth of shipboard programs, exceptional dining experiences, luxurious suites, immersive entertainment, and personalized service. On these luxury sailings, multigenerational groups with younger children or older family members can easily explore multiple destinations in comfort and create treasured memories together.Families are welcome aboard The Ritz-Carlton Yacht Collection and the fun-filled Ritz Kids program for children ages 4–12 is available in its own dedicated space year round. The enriching activities program offers three fee-based sessions daily, with enhanced programming during holidays and summer months. With its iconic brand, The Ritz-Carlton Yacht Collection's yachting experiences are attracting luxury travelers and families who are new to cruising. The line estimates that over 50 percent of guests are first-time cruisers and more than 75 percent of bookings include a Marriott Bonvoy loyalty program member.