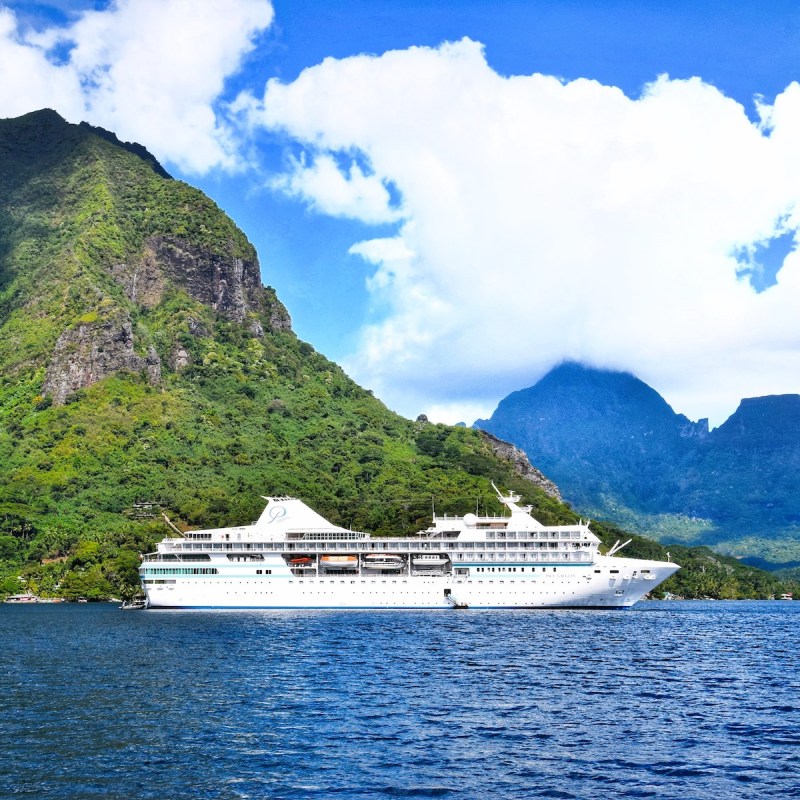 French Polynesia is filled with jagged volcanic peaks, unspoiled palm-studded beaches, and shimmering lagoons teeming with marine life. It's a spectacular collection of islands and its rich culture is a key part of its magical allure. A luxury small ship voyage with Paul Gauguin Cruises offers unparalleled opportunities for making once-in-a-lifetime memories in this bucket-list South Seas destination.
Paul Gauguin Cruises is celebrating 25 years of sailing in French Polynesia this year and the cruise line recently invited me to sail on its seven-night "Tahiti & the Society Islands" voyage aboard the m/s Paul Gauguin. I met a number of repeat guests on my cruise and it's easy to see why Paul Gauguin Cruises has a loyal following. The ship and the destination will steal your heart.
Here are 11 reasons why a voyage with Paul Gauguin Cruises is the ultimate all-inclusive experience in dreamy French Polynesia.
1. Award-Winning Small Ship
The m/s Paul Gauguin, affectionately referred to as The Gauguin, offers an exceptionally luxurious small ship experience in French Polynesia. Recently reimagined and redesigned with a chic flair, The Gauguin accommodates just 330 guests in a setting of relaxed elegance. I loved the camaraderie that developed among the vibrant, active, and extraordinarily friendly community of guests.
As the longest continually sailing luxury cruise ship in the South Pacific, the intimate m/s Paul Gauguin was purpose-built with a shallow draft to expertly navigate the region's turquoise lagoons and access remote hideaways that larger ships can't reach. It's the ideal way to explore this region. The award-winning boutique ship was voted "World's Best Small Ship Ocean Cruise Line" in 2022 by Travel + Leisure readers, adding to the hundreds of additional accolades received over 25 years. In 2019, Paul Gauguin Cruises became part of the acclaimed Ponant family of luxurious small ships.
Pro Tip: Take advantage of the ship's spacious outdoor decks and view the collection of Polynesian artifacts and excellent digital museum with work by French artist Paul Gauguin.
2. Idyllic Island-Rich Itineraries
French Polynesia contains 118 islands and atolls, so you'll want to see more than just one or two of these fairytale destinations while you're there. Unpack once in your floating overwater bungalow and wake up somewhere new, effortlessly able to explore five or more legendary isles in a single trip. These pristine islands are undeveloped, tropical gems with magnificent scenery and no crowds. You'll enjoy unforgettable days and nights on your voyage and the island views from the sea are truly spectacular.
Paul Gauguin Cruises offers seven unique cruise itineraries next year and nine in 2025, so it's easy to go island-hopping on The Gauguin. No inter-island flight hassles and expenses are required. Longer stays in ports of call are a highlight of these immersive sailings, including overnights in Bora Bora and Moorea in many cases. These overnight visits provide the luxury of time in certain destinations, allowing for multiple activities and immersive exploration.
Pro Tip: It's wise to arrive a few days before your cruise to adjust to the time zone changes. In addition, call Paul Gauguin Cruises 60 days before your journey to book a wide range of exciting fee-added shore excursions.
3. Luxurious Overwater Accommodations
After enjoying a wealth of unmatched experiences, it's nice to retreat to your own elegant private overwater stateroom or suite to enjoy some quiet time. The Gauguin's well-appointed accommodations all offer magnificent ocean views and nearly 70 percent feature private balconies. I loved watching Technicolor sunrises and sunsets from my overwater balcony and toasting our day's adventures each evening.
The ship's spacious accommodations have been beautifully fitted with high-quality amenities and special touches, while some upper categories even offer butler service. Bathrooms feature full-sized tubs and in-room refrigerators are stocked daily by attentive room stewards. Wheelchair-accessible staterooms and family-friendly accommodations are available as well.
Pro Tip: To maximize charging options for electronics on your trip, bring a multi-port travel adapter and European plug adapters.
4. Extraordinary Service
The heart of The Gauguin is the fabulous staff and crew led by its charismatic French captain. The ship features a crew-to-guest ratio of 1:1.5, one of the highest at sea. The service on my sailing was unparalleled, as was the incredible spirit. There's an irresistible enthusiasm present and the warmth and smiles are genuine.
It amazed me how much the team on The Gauguin went out of its way to provide personalized attention to guests on board. By the second day, the staff and crew knew our names, and others we saw as well. Numerous staff and crew members have been with the ship for 10 years or more, while five crew members are celebrating 25 years this year.
Pro Tip: See The Gauguin's Travel Concierge for help arranging e-bikes, car rentals, and restaurant reservations in ports of call.
5. Exceptional All-Inclusive Value
I often find myself daydreaming about my days in paradise aboard The Gauguin. The cruise exceeded my expectations and it was a sensational value compared to land-based resort packages in French Polynesia. So much is included when sailing with Paul Gauguin Cruises and the memories are priceless.
A luxury cruise aboard the m/s Paul Gauguin includes accommodations, onboard meals at every venue, 24-hour room service, complimentary cocktails and beverages, extraordinary shows and entertainment, Polynesian cultural immersion and activities, expert presentations, all shipboard gratuities, a variety of watersports, complimentary Wi-Fi, access to exclusive island escapes, and more. The all-inclusive pricing and incredible value make a voyage with Paul Gauguin Cruises a relaxing and stress-free escape.
Pro Tip: If you're celebrating an anniversary, honeymoon, or vow renewal on The Gauguin, you'll receive an invitation to a complimentary Polynesian blessing ceremony and an in-stateroom bottle of champagne. Additional celebration packages are available.
6. Outstanding Fine Dining
Pack your appetite and plan to fully enjoy all the memorable culinary experiences on the m/s Paul Gauguin. The ship's award-winning chefs create a wide selection of gourmet international cuisines and locally sourced Polynesian specialties, all carefully prepared and artfully served. The ship also does an excellent job catering to food allergies and special diets.
Guests can have five-star meals in their choice of three fully included fine-dining venues — La Veranda, Le Grill, and the L'Etoile main dining room, which offers a rotating daily menu of delectable choices. Wine selections are excellent and unlimited pours are included. Complimentary room service is also available around the clock, so enjoy the laid-back luxury of breakfast on your balcony or in bed.
Pro Tip: Head to La Veranda to make specialty dinner reservations at Le Grill and La Veranda once you're on board. And don't miss afternoon tea time; the ship's pastries and desserts are amazing.
7. Authentic Polynesian Cultural Immersion
It's rare for a ship to so beautifully showcase a destination's culture. The m/s Paul Gauguin has been sailing year-round in French Polynesia for 25 years. The immersion in French Polynesia is seamlessly carried throughout the onboard experience. Leading this is a fabulous onboard troupe of local Tahitian hosts and hostesses, Les Gauguins and Les Gauguines, who authentically bring the Polynesian culture and spirit to life. The Polynesian culture is rich, vibrant, and positive — and the soul of Tahiti permeates the entire ship.
This deep sense of place was meaningful for me. I enjoyed all the Polynesian specialties served at meals, enriching Polynesian programming and entertainment with Les Gauguins and Les Gauguines, the ship's memorable Polynesian Night, and connections with local Tahitians. Longer itineraries allow for even more immersion.
Pro Tip: Take part in Polynesian activities and events and bring tropical-inspired clothes to wear for Polynesian Night. A selection is also available in the ship's well-stocked boutique.
8. Exclusive Private Retreats
Paul Gauguin Cruises' alluring private getaways are idyllic slices of heaven filled with memorable indulgences. Palm-fringed Motu Mahana, the cruise line's exclusive islet off shore from unspoiled Taha'a, is a feast for the senses. This lovely jewel is a guest favorite and the barbecue banquet here is a gastronomic delight. I loved snorkeling and swimming in the crystal-clear turquoise waters, enjoying tropical drinks served in coconuts, and being serenaded with Tahitian melodies by Les Gauguins and Les Gauguines.
While there's so much to experience in Bora Bora, don't miss Paul Gauguin Cruises' stunning private beach with jaw-dropping views of Mount Otemanu. The sugary white-sand beach and snorkeling opportunities are outstanding.
Pro Tip: Bring your snorkeling gear and water shoes with you to the private retreats.
9. Watersports Marina
French Polynesia is filled with extraordinary coral reefs and cerulean lagoons; it's paradise on Earth for watersports lovers. Paul Gauguin Cruises makes it easy for guests to experience the ocean's many delights. A highlight of my cruise was snorkeling through French Polynesia's natural aquariums, surrounded by graceful rays and tropical fish in a kaleidoscope of colors.
The Gauguin features a specially designed watersports platform on the ship, perfect for launching complimentary kayaks and paddleboards in numerous ports of call. Watersports equipment is available at Paul Gauguin Cruises' private retreats and guests can check out free snorkel equipment for the duration of their cruise.
Pro Tip: If you plan to take advantage of The Gauguin's popular fee-based scuba diving activities, book your dives as soon as you're on board.
10. Entertainment And Enrichment Programs
The Gauguin features an extensive array of engaging programs and outstanding entertainment throughout the day and evening. In addition to all the activities provided by Les Gauguins and Les Gauguines, special guest lectures, a wide variety of musical entertainment, and extravagant Polynesian performances are offered. Many resorts charge extra for these events.
Some of my favorite performances were the incredible French Polynesian folkloric shows of songs and dances by the Moorea Swing Boys and O Tahiti E local dance troupes. Famed actor Bruce McGill was also a guest speaker on our cruise. The crew show and musical entertainment in La Palette and the Piano Bar are superb.
Pro Tip: Allow plenty of time to enjoy the ship's activities and check the Daily Program each evening to plan your next day.
11. Moana Explorer Program For Kids & Families
French Polynesia is an extraordinary destination for families to make unforgettable memories and celebrate special events together. The luxury cruise experience aboard the m/s Paul Gauguin is well-suited for families and multigenerational groups, and there were a number of both on our sailing. Families were thrilled with their experiences and some were already planning their return trips.
The cruise line's complimentary Moana Explorer Program features enriching activities and experiences for kids and teens ages 7–15. Created in partnership with Te mana o te moana, a South Seas education and preservation foundation, the naturalist-led program includes daily fun-filled adventures and hands-on activities that help young guests and families learn about French Polynesia's islands, Tahitian culture, and marine life. This outstanding program is offered on certain sailings during the holidays and summer months.
Pro Tip: Many activities are outdoors and the sun's rays are intense. Families should pack long-sleeve rash guards, hats, and water shoes.